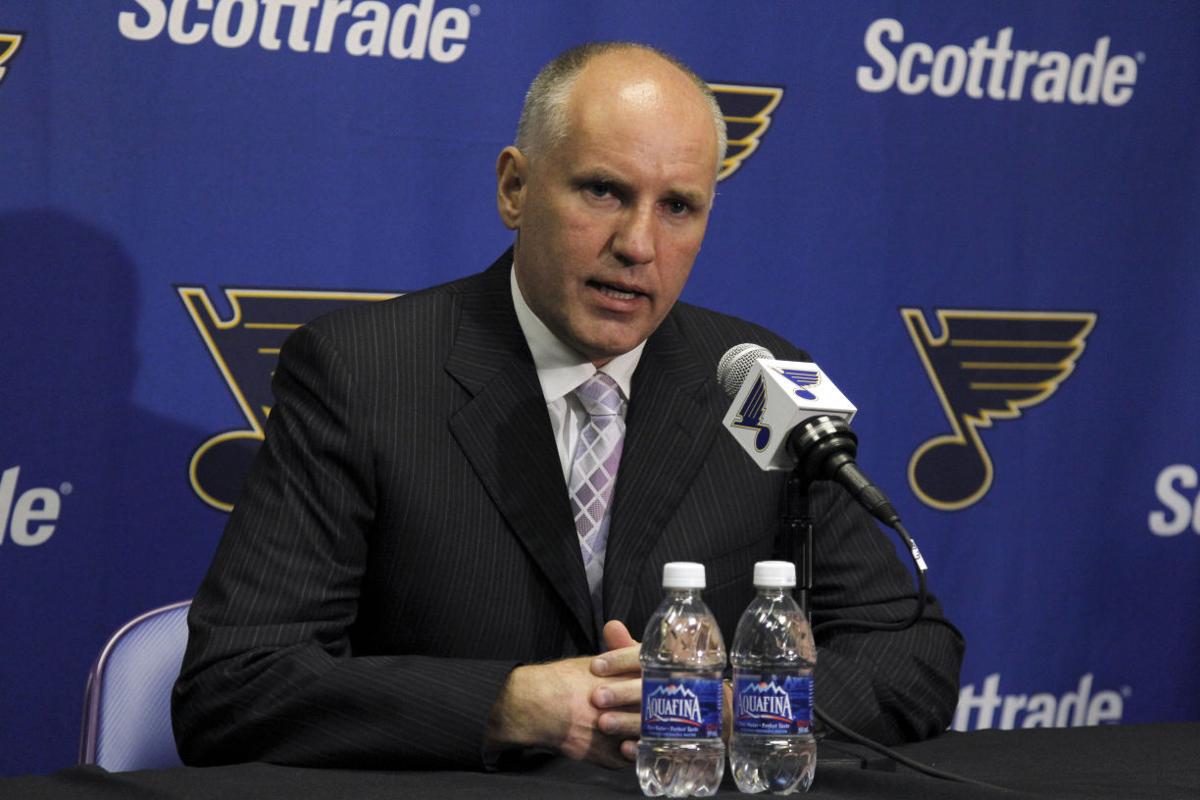 The Blues were quiet in the first round of Friday's NHL draft, but that was expected because the club didn't own a pick.
There has been more noise today.
The Blues had six selections and took one left winger, two centers, two defensemen and one goaltender.
They kicked it off by taking Niagara IceDogs defenseman Vince Dunn with the No. 56 overall pick in the second round. In 2014-15, Dunn ranked sixth among Ontario Hockey League defensemen with 56 points (18 goals, 56 points).
In the first of their two fourth-round picks, No. 94 overall, the Blues took center Adam Musil from the Red Deer Rebels of the Western Hockey League. They used their other fourth-rounder, No. 116, on Glenn Gawdin from the Swift Current Broncos, another center from the WHL.
The Blues also had two fifth-round picks. With the first, they took their second defenseman of the day, Finland's Niko Mikkola. The second pick of the fifth round, No. 146, landed local goaltender Luke Opilka, who was born in Effingham, IL.
The Blues wrapped up their draft by taking left winger Liam Dunda in the sixth round with pick No. 176.
Here are brief bios on the six newest Blues:
Team: Niagara IceDogs (Ontario Hockey League)
2014-15 stats: 18 goals, 56 points, 68 games
Scouting report: "Vince Dunn is an outstanding skater. He has good speed in both directions, excellent agility, and very good pivots. This mobility defines his game in all areas. He is able to join the rush, and pinch at the blue line but still get back defensively. This is something Dunn takes full advantage of as he pinches in a lot, either to keep pucks in along the boards, or to sneak into an opening in the slot to get a high quality scoring chance. His speed and quickness make him tough to beat to the outside if he's properly positioned. Dunn could use a bit more lower body strength though, he can get pushed around a bit in board battles and in fighting for loose pucks, and in front of the net. Some added strength on his skates and balance should come as he matures." (lastwordonsports.com)
Team: Red Deer Rebels (Western Hockey League)
2014-15 stats: 5 goals, 39 points, 66 games
Scouting report: "The son of Frantisek Musil, and brother of Oilers prospect David Musil, Adam breaks with family tradition and is a centre instead of a defenceman. He has excellent size, and plays a strong two-way game. The Rebels used him as a checking line centre this year and he took key minutes against top opposition. His best asset is his ability to control the puck down low on the cycle, he has very good stickhandling and puck protection skills, and the ability to grind plays out along the wall. Musil can also finish in close to goal with soft hands, or further out with a hard shot. The big concern here is his skating ability. He must get a lot faster to carve out a good NHL career." (lastwordonsports.com)
Born: British Columbia, Canada
Team: Swift Current Broncos (Western Hockey League)
2014-15 stats: 15 goals, 54 points, 72 games
Scouting report: "Glenn Gawdin is a responsible, two-way center who's been on draftniks radar for some time now. Spending significant time alongside fellow draft eligible Broncos forward Jake DeBrusk, Gawdin more than doubled his offensive output this season and registered a career high 54 points in 72 games played." (bsndenver.com)
Team: KalPa U-20 (Jr. A SM-Liiga)
2014-15 stats: 9 goals, 23 points, 37 games
Scouting report: Not immediately available
Born: Effingham, Illinois
Team: USA U-18 (United States Hockey League)
2014-15 stats: 2.77 goals-against average, .883 save-percentage, 36 games
Scouting report: Not immediately available
Team: Plymouth Whalers/Owen Sound Attack (Ontario Hockey League)
2014-15 stats: 2 goals, 9 points, 53 games
Scouting report: Not immediately available