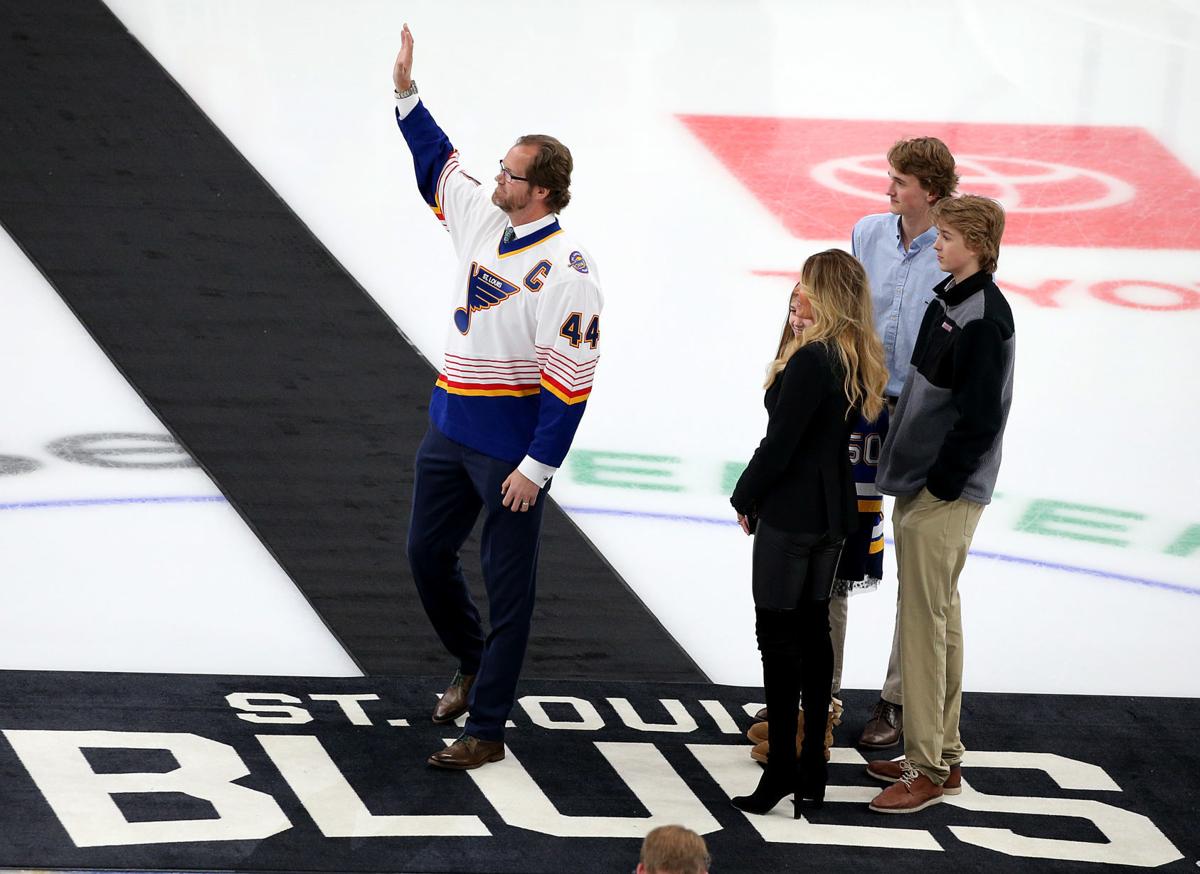 In a ceremony that was pushed back a season because of the pandemic, the Blues will retire Chris Pronger's No. 44 on Jan. 17 before a game against Nashville.
The Blues announced in February 2020 that the number of the former Blues captain and Hart Trophy winner as the NHL's MVP, would be retired in the 2020-21 season, with the date to be set when the season's schedule came out.
But that season didn't go off as planned, with the season not starting until January. The Blues never got to full capacity at Enterprise Center during the season because of COVID restrictions, getting as many as 9,000 for their playoff games, and the crowds were much smaller before that, getting in the way of having a ceremony to honor Pronger.
Pronger will be the eighth player to have his number retired by the Blues, joining Al MacInnis (2), Bob Gassoff (3), Bob Plager (5), Barclay Plager (8), Brian Sutter (11), Brett Hull (16) and Bernie Federko (24).
The NHL schedule is still subject to change if NHL players don't participate in the Olympics. The league would fill in a three-week gap in February, though it as said it would try to preserve as many dates off the current schedule as possible.
While with the Blues from 1995 to 2004, Pronger played in 598 regular-season games (14th most in franchise history), with 84 goals and 272 assists (ninth most) for 356 points (13th most) and was a four-time All-Star. In 2017, he was named one of the 100 greatest players by the NHL.
His marquee season was 1999-2000, when the Blues won the Presidents' Trophy with their best regular-season record ever (114 points). Pronger had 14 goals and 48 assists and was a plus-52. He joined Bobby Orr as the only players to win the Hart Trophy as MVP and the Norris Trophy as best defenseman in the same season.
In a cost-cutting move as Bill Laurie prepared to sell the team, Pronger was traded to Edmonton in 2005. He went on to play for Anaheim and Philadelphia after that, winning the Stanley Cup with the Ducks in 2007. He was selected to the Hockey Hall of Fame in 2015, even though he hadn't officially retired yet. Pronger's seven-year contract with the Flyers ran through 2017, but his playing career was ended by concussions in the 2011-12 season. Technically, Pronger finished his career with the Arizona Coyotes, who acquired him in a trade in 2015 for salary cap reasons even though they knew he wouldn't play.