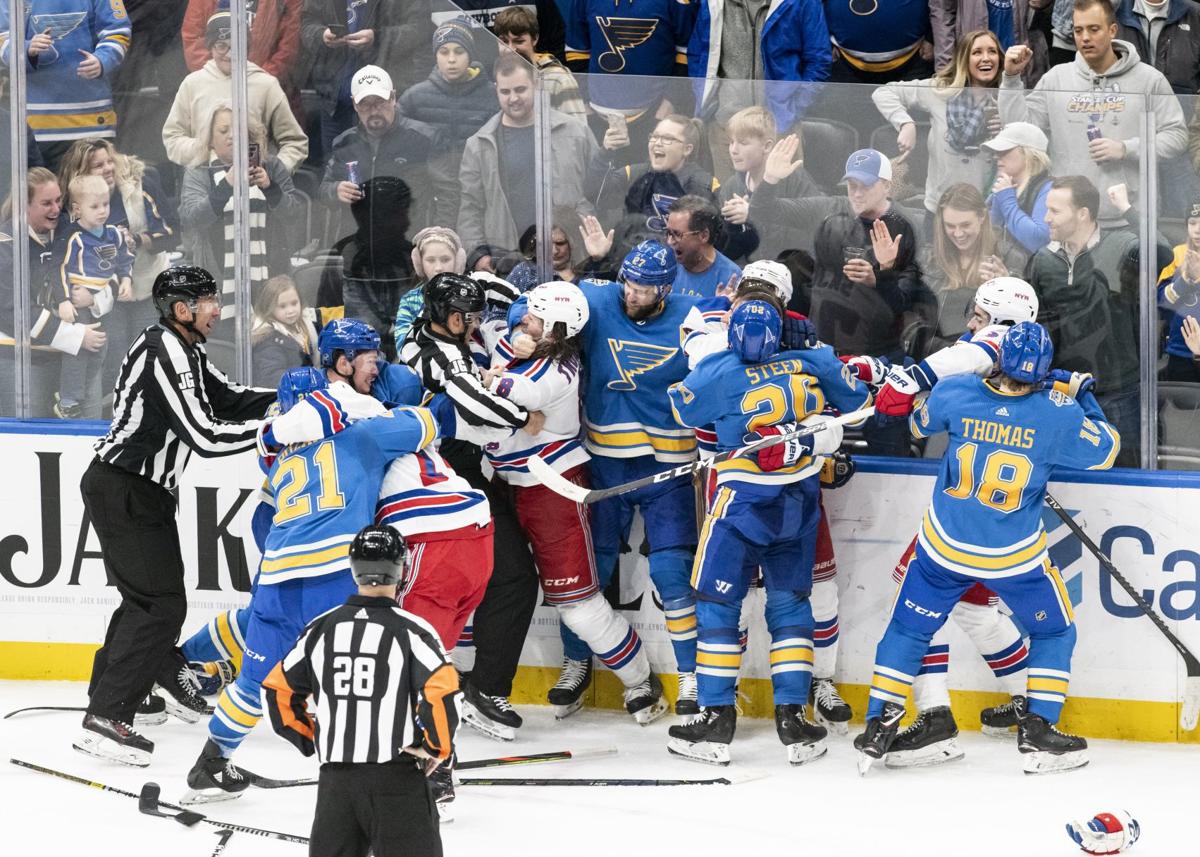 The Blues-Rangers game on Saturday night finished with a fight, as Blues defenseman Vince Dunn and the Rangers' Jacob Trouba squared off in a battle that got everyone in the ice involved.
Dunn almost knocked Trouba off his feet with a left during the scrap.
"It would have been nice to get a couple more," Dunn said.
The game had gotten increasingly chippy in the third period as it became evident the Rangers weren't going to come back from three goals down. With 1:45 go to in the game, Mackenzie MacEachern and New York's Brendan Smith each got 10-minute misconducts for some action behind the Blues net. 
The Blues got a power play with 37 seconds to go after a high-sticking call on Brett Howden, and there was a faceoff in the Rangers end with nine seconds to play. Dunn got the puck and skated behind the net and out the other side, with Trouba hacking away at his legs the whole time. A penalty was going to be called on Trouba, but the game ended before there was a whistle. At the buzzer, Dunn dropped his gloves and went at Trouba.
"He just kept slashing me and slashing me and slashing me," Dunn said. "I mean, the game was pretty much won and they were still running around trying to hit us and fight us. I think one of their guys came all the way across the ice and tried to hit one of our guys so if they want to play to the end, so will we, we're not just going to give up, especially if we're on the power play. I wasn't trying to do anything too crazy, I was just skating around the net and he slashed me, at least six times, from one side of the ice all the way to the other."
Trouba was fined $5,000 for the slashes and got 15 minutes worth of penalties, a five-minute major for the slashing and a game misconduct. Dunn got two minutes for roughing.
"I'm not a fighter but I don't mind it sometimes," Dunn said. "It's an emotional game and if you're just going to hack at me then I'll probably react like anyone would."
When the officials finally separated everyone, they escorted the Rangers to their bench and out the door back to their dressing room. The Blues players, meanwhile, waited on the other side of the red line, told to stay there by the officials, until the Rangers had all left. A few Rangers lingered on their way to the bench and the Blues stood there, staring. MacEachern, watching on TV from the dressing room after he'd been removed from the game after his misconduct, wished he could have been out there.
"Especially for the old red-line stand after the buzzer went," he said. "That looked pretty fun. I think that's the kind of moment where the team comes together, doesn't back down. They realize it's our home ice. It's kind of cool to see. As a team stand there and wait for the other team to get off the ice."
ALLEN GETS START
Having won three games in a row and looking pretty good doing it, it will be more of the same for the Blues tonight when they face Anaheim at Enterprise Center. 
The Blues lineup will be unchanged, with the only exception being that Jake Allen will start in goal. It's been nine days since Allen's most recent start and Jordan Binnington figures to get the starts against Philadelphia and Colorado to close out the schedule before the All-Star break.
Sticking with the same lineup means that Colton Parayko is still out and Jordan Kyrou will once again be a healthy scratch.
"I like the games," Blues coach Craig Berube said. "I know that I switched a forward here and there but the defense right now is strong, looks good, so I'm going to keep them the same. Up front, I thought all four lines contributed in the game and did a good job. So same lineup tonight."
Berube said there's a "good possibility" Parayko would get in a game before the All-Star break. After tonight, he's got two chances, at home on Wednesday against Philadelphia and at Colorado on Saturday. After that, it's the All-Star break.
That status quo means Carl Gunnarsson also waits for the chance to return as he comes back from his injury. Gunnarsson is good to go, Berube said, but the play of Niko Mikkola has led to Berube keeping Gunnarsson out.
"We say to Gunny right now is, you gotta be patient right now ad it's hard for him.. He's a veteran, the guy's played real good hockey for us and he's played in the league a long time. It was unfortunate, his injuries and things like that. It's going pretty good right now back there so we're just going to leave it the same way."
Gunnarsson is still on injured reserve, even though Berube said he's good enough to play, but since Parayko has now missed more than a week, the Blues could backdate him being on IR and still be able to activate him whenever he was ready to play.
The most likely scenario going forward has Mikkola going down when Parayko is healthy. Despite how well Mikkola has played, he'll come out of the lineup when Parayko is ready to return and then probably be sent down rather than sit as the seventh defenseman.
LAST TIME WITH DUCKS
When the Blues faced the Ducks on Nov. 16, their 4-1 loss ended a nine-game point streak. The Blues had won seven in a row, then lost in a shootout and lost in overtime.
"That's a long time ago," Berube said. "We know what happened in that game. A couple of broken plays. It was a close game, 3-1, an empty-net goal. Probably got to score more than one goal."
Anaheim has lost three in a row and is 3-6-1 in its past 10, but they still raise some issues.
"They have the puck a lot," Berube said. "They're probably in the top five of the league in puck possession. They shoot a lot. Watching the film, we've got to make sure we're strong at our blueline and not allowing them in there and forcing them to dump pucks and then we've got to break out and get out of our end."  
LINES
Business as usual for the Blues:
Schwartz-Schenn-Sundqvist
MacEachern-de la Rose-Barbashev
Comtois-Lundestrom-Rakell
---
Quick Hits: Jim Thomas on the Blues
BLUES' DRAFTING PROWESS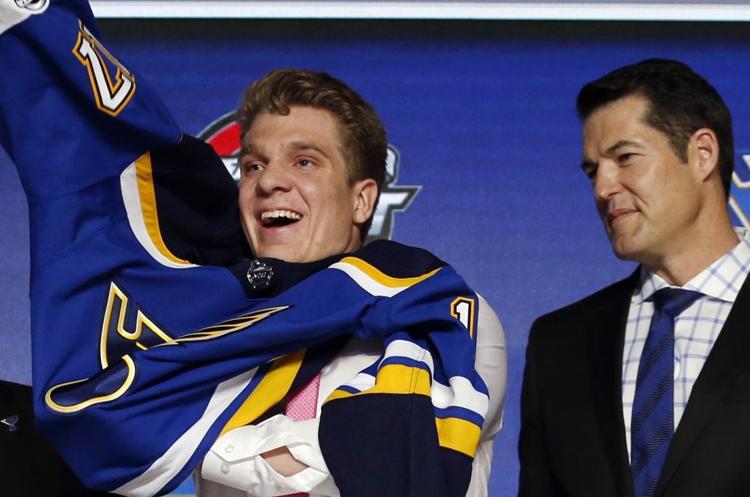 QUESTION: What is the Blues' rep around the league as far as their drafting goes? Seems like they have a secret sauce for "next man up." Do other execs feel that way?
JT: I haven't really done any kind of survey on this, but it has to be pretty good. The Blues have been able to maintain a nice run of success over most of the past decade without having high 1st-round draft picks and in some years without having a first-round pick. And they've hit on several players out of the first round. Parayko was a late third-rounder; Dunn a late second-rounder; Blais was taken late in the sixth round.
Obviously Doug Armstrong and Bill Armstrong are very good at what they do as well as the Blues' scouts.
MIKKOLA ON THE RISE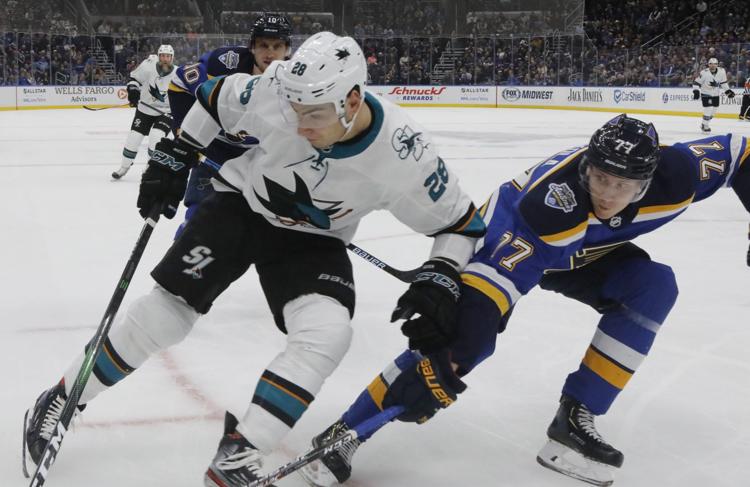 QUESTION: What did you think of the debuts of Walman and Mikkola? They're obviously not going to get much more time this year barring long term injury, but what about their long term trajectories? How does their progress and Reinke's play out long term with the other contracts on the books?
JT: I think Mikkola is the guy to keep an eye on, and I've felt this way for a while. The Blues like big defensemen and Mikkola looks like he's come out of the Parayko, Bouwmeester, Pietrangelo, Bortuzzo, Gunnarsson cookie cutter in terms of size. Walman and Reinke are puck movers. Mikkola is more of a stay-at-home defenseman who won't necessarily score much.
Here's a link to the story I wrote about Mikkola in Traverse City.
---
Follow-up: What was the initial reaction to Mikkola's debut? Seemed to be rangy and used his stick well.
JT: Pretty good reviews. I think there's a chance he plays against Buffalo even with Gunnarsson deemed available. Berube would like him to be a little better moving the puck. But he was aggressive, was physical in the corners, and as you mentioned was effective with the stick putting those long arms to use.
...  Berube likes Mikkola's size. And I think it's safe to assume that the Blues like Mikkola better as a prospect (over Walman) because Mikkola got the first bite of the apple in terms of being called up.
ANY TEAMS COMPARABLE TO BLUES ON 'D'?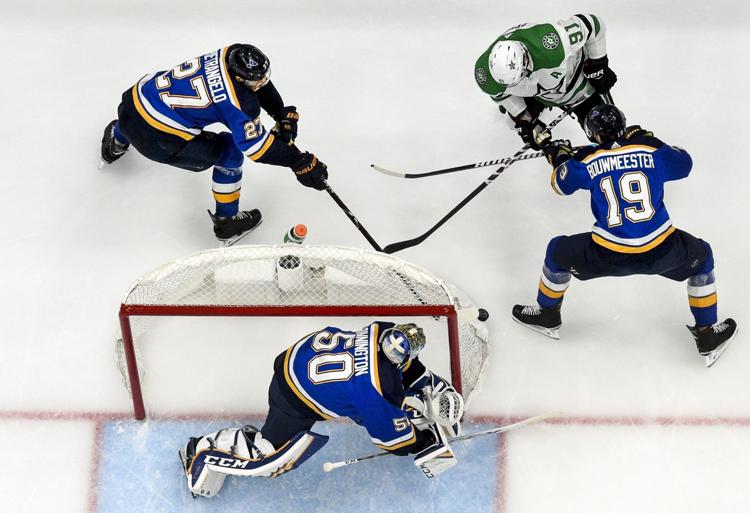 QUESTION: Recognizing that goaltending and backchecking are also crucial, which teams you have seen this season have a set of defensemen equal to or better than the Blues have (with Gunnarson/Bortuzzo as number 6)?
JT: I'll just base it on what I've seen. But off the top of my head — and maybe some of this has as much to do with system as personnel — but the New York Islanders, Boston Bruins and yes, the Arizona Coyotes are comparable.
WHAT'S UP WITH PARAYKO?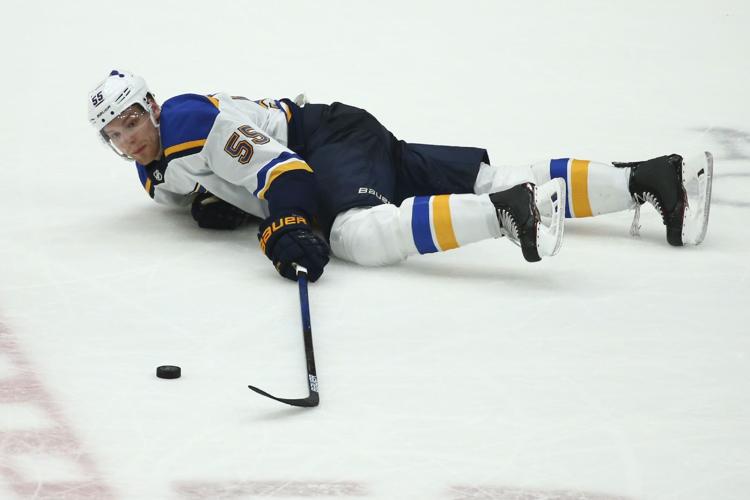 QUESTION: Any word on what ails Parayko?
JT: No. Berube told me "upper-body" and also told me on a couple of occasions that Parayko is experiencing some soreness. But that's all I know. He did skate Wednesday at practice.
TRADE ALLEN IF HUSSO IS READY?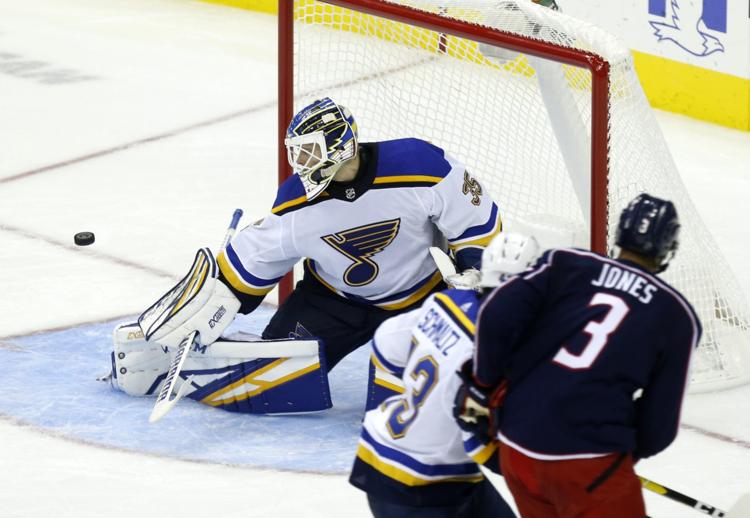 QUESTION: Given than Ville Husso is so close to being NHL-ready, any more thoughts on moving Jake Allen?
JT: I don't think so. Not this year (again, barring injuries). The Blues feel they have an excellent chance to make a run at another Cup run. Which means you probably don't want to have a rookie as your backup goalie.
---
Follow-up: Why are people in such a hurry to get rid of Allen? Husso hasn't even played a game in the NHL yet. Just like people wanting the Cards to trade Wong. I don't get why people want to get rid of players that are playing good.
JT: Fans love to talk trade. The Hot Stove league is universal, cutting across all sports and all socioeconomic lines.
ANY SIGNS OF FATIGUE?
QUESTION: Do you see signs of any player being fatigued by all the games the Blues have played in the past 12 months, or are they at a point in the season where they are gaining momentum after the long Cup run?
JT: I don't think I can say one player or two looks fatigued. Now, there have been different times this season that the team in general has looked tired. But they always seem to regroup after a day off or two. At least so far. I think we're still kind of in the dog days of the schedule. I think things pick up after the All-Star break. And then the stretch run really begins after the trade deadline in late February.
LONG-TERM LOOK AT THE BLUES' DEFENSE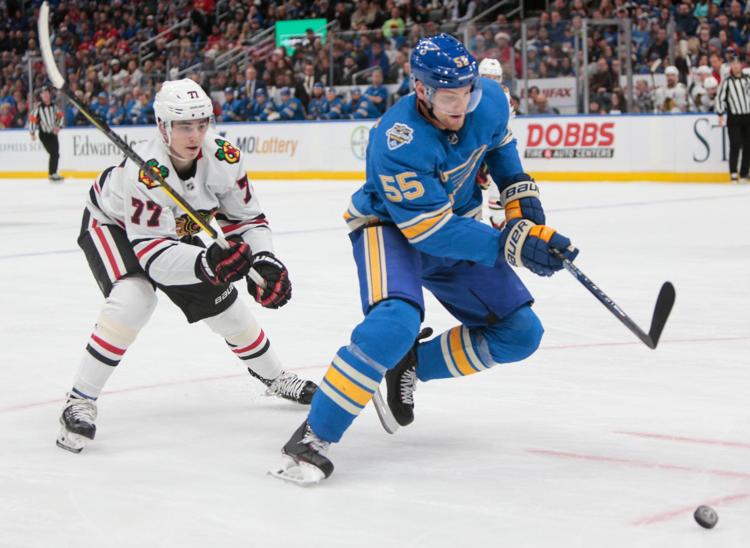 QUESTION: How does the Blues' defensive corps shake out a couple years down the road, factoring in contracts currently on the books?
JT: A lot of moving parts here. Is Petro back? Bouwmeester's contract also is up after this year, so does he come back? (The way he's played so far this season, I think the Blues would want him back on another one-year deal.) Dunn is an RFA so I assume he comes back. Gunnarsson has a year left. and he comes fairly cheap at $1.75 million. They have Parayko and Bortuzzo for 2 more years.
I think Mikkola has a very good chance to make the team next season. Needs to get stronger, maybe add a little weight and work on his puck movement.
STREAKING THROUGH THE SEASON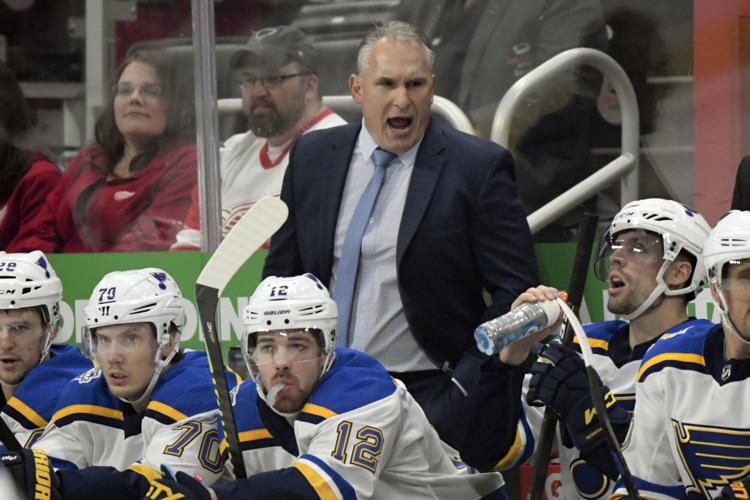 QUESTION: What do you make, if anything, of the fact the Blues have followed every prolonged win streak this season with a winless streak of three games or so? Is this just a matter of the team becoming too complacent after winning so many in a row or is it just the law of averages catching up to them?
JT: Well it's happened twice. They won 7, then lost 3 in regulation. They won 8 and then went 0-2-1. I don't really read too much into it either way. I think if you told most fans or even Berube that you'd go 7-3 of 8-2-1 over a 10- or 11-game stretch and the wins and losses were mixed together, you'd take it every day. You're not going to win every game, and maybe there's a bit of an exhale after a winning streak ends.
BLUES SET FOR REST OF THE SEASON?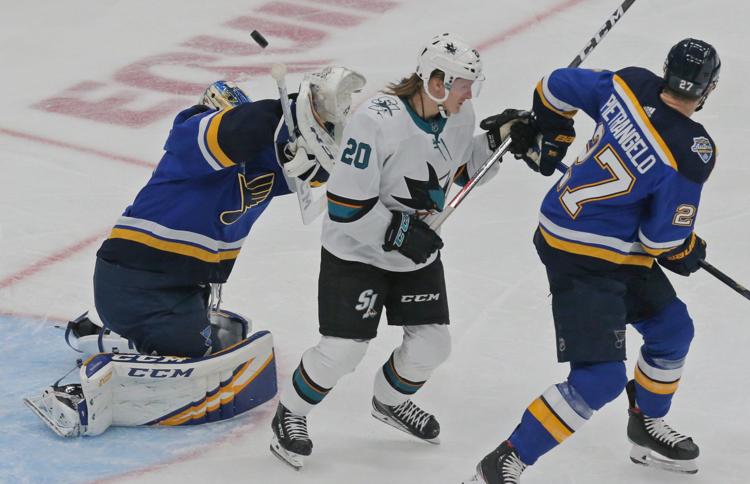 QUESTION: Is there a pressing need for the Blues to address with a trade before the deadline? Do the players talk about a need to add anything, or are they confident enough that they are telling "Army" not to tinker at all?
JT: Regardless of the sport, players rarely talk openly about what the team needs. But I think there is a general sense that the Blues have what they need to make a deep Cup run.
Injuries of course could change that. But the Blues seem to be scoring enough to win most nights. Despite the occasional hiccup, the goaltending and defense are near the top of the league.
RUSSIAN PROSPECTS
QUESTION: There are two Russians that I suppose the Blues would consider prospects. Alexei Torepchenko, and Nikita Alexandrov. Can you tell us anything about those players?
JT: Alexandrov, you may have noticed, played very well for Russia in the just-completed World Juniors. Just turned 19 in September. Was selected with the last pick of the second round this past draft (last June). But he was the Blues' first pick in the draft because they owed Buffalo their first-rounder to complete the O'Reilly trade. Assistant GM Bill Armstrong told me at the draft that Alexandrov's game has some similarities to Tyler Bozak, but also said he has top-end speed and can create off the rush. So I think he projects as a top 9 guy.
I think Toropchenko projects as more of a bottom 6 guy. He's a bigger body (6-3, 201), was a 4th-round pick in 2017 and is 20. He wasn't much of a scorer in juniors, but then came on in the OHL playoffs last year. in his first pro year, he has been pretty quiet with 3 goals and 1 assist in 25 AHL games for San Antonio.
GREATEST SHOW ON ICE?
COMMENT: For years we watched the abundance of talent the Blues had, and they couldn't put the pieces together long enough to make it work. We've seen good and some great players rep the Note but had to go elsewhere to win a Cup. Being a Blues fan has been exhausting and frustrating. I just hope people realize that what we are seeing this year. This is a quality Blues team, and they are fun to watch. The desire to compete on this team is something that many of the teams of previous years have lacked.
JT: You make great points you make. I hearken back to the "Greatest Show on Turf" days, when Vermeil and especially Martz called it a "special place in time." I kinda get the sense that's where we're at with the Blues.
Will that lead to another Cup (or more)? Who knows. But I think Blues fans should realize they are watching something special. And I'm sure many do.
TRIPLE PLAY FOR JT?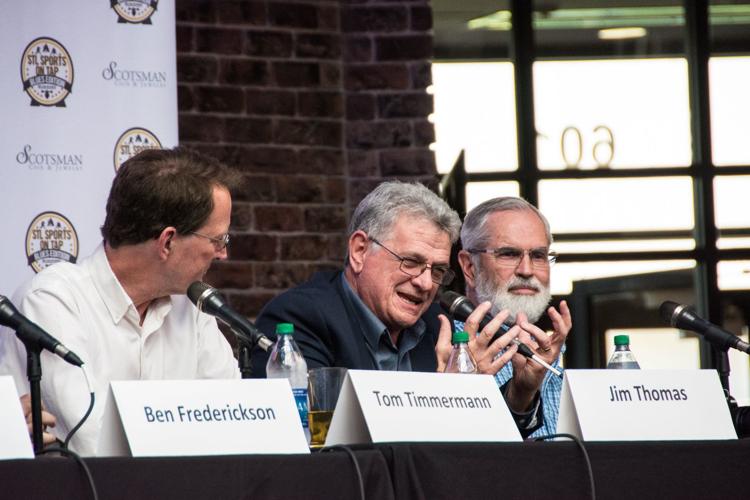 QUESTION: Any plans on taking on the Cardinals' beat? After all, you bring championships to the teams you cover. That could be helpful to the local 9.
JT: Yeah, how about that. Suddenly I'm the good-luck charm.
But with a Hall of Famer and a future Hall of Famer on our Cardinals beat, I think we're in pretty good hands.
The latest STL Blues hockey news, NHL headlines, scores, standings and rosters.