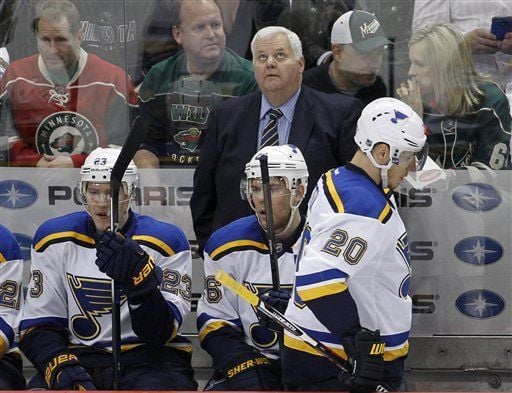 Blues coach Ken Hitchcock said he needed time to reflect on the season before making a decision as to whether he'll return as coach of the Blues next season.
"I need time," Hitchcock said. "I need time to reflect, some time to evaluate right now, what I've done, what I've accomplished, what's happened to us, both positive, a lot of it, and the negative, which goes with the territory. I feel like I've let people down right now and I need to look at that and what needs to improve and I want time and space to evaluate it. I'll sit down with Doug, we've been together a long time, I know how good a coach I am, I know what I can do."
Said GM Doug Armstrong: "I think when you look at the day he took over, where the ship was headed to where we are now, there's been a quantum leap. There was hope not to be embarrassed to have expectations to win a Cup. Those goal posts are very wide. I give him the utmost credit doing that, getting us on that task, completing that task of respectability to then (becoming) expectations. What we're going to evaluate now is 'What do we have to do now to move this forward?' I'm not going to put a timeline on it. It's not going to be 'You come back in 18 days and I'll have an answer.'
"It's going to be when as an organization we're ready to decide on all of us, myself included. I'm not above or immune to this situation. But Ken and I, we've been friends for a number of years. He needs time to reflect, I need to give him that time to reflect. The one thing that we have with each other has been honesty - honesty when we weren't working together for the better part of a decade to honesty when we have been working together for the better part of over a decade. So hey, we're big boys, he gets it, I get, I've got to do my job, he has to do his job and we're going to continue to talk and move this forward."
Hitchcock said this situation was different than the previous seasons when the team made early playoff exits. "This is a whole different evaluation," he said.
Earlier, Hitchcock said: "I need personal time to sit down and reflect on each and every playoff game. I haven't looked at anything yet. And I want that personal time with my family to be able to sit down and evaluate what part was our responsibility and what part needs to change for us to have success. I feel, there's a huge investment between the coaches, the players and the fans ... not only the fans that come to the games, but the television and radio audience.
"There's a huge connection in this community. They live and die with us. It's an awesome feeling. I can't go anywhere in the city without people wishing us luck. I can't go anywhere without people supporting us. The feeling right now, quite frankly, is we let them down in a big way and we are hurting for them and for us. We need to take a hard look at what our role was in this and what our responsibility was in this. We've got a good team. We got beat by a better team. They played better hockey for more minutes than we did. We never got to our A game until Game 4, so all of that has to be personally evaluated by me as to why those things transpired."
General manager Doug Armstrong said there was no timetable on decisions moving forward but that re-signing Vladimir Tarasenko, who is a restricted free agent, will be a priority, and because of the size of his impending contract they won't be able to sign any other players until the Tarasenko deal is completed.
"We are not going to be active in some other players until we get him taken care of," Armstrong said. "We're going to take care of our restricted free agents. We're going to keep  the primary guys. He knows it. The hockey world knows it. ... He's the priority for us."
Tarasenko will be going to the world championships that start shortly.
As for the rest of the roster, Armstrong said a complete overhaul would be difficult.
"First, I have to come to personal grips that's that's what I think is best," Armstrong said. "To move Player X for an inferior player doesn't make you better. If we can move pieces around because we think we're going to improve, than we do it. To make a proclamation that there will be five new veteran guys here and five veteran guys gone, there could be eight, there could be none. I have to see what the market bears and the market has to see what I bear. 
"If you're looking for a statement today that's going to have a definite answer, I don't have that yet. I think that what I need to do is, I need to use the time that's allotted to me now to do that evaluation ... I'm going to personally leave town tomorrow. I'm going to go watch our minor-league team play in Utica. Then I'm going to come back for a week, have more meetings, head to the World Championships. I'm going to try reconnect with Vladi Sobotka to find out what his intentions are a year from now. Come back and then push this team moving forward."
Armstrong said they would welcome Vladimir Sobotka back next season, but that the value of the ruble would likely be a factor.
Sobotka left the Blues to play in the KHL last season but, under an arbitration ruling, he owes the Blues one season at $2.7 million. Armstrong said it was purely a business decision for Sobotka to go to Russia and there were no hard feelings.
"He had to do what he had to do," Armstrong said. "I'd welcome him back with open arms. I think he wants to come back and we'd love to have him back. I love what he brought to our team, I love his attitude."
Armstrong and Hitchcock both stood behind the decision to start Jake Allen in the playoffs and they expect to have both Allen and Brian Elliott as a goalie tandem next season.
"We entered this season with it Brian's job," Armstrong said. "Jake was learning. He got up to speed quickly and they jostled for position. From a competitive standpoint, that's what you want. ... I see us next year with a goalie tandem. If one of them takes the ball and never drops it, good for us, bad for the second guy."
"That's going to be a great competition," Hitchcock said. "It's going to make the team really good because you've got a young guy that wants a piece of the pie. It's going to make for great competition through training camp, through preseason. ... Jake was really good in the first three games when we weren't very good. He really has gained a lot of confidence and Brian's not giving up easy. He wants it back."
Hitchcock said they liked the play of defenseman Robert Bortuzzo, but they felt it would be too hard for him to get back up to speed in the playoffs after missing time later in the season to injury. Armstrong said they wanted Bortuzzo, a restricted free agent, to be part of the team next season.
"Robert sustained an injury, came back and played with the same injury," Hitchcock said. "The view started out he was out an extended period of time and it would have been very difficult at the end, as much as we loved his energy and everything, to ask him to crank up to speed. That was an evaluation that was based on our part. It had nothing to do with his play. We loved his energy."
"Bortuzzo, have to work on a contract with him," said Armstrong, who said he supports whatever lineup decisions Hitchcock makes. "I want him as part of our group."
Vladimir Tarasenko (Russia) is the only Blue currently committed to playing in the world championships, which begin on May 1 in the Czech Republic. 
Kevin Shattenkirk said he doesn't expect to play for the United States because he wants to recover further from his abdominal injury. David Backes said he didn't expect to go because his wife is 33 weeks pregnant, which means her delivery could be imminent. Alex Pietrangelo (Canada), Alexander Steen (Sweden) and Zbynek Michalek (Czech Republic) said they wouldn't be participating.
Armstrong said that Robby Fabbri, the team's top draft pick last season who played in juniors this season, will get a good look from the team next summer. "That one is more 50-50. He's going to have to have a huge summer in the gym. He's going to have to come in here and perform to a high level right off the bat and if he's given that opportunity, his first nine games are going to have to be good and then we have to make that decision.