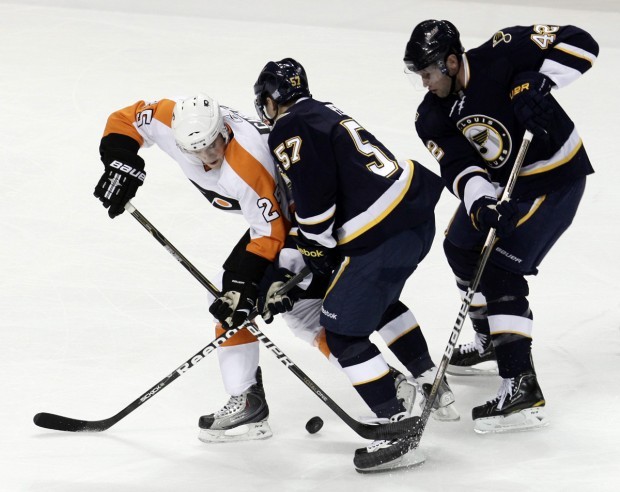 Today could be a day that determines whether the Blues will need to trade a forward - quite possibly a top-six forward.
The Blues have a hole on the left side of their defense and they are trying to fill it via free agency. General manager Doug Armstrong said that the club reached out to several free agents on Sunday, expressing interest.
Armstrong would not confirm whether the team made contact with Ryan Suter's camp, but the Blues aren't believed to be in the mix anyway. But they did send feelers out to Florida's Jason Garrison and Philadelphia's Matt Carle.
Garrison signed a six-year, $27.6 million contract with Vancouver, and while the Blues may have matched the $4.6 annual average on the contract, it appears they didn't have much of a chance anyway because the British Columbia-native was looking to play close to home. Some Blues fans may be relieved because Garrison, 27, has had only one above-average year in the NHL, posting 16 goals and 33 points last season. 
Carle, 27, might be a higher priority for the Blues anyway. He had 38 points with Philadelphia last season and has 113 points over the last three years with the Flyers. In 2010-11, he had 39 assists and was a plus-30.
Carle is coming off a four-year, $13.75 million contract, which paid him $3.8 million last year. Some are speculating that Carle could be commanding close to $5 million in the open market, and with Garrison receiving a term of six years from Vancouver, teams might need to match that length for Carle, too.
Reports from Sunday night suggested that Carle probably won't sign until Suter signs. That would make Carle "Plan A" for the teams who lost out on Suter. Carle would be coveted because the options after him dwindle. Phoenix's Michal Rozsival, Philadelphia's Pavel Kubina, Toronto's Jeff Finger, New Jersey's Bryce Salvador and recent Blue Carlo Colaiacovo are available free agents.
While Colaiacovo remains an option, it's doubtful the Blues would feel solid signing from that group after having their sights set on something higher in free agency. Which means, instead of finding a defensive partner for Alex Pietrangelo in free agency, they may turn to the trade route. 
Armstrong said Sunday evening that he did have trade discussions with teams on the first day of free agency. He said his message was "If you get into 'this situation' let me know and I might have interest.'"
Possible trade targets for the Blues are Calgary's Jay Bouwmeester and Phoenix's Keith Yandle. 
Bouwmeester, 28, is a minutes eater. Last season, while playing his seventh consecutive 82-game season, he ranked third in the entire NHL in minutes played with 2,128 minutes, 31 seconds. He ranked sixth in the league in ice time per game (25:57).
Bouwmeester had five goals and 29 points in 2011-12 with Calgary. His career high is 15 goals, which he reached twice while with Florida in 2007-08 and 2008-09.
Yandle, 25, may also be available via trade. He didn't play as many minutes as Bouwmeester last season, averaging 22:20, but he's more offensive. Yandle has had 11-plus goals and 41-plus points in each of his last three seasons, including 59 in 2010-11.
Neither Bouwmeester nor Yandle would come cheaply, in terms of salary or trade compensation.
Bouwmeester has two more years remaining on a five-year, $33.4 million contract. He will be paid $6.6 million each of the next two years with a cap hit of $6.68 million. Yandle last season began a five-year, $26.25 million contract. He will make $5 million in 2012-13 and his salary escalates $250,000 each of the following three seasons.
But here's where the price tag gets heftier.
Calgary and Phoenix are forced into a position where they have to trade either player and both teams could be looking for top-six help at forward.
The Flames ranked 24th in the NHL in goals per game last season (2.43). Their top two goal scorers last season were the aging Jarome Iginla (32 goals) and Curtis Glencross (26).
The Coyotes were 18th in goals per game last season (2.56). The Yotees have Radim Vrbata (35 goals last year), but Ray Whitney (24 goals) has signed with Dallas and captain Shane Doan (22) is also an unrestricted free agent.
All of which means that teams such as Calgary and Phoenix may have interest in the Blues' forwards.
They have 14 in the picture: David Backes, Andy McDonald, Alex Steen, T.J. Oshie (restricted free agent), David Perron (restricted free agent), Vladimir Tarasenko, Patrik Berglund, Chris Stewart, Matt D'Agostini, Vladimir Sobotka, Ryan Reaves, B.J. Crombeen, Scott Nichol and Jaden Schwartz.
The team also has interest in re-signing unrestricted free agent Jamie Langenbrunner and depth in the minors with Evgeny Grachev, Adam Cracknell and Philip McRae.
So would the Blues, who struggled to score at times themselves last season (without a completely healthy lineup), trade one of their offensive weapons to add the caliber of defenseman they're coveting?
Armstrong has said that he has no plans to make deals involving the team's core. With a payroll that is $28 million under the salary cap for the 2012-13 season, although that is much higher than the team's budget, it would be more productive to find the defenseman in free agency. But Armstrong might not have a choice if the Blues don't get a returned phone call.