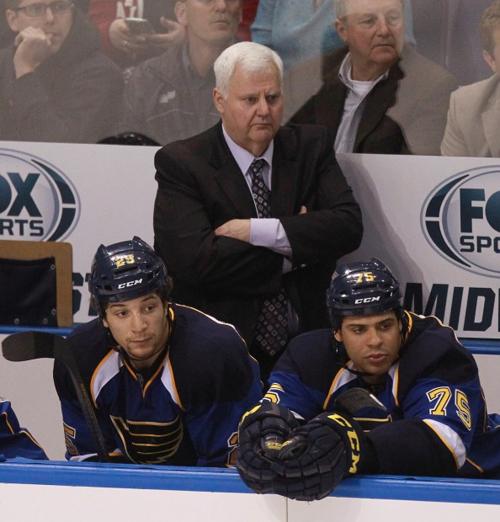 The Blues flew into San Jose late Wednesday night and will play the Sharks in a rare afternoon game at 3 p.m. Friday.
With San Jose coming off a thrilling eight round shootout win over Los Angeles on Wednesday, Friday's game figures to be difficult. But it may be especially challenging for Maxim Lapierre.
This is the first time the teams are meeting since Lapierre's hit on Sharks defenseman Dan Boyle during an Oct. 15 game at Scottrade Center. That play left Boyle motionlesson the ice and required him to be removed on a stretcher. Lapierre was supended five games for the hit.
Boyle is back up and running and had one of the shootout goals on Wednesday for the Sharks. Lapierre knows what might be waiting for him on Friday.
"Obviously I think it will just be a normal thing for the fans to react to that," said the Blues forward. "I'm ready to face the music.
"At the of the day, I'm just happy that he's playing and I think he's doing good. That's all that matters."
After the game, Lapierre attempted to call Boyle several times but the Sharks' defenseman never answered his phone. Lapierre finally exchanged text messages with Boyle.
"Yeah, I called him for a few days and he didn't answer. After that, I texted him and we explained what we were thinking, both sides and I can't say he's happy with it. But this is what it is, what we were thinking."
Of course, the Blues would like to make things easier for Lapierre by playing better than they did in a 6-2 loss to San Jose on that particular night.
There were some harsh words spoken between the coaches after the Blues' 4-1 win at Colorado. Avalanche coach Patrick Roy took aim at Blues skipper Ken Hitchcock.
"You know what, I was very mad at the end because I have been jabbed by different coaches around the league, especially Hitchcock when he said that was junior stuff, talking to players, talking to the referees," Roy told The Denver Post.
"But I saw a guy on the other side who was talking to players and then was also talking to the referee and got the referee (mad).
"Seems to me that there's different rules for everybody in this league. I guess the old guys are allowed to do whatever they want and I guess us, because we are younger, we are not allowed to say anything. I am a little (mad) about that."
Informed of Roy's comments, the 61-year old Hitchcock offered some terse advice.
 "Oh, give me a break," he told the messenger. "Tell Patrick to shut the (expletive) up."
Colorado versus St. Louis. It's not just for breakfast anymore.