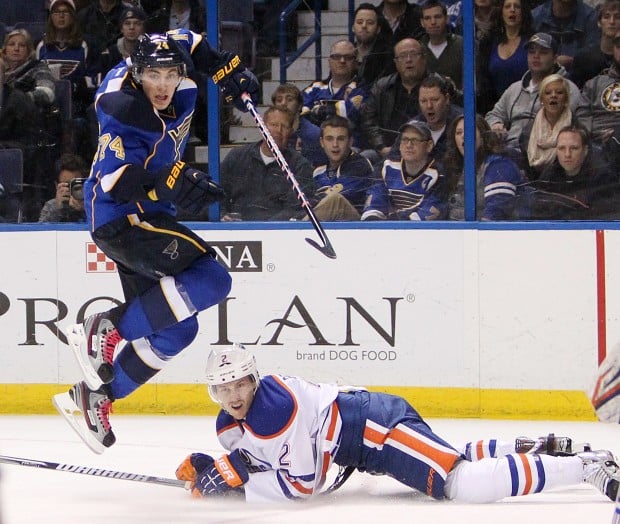 Blues forward T.J. Oshie underwent surgery on his left ankle Tuesday, the club announced, and his status is now week-to-week.
The procedure was performed by Dr. Jeffery Johnson, Dr. Jeremy McCormick and Dr. Rick Wright at Washington University Orthopedic Center.
The Blues discovered that Oshie, who has been on injured reserve since April 2, has a stress fracture hours after the mood had grown positive Monday about his pending return. 
Oshie, who has missed the team's last eight games with what was believed to be a bruised ankle, stopped just short of pronouncing himself fit for duty after Monday's practice.
"I'd say today was probably the best day I've had yet," Oshie said Monday. "We'll see how we feel a couple of hours from now and tomorrow morning and go from there.
"I think we're close, but ..."
After suffering the injury while blocking a shot March 28 against Los Angeles, Oshie had resumed skating April 6. He went on the team's recent four-game road trip and was on the ice nearly everyday. He's been gradually looking more comfortable in practice drills.
"Today was his best day," Blues coach Ken Hitchcock said Monday. "He's literally day to day now. We'll see how he is in the morning, see how he feels."
The ankle is the same one that has led Oshie to miss significant time in his career.
In 2010, Oshie was involved in a scrum in Columbus and broke the ankle, leading to surgery and missing 31 games. In 2008, he missed 11 games because of an injury to the ankle.
With a timetable of week to week this time around, Oshie could miss the remainder of the regular season, which ends April 27th. There's no word yet on whether he would be available for the playoffs, if the Blues were to advance.
Oshie has 20 points (7 goals, 13 assists) in 30 games this season.
Dmitrij Jaskin will make his NHL debut tonight, wearing No. 26 for the Blues when they face the Vancouver Canucks.
Jaskin (pronounced YASH-kin) was the team's second-round pick (No. 41 overall) in 2011. A lefthanded shot who plays right wing, he stands 6 feet 3 and weighs 205 pounds. After finishing his season with Moncton of the Quebec Major Junior Hockey League, where he had 99 points in 51 games, Jaskin is eager to see what the NHL is like.
"We'll see. I know the guys have more skill and it's high level speed, so it will be a big difference," he said. "But I'll just try to work hard and do my best."
When he arrived with the Blues, Jaskin had not skated in nine days. Coach Ken Hitchcock wanted his new forward to get up to speed before making an evaluation. Hitchcock said he was anxious to see what Jaskin brings.
Hitchcock indicated Jaskin would play with either Patrik Berglund or Chris Porter as his center, depending on what lineup look the Canucks employ.
"He's practiced with both guys," Hitchcock said. "Conditioning-wise, with all the skates he's had, he's ready to go and I think we need to put him in to see where he's at evaluation-wise.
"He brings an element that is very unique and we'd like to see if he can keep up to the pace of this time of year."
Brian Elliott will be in goal for the Blues, who are hoping to give him a little more offensive support. The team has five goals in its last five games and has scored two or less in eight of the last 11.
"I just think this time of year, you have to go harder in the hard areas," Hitchcock said. "It's an easy thing to say, hard thing to do.
"We were 6-0 living on the fine line the right way, and we've lost the last two games living on the fine line the wrong way. Probably the best we've played for a little while was against Chicago, and we didn't score. So we just have to stay with it."