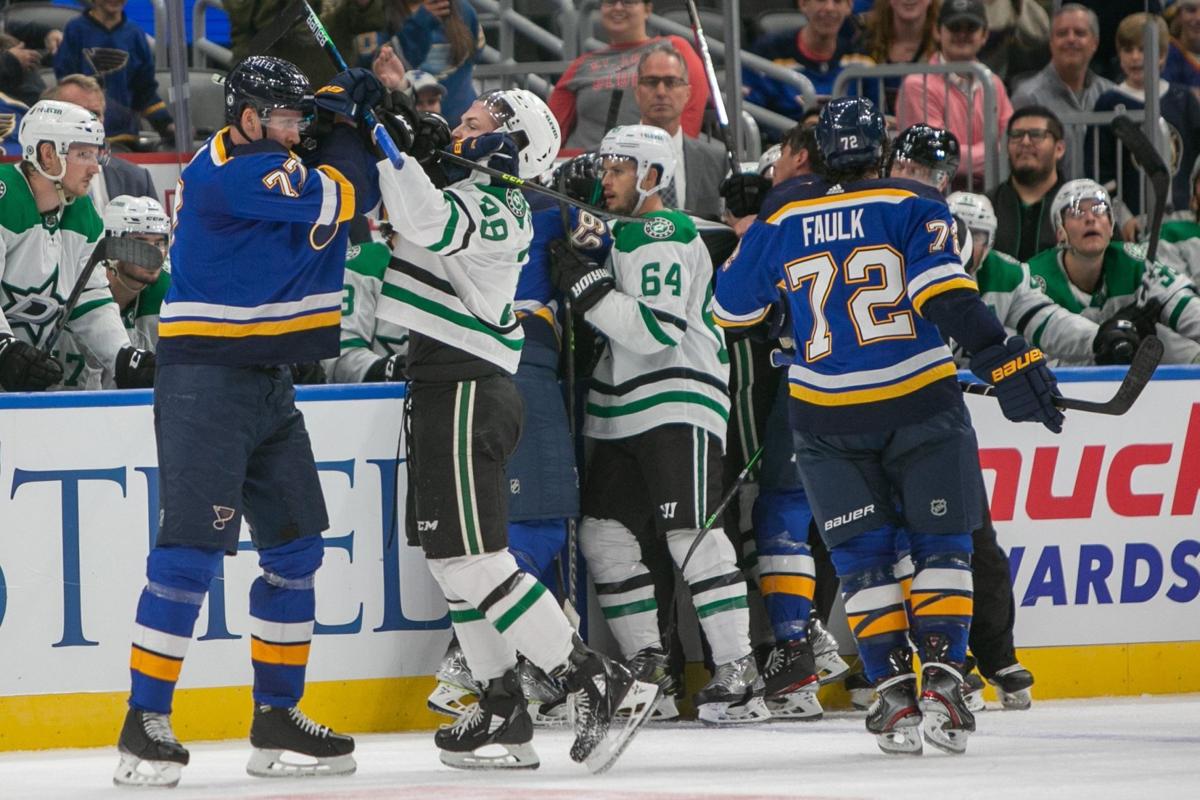 It's not the first time back to play the Blues in St. Louis for Alex Pietrangelo, but tonight is the first time with a full house at Enterprise Center.
In April, when Vegas came to town, there were only about 4,100 fans in the building to welcome back the team's former captain. Tonight should be much closer to a capacity crowd.
"It'll be pretty special," Pietrangelo said Monday morning. "It's going to be fun playing in front of a full crowd. I had a lot of good times with the fans here. They were nothing but great to me. I hope I was the same to them. It was a little disappointing last year not having the building full. It's a fun place to play for anybody, but obviously it's going to be more special having family in the stands."
Pietrangelo has three goals and seven assists for Vegas, which has won five of its past six games. This is one of two trips by Vegas to St. Louis this season. The other is the final game of the regular season.
"He's been fantastic," said Vegas coach Pete DeBoer. "One of the reasons we've been able to survive and be in the position we're in with what we've gone through has been our goaltending and the play of our big guys that have been in the lineup, and he's right at the front of that list. He's been solid every single night, leading the way for us from a defensive point of view and offensively chipping in, but his leadership has been exceptional through this stretch in keeping us on the right path and in a position to be able to get through some of the stuff we've dealt with."
Bortuzzo out, Mikkola in
Robert Bortuzzo wasn't on the ice for practice Monday. Blues coach Craig Berube said he got dinged up in the Dallas game Saturday and it was mostly a maintenance day for Bortuzzo. Niko Mikkola will be in the lineup for the first time since Nov. 4. This will be just his third game this season, coming in Game 18 for the Blues.
"It's pretty tough sometimes," he said, "but I just need to get working hard and be ready for when I get called to play, and it is what it is.
"I didn't feel like I had the best camp but like the same thing as I'd be working like on the last year, and I think I will play fine when I got a couple of games."
"He played a couple solid games and got COVID," Berube said. "That's unfortunate. We've been wanting to get him back in there, big body. He's aggressive and difficult to play against.
"I think sometimes going into training camp when you're a young guy, you want to stand out and make the team and be one of the top six D, and you put a lot of pressure on yourself. And I think he put a lot of pressure on himself and didn't perform well enough. Other guys out-performed him. He's still on the hockey team, obviously, and like I said, he played a couple good games before COVID hit him so hopefully he can just feed off that and get going again."
Otherwise, it's the same lineup for the Blues. Brayden Schenn was on the ice for the morning skate and Berube said he was close to returning to action. "Very close," he said.
Lines
Buchnevich-Thomas-Tarasenko
About that goal in Dallas
The first goal for the Stars looked to go in off Jamie Benn's glove, and the scoring crew in Dallas credited him for it. They later changed it back to Ryan Suter, who took the shot from the blueline. 
"We talked to the league," Berube said. "I'm not sure if it went off Benn or not. It's close, but if it did, it still would have counted."
A goal can't be batted into the net with a hand, but a puck can deflect off a hand and be counted.