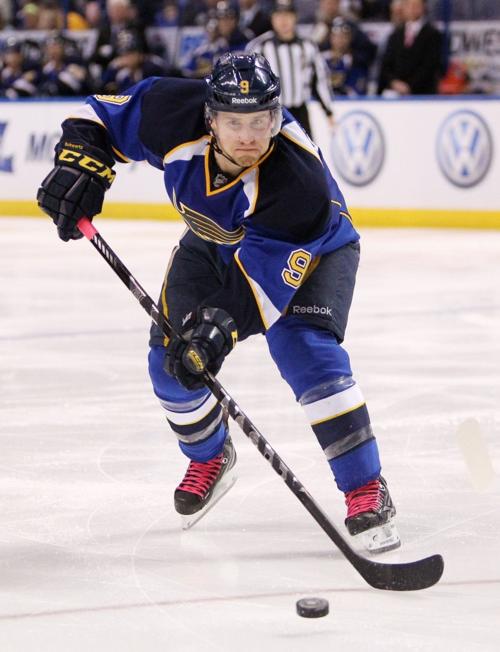 The Blues' first practice in three days stopped suddenly when Jaden Schwartz went down to the ice in pain.
Schwartz was sent to the hospital and coach Ken Hitchcock said there would be no other update until Saturday morning, but it certainly didn't look or sound good.
"We're not going to know until tomorrow morning," Hitchcock said. "We sent him to the hospital to get a further evaluation and we'll have give you an exact update on time frame tomorrow."
The Blues are already without Paul Stastny, who has a broken right foot, and will be without wing Robby Fabbri for one more game because of a concussion. Fabbri skated with the team again on Friday but won't return to action until the game on Tuesday. The same goes for defenseman Kevin Shattenkirk.
The Blues have called up forward Ty Rattie from Chicago of the American Hockey League. He will play on Saturday.
The team was in the midst of a drill when the left winger slipped and fell and then collided with the goal post. Goalie Brian Elliott saw the incident play out right in front of him.
"He shot the puck and then the puck bounced off," Elliott said. "He went to reach back for the rebound, kind of lost his edge and kind of came back into me and into the mesh of the net. So I don't really know ... I haven't seen him or talked to anybody about it, so I don't know the scope of it. Hopefully he's all right.
"Usually guys are pretty tough and don't let anything bother them. But when you see a guy stay down, it's usually not very fun."
Players quickly waved for help and trainer Ray Barile came onto the ice, where he tended to Schwartz for a brief moment. 
He was eventually carried off by Barile and assistant coach Kirk Muller, putting no pressure on his left leg. Practice quickly resumed.
"It was a pretty innocent thing," Hitchcock said. "We'll see how serious it is tomorrow, but obviously he couldn't finish practice. That's the first alarm bell that goes off, that he couldn't finish the practice. We'll see in the morning. See if it's serious or not. I've been in it a long time, I've never seen that in my life, in a warmup drill, the guy goes down."
The incident happened in the first drills of what was supposed to be a hard practice after two days with no on-ice work. The coaching staff had spent Thursday discussing ways to get more players, including Schwartz, involved in the offense, but those plans quickly went by the wayside.
"In 31 seconds, it went out the window, in a warmup drill," Hitchcock said. "Like I said, I've never seen that in my life. It's an unfortunate part of hockey, but talk about squashing the energy of a practice but we got through it and we'll be back to play again tomorrow. I'll tell you one thing, nobody feels sorry for us, particularly the Islanders."
Schwartz, who is playing on the second line, has four assists in seven games this season. He was second on the team in goals last year with 28 and third in points with 63.
Rattie is off to a solid start for the Chicago Wolves in the AHL. He has four goals and three assists in three games.
"He's lighting it up in the American League, he's been champing at the bit," Hitchcock said. "He was close to making the team. Knowing him, he'll really take advantage of this. He's on that cusp of being an NHL player and I don't think he's going to miss the opportunity to come up now."
ELLIOTT WILL START IN GOAL
Brian Elliott will start in goal against the Islanders. If you're keeping track, in what will be the Blues' eighth game, Elliott will have made five starts and Jake Allen will have made three. If you're also keeping track, the team is undefeated with Elliott in goal and their two losses have come with Allen in the nets, though those losses came against Minnesota and Montreal, maybe the team's two toughest games so far.
The latest STL Blues hockey news, NHL headlines, scores, standings and rosters.