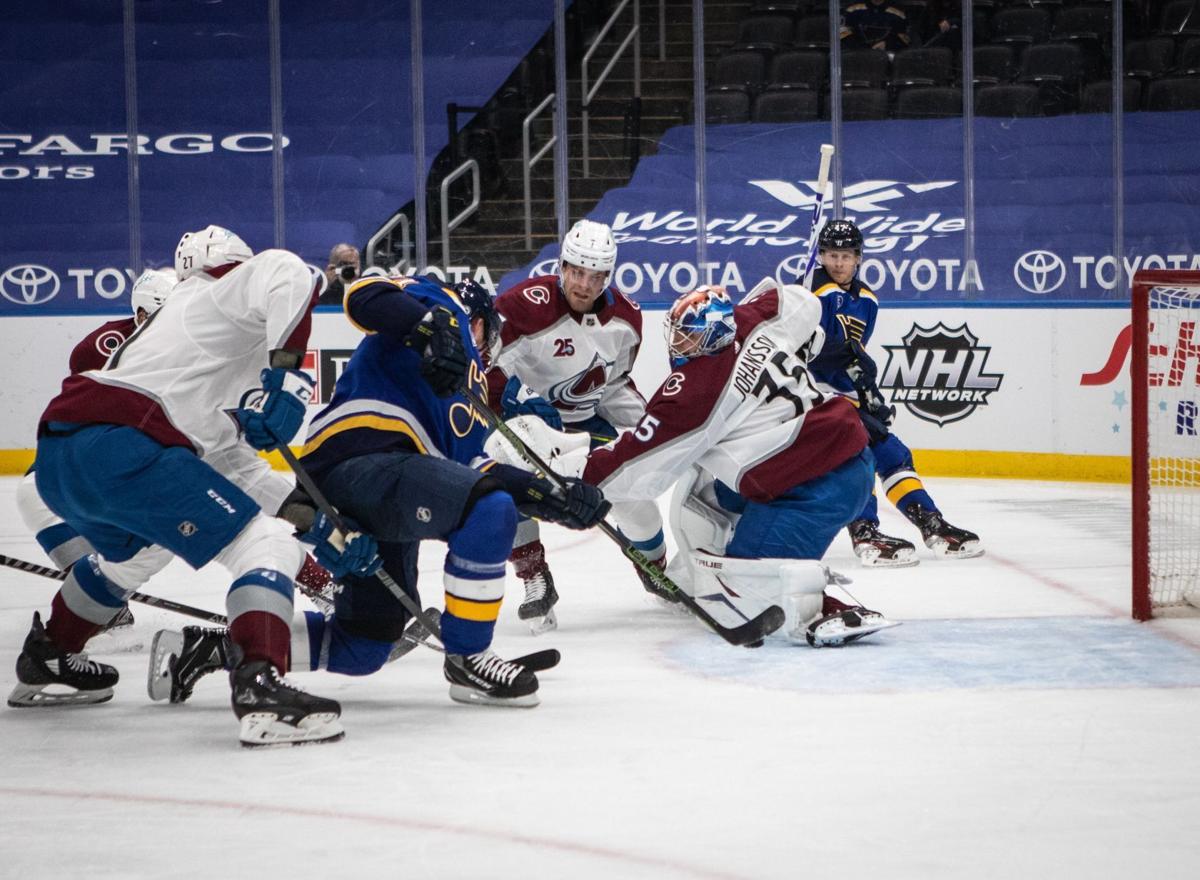 In the continuing jigsaw puzzle that is the Blues lineup, where who is in and who is out seems to change on an hourly basis, it looks as though the Blues will have Vladimir Tarasenko back for tonight's game with Anaheim at Enterprise Center.
Tarasenko and Sammy Blais split time on line rushes Monday morning, alongside Jaden Schwartz and Tyler Bozak, but when it came time to do power play work, Tarasenko was part of the first unit where he normally is.
"Yeah, there's a good chance he's going to play," coach Craig Berube said. "We'll see in warmups."
If Tarasenko is back in, Kyle Clifford will come out. Berube had an on-ice chat with Clifford at the end of the morning skate, usually a sign of a player coming out.
Tarasenko has missed the past two games with a lower-body injury. He was a late scratch on the first of those games. Tarasenko had a goal and two assists in the four games preceding his injury and Berube said he liked the way his game was trending.
"I did," he said. "I thought that he was getting better looks. I liked that line before he got hurt, I thought they were doing some good things and power play wise he was doing a good job at the netfront, got a goal, just being at the net, he's a guy that can make plays down there on the goal line, and he's strong and he can find rebounds around the net. He's a big body, so he's effective down there."
Torey Krug will miss his second consecutive game with a lower-body injury. Berube said he is still day to day.
Defenseman Vince Dunn, who has missed four games with an upper body injury, was back on the ice, but isn't ready to play yet.
"I think he's doing well," Berube said. "I think you could see him in the lineup this week. Right now, I'm not sure. Him being out there today with us was very positive. We'll get him some contact, hopefully tomorrow, and go from there."
Lines
Assuming Tarasenko comes back, it will otherwise be business as usual for the Blues.
Max Jones -- Ryan Getzlaf -- Sam Carrick
Alexander Volkov -- Isac Lundestrom -- Rickard Rakell
Max Comtois -- Trevor Zegras -- Troy Terry
Nicolas Deslauriers -- Derek Grant -- Danton Heinen
Cam Fowler -- Jacob Larsson
Haydn Fleury -- Jamie Drysdale
Simon Benoit -- Kevin Shattenkirk
Backes on Wednesday?
David Backes isn't going to play tonight -- he didn't appear to be on the ice for the morning skate -- but Ducks coach Dallas Eakins said there was a chance he could play Wednesday. "It won't be tonight, though," he said.
Backes has talked that retirement may be in the very near future for him. He's played in only 14 games this season for the Ducks, just one of the last 11 games, and this is the final year of the five-year contract he signed when he left the Blues.
"The one thing I'll add on Backes," Eakins said, "I know what he has meant to the St. Louis organization in the past, obviously being a captain and I think really setting a standard for leadership, character and work ethic. Even though he has been limited in the number of games he has played for us, he has not relented with his leadership, with his character or with his work ethic. I think he's been a real shining light for our veterans on how to conduct yourself through an adverse time and I think he's been an inspiring figure for our younger players. I just can't say enough about that young man, not only on how he has handled himself throughout his career but just how he has gone about his business with our organization, his interactions with me, our staff and our players over this year."