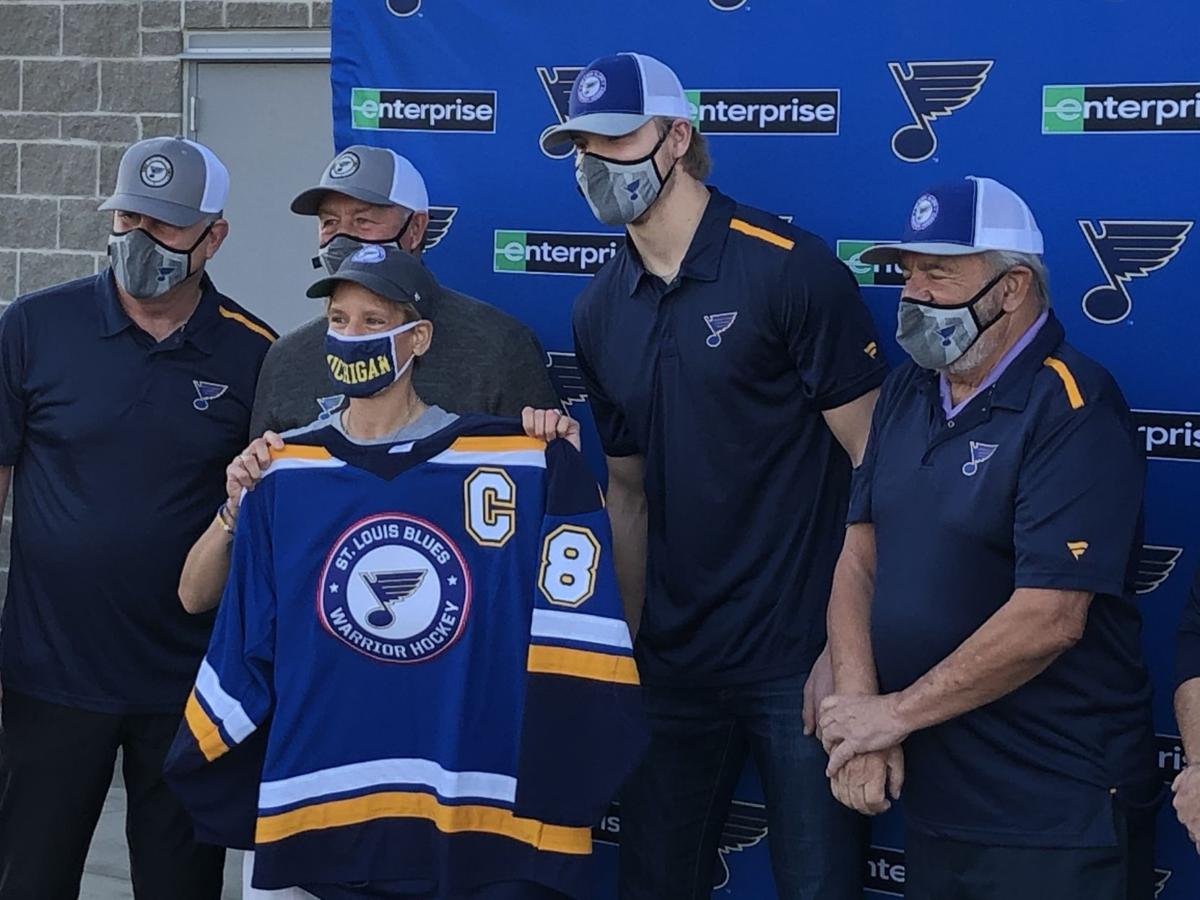 For a group of people who have worn uniforms for much of their adult lives, there was something special about Thursday morning's ceremony at Centene Community Ice Center.
Members of the new Blues Warrior Hockey team, a group made up of injured and disabled military veterans, received their game uniforms, blue with white and gold stripes and a bluenote inside a circle with the team name after their Thursday morning practice, just ahead of the team's first game on Saturday against a Warrior team from Kansas City. Among those on hand for the presentation were Blues owner Tom Stillman and defenseman Colton Parayko, along with Hall of Famer Bernie Federko and Blues legend Bobby Plager.
Up to now, the players had their black, white and gray practice jerseys, but on Thursday, they got the real thing, in living color.
"It means the world," said Tim Taylor of O'Fallon, Mo. "I've craved being part of a team since being out of military. It's been more of an individual lifestyle and hockey is where I get that camaraderie and teamwork, and playing with other vets, it's just, it's amazing. It's a great opportunity. I love it."
"A lot of us grew up huge Blues fans," said Nathan Laupp of Defiance, the ex-Marine who started the team and is the starting goalie on its top squad. "Watching guys like Curtis Joseph and Brett Hull and Bernie Federko. Now getting the chance to turn to the Blues and for them to say yes to us, you can wear the Bluenote, it means so much. It makes you almost giddy."
"Knowing what that uniform represents, it's the same pride," said Laurel "Buff" Burkel of Belleville. "This jersey? This is our game jersey. That's like our dress uniform."
The Blues Warrior team started in July but already numbers in the 70s – Laupp said they had someone sign up on Thursday morning – and is a collection of men and women, with hockey experience ranging from college to none, who served in every branch of the military (except, so far, the Coast Guard) and are considered to have a 10 percent disability rating by the VA. The group has gotten so large that they have broken up into two groups, Team Shake with the more experienced players and Team Bake with those just learning. The team's first games, with Team Shake at 1 and Team Bake at 2, will be on Saturday at the East Alton Ice Arena. A mixed team will play a Central Illinois team at 7. Ex-Blue Rob Ramage coaches the team which, Laupp says with pride, practices more than any Warrior team in the country, with three sessions a week.
He's had over 30 surgeries on his hands since then. As he laid there in the hospital that day – Oct. 27, 2005, he says without hesitation, the date clearly etched in his mind – the thought of if he would ever play hockey again was on his mind.
"It was the first thing that came into my mind because it was questionable whether I would lose both hands or not," Taylor said. "And then when they were able to save the right hand, I knew I'd figure out a way. In 2007, I flew down to Dallas and got prosthetics made, mainly for hockey, and I've been playing ever since. I haven't stopped."
Taylor is a forward, and he admits that not having most of his left hand can be a detriment to playing that position.
"My shot's pretty garbage," he said. "I would say it hasn't affected too much other than my shot. My stickhandling and passing is still OK. It's affected my game a little bit, but it's fun. I like having the challenge. Every time I step on to the rink I'm the only amputee out there. I'm always the best amputee out there. That's the way I try to look at it. It's another challenge that other people don't have to overcome. I like having challenges in my life. Too often, we try to make life easier instead of harder and I like the fact that I don't really have a choice. My life has to be more difficult because of a missing hand."
"Our unit got beat up pretty bad," he said. "We lost 10 guys in our unit so it was tough. Even with a lot of veteran groups that I've been around, very few have had those similar experiences. On this team, we don't talk a whole lot about that because mainly it's about hockey but you know a lot of guys are having similar experiences and you can see the guys are battling through it. It's nice that we can all do it together and hockey really does heal. It's our mental medicine. That's what I tell everybody. I don't need to take antidepressants. I just need to play hockey."
Burkel was in the Air Force and broke her neck in a helicopter crash in Afghanistan. "Five years ago I had a halo on my head," she said. "I had great care, great support. Today, I run around, crashing into people. People ask if I'm hurt; if I can survive a helicopter crash, I'm going to be all right."
Burkel grew up in Michigan so she had skated, but hadn't played much hockey, but when she heard about the team, she gravitated to it. "I bought a helmet," she said. "I registered and showed up for the first practice I could come to. I've skated more in the last couple months than in my entire life. It's awesome."
And talk about being ideally suited for a role: Burkel, now retired, is now a motivational speaker, which may explain why her teammates chose her to be captain of Team Bake.
"It's great for me, I work on my stuff and improving my game," she said, "but to watch some of these folks, like David (she points at a nearby teammate), who never skated before and where he is now, working on how to be a center. It is so energizing. It's really cool and then watching us come together as a team. This is something special. We want to win, we're all competitive, but it's about coming together and playing as a team, about that camaraderie, about honoring the Blues organization that they gave us this to wear on the front of our sweaters. That's a big deal.
"Hockey heals things is so true. If you don't know anything about hockey, you look at it and go there's a whole bunch of people fighting. It's so much more. There's so much more of a connection unlike any other sport I've played in my life. This just epitomizes that. Getting the jersey meant the world to me as much as knowing the work that went into it."
Laupp has known St. Louisan and former NHL goalie Mike McKenna since kindergarten, and a year ago, McKenna was in Las Vegas when the national Warrior championships were going on there. McKenna was in the Philadelphia organization at the time and the team sponsored by the Flyers won, and when Laupp saw McKenna posting pictures from that on his social media feed, he wanted to find out more. He found there wasn't a team in St. Louis and went about organizing one and getting the Blues' support.
"I think this really put a nice bow on what we've been trying to do," Laupp said. "It's bigger than hockey and they knew we had the support of the Blues and this was the first time they got to see it and the first time they got to see these jerseys and these uniforms and how the Blues gave us the Bluenote and how we were able to be in a partnership with them. It was a graduation of sorts."
"That's why we're pushing to hard even with COVID to get out and play because we know there's health concerns out there, for our people, it's health concerns on the mental and to go out and feel normal again, even if there wasn't COVID, this is helping them to get out and feel normal again. It's tough. The stories we're hearing about how people were in a dark place and how this is bringing them out of it and how they'll say, since I got out of the military, I haven't really had friends, but now I have friends again. It's really about the community.
"Programs like this may seem unorthodox at first. Sometimes it's just getting people out and getting them active that really helps out the best. If anyone out there has a family member or a friend or somebody that could use a program like this, we want them to be a part of our community."