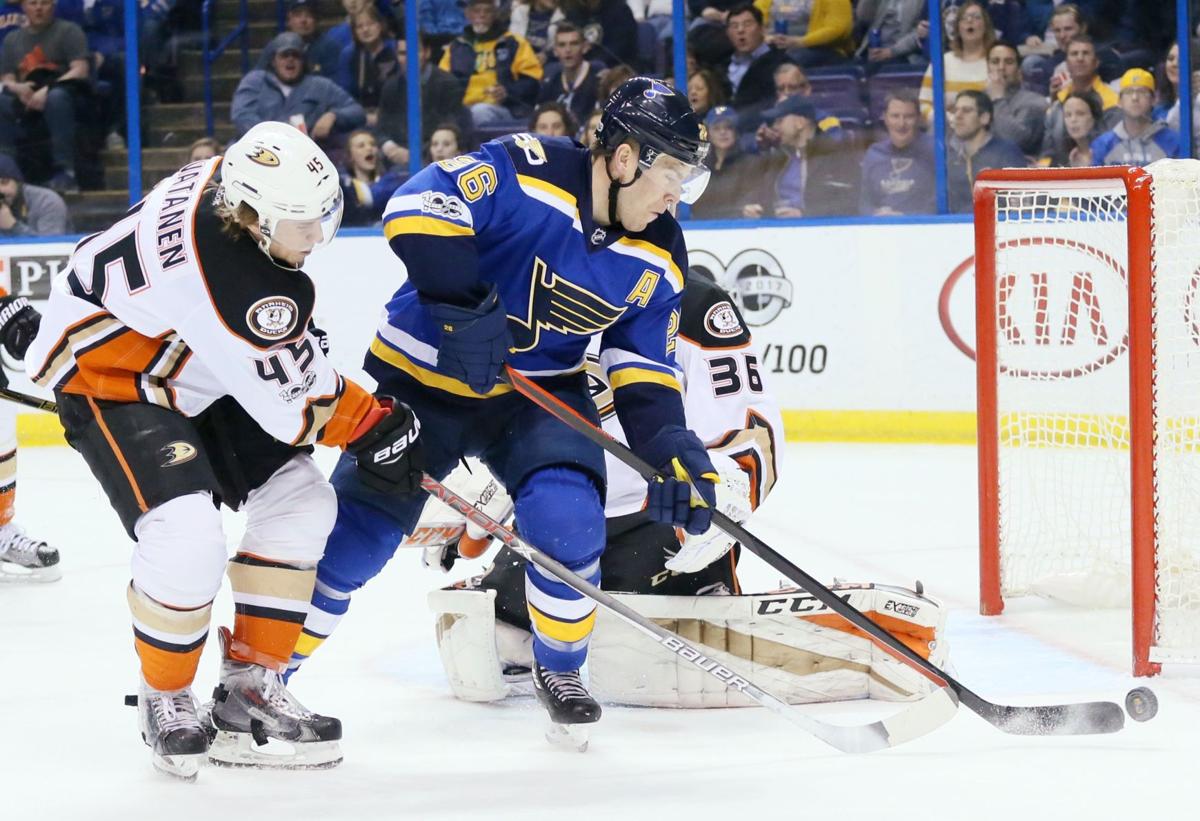 The Blues will have to make adjustments again on Thursday night when they play their first game without center Paul Stastny, who is out for at least a week with a lower-body injury.
"We'll deal with it the same way we did when we traded Shatty," coach Mike Yeo said, "and when we lost (Robby) Fabbri and (Jori Lehtera) and (Dmitrij Jaskin). ... In part what that's done, while we lost some of these forwards, other guys have gotten in and gotten opportunities, they've gotten experience and they've shown they can do the job.  So as a group we've had the mentality that it's 'next man up.'
"We know that we still have a good group in here, we know that our goals will not change. We have to go out there and get it done and do that by our top guys. They need to step up, they need to bring their A game night after night. Other guys are either going to come into a lineup, a guy like (Nail Yakupov), or other guys are going to get more opportunity, whether it's a guy like (Zach) Sanford or (Ivan Barbashev). These guys need to recognize that opportunity and take advantage of it."
Stastny left in the first period of Tuesday's 4-2 win in Colorado after a shot by teammate Vladimir Tarasenko hit him in the right skate. Yeo said afterwards that the Stastny's injury was not related to that shot and the Blues expected him to be available for tonight's game. So it was surprising Wednesday when the club announced that he would be out week to week.  
The coach explained the situation Thursday, and reading between the lines it sounds like the Blues' only concern at the time was the other injury and not the potential of a foot injury. But further tests Wednesday revealed the actual injury that has sidelined Stastny.
"Certainly I want to make sure that our fans have all the information that we can give them," Yeo said. "As the case with 'Stas,' it may sound misleading, but it was a completely separate injury that kept him out of (Tuesday's) game and one that we believed would have him possibly in the lineup for us tonight. We were surprised to hear that this came about yesterday. Believe me, I was probably more surprised than all the fans out there. So it's a difficult one, but one that we'll have to overcome."
The immediate move was to put Alexander Steen in Stastny's spot between Jaden Schwartz and Vladimir Tarasenko. Zach Sanford moves into Steen's spot alongside Patrik Berglund and Nail Yakupov is moving into Sanford's spot. Berglund moved into Stastny's spot on the first power-play unit and the second power-play unit has taken on a whole new look, with Colton Parayko, David Perron, Magnus Paajarvi, Ivan Barbashev and Sanford.
"It's obviously tough," Steen said. "Collectively, we're going to have to dig deep, make up for the loss of Stas. Obviously faceoffs is a huge part, his hockey sense, his presence in the room. It's a big loss for us."
With Stastny gone for most of the Avalanche game, the Blues won just 38 percent of their faceoffs, and the first two games he missed in February, with what Yeo said was an unrelated injury, were 30 and 36 percent, the two lowest success rates of the season. (They did rally to win 56 percent of their faceoffs without Stastny on Feb. 16.)
"It's going to be by committee now," Yeo said. "What we've been doing lately, Kyle Brodziak has been taking a lot of faceoffs on the right side of the ice for us, Bergie's been real strong on the left side for us, but we can't rely on two guys. Barbie's faceoffs, he's going to have to dig in, last game, saw Steener and Schwartzie combining. The two of them were both taking faceoffs. It might be one night where Schwartzie's hotter than Steener and then vice versa on another night. Off the faceoffs, the focus of our group is to make sure we have really good faceoff help. If we're on top of our game, you should see wingers, defensemen getting in there and helping out but its execution off wins, off losses, making sure we're sharp in that area."
The biggest change will be for Steen. "It's a little different obviously," Steen said. "I've been bumped in and out over the course of a few years here. It doesn't change that much. A little more defensive, to make sure I stay over the top of those two on the wings, create as much space and time as I can for them, get them as many scoring chances as I can."
Jaskin, who was hurt in a collision with Robert Bortuzzo on the road in Los Angeles, is skating again and hasn't taken part in any contact drills. Jaskin said he was feeling better but wasn't sure when he could return. Yeo said Lehtera, who was hit in the head with a puck, is riding a bike again, one of the first steps toward his return to action.
TONIGHT'S PROJECTED LINEUP
Jaden Schwartz-Alexander Steen-Vladimir Tarasenko
Zach Sanford-Patrik Berglund-David Perron
Magnus Paajarvi-Ivan Barbashev-Nail Yakupov
Scottie Upshall-Kyle Brodziak-Ryan Reaves
Jay Bouwmeester-Alex Pietrangelo
Joel Edmundson-Colton Parayko
Carl Gunnarsson-Robert Bortuzzo
CANUCKS' PROJECTED LINEUP
Daniel Sedin-Henrik Sedin-Michael Chaput
Sven Baertschi-Bo Horvat-Reid Boucher
Jacke Skille-Brandon Sutter-Nikolay Goldobin
Joseph LaBate-Drew Shore-Alex Biega
Ben Hutton-Nikita Tryamkin
On Friday night, the Blues' alumni will help say farewell to the Hardee's IcePlex, which will cease operations later this month.
The complex in Chesterfield opened in 1995 and was formerly the practice facility of the Blues and it has served as the home of the alumni and the Chesterfield Hockey Association.
Bernie Federko will be among 20 former Blues in attendance for a final sendoff Friday at 7 p.m., a fundraising effort to support the new Chesterfield Sports Complex. 
"I was one of the original members of the board that formed the Chesterfield Hockey Association, so it's disappointing to see that the building is not going to be there anymore," Federko said. "It's going to be nice to hopefully get the funds raised so that Chesterfield can build another rink because it's very important to Chesterfield hockey." 
This marks the second time in three months, following the Winter Classic at Busch Stadium, that the alumni are back together for a game. So Federko and others seem to be playing more hockey these days than in recent decades.
"I thought after the Winter Classic that I was hanging them up for good," Federko said. "But I'm pulled out of retirement for one more game and I'm hoping this is the last one. It took a long time for the (soreness go away after the Winter Classic), it's finally starting to feel good. Trust me, though, I'm not going to get going fast enough in the game Friday anywhere near what I had to do in the Winter Classic. No preparation for this one, this is just going to be a pick-up game. But it will be fun, it's always fun to go out with the guys."  
In addition to Federko, the list of players expected to be in attendance at Friday's event feature Brett Hull, Kelly Chase, Darren Pang, Jamie Rivers, Rick Zombo, Larry Patey, Jamal Mayers, Gino Cavallini, Lubos Bartecko, Jim Campbell, Bob Hess, Bruce Racine, Tom Tilley, Dwight Schofield, John Wensink, Neil Komadoski, Blake Dunlop, Mike Zuke and Jon Casey.
Tickets are $100 each and can be purchased online at chesterfieldhockey.com or by calling (636 )778-2043. The event will include door prizes, giveaways and a silent auction for fans that attend the event.