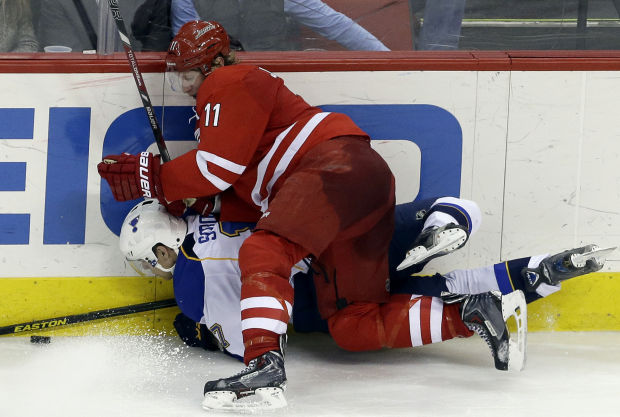 4:30 p.m. Saturday update:
In addition to a 3-1 defeat at Carolina on Friday, the Blues left town with a serious injury.
After listing Vladimir Sobotka as "day to day" on Saturday morning, the Blues announced in the afternoon that Sobotka has been placed on injured reserve with an injury to his left leg. It's believed to be a broken kneecap.
Sobotka will be re-evaluated in four weeks and he's already been ruled out for the upcoming Olympics after being named to the Czech Republic roster. 
With 1 minute, 22 seconds left in regulation, Sobotka was hunting down a puck behind the Carolina net and was inadvertently tripped by the stick blade of Hurricanes' Justin Faulk.
Sobotka crashed into the boards awkwardly, banging his left knee into the wall. After being tended to by Blues trainer Ray Barile, Sobotka took a seat on the bench, but then needed help from teammate Derek Roy skating off the ice at the end of the game. He wasn't putting pressure on his left leg.
"We'll evaluate him and have a further update," Blues coach Ken Hitchcock said Saturday morning. "So he won't play tonight ... and then we'll let everybody know where he's at after we get a further evaluation."
The result of that evaluation confirmed what the Blues did not want to hear.
Sobotka, who has seven goals and 25 points in 46 games, is one of the Blues' most dependable forwards on both ends of the ice. His plus-minus ratio of plus-17 is tied for third on the club.
Hitchcock believes that the sequence leading to Sobotka's injury was a "hockey play gone bad," meaning there was no ill-intent on Faulk's part.
"It happens," Hitchcock said. "The player that he went up against the boards, that's not that player's personality at all."
Ryan Reaves will take Sobotka's spot in the lineup tonight against the Nashville Predators. There has been no word yet of the Blues making a minor-league call-up. The club has four games remaining before the Olympic break, all at home.
Alexander Steen-David Backes-Chris Stewart
Jaden Schwartz-Derek Roy-Vladimir Tarasenko
Magnus Paajarvi-Patrik Berglund-T.J. Oshie
Brenden Morrow-Maxim Lapierre-Ryan Reaves
Jay Bouwmeester-Alex Pietrangelo
Barret Jackman-Kevin Shattenkirk
PREDATORS' PROJECTED LINEUP
Gabriel Bourque-David Legwand-Craig Smith
Patric Hornqvist-Mike Fisher-Eric Nystrom
Simon Moser-Colin Wilson-Taylor Beck
Rich Clune-Colton Sissons-Paul Gaustad
Michael Del Zotto-Seth Jones
Mattias Ekholm-Ryan Ellis
Blues forward Chris Stewart, the subject of trade speculation this week, made an impressive jump in the lineup during Friday's loss.
Stewart started the night on the fourth line, but by the second period, he was on the team's top line with Alexander Steen and David Backes.
"He deserved to go up there," Hitchcock said. "He was strong on the puck, he made plays ... he had patience in the offensive zone, he wasn't panicking with the puck. It's like anything else, you reward good play and he played well yesterday."
Stewart saw 14 minutes, 48 seconds of ice time and had three shots. According to the coaches' charts, he was on the ice for four scoring chances for and two against.
Stewart will be back on the top line tonight, but Hitchcock wasn't ready to say that Stewart has yet climbed out of his recent hole.
"I think we need more body of work," Hitchcock said. "I think if he continues to show puck patience and gets better with checking ... he obviously looks like a top-six forward who can really help you. But we've got to continue to see him get back to the level that he was at at the start of the year."
In the continued rotation between Ian Cole and Jordan Leopold, Cole will be back in the lineup tonight. 
Leopold was a minus-1 in 13:52 of ice time Friday night.
Asked what he's looking from both, Hitchcock said: "Better play would be an easy term to use. I think it's Leo getting back up to speed and Coler continuing to grow and making fewer mistakes and continuing to use his mobility and size as a real tool. Cole's improved a lot, but then there's times when he falls back in old habits. I think our experience in playing Leo when he's come back from long-term injury on back-to-back hasn't been great. He played OK yesterday, but we'll put Cole in today off back-to-back, get fresh legs."
• The Blues are 7-1 in their last eight games against Nashville.
• Captain David Backes will tie Keith Tkachuk for 12th on the franchise's all-time list of games played tonight with No. 543.
• If Devan Dubnyk is indeed in goal tonight for Nashville, he will enter the game with a career record of 0-7 with a 4.72 goals-against average and .843 save-percentage against the Blues.