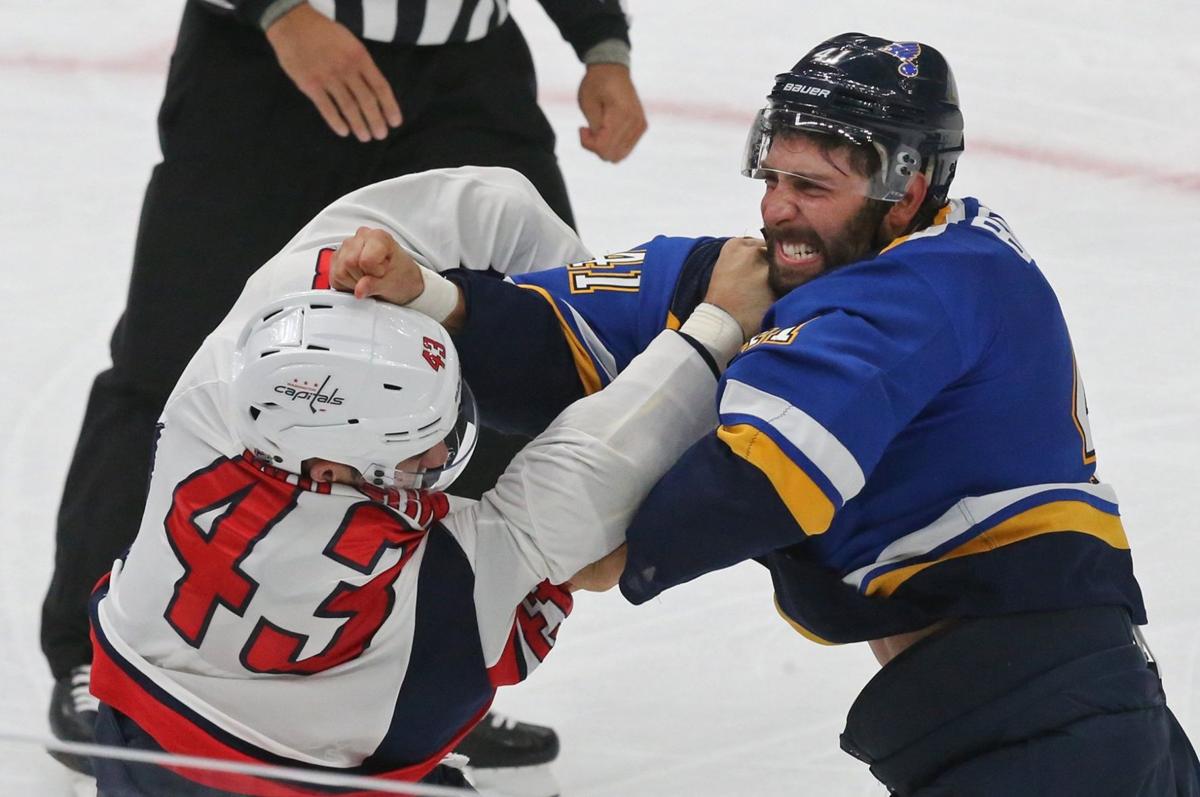 DENVER • The Blues placed forward Nikita Soshnikov on waivers Thursday, opening a roster spot. Though the Blues haven't made a corresponding move, it could point to defenseman Robert Bortuzzo being ready to return to action.
For now, Bortuzzo remains on injured reserve and his status is unclear.
"It's still up in the air," interim coach Craig Berube said Thursday. "So we'll see tomorrow how he does."
Bortuzzo has been skating regularly with the team lately as he attempts to return from what's believed to be a hip-related issue. Before the team left St. Louis, Berube said Bortuzzo could return to game action at some point during this three-game road trip, which continues Friday against the Colorado Avalanche.
But Bortuzzo wasn't among the 15 Blues on the ice for the team's optional skate Thursday at Pepsi Center.
"Maintenance day," Berube said. "He's been on the ice quite a bit, getting worked really hard, so he needed a day."
With Soshnikov gone and Bortuzzo not yet on the active roster the Blues are down one body, with just 22 players. And one of those 22, defenseman Carl Gunnarsson, remains sidelined with an upper-body injury.
It's been a rough go for Gunnarsson. He did not play in the preseason and missed the first 10 regular-season games as he completed recovery and rehab from knee and hip surgeries last spring. He saw his first game action Nov. 1 against Vegas but in his seventh game _ also against Vegas on Nov. 16 _ Gunnarsson suffered his latest injury, which Berube said is unrelated to the past hip and knee issues.
"I haven't gotten an update on him today, but he is improving so hopefully sooner than later," Berube said.
As for Soshnikov, the Blues acquired him from Toronto last Feb. 15 for a fourth-round pick in the 2019 draft. He played in 12 games last season for the Blues with one goal and one assist as a concussion limited his playing time. A subsequent concussion during summer training, when a puck struck him in the ear, sidelined him for all of preseason and the first month of the regular seaosn.
"He's got great speed, and he's got real good puck skills," Berube said. "I think he just needs to play. He hasn't played a lot of hockey. Lot of injuries and things like that.
"But he needs to understand, he has to use his speed during the game and his puck skills. Taking pucks to the net, driving wide _ and just didn't see enough of it."
This season, following a conditioning stint in San Antonio, Soshnikov was a healthy scratch in eight of the 13 games for which he's been active. When he played, it wasn't been much. In his five games, the most ice time he had was 9:06, and in his past two games, he hasn't played more than six minutes. He has no points this season.
The departure of Soshnikov leaves Sammy Blais as the Blues' only extra forward. Jaden Schwartz remains on IR after taking a puck off his hand in the Nov. 16 Vegas game.
Ryan O'Reilly is known for working late with teammates after the conclusion of formal practice. O'Reilly, Pat Maroon, Tyler Bozak, Robby Fabbri and Robert Thomas took it to the extreme Thursday at Pepsi Center.
They didn't leave the ice until 3:10 p.m. (Central time) _ a full 70 minutes after Blues practice started and just 15 minutes before Pepsi Center officials were scheduled to turn out the lights in the arena.
• The Blues missed the net on a season-high 21 shots Wednesday in Detroit, and that was a point of emphasis in meetings and practice Thursday. The team's previous high for missed shots was 16, in the Oct. 4 season opener against Winnipeg.
• The ice time totals for defenseman Jordan Schmaltz (8:53) and forward Zach Sanford (10:04) against the Red Wings were their third-lowest totals of the season.
• Vladimir Tarasenko's second period goal in Detroit was his eighth of the season but his first on the road this season.