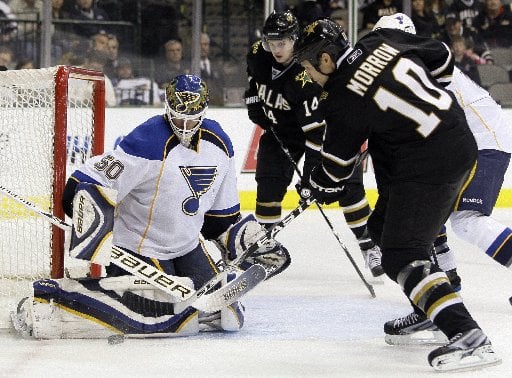 The Blues are likely to begin the 2013-14 season Thursday night without new left winger Brenden Morrow. 
Morrow, who was signed to a one-year contract Sept. 23, is still awaiting word on his work visa and will be unable to play in a regular-season game until the paperwork is finalized.
"I haven't heard anything yet today, so it's a bit of an issue," Morrow said after Wednesday's practice. "I haven't checked my phone since I've been off the ice (for an update), but people are working diligently on it. But I don't know if anything has been resolved yet." 
Morrow, 34, who was born in Carlyle, Saskatchewan, began the process of applying for a green card through his wife last May, a situation that remains ongoing. In the meantime, he has to apply for a working visa, but he could not file that application until signing an NHL contract.
"I don't know if (the visa holdup) has anything to do with the process of (the green card application), but my wife is a (U.S.) citizen and I started the green card application process through her at the end of May, early June, so it's been almost three-four months," Morrow said. "So I don't know if that's slowing or delaying things, or what's going on ..."
Morrow said that if need be, he'd put off the green card process and simply request the work visa for now, so that he can play Thursday, but that appears to be out of his control.
The recent shutdown of the U.S. Government may be preventing any movement on the situation. The shutdown has reportedly led to visa problems for some people, but Morrow was told that the department in control of his paperwork was not affected.
"I think we're OK," he said.  
Morrow was able to play in the Blues' preseason, but the issue prevents him from playing in the regular season.
"Obviously I'm worried," he said. "I'm going to be really disappointed if it doesn't get worked out. I've paid this government a lot of money. You'd think they'd be able to get the paperwork done. I'll be disappointed, (but) I'm still very hopeful that it's going to get done. But I don't know."
The Blues are awaiting word just like Morrow.
"He's still up in the air," Blues coach Ken Hitchcock said. "It's day to day, we'll figure it out tomorrow. If he can't go, then Magnus (Paajarvi) will go in and play. 
"It's just part of the process. All it is ... is a day-to-day injury-type thing. It's no big deal. If he's got a game or two, he's got to miss a game or two. It's not the end of the world."
Hitchcock said that in the even Morrow can't play, Vladimir Sobotka would take Morrow's spot on the second line and Paajarvi would slip into Sobotka's position on the fourth line.