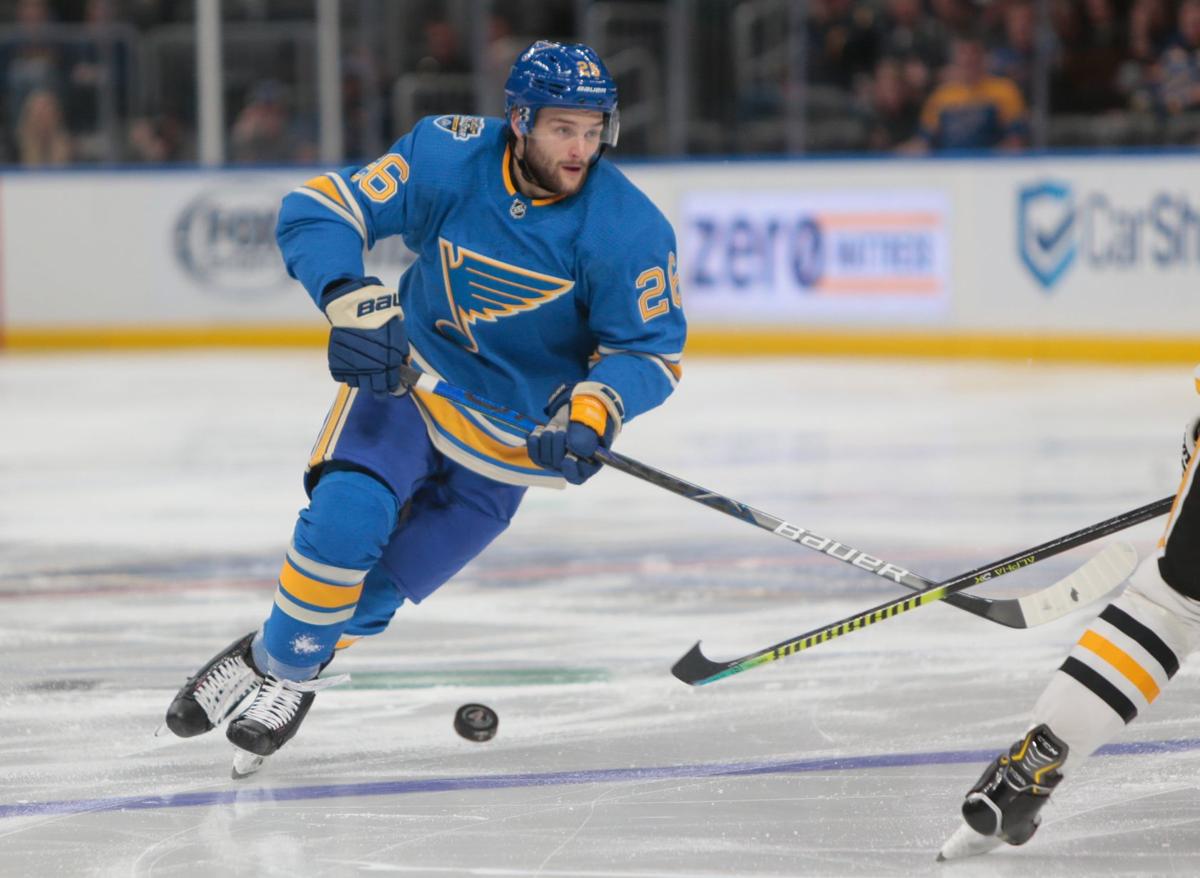 CHICAGO • When Craig Berube sees something he likes, he sticks with it.
So after Nathan Walker clicked with the Blues' top line over the second half of Saturday's 5-2 victory over Pittsburgh, he's back with Brayden Schenn and Jaden Schwartz tonight against the Chicago Blackhawks.
"There was nothing going on at the time with that line during the game, and so I just made that switch," Berube said. "(Walker) ended up scoring a goal and had a couple good opportunities other than that.
"We'll just keep him there and see how it goes. I think he's gonna be good for that line. Brings a good work ethic and skating, getting on top of people."
Walker's first goal as a member of the Blues came with 5:59 left in the second period against Pittsburgh on a feed from Schwartz, and broke a 1-1 tie. It was his second goal in 14 career NHL games, the first coming in 2017 as a member of the Washington Capitals.
"Whenever you get a chance to play with guys like that you want to bring your 'A' game and make sure you can do everything to help that line be successful and the team as well," Walker said.
"They're both great players. Anyone can see that. They make such great plays in the O-zone and the D-zone, so I just gotta try and adapt to that and hopefully I can make some of those plays, too, and get on a roll with them."
Walker did not skate with Schenn or Schwartz in the preseason, so it's a matter of learning their tendencies as quickly as possible.
"But I don't want to change anything in regards to my game," Walker said. "I think there's a reason why I'm there -- and that's my game. So I don't really want to change that. But obviously I want to make things work with them, so any questions I have I'm sure they'll answer them and help me out."
Robert Thomas, who had opened the last three games with Schenn and Schwartz, will be on the Tyler Bozak line tonight at United Center with Ivan Barbashev.
Schenn and Schwartz have gone through some linemates since Vladimir Tarasenko went down with his shoulder injury Oct. 24 against the Los Angeles Kings as Berube searches for something that works.
"We sure have," Schenn said. "It's everyone. I guess our most stable line is (Ryan) O'Reilly, (David) Perron, (Zach) Sanford.
"We're winning hockey games, that's all that matters. We'll keep on continuing to shuffle it around a little bit, but as long as we win it doesn't much matter."
Walker is the fifth player to join Schenn and Schwartz at right wing since Tarasenko's injury, joining Oskar Sundqvist, Thomas, Sammy Blais and Bozak.
"He's played enough NHL games where he fit in good the last half of the (Pittsburgh) game," Schenn said. "He's got a ton of speed and skill, works extremely hard, so we're looking forward to playing with him tonight."
Jake Allen makes his eighth start of the season -- and his second in three games -- tonight against the Blackhawks. Allen is 9-6-4 against Chicago over his career, with a 2.74 goals-against average and a save percentage of .910.
"Both goalies have played really well but it's a tough schedule," Berube said. "We can't overplay one goalie, and we need both guys. Jake's done a great job going in and winning games for us. And right now, it's gonna be a lot of rotation."
Tonight marks the Blues' 10th game over the past 18 days. The Blues played 15 games in November, tied with February for their most games in any one month this season.
Jordan Binnington, who has started 21 games this season, has yet to face the Blackhawks in his young NHL career.
Over Allen's past four starts this season, he has a 1.93 GAA and a .944 save percentage.
After sitting out the last four games because of a cross-checking suspension, defenseman Robert Bortuzzo is back in the lineup tonight for the Blues. He'll be paired with Vince Dunn on the team's third pairing.
"He was playing really well (before the suspension)," Berube said. "He's played well all year."
MacEachern-de la Rose-Brouwer
The Blues aren't the only team dealing with lots of injuries. The Blackhawks will be missing defenseman Duncan Keith (groin), goalie Robin Lehner (illness), and forwards Drake Caggiula (concussion), Andrew Shaw (undisclosed) and Dylan Strome (concussion).
With all those injuries and a tight cap situation, the Blackhawks are going with only 11 forwards and six defensemen against the Blues.
"Good thing I'm not a GM, right?" Schenn said. "I don't have to worry about that stuff."
Because the Blackhawks will be down one forward, look for Patrick Kane, who has an active point streak of 15 games, to pick up extra shifts against the Blues.
"For sure, he's probably gonna get extra looks out there with another line, so we're gonna have to keep an eye on that, too," Berube said.
"It's unfortunate for them obviously. It doesn't change our mindset or our game plan, or how we need to play the 'Hawks because they're one short. We gotta be ready to go. They're a good team over there, and they're a good team at home."
Blues prospect Joel Hofer, a fourth-round draft pick by the team in 2018, has been selected to participate in the Canada National Junior Team selection camp Dec. 9-12 in Oakville, Ontario. Selected from that camp will be Team Canada for the 2020 World Junior championship.
Playing for the Portland (Ore.) Winterhawks, Hofer leads the Western Hockey League with 16 wins and a 1.92 goals-against average this season. (His save percentage is .935).
• O'Reilly takes a four-game point streak (one goal, five assists) into tonight's game, but had no shot attempts Saturday against Pittsburgh -- the second time that's been the case this season.
• Against Pittsburgh, Thomas had no shot attempts -- the fourth time this season that's been the case in his 23 games this season.