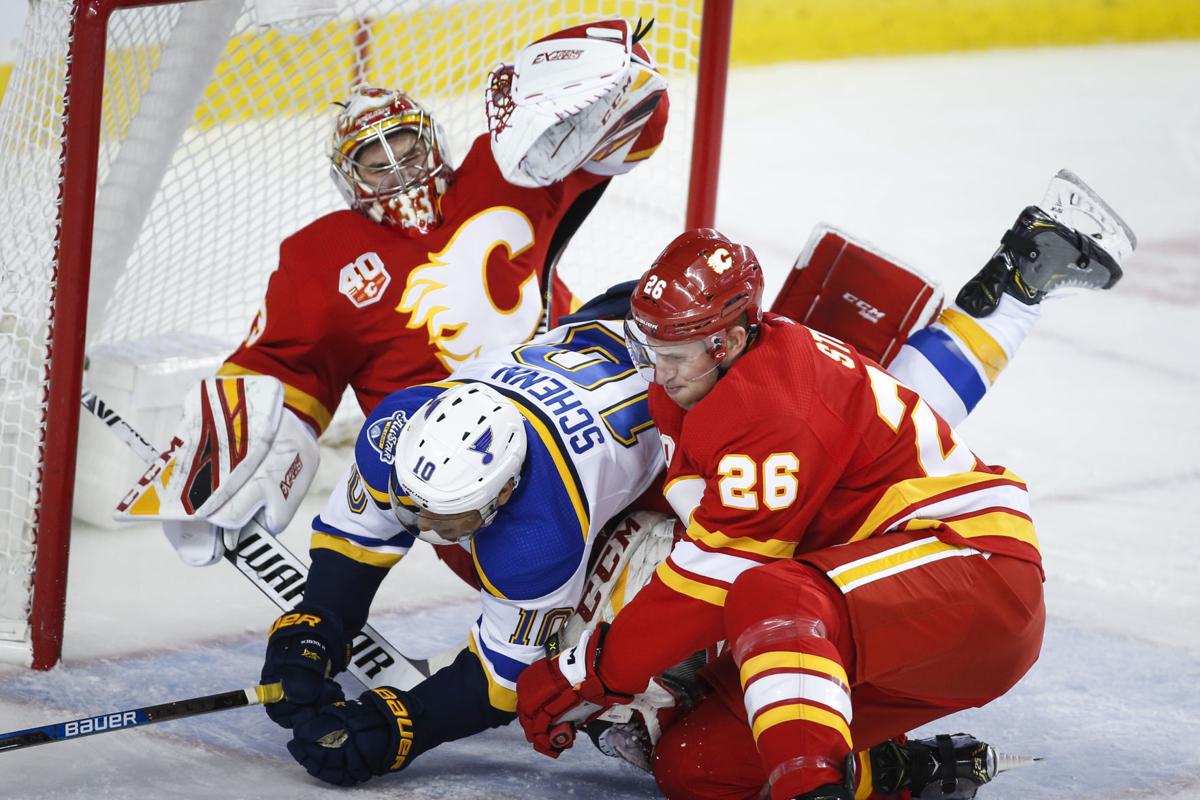 CALGARY, Alberta — Vancouver, Edmonton and now Calgary. The Blues have taken on the best that western Canada could throw at them during this hockey trip — with Minnesota added on for good measure. And beaten them all.
On Saturday at the Scotiabank Saddledome, they were playing without Vladimir Tarasenko once again, and were minus Alexander Steen for the first time, due to injuries. That's both of their alternate captains. Robby Fabbri is a Blue no more, a loss possibly more emotional than anything else to his former teammates.
But nothing seems to slow these Blues, who defeated Calgary 3-2 on David Perron's overtime goal to run their Western Conference-leading record to 12-3-3. It was their seventh consecutive victory overall and fifth in a row on the road — including all four on this trip.
"We didn't come in here trying to win four or trying to get three out of four (on the road)," Ryan O'Reilly said. "It's win the next game. And we've played some good teams, but again we're confident in each other and we know we have a chance to win when we do things the right way."
It may sound simple but it's not. Edmonton, Calgary and Vancouver are the top three teams in the Pacific Division standings. Throw in the 4-3 overtime victory in Minnesota that started this trip on Nov. 2 and the Blues have made franchise history. Or at least tied it.
Saturday's victory made this only the second time in Blues history they've swept a road trip of four or more games. (They won five in a row on the road from Feb. 6-15 in 2017.)
So never mind that the Blues squandered a 2-0 lead in the final 9:01 of regulation, when all was said and done they put another two points in the bank — points that count just as much in October and November as they do in February and March.
"A couple plays in there we want back," captain Alex Pietrangelo said. "But I don't think we played terrible. We've been on the road for 10 days, this is a tough place to finish a road trip. No excuses."
The Flames, in fact, were 6-1-1 at the Saddledome this season prior to Saturday.
"But we just knew we were gonna have to find a way to win tonight," Pietrangelo continued. "We're gone this long. It's a good character win for us."
They found a way thanks in large part to Perron, aka Mr. Overtime.
Early November or not, it seems appropriate to give Perron that title, doesn't it?
"Absolutely," O'Reilly said. "It's a no-brainer for me. Just gotta get him the puck."
Perron has eight goals this season, and five of them have been game-winners. On Saturday, he became the first player in NHL history to have three overtime goals prior to his team's 20th game. (The Blues have played 18.)
"I've played with him — what? — four times, back and forth," Pietrangelo joked.
It was only a slight exaggeration. This is Perron's third stint with the Blues.
"I think this is the best probably I've ever seen him play," Pietrangelo said. "He's obviously had a lot of success here this year but even last year. Obviously him and O'Ry have some chemistry, but this is probably the best I've ever seen him play through all these years in the league."
Yes, Perron and O'Reilly do have chemistry.
"We put so much work in before and after practice during practice all year," Perron said. "He's out there 30-40 minutes after practice and I've been playing with him just to try to get better since the start of last year. It's been a blessing to play with him."
More often than not, they're the first Blues on the ice before practice other than the goalies. So knowing where the other's going to be on the ice, placing a pass in the perfect spot — those things didn't come on a whim. They were honed during all that extra work.
"We work very well on and off the ice," O'Reilly said. "We do a lot of things together and we work hard out there. We know how each other likes the puck and put it into areas.
"And you can kind of see both goals there (Saturday) — both passes were where we wanted them to be. When you work like that together, it makes it easy and dangerous."
Seven minutes into the second period, on the power play, O'Reilly one-timed a pass from Perron past Calgary goalie David Rittich for a 2-0 Blues lead. It was O'Reilly's fifth goal of the season.
(Ivan Barbashev scored first for the Blues on a wraparound off a rebound just 3:17 into the first period.)
But back to that chemistry. O'Reilly returned the favor, setting up Perron for the game-winner in overtime. This was also on the power play, 4-on-3 style, after Jaden Schwartz was pulled down charging to the net by the Flames' T.J. Brodie.
"It's a great play by Schwartzy, too — individual play," Pietrangelo said. "We don't get that goal without Schwartzy doing what he did."
Then it was time for Mr. OT.
"I don't know if you noticed but O'Reilly started on the other side (of the ice)," Perron said. "I started on the non one-timer side. We try all year to be able to play all positions (on the power play), so that it's tough for the PK on the other side to react to how you're set up basically. It worked out."
Lately, it's always working out.
"We're playing good hockey overall," coach Craig Berube said. "We got a real good team game going. For me that's the biggest thing. We're using everybody. Everybody's contributing, everybody's buying into the team game, team-first mindset. And it's paying off."
The latest STL Blues hockey news, NHL headlines, scores, standings and rosters.