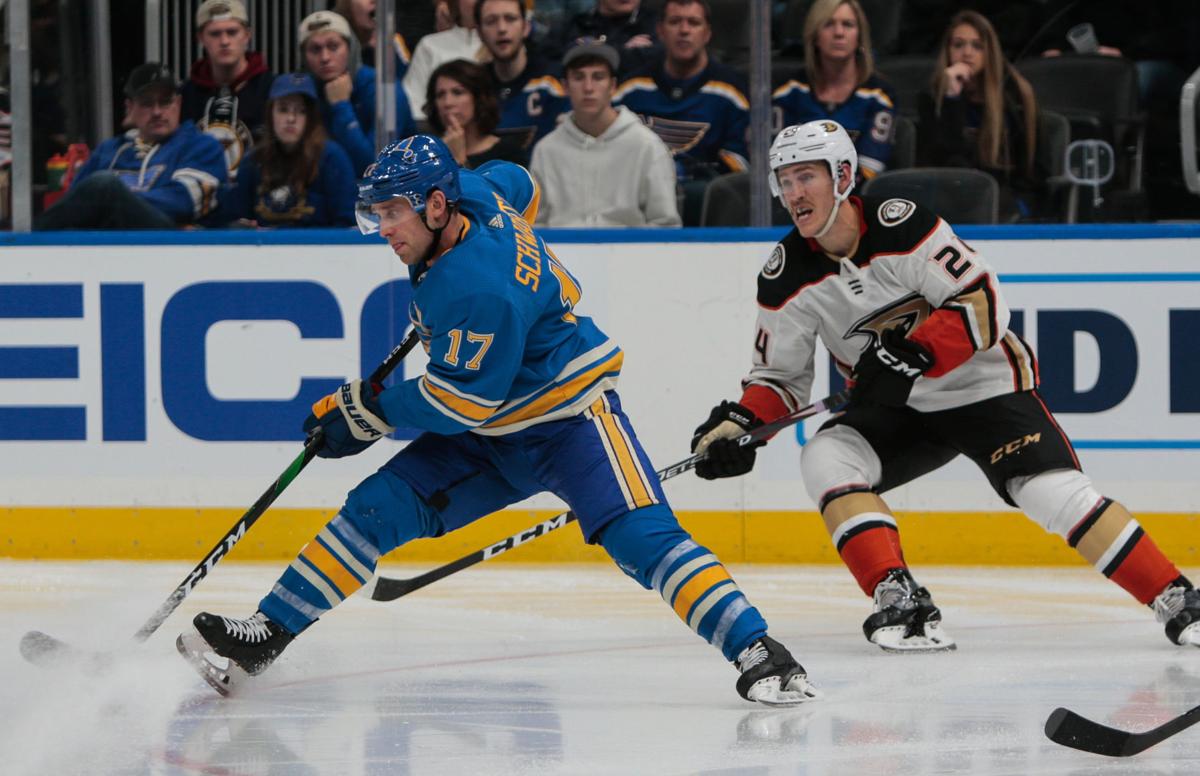 Jori Lehtera's enduring contribution to the Blues will probably be that he got traded to the Philadelphia Flyers for Brayden Schenn, something without which the Blues might not have won the Stanley Cup.
Lehtera also entered into the Blues vernacular a classic aphorism about hockey, which he said was told to him by fellow Finn Ville Nieminen: "If you want pizza, you go to Pizza Hut. If you want goals, you go to the net."
No one in the NHL this season has taken that to heart more than Blues forward Jaden Schwartz. When Schwartz tipped in a pass from Schenn on Monday night for his 16th goal of the season, it was the sixth goal this season that Schwartz had scored on a tip-in, more than anyone else in the league.
Just past the halfway point of the season, his six tip-ins match the second-most by a Blue in a season since the league started charting the stat in 2009-10. (David Backes had 11 in 2014-15, one off the league record.) For the Blues, no one else on the team this season has more than one tipped-in goal. Schwartz, meanwhile, has one in each of the past two games. If someone's getting in front of the net, getting to what hockey types love to call the dirty areas, on the Blues, it's Schwartz.
"He's driving to the net hard," Blues coach Craig Berube said. "He's skating. He's a workhorse out there. He's constantly working hard. He's really starting to understand: go to the net. Ten feet in, you're gonna score your goals. That's what he's doing."
Expand Berube's preferred zone for Schwartz by a couple yards to 16 feet and you'll find that 10 of his 16 goals this season have come in that area. His goals in the past two games have come when he got his stick on passes from fellow Saskatchewanian Schenn.
"This is kind of like an O'Reilly-Perron connection they have," said Oskar Sundqvist, the third wheel on their line at the moment. "They're really good at finding each other."
With 16 goals this season, Schwartz has a chance at besting his career high of 28 goals in 2014-15. Like some other teammates, he's already passed his goal total from last season, when he he had 11.
In fact, Schwartz is starting to look like he was playing in the 2017-18 season when he had 14 goals in 30 games before taking a puck off his right ankle in Detroit and missing six weeks. When he came back, he wasn't the same, and it took him to the playoffs last season to regain his stride. In the 101 regular-season games that followed his injury, Schwartz had 21 goals and 39 assists. Forty-seven games into 2019-20, he's at 16 goals and 23 assists.
"I agree," Sundqvist said. "The year last year didn't go as he wanted for him. He's been one of our best players all season so we're happy he's finding his game."
Even when he wasn't scoring, Schwartz's determined style made him a role model for the team. 
"He's been a machine lately," goalie Jake Allen said. "He's always been one of the engines for our hockey club up front. Just the way he works. He's not always on the scoresheet but just his tenacity around the net down low, backchecking, we see him coming back, stripping a lot of pucks, turning pucks the other way, holding pucks in.
"He's playing with a lot of confidence and playing well. He never had the offensive year he wanted last year and his complete game this year is second to none. The goals are coming as well. Good on him again and he's one of those team leaders that doesn't really let too many guys off the hook."
"I'd say the last three weeks, (his defense has been) really good," Berube said. "It's effort. He's always tracking the puck, breaking plays up. He's just a hard-working guy. When he's on the ice, it's work. Pounds pucks, he's going to the net hard and he's getting rewarded with goals."
And for Berube, a hard-working Schwartz is a two-for-one deal. Not only do you get Schwartz buzzing around the ice, making a nuisance of himself, he's causing the rest of the team to follow suit.
"For sure," Berube said. "They see how hard he works all the time. There's a few guys on our team (who lead) from a work ethic standpoint and guys see that and it rubs off on everybody. We're a work-based team. We're going to work."
Schwartz, as low-key as Saskatchewan is flat, typically downplays his play. "I don't know," he said when Allen's praise was mentioned. "I don't really think about it that way. If Jakey thinks that, then I'm happy."
The Blues are certainly happy. The team woke up Tuesday morning with 11 more points than any other team in the Western Conference. Pizza for everyone.