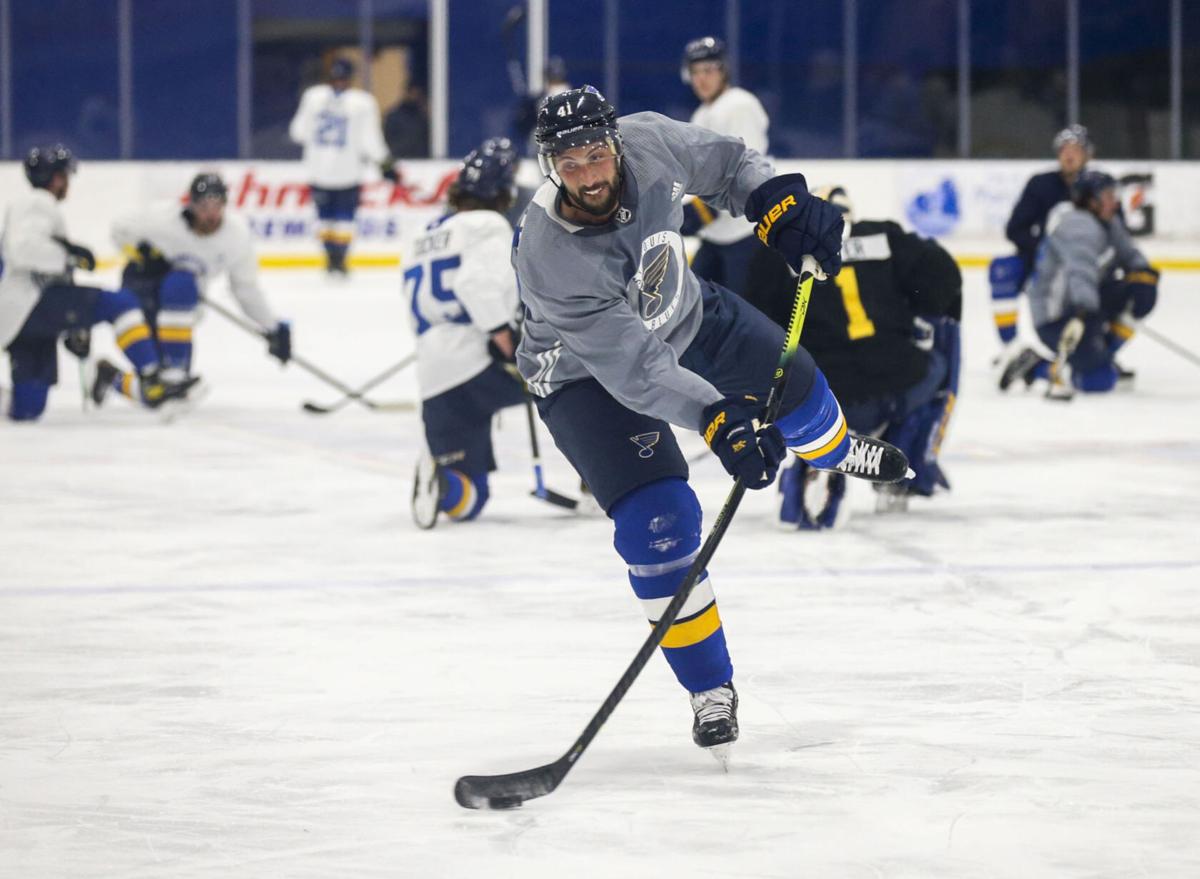 There will be no hearing by the NHL Department of Player Safety for the hit by Colorado's Valeri Nichushkin that knocked Blues defenseman Robert Bortuzzo out of Friday's game — an 8-0 loss by St. Louis.
"After talking with the NHL, I was told they feel this play is within the rules," Blues general manager Doug Armstrong told the Post-Dispatch on Saturday via text. "Each year you allow the league to set the guidelines and you play within the boundaries. We now know the boundaries for this type of hit."
On his first shift of the game, Bortuzzo was retrieving the puck behind the St. Louis net when Nichushkin struck Bortuzzo from behind, leaning in with his left shoulder. The shoulder appeared to strike Bortuzzo in the head, at least from one replay angle.
In any event, Bortuzzo's head slammed into the glass, and he appeared woozy afterwards. Bortuzzo finished the final eight seconds of the shift, and played two subsequent shifts. But the third shift lasted only two seconds.
Bortuzzo was done for the night less than four minutes into the contest with what the team called an upper-body injury. If it's a concussion, Bortuzzo probably won't play in Monday's home opener against San Jose, which would mean Carl Gunnarsson makes his season debut.
Asked about the hit after Friday's game, coach Craig Berube said: "There should be (a hearing). It's a hit from behind to the head."
The league thought otherwise.
Meanwhile, Sammy Blais will serve the second game of a two-game suspension for what the NHL deemed an illegal check to the head of Avalanche defenseman Devon Toews in Wednesday's contest. The hit on Bortuzzo looked more violent than Blais' hit.
Toews fell to the ice and went back to the locker room area to undergo concussion protocols, but was back on the ice nine minutes later (in terms of clock time in the game). Toews played 22 minutes, 17 seconds — more ice time than he got Friday.
Bortuzzo's ice time Friday was 1:28, with the Blues D-pairings subsequently scrambled to make up for his absence.
"'Bobo' plays hard," Parayko said. "He's tough to play against. Great defenseman. So obviously when you take a guy like that out of the lineup it's tough."
Bortuzzo, who came to the Blues in a March 2015 trade with Pittsburgh, frequently alternates with Gunnarsson for playing time as the team's sixth defenseman. This year, he and Gunnarsson have some young defensemen nipping at their heels in prospects Niko Mikkola, Jake Walman and Scott Perunovich.
"I understand that it's very healthy within a team to have that (competition)," Bortuzzo said Thursday. "I've been in that position before. But at the end of the day, you don't change what you do. You trust your ability, you're confident in what you're able to accomplish out there. I think that's when things become easier, when you're just confident in what you can do and what you can bring to the team."
As one of only three right-handed defensemen on the team, Bortuzzo has the opportunity for more playing time this season.
"I'm just gonna go about my business and then whatever they decide to do every night, that's kind of how I've done it in my career," he said. "We're in a situation now where we're three righty and four lefty. A lot of times in my career it was the reverse."
Blue notesJustin Faulk's ice time of 25 minutes, 42 seconds was his second-highest total as a member of the Blues. He went for 25:51 in a Jan. 4, 2020 game last season against Vegas, but that was an overtime contest.
• Mike Hoffman's quiet Blues debut consisted of 15:05 ice time and five total shot attempts, which was second on the team to Vince Dunn's six. Hoffman was minus-1, and had one hit and one takeaway.
• After scoring what proved to be the game-winning goal Wednesday, Jordan Kyrou didn't have a shot attempt Friday and played only 8:48. Other than the injured Bortuzzo, only Kyle Clifford (5:56) had less ice time.