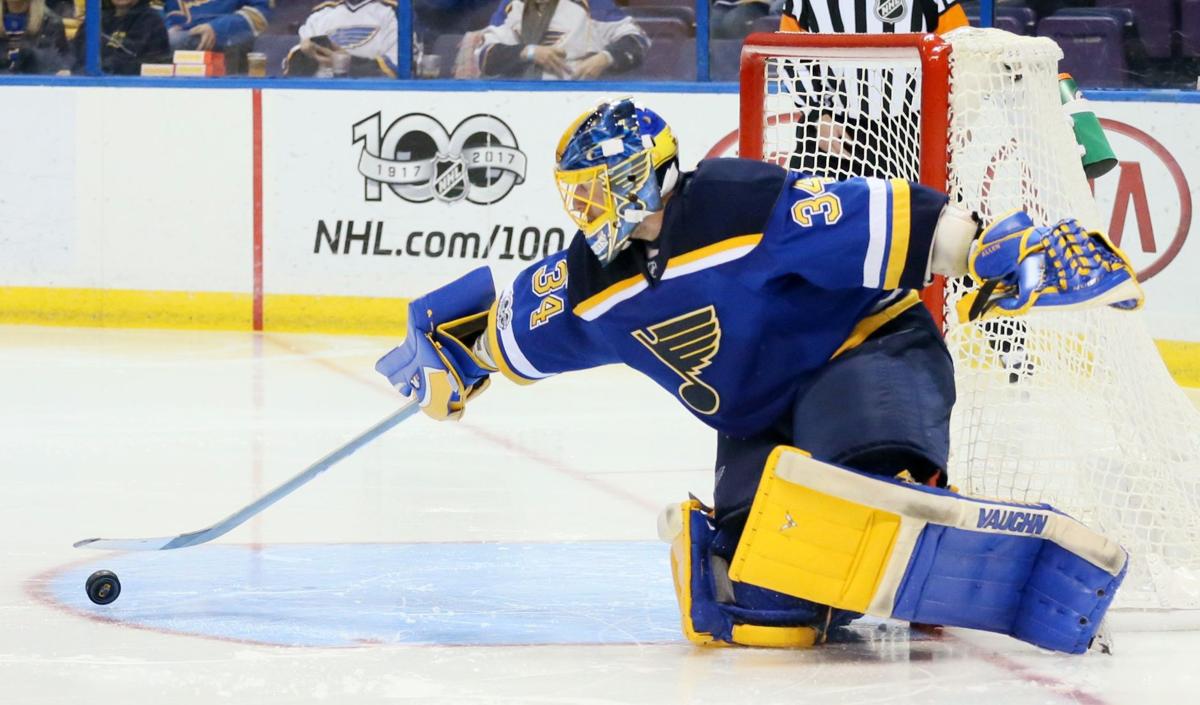 It was mid-January and Jake Allen couldn't stop anything coming his way — not the puck or the questions.
There may have been some desire for the Blues' starting goaltender to spew off about Ken Hitchcock's penchant for pulling the netminder. Or perhaps say something about a goalie coach in Jim Corsi that was dedicated to the job, but brought a dated approach to the position that didn't suit Allen. In the back of his mind, he, too, might have been thinking about the little help that he was getting from teammates in the defensive zone.
But Allen knew that he wasn't playing as well as he had to earn the four-year, $17.4 million contract the club had awarded him last summer or to blame others. And so while his glove side might have been open, his mouth stayed shut.
"It's always difficult to explain what's going on," Blues forward Alexander Steen said. "You don't want it to sound like excuses. It's part of the business. I think he handled himself perfectly. He worked almost harder than he normally does, which is hard because he's an extremely hard worker, and he got through a tough time."
For the first time in his career, Allen is the clear-cut starter heading into the postseason, and the fact that St. Louis is supportive of the idea that he'll be in the net when the Blues open the first round against Minnesota on Wednesday confirms just how long the NHL season is and how fickle fans can be.
The 26-year-old was yanked four times in a six-game stretch — twice in a 7-3 loss to Washington on Jan. 19 — and was told to stay home for the team's trip to Winnipeg on Jan. 30. But since Mike Yeo took over for Hitchcock on Feb. 1, Allen has been statistically the best goaltender in the league (among those with more than seven starts) with a 1.85 goals-against average and a .938 save percentage.
"Yeah, I'm sure everyone wanted me out the door and onto another team, but I knew deep down that I was going to be fine," Allen said. "It was really hard on me. Away from the rink, I'm usually a pretty cool, calm, collected guy and as soon as I leave the rink doors I don't think about hockey. But at that point in my life, it was really tough to not go home and not worry about what was going to happen the next game. But I fixed it, I straightened it out and I felt I played my best hockey in my NHL career from that point on, and hopefully can bring it (in the playoffs)."
If you were a Blues fan and you had a pulse, you had a theory as to why Allen struggled. The popular one was the birth of his daughter, Lennon Everly, on Jan. 6, in the middle of the four times he was removed.
"That was just a coincidence in timing," Allen said.
Allen admits now that he was miffed with the frequency of which Hitchcock pulled him. The third time it happened was after he gave up three goals in a 4-0 loss to Boston on Jan. 10.
"Hitch had a short leash, probably shorter than most coaches in the league," Allen said. "That's just the way he is; he was never going to change. That wasn't something that I was going to be able to talk him out of. But at the same time, I rightfully needed to work my way out of that. I'd personally like to stay in there if I let nine goals (in)."
It didn't get that out of hand, although Allen did allow three goals on 11 shots in Boston, three on 15 in Los Angeles and four on 10 in Boston. But while things got ugly, his teammates stuck by him.
"'Cause I know what he's like, I know his personality," Steen said. "His biggest attribute is his hockey sense. So, when you have that, it was just a matter of time."
Yeo took over and the first words out of his mouth were "Allen is our guy."
"'Yeozie' came in and displayed a lot of confidence in him right away," Blues backup goalie Carter Hutton said.
In Yeo's first game as head coach, Allen stopped 26 of 27 shots in a 5-1 win over Toronto on Feb. 2. He won five of his first six decisions after the change.
"Mike instills a lot of confidence in everyone," Allen said. "He's very easy to talk to, he's very easy to understand. He tells you what he wants out of you and it's pretty straightforward. I really respect that and he's a guy that I love to play for. He always comes to the rink with the right mindset, the right attitude, and it rubs off on us. It rubs off on me."
Yeo deferred any pat on the back Tuesday to Martin Brodeur, the Blues' assistant general manager who stepped down from the management booth to take over for Corsi.
"I think that at that time having Marty Brodeur around and being able to watch video with him, to be able to point to some areas — not weaknesses but areas where he's getting beaten — it gave him an opportunity to go out and correct those things," Yeo said. "It put the feeling of control back on Jake."
Said Allen: "Marty has just been a good sounding board for me ... just keeping things simple, being square to pucks, handling pucks, just keeping yourself in the game. Just being consistent. I think that's why he was so good for such a long time."
And now after sticking with it, Allen is showing a lot more consistency.
"It shows his mental toughness," Hutton said. "He came out the other side playing great and he's a huge reason why we're in this position we're in. He's playing his best hockey heading into when we need him the most."
"I knew I had the capability of being one of the best in the league," Allen said. "Everyone from the outside has an opinion and they're rightful to that. But I knew deep down, as long as I kept working and just trusted myself, didn't quit on myself, didn't quit on the guys, I knew it was going to turn itself around. It's not going to be perfect, I know that that's part of being a goaltender. You signed up for this position, you've got to take the scrutiny. But I bounced back really well from it and it put me in a really good position."