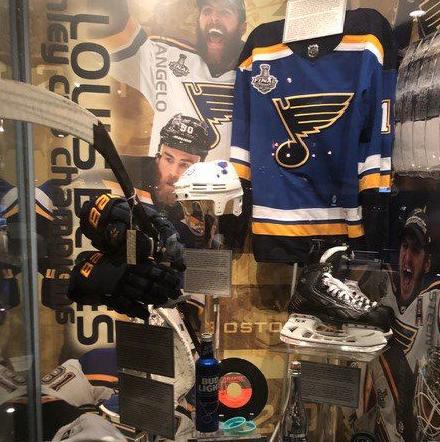 UNIONDALE, N.Y. — The Blues are cementing memories of their Stanley Cup triumph in all sorts of ways at the outset of the season.
There was the team dinner two days before the start of the regular season at the Missouri History Museum, at which players, coaches and team employees got their championship rings. And the banner-raising ceremony on opening night against the Washington Capitals.
Then came Tuesday in Toronto, when the Blues presented one of those rings to the Hockey Hall of Fame in a ceremony. And this Tuesday in Washington there's the visit to the White House.
But you're wasting your time if you ask defenseman Justin Faulk about any of this. He knows nothing, other than what he might have heard from one of his new teammates, or from overhearing those new teammates talking.
"I'm not a part of that," Faulk said. "So it's not really for me to be there. It doesn't bother me one bit. I won't be at the White House. Didn't go to the ring thing. Ducked out for the (banner) ceremony. I wasn't involved."
Will Faulk be glad when all the Cup-related hoopla ends, presumably after the White House visit?
"It doesn't really affect me," Faulk said, speaking from a somber Blues locker room minutes after their 6-3 loss Saturday night in Montreal. "I'm still doing my (stuff) day-to-day.
"Obviously the guys like it probably, but it doesn't change my schedule one bit. It changes theirs if anything. Not mine."
This Tuesday marks three weeks since general manager Doug Armstrong pulled the strings on the trade that brought Faulk to St. Louis and sent defenseman Joel Edmundson and forward prospect Dominik Bokk to Carolina. The deal also involved an exchange of draft picks.
Faulk, a three-time all-star with the Hurricanes, is getting acclimated, slowly getting to know his teammates — he's the only new face on this year's roster.
"Yeah, the easiest time to get to know them is on the road," Faulk said. "Everyone's away from their families, and you've got to spend time with each other pretty much whether you like it or not."
This 10-day trip is the Blues' longest of the season. Of course, some of that bonding time has been Cup-related, meaning Faulk wasn't around. In any event, his biggest adjustment has been on the ice, where he's learning a new system and, so far at least, getting used to playing with two defensive partners.
Montreal marked the third time Faulk has been on the third pairing with Vince Dunn. In the opener, against Washington, and Thursday, in Ottawa, he was paired with captain Alex Pietrangelo.
"It's definitely a little different," Faulk said. "I'm used to a pretty steady partner for the most part in my previous location. You've got to get used to the guys."
In Carolina last season, Faulk began the year with Calvin De Hann and then was paired with Brett Pesce, with whom he stayed pretty much for the rest of the regular season and the playoffs.
As for switching back and forth between Pietrangelo and Dunn, Faulk said: "Once I get more time playing with both of them — if that's the way it's going to be or what not. Obviously we'll know more going forward. But get that familiarity and it should just get better."
Pietrangelo and Faulk are righthanders, so when they're on the same pairing one of them must play his off side. Faulk started the opener on the right side and started the Ottawa game on the left.
But no matter where they start, there are times when Faulk and Pietrangelo switch in-game — sometimes in the middle of a shift. And sometimes, even when Faulk is paired with Dunn, he occasionally finds himself taking some shifts with Pietrangelo. It's a lot to grasp five games into a season, but 50 games into a season it probably will be second nature if the Blues continue using Faulk in this manner.
Just 7 minutes 55 seconds into his Blues tenure, Faulk got his first point — an assist on a Pietrangelo power-play goal against the Capitals. That's been his only point so far. He has 12 shots on goal in five games, including a team-high five against Dallas, but is without a goal.
He's minus-2 for the season, but after a team total of minus-21 against Montreal — 10 of the 20 non-goalies who have played this season are in the minus category.
"I've had a couple games that were probably so-so, and I'd like to have back a couple plays and stuff," Faulk said. "It's all right. It's definitely a different style, and it's taken a game or two to get used to it. Slowly getting better with some of the areas that I was a little bit more confused with when I got here. But it's easier when the team wins. I think it's going fine. I need to play a little bit better, and that'll all come."
Faulk played only 17:46 against the Canadiens but is at 20:02 per game for the season as Berube tries to find ice time for his top four defensemen while keeping them fresh for the long haul. Colton Parayko is leading the way with an average of 23:30 of ice time, followed by Pietrangelo (22:27), Jay Bouwmeester (21.38) and then Faulk.
"It's a good team," Faulk said. "It's a veteran group that knows how to win, obviously. They know what we need to do in here to get through every night. You're not going to win every game, but you need to build that foundation and go from there. I've got to make sure I'm a part of that and play my role."