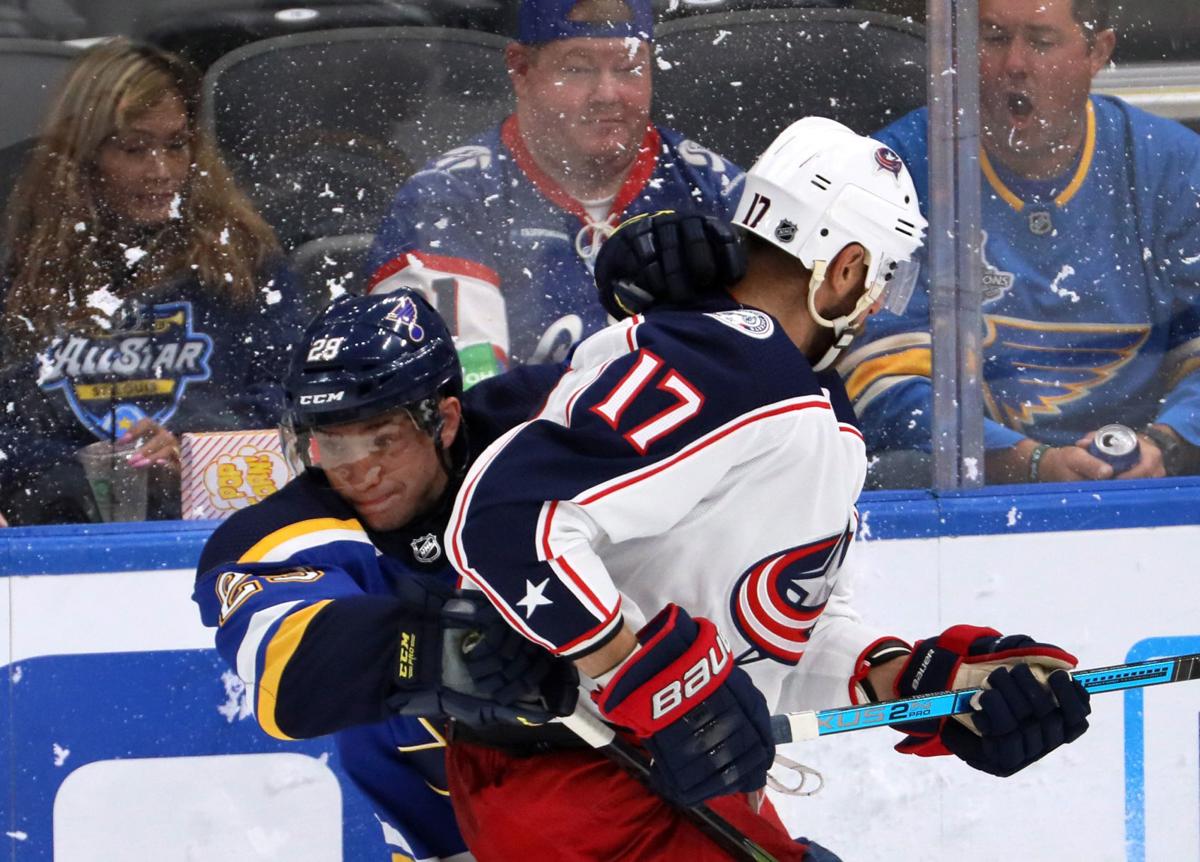 Twenty-one of the 23 players who appeared in at least one Stanley Cup playoff game for the Blues are back this season.
There was general manager Doug Armstrong's mega-move last Tuesday that brought three-time NHL all-star defenseman Justin Faulk to St. Louis in a trade with Carolina. That makes 22 players.
So if that weren't enough to limit the decision-making by Armstrong, and coach Craig Berube, throw in the fact that there were no injuries to speak of this preseason. Contrast that to last season, when Carl Gunnarsson, Robert Bortuzzo, the now-traded Joel Edmunson, Robby Fabbri and Oskar Sundqvist were all unavailable at the start of the regular season.
So on Sunday, it came down to do the Blues keep the roster limit of 23 players, or with a tight salary cap situation, open the season with just 22?
And if the Blues decided to keep 23, would they fill out the roster with Klim Kostin or Mackenzie MacEachern?
As of Sunday, it turned out to be 23 players . . . and MacEachern.
Kostin is heading back to San Antonio, the Blues' American Hockey League affiliate. MacEachern, who played in 29 regular-season games but made no postseason appearances for the Blues last season, is sticking around.
Kostin, a first-round pick (No. 31 overall) in the 2017 NHL draft, started this preseason on fire with a total of three goals and three assists over his first three exhibition games. He was plus-6 in those contests. But the 20-year-old from Penza, Russia, cooled off in his final two preseason games. He had no goals or assists in those contests, both disjointed games that featured tons of penalties, and was a combined minus-2.
MacEachern has the kind of toughness and work ethic in his game that Berube likes, and is capable of staying sharp and game-ready even if a healthy scratch for an extended period. He had three goals and two assists during his 29-regular season games and came out even in the plus-minus category.
He undoubtedly earned himself bonus points with Berube when he took a puck to the face early in the preseason opener against Dallas only to return later in the game 12 stitches to close the wound.
In any event, just about the only remaining suspense with the Blues at the conclusion of this preseason isn't about who made the opening roster, but where a few of the younger players might line up on opening night Wednesday against the Washington Capitals at Enterprise Center.
Up front, there is no suspense on a couple of lines. The Blues almost certainly will open with Jaden Schwartz-Brayden Schenn-Vladimir Tarasenko forming one line. And with Oskar Sundqvist-Ivan Barbashev-Alexander Steen on the fourth line.
But did Zach Sanford do enough in the preseason to begin the season the way he ended the Stanley Cup Final against Boston? Namely, on a line with Ryan O'Reilly at center and David Perron on right wing. Sammy Blais, who had one goal, five assists and was plus-8 in five preseason games, got some work on the line with O'Reilly and Perron as the preseason progressed and played well.
And who replaces Pat Maroon, now with the Tampa Bay Lightning, on the third line with Tyler Bozak and Robert Thomas? For part of the preseason, that spot was filled by Robby Fabbri.
On defense, it looks like the Blues will open with Faulk and Alex Pietrangelo on one pairing, and Jay Bouwmeester and Colton Parayko on another. The third pairing looks like Vince Dunn and either Robert Bortuzzo or Gunnarsson.
Bortuzzo and Gunnarsson both missed practice and game time during the preseason due to what apparently were minor injuries. But both were back on the ice Sunday morning when the Blues' non-game group practiced at Centene Community Ice Center.
Of course, Berube has between now and Wednesday night against Washington to tinker with his lines; and Armstrong could even tinker with his roster during that time.
But for now, this Blues team looks familiar — very simiar to the one that defeated the Boston Bruins four games to three to win the first Stanley Cup in franchise history.
To reach the 23-man roster limit, forwards Tanner Kaspick, Jordan Nolan, Ryan Olsen, Austin Poganski, Alexey Toropchenko and Nathan Walker all joined Kostin in being assigned to San Antonio. So did defensemen Andreas Borgman, Niko Mikkola and Mitch Reinke, and goalies Ville Husso and Adam Wilcox.
In addition, forward Jordan Kyrou, who's completing his rehab/recovery from kneecap surgery last spring, has been designated as an injured non-roster player.
Among the players assigned to San Antonio, Berube gave Olsen, Poganski and Walker extra-long looks in preseason as potential call-up players if injury strikes the Blues up front. But those three would all fall in the category of fourth-line players.
"They're checkers and workers; they're not finishers," Berube said Friday.
Similarly, Borgman, Mikkola and Reinke could be considered possible call-up candidates if injury strikes the defensive corps.
Borgman, acquired July 25 in the Jordan Schmaltz trade with Toronto, had a good preseason. He was plus-2 in five exhibition games and had a team-high nine total shot attempts Friday against Washington.
"I think he's been really good," Berube said. "Not great offensively or a flashy player. But solid defensively, strong out there, makes pretty good decisions with the puck."
Forwards (14) — Ivan Barbashev, Sammy Blais, Tyler Bozak, Robby Fabbri, Mackenzie MacEachern, David Perron, Ryan O'Reilly, Zach Sanford, Brayden Schenn, Jaden Schwartz, Alexander Steen, Oskar Sundqvist, Vladimir Tarasenko, Robert Thomas.
Defensemen (7) — Robert Bortuzzo, Jay Bouwmeester, Vince Dunn, Justin Faulk, Carl Gunnarsson, Colton Parayko, Alex Pietrangelo.
Goalies (2) — Jake Allen, Jordan Binnington.