NEW YORK — After his latest emotional outburst Saturday in Pittsburgh, goalie Jordan Binnington is back in the good graces of Blues coach Craig Berube.
"We talked and had a good conversation," Berube said following the team's morning skate Monday at Madison Square Garden. "He's a competitive guy. And sometimes when things aren't going well, frustration sets in. Emotions get the best of you at times. It does to every athlete, not just him. He's in a good spot."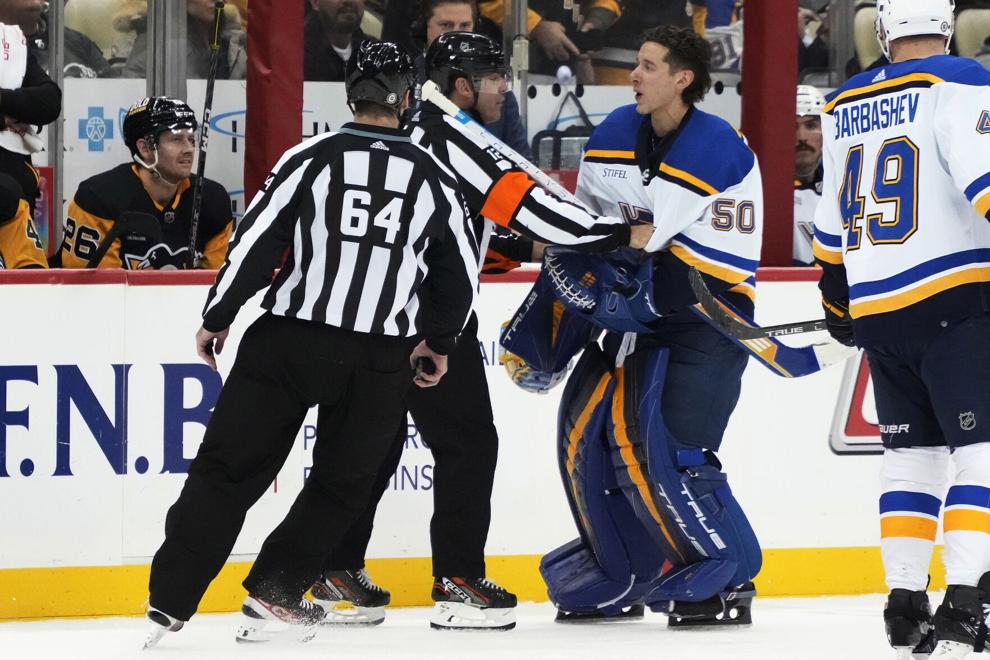 In the Blues' 6-2 loss to the Penguins, Binnington shoved his gloved hand into the face of Pittsburgh forward Jason Zucker late in the first period, knocking Zucker to the ice behind the St. Louis net. (Yes, there may have been some embellishment involved by Zucker.)
Binnington originally was assessed a four-minute penalty for high-sticking, but upon reviewing the play, game officials reversed that decision and there was no penalty. Binnington's stick was nowhere near Zucker on the play.
Early in the second period, Binnington was pulled after allowing his fourth goal of the game and had some words with the Pittsburgh bench and game officials on his way to the bench.
After the game, Berube sounded fed up with Binnington's antics.
"It's got to stop," Berube said. "It doesn't help any. Just play goal. Stop the puck."
Things have since been smoothed over, and Binnington was back in goal for Monday's game against the New York Rangers.
"I think we know Binner and the way he is," Blues captain Ryan O'Reilly said. "You know, he plays with a lot of fire. He's fired up. He's frustrated and upset, and I get it. He's doing his job, and we aren't helping him out like we can. And it's frustrating. He gets in the game and his emotions get to him.
"I respect it. He wants to win so bad and wants to do something and help us out. It's tough that he's doing everything he can and we're not defending well to make it easier on him. When you see that, it frustrates myself because we're not doing enough to kind of help him and help him do his job."
Careful with colds?
After missing the Pittsburgh game with what the team described as a non-COVID illness, forward Jordan Kyrou returned to action against the Rangers.
Kyrou is the third Blues player to miss a game this season due to illness, joining Brandon Saad and Vladimir Tarasenko (two games).
With COVID cases appearing to be on the rise, Berube was asked if the Blues were being more careful when players are ill.
"I don't know," Berube said. "Every sickness is different, right? We just make sure with the player — it's how he's feeling and if he's able to perform or not. Really that's what it boils down to."
Through the backdoorOpponents are scoring repeatedly on weakside goals at the net front this season. Penguins forward Kasperi Kapanen did it three times Saturday — twice on the power play. Berube says there's no magic formula to keeping that backdoor shut.
"You've got to battle, and you've got to have better sticks in those situations," he said. "And just kill more plays, you know what I mean? Just be harder around our net. That's really what it boils down to."
Snuggerud to Team USA camp
Forward Jimmy Snuggerud, the Blues' first-round pick in the 2022 draft, has been selected to the preliminary roster of the U.S. National Junior Team.
Snuggerud will be among 32 players attending training camp Dec. 12-17 in Plymouth, Michigan, vying for a final spot on the 23-man World Junior Championship team roster.
A freshman at the University of Minnesota, Snuggerud leads the second-ranked Golden Gophers with 23 points on 11 goals and 12 assists this season in 18 games.
Bolduc to Team Canada camp
Forward Zachary Bolduc, the Blues' first-round pick in the 2021 draft, has been selected to the preliminary roster of the Canada National Junior team. Bolduc will be among 29 players competing for one of 23 roster spots Dec. 9-12 in Moncton, New Brunswick.
The World Junior Championship is scheduled for Dec. 26 through Jan. 5 with games played in Moncton and Halifax, Novia Scotia.
Bolduc ranks third among all scorers in the Quebec Major Junior Hockey Leagues with 43 points on 15 goals and 28 assists in 24 games for the Quebec Remparts.