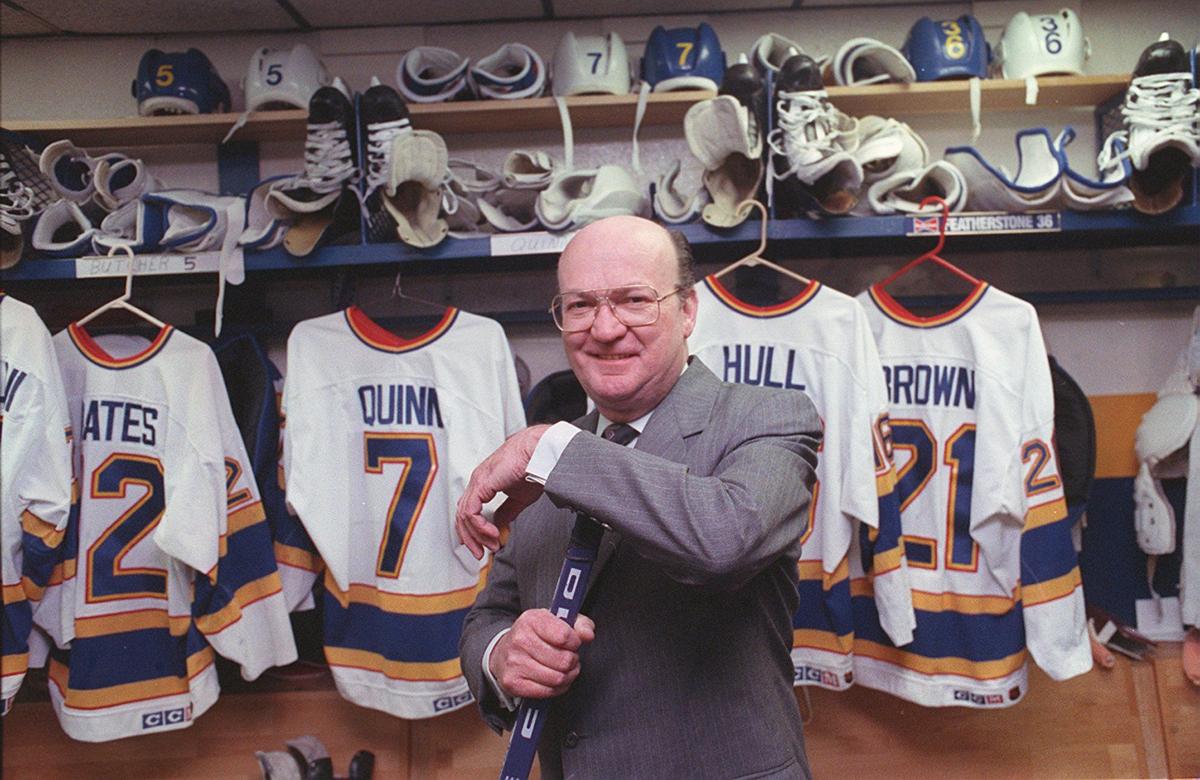 Jack Quinn, who was in charge of the Blues from 1983 to 1996 under three different owners, died Tuesday of cancer in Scottsdale, Ariz. He was 80.
Quinn was the general manager of a Class AAA baseball team in Vancouver in 1983 when Harry Ornest bought the Blues, who had been on the brink of moving to Saskatoon, Saskatchewan. Ornest also owned that baseball team and made Quinn the Blues executive vice president. When Ornest sold the team in 1986 to a local group with Mike Shanahan as chairman, Quinn stayed on. When Shanahan was fired in 1995, Quinn was promoted to president.
A year later, Quinn was fired, along with coach Mike Keenan, by team chairman Jerry Ritter. At the time, Keenan was openly feuding with star forward Brett Hull. Quinn was replaced by Mark Sauer.
Under Quinn's watch, the Blues won their division just once, in 1986-87, though they went to the playoffs every season. The team moved into what was then Kiel Center in 1994, but declining attendance at the building was cited as one of the reasons for Quinn's dismissal. Quinn also gave a good deal of authority to Keenan, who traded fan favorites Brendan Shanahan, Curtis Joseph and Kelly Chase and helped drive Wayne Gretzky to leave via free agency. "Hindsight's 20-20," Quinn said on the day of his dismissal.
"Hockey's alive and well in St. Louis," Quinn also said that day. "And when the Stanley Cup is paraded through St. Louis, I hope I get a chance to look at it."
MAROON RETURNS, SCHWARTZ GOES ON IR
The Blues activated forward Pat Maroon off of injured reserve on Friday and had him in the lineup against Nashville. Maroon had missed six of the previous seven games, two to healthy scratches and four to an upper-body injury suffered against Chicago.
"After the game, I didn't feel right in the morning," he said. "I got a little rehab and worked on it and I feel pretty good now. It's been a frustrating start to the season for myself. I think I owe a lot more to this team and I can bring a lot more to this team. I'm excited to get back in. It's like a restart button for me. I feel energized, I feel refreshed and I'm ready to go."
It seemed that way when Maroon dropped his gloves at the opening faceoff and fought Nashville's Austin Watson.
To make room for Maroon, the Blues put forward Jaden Schwartz on injured reserve with an apparent hand injury, though what that means for the severity of the injury is unclear since, because he's already been out a week since getting hurt in Las Vegas on Nov. 16, he's already eligible to return at any time. (Interim coach Craig Berube wouldn't expand on Schwartz's situation.) The Blues, however, did choose to keep Sammy Blais on the roster. Blais had been called up when Maroon got hurt, rather than send him back to San Antonio, and Blais was in the lineup on Friday, with Nikita Soshnikov, who played just 5:40 against Nashville on Wednesday, being a healthy scratch.
NOTES
Robert Bortuzzo, who has played one game since Oct. 14 with a lower-body injury, skated with the team on Friday morning but said there's no timetable on when he might return to action. "I'm just taking it day by day here," he said. "We want to be smart about things so we put things behind us." … Alexander Steen took part in the morning skate but sat out his fifth straight game with an upper-body injury. He also hosted an excellent Thanksgiving dinner for the team's Swedish players and some Canadians, according to defenseman Joel Edmundson, who marveled at the side dishes. ... Defenseman Carl Gunnarsson, who had skated in Nashville on Wednesday, didn't skate on Friday.