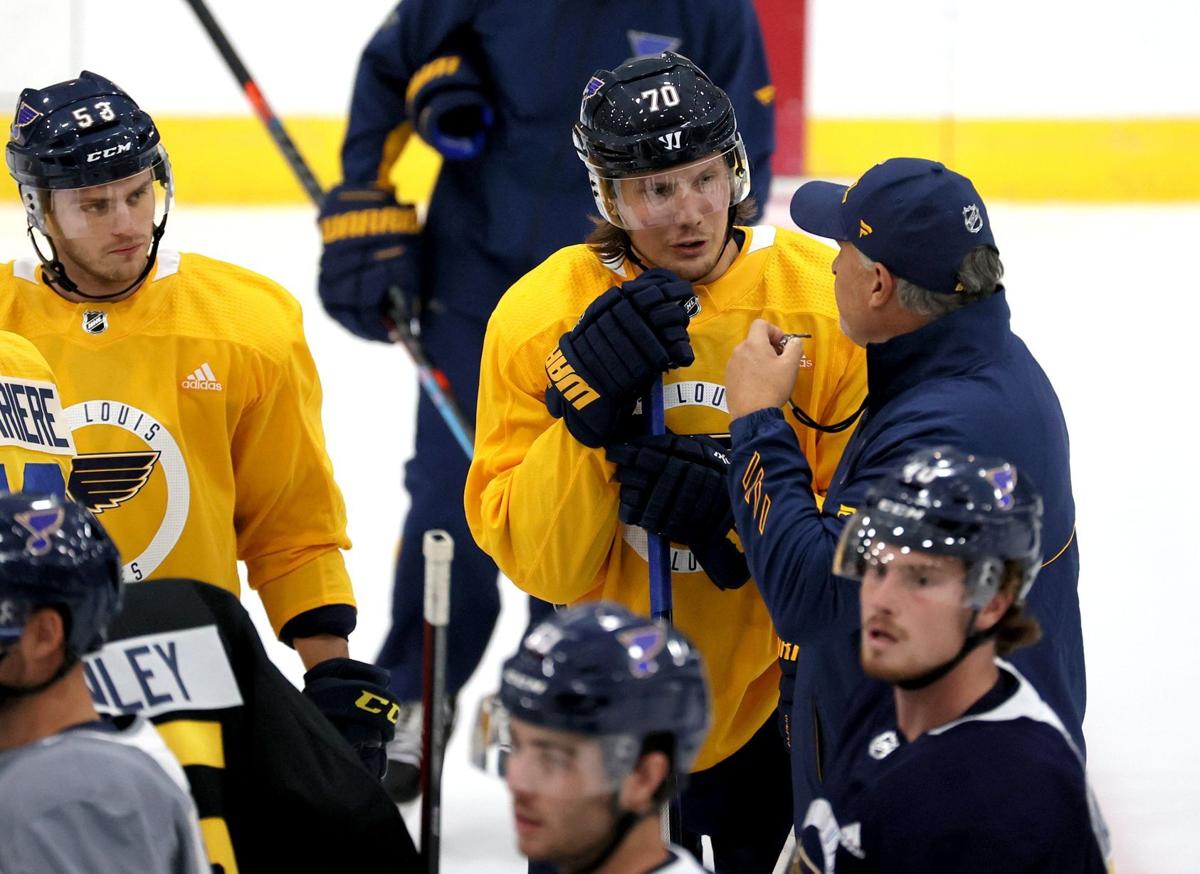 VAIL, Colo. — Versatile center Oskar Sundqvist continues to skate with the Blues. He was on the ice Tuesday as the team took part in the first of three practices in this Colorado ski resort town.
But Sundqvist has yet to take part in full-contact — or "battle" — drills, and there's not clear timeline on when he might return.
During the NHL Prospect Tournament last month in Traverse City, Mich., general manager Doug Armstrong said it was possible Sundqvist could return in early November. But he quickly noted that he shouldn't be held to that timeline, adding: "but we don't see it being into the midseason."
A month later, there doesn't seem to be any more clarity to Sundqvist's status. He has bee placed on long-term injured reserve (LTIR), meaning he will miss a minimum of 10 games, which takes the Blues into ... early November.
"He's progressing like we thought he would," Berube said Monday, just before the team left for Vail. "He's on a good timetable. I think he's working hard. He's doing a lot of good work in the gym and he's out there getting some skating with the team.
"He can't do every drill. But I'm not gonna put a timetable on Sunny. It's a little bit too early for that in my opinion."
Sundqvist suffered a torn ACL in his left knee when he collided with teammate Kyle Clifford in front of the San Jose net in a March 19 contest last season against the Sharks.
Clifford's right knee slammed into the back of Sundqvist's left knee on the play.
Kostin 'returns'
A day after being sent down to the Blues' Springfield (Mass.) affiliate in the AHL, the team announced Tuesday that forward Klim Kostin was being called back up.
In reality, and in conjunction with the timing of Sundqvist's LTIR designation, it was just a salary-cap related paper move. Kostin never went anywhere physically, accept to Vail with the rest of the Blues. He was on the ice for Tuesday's practice.
For now, Kostin figures to be a healthy scratch as Berube opens the season with a fourth line of Jake Neighbours, Tyler Bozak and Ivan Barbashev. But Berube did say he plans to get Kostin in some games.
Return engagement
During his time in St. Louis last season, from prior to training camp and on into the start of the regular season with the taxi squad, Jake Neighbours stayed at the home of Blues center Brayden Schenn and Schenn's wife Kelsey.
Apparently, Neighbours didn't wear out his welcome because he's staying with the Schenns once again, at least to start this season.
"He's welcoming me back into his basement there," Neighbours said. "That says a lot about who he is as a person and what he's doing for me. So I guess I'll just move in there for now and we'll play this first little bit of the season here and kinda go from there."
Schenn said having Neighbours as a houseguest is no big deal.
"He's a polite kid," Schenn said. "He's got great manners. He really gets it. He was definitely brought up the right way. We enjoy having him around our home."
Powering up
The Blues spent a lot of time in Tuesday's practice working on their power play, and here's how the two units lined up:
PPI: Torey Krug-Vladimir Tarasenko-David Perron-Ryan O'Reilly-Schenn
PPII: Justin Faulk-Jordan Kyrou-Robert Thomas-James Neal-Pavel Buchnevich
Most likely, that's how the Blues will line up at the start of the regular season.
Unlike the penalty kill, Krug said not many tweaks have been made to the power play entering this season.
"Once we get rolling, there's probably some things we can put in the back of our minds (from) the playbook," he said. "For right now, it's just getting back to being familiar with each other. Vladi's obviously playing on top instead of (Mike) Hoffman this year."
Tarasenko missed most of the season as he was recovering from his third shoulder surgery, and then was sidelined with a groin injury late in the year. And when he was on the power play, Tarasenko spent some time on the second unit.
So for Krug, it's almost like working in a new player on the first unit.
"We gotta work on it, continue to work on it, build that chemistry," Krug said. "Just get comfortable knowing where each other is."