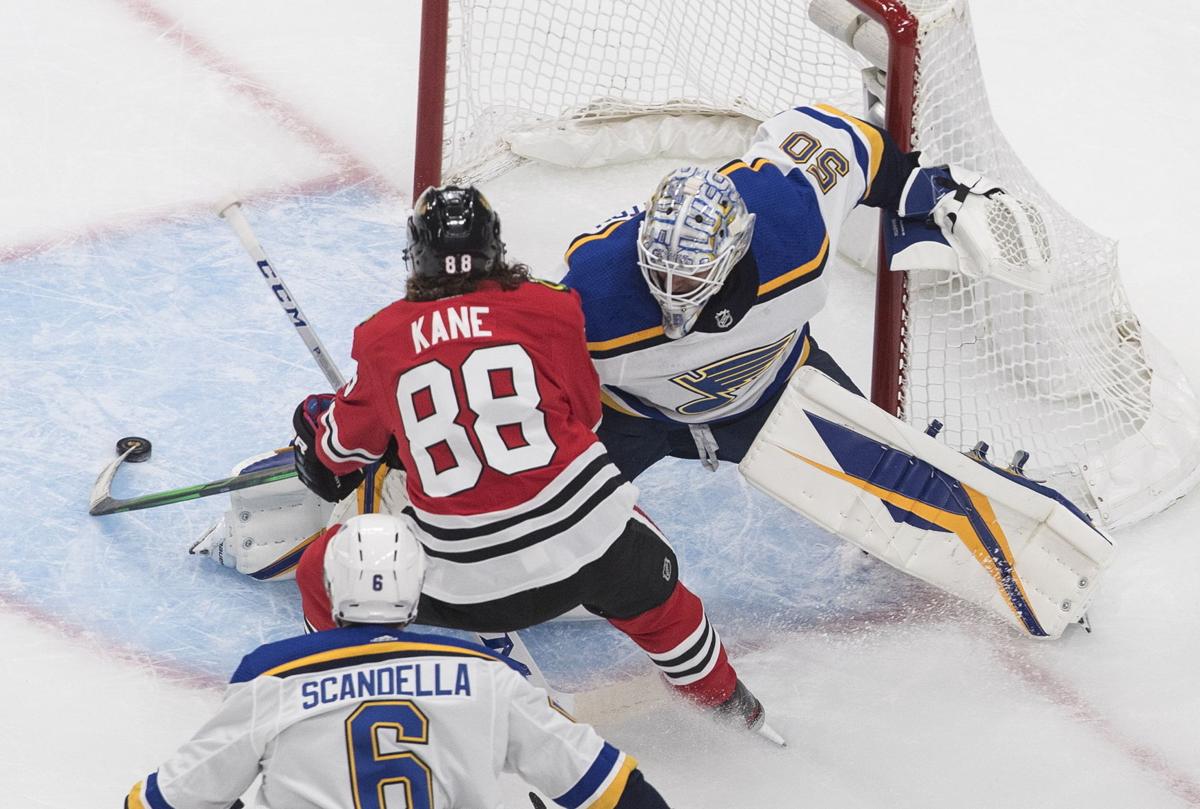 After a very long wait, an offseason-plus in effect, the Blues play a game that means something for the first time since March 11 on Sunday when they face Colorado in the round-robin portion of the Stanley Cup playoffs. So, Vladimir Tarasenko, are you excited to finally be getting back to real action?
"I'm more excited to go to my room right now," he said Saturday.
In reality, he probably meant that his room was more appealing than answering questions from reporters, but in any case, it seems the Blues know that the issue on Sunday is more about how they play than how they do. There may be minimal difference between being the No. 1 seed and the No. 4 seed in the West.
"Big games are always fun, even if we don't have fans here," Tarasenko said. "If you want to win the Cup you're going to face some of those teams in the future and the way you play with them is a confidence builder for us and for them. … We don't expect there to be easy games preparing for the first round. We're going to play hard and try to find our game, especially after that last game with Chicago."
"For us," forward David Perron said, "we focus on us for the most part right now. It's not like we're up against Colorado for seven games right now."
If the Blues have a score to settle, it's with themselves after their 4-0 exhibition loss Wednesday to Chicago, which, if nothing else, gave coach Craig Berube plenty of topics to work on in practice on Friday and Saturday.
"You guys haven't seen the last few practices," Perron said. "Guys have been pretty intense out there."
The last two meetings between the teams were wins for the Avalanche with the Blues giving up 12 goals combined.
"We let those games get away from us," Berube said. "We were too loose defensively on (Nathan) MacKinnon. He hurt us in both games. I think the games we won earlier on in the year and going back to last year, we were a lot tighter on him and did a much better job. We didn't kill penalties in those games very well. If I look back at the games we won earlier in the season, we did a great job against their power play. We've got to definitely play this team tight. They've got some great speed and high-end skill over there. They play a fast game. So we're going to need to be really good without the puck. Defensively, make sure we're checking, make sure we're getting in the way of McKinnon and (Mikko) Rantanen. As much as we can we want to possess the puck and keep it from them."
"We weren't expecting to be great in that first game," Perron said, "but we expect to be a lot better tomorrow."
Back to business
Tarasenko returned to practice on Saturday after taking a maintenance day on Friday. The Blues exhibition game was his first game action in nine months after having shoulder surgery.
"Everything's fine," Tarasenko said. "It's a little weird when you don't play for that long. We didn't play the way we wanted to play (against Chicago), but I feel fine and hopefully I'm going to be like this in the future."
Berube said that everyone practiced and should be available for the game, though it sounded like defenseman Vince Dunn, who missed most of the St. Louis portion of training camp and didn't play on Wednesday, probably isn't going to see action.
"He's fine," Berube said. "Obviously he's missed quite a bit of time. He's not where we need him to be or where he wants to be. He's looked pretty good so far and getting better and better each day, so he's good to go though if we need him so we'll see what happens."
With 10 defensemen in camp, it seems unlikely the Blues would need him, especially since Berube wants to get as many players as possible into games, and this would be a great chance to get Robert Bortuzzo some game action. And after Sunday, the Blues don't play again until Thursday.
Avoiding penalties
One of the things that stood out about the first day of NHL action was that there were plenty of penalties. The Rangers-Carolina game had 16 minor penalties and the Chicago-Edmonton game had 10.
"After this long break," Tarasenko said, "usually teams need some time to get back to their rhythm and that's why so many penalties happen. Whoever gets to it first and starts playing more disciplined is going to win the Cup."
"I think all playoffs start off that way," Berube said, "with a lot of penalties. I think it's just a mindset for me. You have to be disciplined, you've got to work hard, you've got to skate, you've got to keep your stick down. If you don't keep your stick down they're going to call that stuff. It's just about good positioning, work habits, good sticks and doing the right things. You can't take lazy penalties, and that's the ones that kill you.
"We're going to be a physical team out there, and you're probably going to get some calls against you for being physical at times, but more often than not they're not going to call that stuff, they're going to allow you to play physical, they want physical hockey. But it's when you use your sticks (you get called) and a lot of times that's caused by not working hard enough and not being in the right position."
The latest STL Blues hockey news, NHL headlines, scores, standings and rosters.