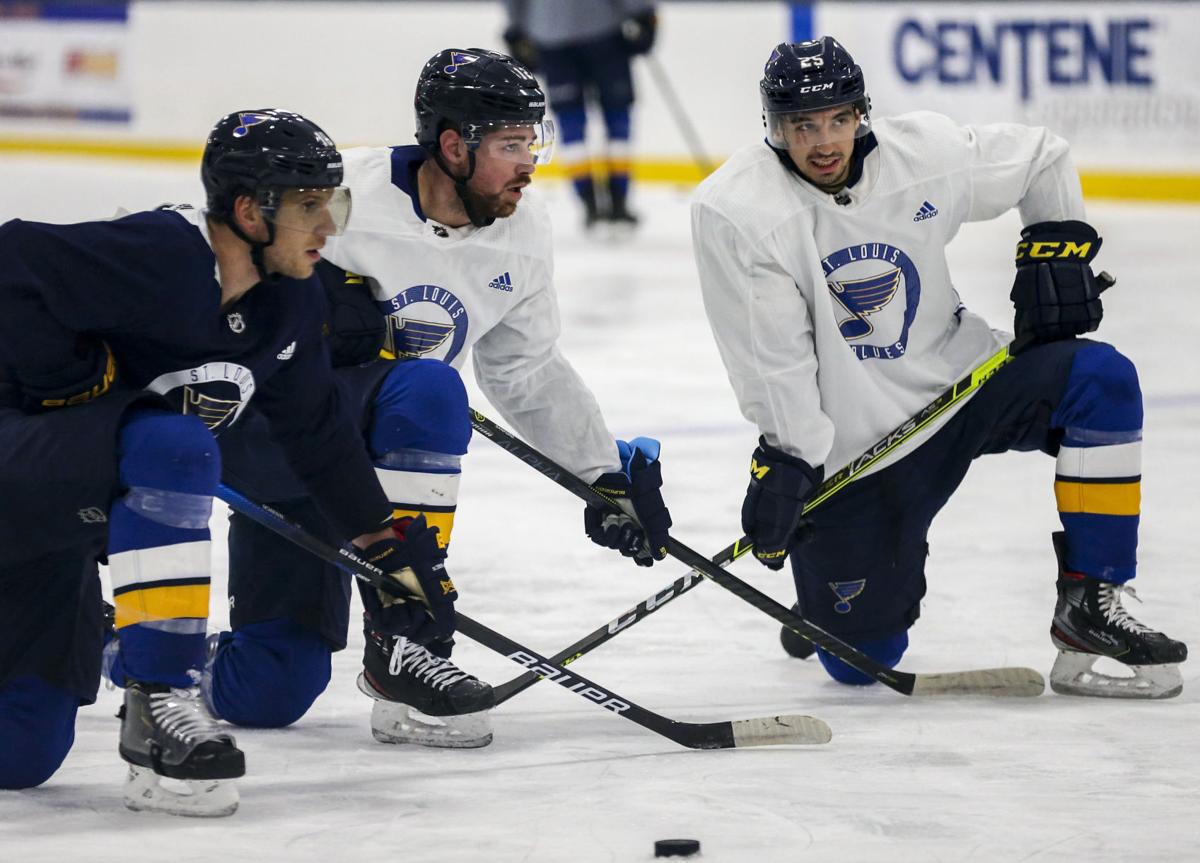 Two years ago, Jordan Kyrou dipped his toes into the NHL waters, playing in 16 games with a goal and two assists.
Last year, he waded into the shallow water, playing 28 games with four goals and five assists. He also appeared in five postseason games in the Edmonton bubble, without registering a point.
As for this year? Well, Kyrou wants to dive into the deep end. And stay there. The 22-year-old forward wants to be an everyday player in the league, and this is the best chance yet for the Blues' second-round pick — No. 35 overall — in 2016.
"That's been my No. 1 goal," Kyrou said. "Ever since the end of last year, my mindset was just come in and do my thing and compete hard. I just want to be here all year, in the lineup all year playing and helping this team win."
At first blush, the arrival of sharp-shooting Mike Hoffman looked like bad news for Kyrou. He might be the odd man out (of the lineup) among the Blues' forward group.
Instead, it was Sammy Blais, who was dropped from the third line to the fifth line as camp opened. Not a good spot, since only four lines play in a game. Kyrou moved into what was expected to be Blais' spot on that third line, playing right wing with Tyler Bozak at center and Zach Sanford on left wing.
"He's a player that's had two years of pro hockey under his belt," general manager Doug Armstrong said of Kyrou. "He's been a dominant player at the junior level before, and now he's gonna get that opportunity to play in a position with our team. But there's guys underneath there that want that position."
In junior hockey, Kyrou lit up scoreboards playing for the Sarnia Sting in the Ontario Hockey League. The Toronto native had 109 points in just 56 games in the 2017-18 season with the Sting. That's right, almost two points per game.
He won the Jim Mahon Trophy that year, which goes to the top-scoring right winger in the league. You may have heard of some past winners: Alex DeBrincat, Mitch Marner, Patrick Kane, Tyler Toffoli.
That year Kyrou also played — and played well — for Canada's gold medal team in the World Juniors. One of his teammates on that squad was Blues teammate Robert Thomas.
Even with his 16 games with the Blues in 2018-19, he played enough for the San Antonio Rampage that season to make the American Hockey League all-star game.
So he's excelled at every level below the NHL. Now, he has a great opportunity to do so in the big leagues.
"For sure," coach Craig Berube said. "But he's a good player. He was drafted here as a real good player. He's going into his third year pro. It's time for him to take that step forward on the team, and show us something."
Blues fans may have forgotten that Kyrou's been down this road before. After an impressive rookie camp to start the 2018-19 season, not only was he on the Blues' opening-day roster, he was on the second line with Jaden Schwartz and Brayden Schenn on opening night. Valuable real estate.
But it didn't stick. Kyrou wasn't quite ready. After appearing in nine games, he was sent down to San Antonio where he spent most of the season. He bounced back and forth some between the two teams, but didn't play another game for the Blues after Jan. 21.
Kneecap surgery at the end of that season meant Kyrou had a late start to the '19-20 season. He could barely train in the offseason, wasn't healthy enough to go at the start of the campaign, and began the year late in San Antonio when finally healthy.
Having a full offseason to train, actually two "offseasons" if you count the pandemic pause last spring and early summer, has helped a lot.
"It was kinda convenient for me, obviously coming off that injury," Kyrou said. "I didn't have a lot of time to train in last year's summer. So I kinda had like a double summer this (year). It helped me regain my strength that I needed in my leg. And I feel strong. I feel good."
Kyrou gained 10 pounds of good weight, which should make it tougher for him to get knocked off the puck. He's up to 195 pounds without losing any of his trademark speed.
"Yeah, I'm fine," he said. "My speed is the same."
He's the fastest skater on the team, with the kind of speed to separate. He can handle the puck, pass, shoot. And at times, dazzle.
"He kinda can do it all," Berube said. "He's gonna do that stuff in the NHL. He's gonna get there. He's gonna get confident enough and get the minutes and the games under his belt where's he's gonna be a good offensive player I believe in this league. But at the same time, he's gotta learn the 200-foot game, which I think he's doing."
Kyrou made some improvement in that area last season, but still needs to do better when it comes to defense and just his general play without the puck.
When asked what Kyrou needed to work on in that regard, Berube pulled no punches.
"Competitiveness more than anything," Berube said. "He's a skilled guy. We all know that. ... But it's really going to boil down to his competitiveness on the walls, his competitiveness to win a puck battle, his competitiveness to get back and defend.
"All those things like that are what's going to keep him in the lineup."
You can't play for a Berube team over the long haul, if you don't display those characteristics. And Kyrou knows it.
"Everyone knows that Chief's biggest thing is being tenacious on the puck and being really competitive and strong," Kyrou said.
If you're not, well, there's somebody like Blais waiting to take your spot.