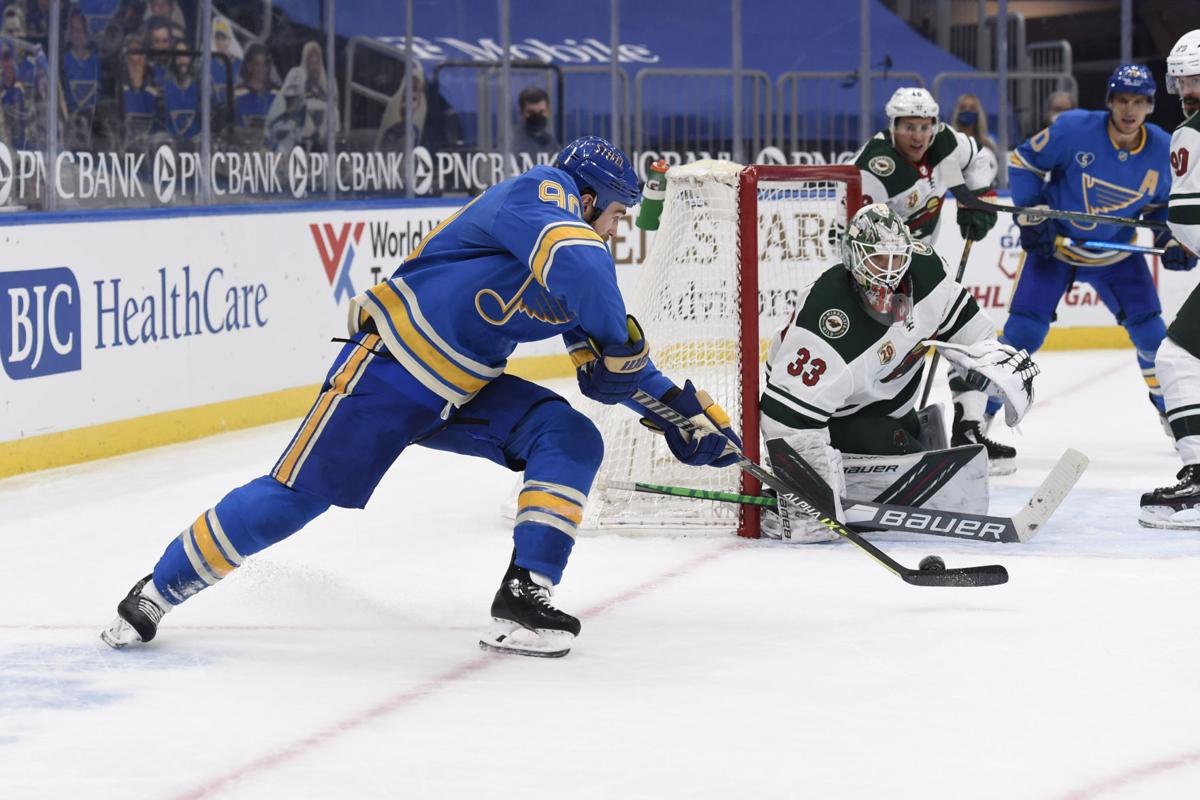 Just six days ago it looked like the Blues were dead in the water. Maybe next year, right?
As recently as Friday, it looked like Mike Hoffman had one foot out the door — or more precisely was about to be shoved out the door by the Blues before Monday's trade deadline.
But after Saturday's 3-2 overtime thriller over the Minnesota Wild, the Blues are back in playoff position following their third consecutive win.
As for Hoffman, he gave the Blues two good reasons why they should keep him around.
Reason No. 1 was one of his trademark screamers — a one-timer from the right circle that tied the game at 1-1 early in the second period on the power play.
Reason No. 2 was a shot from distance — not much inside the blueline — that tied the game at 2-all with 41.6 seconds left in regulation.
The captain, Ryan O'Reilly, took it from there. His backhand goal on a wraparound move came with just two seconds remaining in overtime.
One Mississippi, two Mississippi, that's all that was left.
It was the latest overtime goal in franchise history, and O'Reilly's fourth goal in two days, giving him 17 for the season.
"I had a general idea, kind of, as I was coming into the zone," O'Reilly said. "I knew we didn't have much time left and still trying to make a play obviously. But I knew as I was coming toward Schenner (Brayden Schenn) to finish something at the net here and try to attack. Luckily my timing was good."
His timing was perfect, unless you happened to be a member of the Minnesota Wild, who controlled most of the contest, frustrated the Blues' offense, and came within 41.6 seconds of leaving town with a split of the two-game series.
"We came out, and I thought we did everything we needed to win the game," Wild goalie Cam Talbot said, via the St. Paul Pioneer Press. "They get two of the luckiest bounces I've seen, and then they win in overtime. We deserved to win that game. I thought we did everything right tonight."
Well, the Blues have gotten lucky pinball bounces before. Just ask Winnipeg goalie Connor Hellebuyck, from the opening-round of the 2018-19 Stanley Cup playoffs.
On Saturday, Hoffman's slapshot from 46 feet out, uh, pinballed off Wild defenseman Matt Dumba and into the net to send the game into overtime. It was Hoffman's 11th goal of the season.
"You just got to get pucks to the net," Hoffman said. "It's never pretty 6-on-5. The ice is all chewed up, you can hardly make a flat pass. You're just trying to get pucks there and hopefully get a lucky bounce, which we did."
And then in overtime, with the clock winding down, defenseman Vince Dunn — who had an assist on all three Blues goals — retreated into the St. Louis zone, harassed all the way by Minnesota's Karill Kaprizov. It looked like a shootout was inevitable.
"Dunner, he had a guy on his back there," coach Craig Berube said. "He did a good job of shaking him off. I was a little bit worried about him taking that puck back and he was getting hounded pretty heavily by Kaprizov. I believe it was him.
"I was looking at it that way — don't turn it over. But (Dunn) did a good job of being strong on the puck and we transported it the other way and we ended up scoring."
Obviously, the Blues don't get to that point without Hoffman's contributions. And Hoffman almost certainly is a healthy scratch once again if Robert Thomas didn't sustain an upper-body injury Friday night, an injury expected to sideline him for a couple of weeks.
Asked by the Post-Dispatch what this past week has been like, what with the trade speculation and his benching for three of the previous six games, Hoffman replied: "It's the NHL."
Asked to elaborate, Hoffman added: "It's part of the business that we work in. Those are the things that happen throughout a season. Sometimes you've got to deal with them."
Granted, Hoffman has a general unemotional demeanor. But never has a player who scored two key goals in a clutch victory looked less happy.
Hoffman and Berube are pretty much a water and oil pairing. Hoffman is a pure scorer with one of the best shots in the league. But he doesn't always play defense and doesn't always seem engaged.
What happens between now and the 2 p.m. trade deadline is anyone's guess. But especially with Thomas sidelined, what once seemed a foregone conclusion — Hoffman's departure — doesn't seem so clear-cut anymore.
Saturday's victory, the Blues' third in a row at home, boosted their record to 19-16-6 and into the fourth and final playoff spot in the West Division, at least for now. They have 44 points; idle Arizona (19-17-5) has 43 points. Both teams have played 41 games, with 15 left to play.
"I think this hockey club has a lot of talent and can be a top team," Hoffman said. "In a season like we have now, there's games every other day and obviously things weren't going well there for a little bit and sometimes it's very hard to get out of that funk.
"There's no time to get away from the rink, get away from the game, clear your mind. It's just constantly go, go, go, play every other day. Sometimes you just need a game like that a couple nights ago to swing things around. There's good players in that dressing room. There's no reason why we shouldn't be in every game, every night."
But the question remains: Will Hoffman be with them?