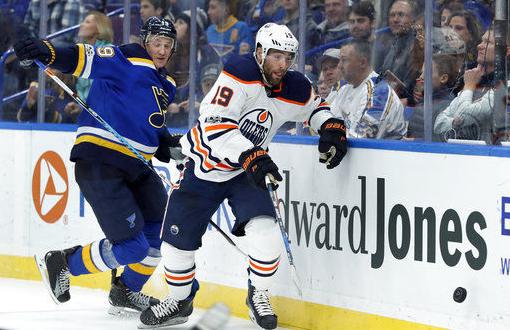 No matter how much a player interacts with his teammates, there is always a sense of isolation when he's injured and unable to compete. The injured reserved list is a lonely place even if it's as full as the Blues' IR was early this season.
Even the soft-spoken Jay Bouwmeester, who was out two months recovering from a broken left ankle, found the feeling difficult to cope with until he was activated last week.
Away from the rink, though, Bouwmeester was kept busy around the house by his wife, Devon, and two young daughters. He credits his daughters Linna, who'll turn 5 next month, and Carys, 2½, with helping him cope until he returned to action against Edmonton on Nov. 21.
With Devon expecting the couple's third child in January, there were more than enough chores for Bouwmeester to do around the house, especially when the team was on the road without him.
Bouwmeester, 34, may not have appreciated the circumstances that freed up his schedule while the Blues were on the road, but he took full advantage of the opportunity to help his wife.
"I'm one of the older guys now," he said. "I remember when I was younger you had older guys with families and you didn't see them a lot away from the rink when you're at home. Because the younger, single guys, that's what you do, you hang around away from the rink and you're always together. Things kind of progress when you have a family.
"That's kind of where I'm at right now. But it's a good balance. It's nice to be able to go home. You kind of have to leave things at the rink and not let things affect you at home or else you're just going to be a grump. That's going to affect that side of things, which at the end of the day is a lot more important than anything we do."
Linna and Carys Bouwmeester enjoy going to the park, so the Blues' 6-4, 206-pound defender could usually be found keeping up with them there.
Although he couldn't actually chase them around the park, he was mobile enough to help keep them entertained while mom rested at home.
Both girls like to skate, swim and ride their bicycles. Unfortunately for Linna and Carys, their father's ankle injury prevented him from swimming, riding or skating with them until recently.
"That was hard," he said. "I couldn't keep up with them doing that sort of stuff. We did a lot just around the house. I guess from that point of view you kind of had to come up with some stuff because a lot of stuff that you normally do, you couldn't do.
"You couldn't go swimming. You couldn't do some of the things that they like. You just get creative around the house."
As Bouwmeester will continue to learn in the ensuing years, his children will always appreciate when he uses his creativity to help entertain them.
Nonetheless, Bouwmeester doesn't need to be so creative anymore. He gets to enjoy the best of both worlds now. Since he was cleared to play, he has settled back in nicely on the ice with the Blues over the last three games.
He was even paired back up with captain Alex Pietrangelo on Saturday against the Wild.
"I've played with him so long it's a calming affect on me and (in) the locker room," Pietrangelo said. "It carries a confidence on the ice, too, that has a trickle effect throughout the lineup. You can just see the impact he's had in a couple of games that he's played."
Bouwmeester has seamlessly settled in with what has proved to be an impressive defense this year.
Coach Mike Yeo estimates that it will probably take Bouwmeester 10 to 15 games to completely be back on top of his entire game.
That's to be expected considering Bouwmeester missed practically all of training camp after breaking his left ankle in the third practice.
Bouwmeester and Patrik Berglund, who might be ready to make his 2017-2018 debut Wednesday night, have earned Yeo's praise for the work and effort they put in to return from their respective injuries.
Berglund would even work out three times on some game days. Bouwmeester was usually with him.
"And then before they get to the point when they're cleared to play with us they would go on the ice with a guy like (coach Steve Ott)," Yeo said. "That's not a lot of fun for them. It's not a lot of puck skill work. It's just basically grind them into the ground and once they clear that point then they get to us and then they have more work there."
In Bouwmeester's case, he enjoyed the extra work at home while also dutifully taking on extra work in his rehab. He finally got away from the house on the Blues' trip through Canada in the week before he was activated.
He admittedly enjoyed being away from home for a bit. He no longer felt as isolated from his teammates. He was back in the routine that has been a major part of his life since he made his NHL debut with Florida in 2002.
He won't be around to help his wife with the girls as much now that he's active and ready to go on the road when the team travels. On the positive side, he's also healthy enough again to bike, skate and swim with his girls.
He and his girls are happy to do what they love again.
"I like hanging out with them," he said. "They're fun ages. They're changing. They're developing interests. You can actually do stuff with them. They're not like babies. It's cool. Anybody with kids, everybody thinks their kids are the greatest."
Jose de Jesus Ortiz
@OrtizKicks on Twitter