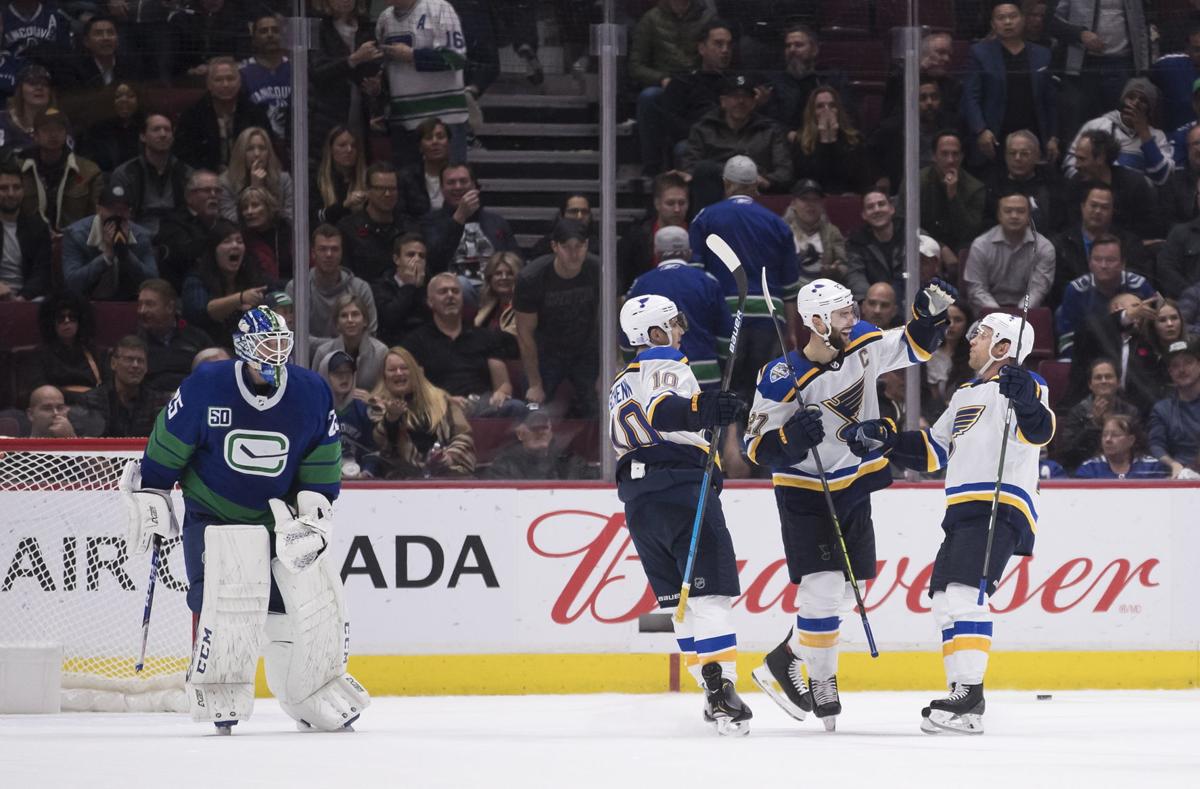 VANCOUVER, B.C. — The young upstarts came to beat the defending Stanley Cup champions, not praise them. Vancouver, after all, did so 2 ½ weeks ago in St. Louis, so why not do it again at home?
The Canucks arrived at Rogers Arena even hotter than the Blues, having gone 5-0-2 in their past seven games. But the Blues cooled them off ever-so-slightly Tuesday, winning a skin-tight battle 2-1 in overtime (of course) on a Jaden Schwartz goal for their fifth victory in a row.
"We're pushing our limits," goalie Jordan Binnington said, after stopping 33 of 34 shots. "It's nice that we're coming out on top the last couple. I think we're going to continue to grow as a team and hopefully make it so we can win those in regulation."
At 10-3-3, the Blues are now on top of the entire Western Conference with 23 points. They play the current No. 2 team in the West — the Edmonton Oilers (10-4-2) — Wednesday in Edmonton.
Seven of the Blues' 16 games this season have gone to overtime or shootout. After losing their first three such games, they've now won their last four.
But this OT victory, the team's third in a row and fourth during the five-game win streak, was unlike any the Blues had seen. Basically ever.
"Yeah, it was different now," coach Craig Berube said. "Sometimes it happens in OT, you're gonna get chances like that. OT's, you know, OT. Back and forth hockey."
Yeah, but ever see one end on a 3-on-0 break?
"Not quite like that," Schwartz said. "I'm not sure what happened. I heard they might have all tripped over each other. I was a little surprised, just like we all were that we had a 3-on-0 basically from our own end. Which you don't see too often."
The Canucks, in fact, did trip over each other. Defensemen Tyler Myers sent a wrist shot wide of the net. As he raced back behind the net, he collided with teammate J.T. Miller and they both fell to the ice. That pileup blocked Bo Horvat's path — he was the third Vancouver skater on the ice.
So the Blues had the puck with nothing but ice and Canucks goalie Jacob Markstrom ahead. Mere feet from the net, Brayden Schenn settled down a rolling puck on left wing and passed to Alex Pietrangelo on right wing.
As Markstrom frantically tried to follow the puck, Pietrangelo then sent it to Schwartz in front of the net, and his lefthanded shot found the net with 1:32 left in OT.
"We don't have a lot of 3-on-0 practices," Schwartz said. "The puck was rolling a little bit on Schenner, so he kind of had to settle it down. Yeah, you just don't want to miss that (shot) when you've got that much time. So it was kind of crazy how it worked out."
It was just the second goal of the season for Schwartz, who said he didn't pick a spot on this one.
"Just get it off," he said. "I know the goalie didn't really know what to do because there was so many of us. They both made a good play of selling it a little bit, and then I was just in the right place, right time."
Markstrom reacted by slamming — and breaking — his goalie stick against one of the posts. Can you blame him?
In honor of the 50th season of Canucks hockey, it was '70s night at the rink with a Neil Diamond impersonator known as "Nearly Neil" performing before the game and between periods. (He wasn't bad.)
During breaks in play, the loud speakers blared out '70s standards from the Bee Gees, KC & the Sunshine Band, and the Queen of Disco — Donna Summer.
Fitting with that theme, it was once again a case of "Staying Alive" for the Blues in the early going.
But early in the second period, they got a lift from an unexpected source. With 13 goals last season, third-line center Tyler Bozak was one of 13 Blues to score 10 or more goals. Bozak was 0-for-this season when he cruised down the slot, received a tape-to-tape pass from Sammy Blais, and beat Markstrom at the 3:37 mark.
"We had a lot of offensive zone time, just cycling," Bozak said. "I was able to get open in the slot. And Steener and Sammy made a great play to get me the puck. It was nice to finally get one this year, a little relief."
Alexander Steen got the secondary assist. 
It looked like that goal would hold up as the game-winner in a 1-0 Blues victory until Canucks defenseman Quinn Hughes hit a high knucklepuck from the left point that got through traffic and past Binnington with just 3:35 to play in regulation.
But Binnington was ultra-sharp Tuesday. Was it his best game of the season?
"I'll let you make that call," he replied.
OK, we'll call it Binnington's best game of the season, given the high-powered nature of the Vancouver offense, and the three prime scoring chances by Elias Pettersson that he turned away. Two of the three saves on those Pettersson attempts came on 2-on-1 rushes.
Pettersson won the Calder Trophy last season as the NHL rookie of the year. Binnington was runner-up. And as he made clear Tuesday, Binnington felt he deserved the honor.
"There's a little bit of that bad taste in my mouth about the outcome last year," Binnington said. "But he's a talented player, so it's good going up against some of the best."
So to be clear: You felt you deserved the Calder last season, right?
"Yeah," Binnington said, and then abruptly changed the subject. "They've got a good young team and some elite talent. He's one of those guys, so it's a lot of fun. An entertaining game I think, so I'm happy with the outcome."