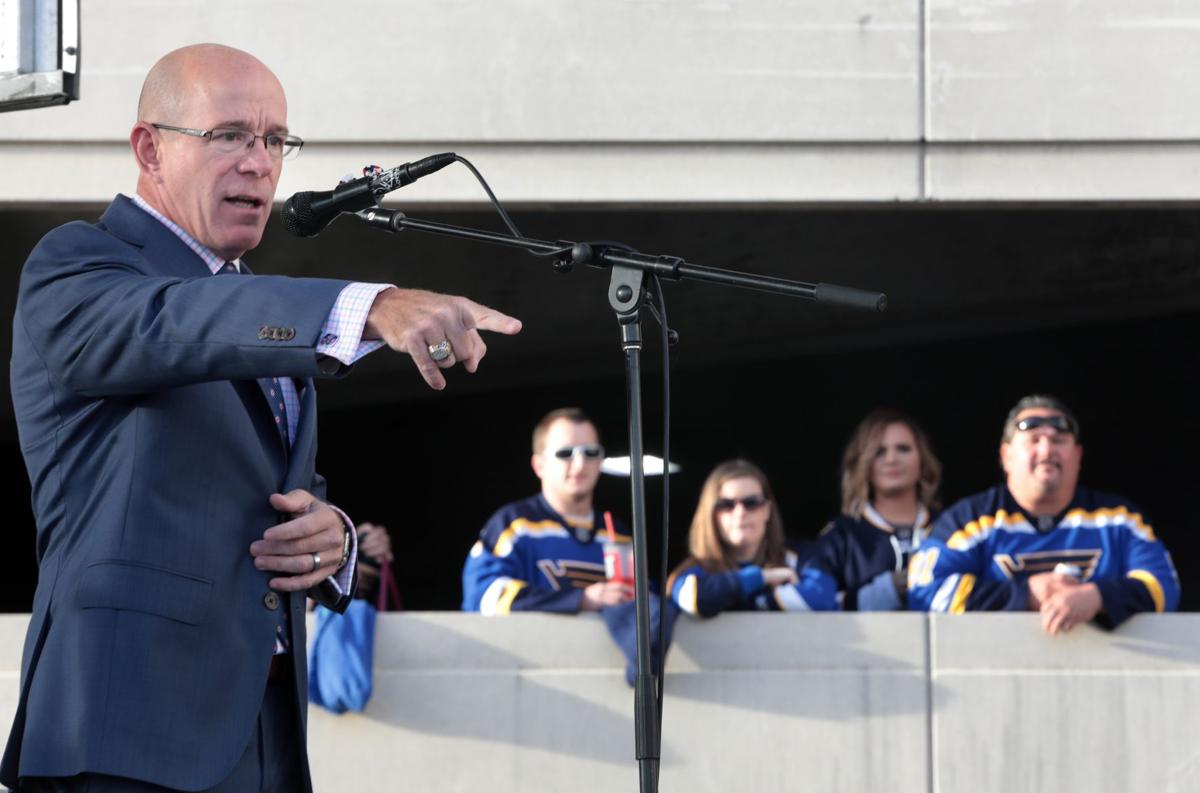 A week ago Darren Pang was in limbo, unsure if he would be back for his ninth season as the analyst on Fox Sports Midwest's Blues telecasts. His contract had expired, and he said the initial offer he received to return was for less money than he made under his previous deal. That covers his FSM pay as well as compensation from the team that he receives for making public appearances and doing advertising work on its behalf.
But after his contract status became public in the Post-Dispatch and at STLtoday.com last Friday and there was public outcry in support of Pang on social media, things progressed rapidly. A deal for him to remain in those roles was agreed to within 36 hours.
"I was absolutely delighted," Pang said this week. "A phone call came later in the day (Friday). Then by late Saturday, we had the deal done. I was elated, thrilled, relieved. I didn't want to go anywhere else. (Fox Sports Midwest) president Jack Donovan, the Blues and (owner) Tom Stillman, they all stepped up. It was great news for a long holiday weekend."
Pang, 53, has been at his summer home in Michigan, boating and playing golf, and apparently hasn't been spending much time monitoring social media. But his buddies in St. Louis are.
"I was notified by a lot of my friends at Meadowbrook Country Club — where I play a lot of golf — about the reaction there," Pang said. "I was overwhelmed. It was humbling. I don't take those things for granted. It was incredible."
Though he did tweet: "I'd like to thank the great fans of the (Blues) and (Fox Sports Midwest) for their incredible support," also acknowledging his agents. "Awesome!"
Fox Sports Midwest officials would not discuss the matter in detail because the contract has not been signed.
"We can confirm the verbal agreement and current process of finalizing the contract and are looking forward to Darren Pang returning to our Blues broadcasts, among the best in the country," FSM said in a statement.
Pang is happy things were resolved so rapidly once they became public, after having dragged since the Blues' season ended. And he had talked of looking elsewhere for work.
"I think we all wanted something done sooner than later" in St. Louis, he said. "That was very important, though we had no deadline."
Pang said the contract is for three years and has no change in the duties he previously had with FSM and the club. He plans to sign it soon and now is happy with the compensation.
"I feel very much appreciated," he said. "This makes me feel like a top broadcaster, an appreciated broadcaster. That's important to me. ... I'm really happy both parties stepped up to make this deal."
POKER PARADE
The main event of the World Series of Poker has outdrawn hockey and other mainstream events in television ratings in the past, and organizers have significantly changed the format for this year's event. That will lead to more live TV coverage than ever before, an estimated minimum of 40 hours spread between ESPN and ESPN2.
At least 6,000 competitors are expected in the event at the Rio hotel in Las Vegas, which costs $10,000 to enter, and the winner is expected to reap at least $8 million. The other eight finalists are in line for at least $1 million.
The main event begins Saturday with three days of first-round play. ESPN2 will have coverage from 3-7 p.m., then from 1-5 p.m. Sunday for Day 2. After a break Monday, ESPN jumps in Tuesday night and there will be coverage on one of those networks each night through July 17 except next Thursday. July 17 is when the field is whittled to nine.
In recent years, there has been a long gap between cutting the field to nine and the beginning of play at the "final table" — from July until late October or early November. This year there will be only a two-day break, with play set to resume July 20 and continue until three players are eliminated. ESPN2 has that coverage, starting at 8 p.m. On July 21, it's on ESPN at the same time as the field is reduced to the last three players. The champion will be crowned on July 22, a Saturday — or, more likely in the wee hours of July 23 if the trend of recent years holds. That coverage, on ESPN, starts at 8 p.m.