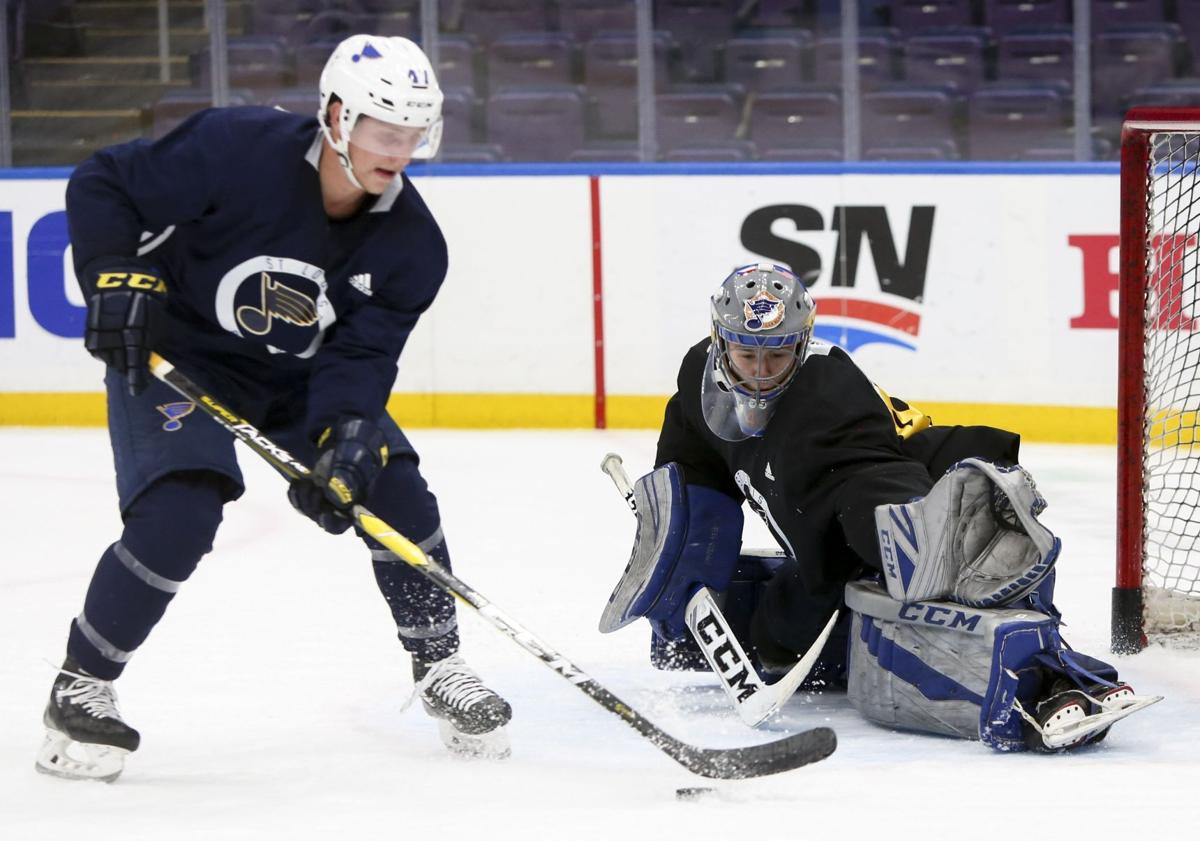 In these pandemic times, lots of hockey players are anxious to get back on the ice. Highly regarded Blues defenseman prospect Scott Perunovich has waited longer than most.
"Yeah, it's been the longest time I've ever had to wait. Definitely different than what I've been used to in my whole life," Perunovich told the Post-Dispatch. "So just trying to stay patient and hopefully get back on the ice and play some games as soon as possible."
The coronavirus pandemic has wreaked havoc with hockey schedules — and everything else — over the past eight-plus months.
But at least most NHL players got to participate in the postseason last August and September in the Edmonton and Toronto bubbles.
The Kontinental Hockey League has been up and running for 2½ months, and other pro leagues are going in Europe. Some, but not all, junior hockey is underway in Canada and the U.S. The college season is starting.
Perunovich remains stuck in neutral after an amazing college career. At Minnesota-Duluth, he won the Hobey Baker Award in April as college hockey's top player.
He was a three-time All-American, and was named player of the year this past season in the National Collegiate Hockey Conference (NCHC). Minnesota-Duluth was 22-10-2, ranked fourth nationally and about to begin the postseason pursuit of a third straight NCAA title when college hockey shut down March 12 — the same day the NHL halted play.
Perunovich, a junior drafted by the Blues in 2018, decided to go pro. And after agreeing to a two-year entry-level contract March 27, there was a chance he might get to play with the Blues once hockey returned.
General manager Doug Armstrong mentioned that Perunovich would at least practice with the team once hockey returned and perhaps even play in a game or two, or more. But the NHL decided otherwise, meaning Perunovich and any other college players signing with NHL teams at the time had to wait until the 2020-21 season for their contracts to kick in.
So as the NHL works on its return to play for '20-'21, the wait continues.
How has he kept his sanity?
"Just trying to stay busy as much as I can," Perunovich said in a phone interview from Minneapolis. "I was golfing quite a bit, but now we got some snow here so that's all done with."
After the plug was pulled on the 2019-20 college season, Perunovich returned to the family cabin on Side Lake near his hometown of Hibbing, Minnesota.
"I don't get to spend a ton of time with my family just with hockey always going on and everything," he said. "So just to be able to spend some more quality time with them I guess was one of the positives I could take out of this whole thing."
For the past couple of months Perunovich has changed his base of operations to Minneapolis, where he's skating and training in preparation for a season that's creeping ever-so-slowly onto the horizon.
Conveniently enough, his girlfriend Steffine lives in Minneapolis, so that's where he's staying.
With the help of a personal trainer, Perunovich works out at the Twin Cities Orthopedics Performance Center — the headquarters and practice facility of the NFL's Minnesota Vikings. He's a big Vikings fan, but says he never sees any of the Vikings while he's there training.
Faulk a 'big brother'
There's a rink complex a couple of miles away from the Vikings' facility where Perunovich skates a couple of times a week with several NHLers from the area, including Brock Boeser, Nick Leddy, Casey Mittelstadt, and future Blues teammate Justin Faulk.
Faulk attended Minnesota-Duluth in 2010-11 and contacted Perunovich when he agreed to his Blues contract in March.
"He reached out and he still takes care of me," Perunovich said. "If I have any questions, he's the first person I call. So he's kind of been like a big brother throughout this whole process, and just kind of helping me through this difficult time and trying to make the transition easier."
During the Blues' Phase 2 workouts, Perunovich was in St. Louis for a few weeks in late June, early July. (Once formal training camp started, Perunovich no longer could skate with the team.)
Faulk offered to let Perunovich stay at his place, but because of COVID-19 Perunovich had to stay on his own at a hotel. The Phase 2 skates at Centene Community Ice Center usually consisted of about six or so players. Perunovich remembers skating with Ryan O'Reilly, Vince Dunn and goalie prospect Joel Hofer among others.
"It was definitely exciting and a really fun experience for me just to be able meet these obviously great hockey players that I've been watching for a long time," Perunovich, 22, said. "And even better people."
"When I got there it made me realize that these guys are on a whole 'nother level and I got a lot of work to do to be able to play with those guys," Perunovich said. "The guys I skated with are unbelievable. Everything they do is just top-notch and so good. So definitely it put it in perspective for me.
"I'm not near where I need to be right now, so I'm just trying to keep skating and working harder to better myself and get as good as I can be."
Even so, Perunovich's goal when training camp starts is to make the big club. Otherwise, he'll be with the team's new AHL affiliate in Springfield, Mass.
Right now, there are seven veteran defensemen on the Blues' roster in Dunn (still unsigned), Faulk, Colton Parayko, Torey Krug, Marco Scandella, Carl Gunnarsson and Robert Bortuzzo. Perunovich is among three prospects pushing for a spot — along with Niko Mikkola and Jake Walman.
Of those 10, only Faulk, Parayko and Bortuzzo are righthanded shots. But Perunovich played on the right side all three seasons at Minnesota-Duluth, a fact that might help him make the "varsity" roster at some point.
"I'll play wherever they need me to," Perunovich said. "But I'm definitely comfortable (on the right side)."
Spoken like someone who's anxious to play.