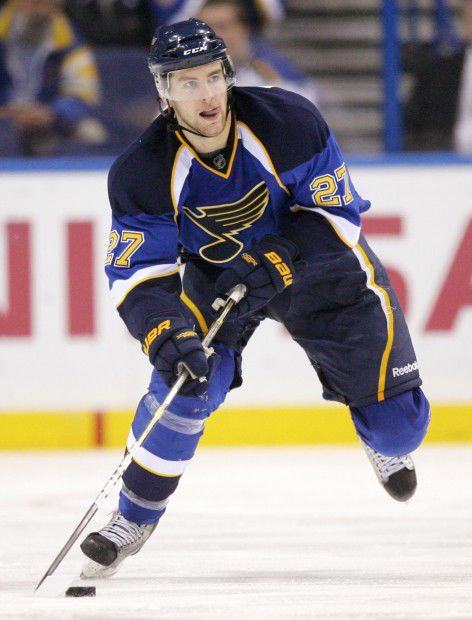 The start of Blues training camp is less than six weeks away and defenseman Alex Pietrangelo, a restricted free agent, remains the team's last unsigned player.
The Blues have waited deep into the summer to re-sign many of their own RFAs, but never this deep under general manager Doug Armstrong. The latest to sign previously was defenseman Erik Johnson, in 2010, when he was brought into the fold on Aug. 2. That date has now passed, and adding to the anxiety among fans is that despite dialogue between Armstrong and Pietrangelo's agent, Don Meehan of Newport Sports Management, no agreement is imminent.
A breakthrough in negotiations is always possible, but with time slipping away, the potential of a holdout is also plausible. The last two NHL players to miss part of the regular season — Montreal's P.K. Subban and Colorado's Ryan O'Reilly — are represented by Newport.
"There's really nothing to report," Armstrong said. "My belief is that it's better to stay quiet until we have a conclusion to it and we're not there now.
"It's not something that I'm overly concerned about at this particularly time. We've got six weeks until training camp and these things get done at different times. Alex knows we want him here, Alex wants to be here and at the right time things will take shape."
In an email to the Post-Dispatch, Meehan confirmed "we have had discussions," but he declined to comment on the negotiations, even in general terms.
The logical read into the lack of an extension between Pietrangelo, 23, and the Blues is that they are far apart in their expectations. It's believed the defenseman is seeking a deal worth in the neighborhood of $7 million per season, while the club appears unwilling to eclipse $6 million.
Following Friday's two-year, $2.4 million extension for newcomer Magnus Paajarvi, the Blues have approximately $57.3 committed against the 2013-14 salary cap, leaving about $7 million under the ceiling. The team saved $2.6 million in the recent trade of David Perron for Paajarvi, providing some flexibility in the Pietrangelo negotiations.
At this point, with both sides having established their financial parameters, the key to an agreement is length.
An eight-year term — the maximum allowed by the player's current club under the NHL's new collective-bargaining agreement — remains possible. But with the Blues not yet prepared to pay a premier price for Pietrangelo, it's likely that a short-term agreement is in the offing.
"It's just finding out is it a maximum-term contract of eight years or do both sides feel it's better to go short?" Armstrong said. "We're going to work hand-in-hand with Alex because it's not a win-lose. We're hoping to find a win-win for both sides."
The Blues have had recent success with short-term, or "bridge," contracts.
Perron and T.J. Oshie are among the team's players who signed bridge deals and were eventually awarded long-term extensions. Going back to 2010, Armstrong signed Johnson, the No. 1 overall pick in 2006, to a two-year, $5.2 million extension out of his entry-level deal. That bridge deal might have made the difference in the Blues' ability to trade Johnson to Colorado when he didn't live up to their expectations.
Some NHL teams have benefited from taking a minor leap of faith, such as the Los Angeles Kings, who gave defenseman Drew Doughty, taken two spots ahead of Pietrangelo at No. 2 overall in 2008, an eight-year, $56 million contract. Ottawa, meanwhile, inked Erik Karlsson (No. 15 overall in '08) to a seven-year, $45.5 million extension.
Doughty has a Stanley Cup on his résumé and Karlsson a Norris Trophy on his mantle.
But elsewhere around the league, clubs have handicapped themselves with high-priced contracts for young players.
After three seasons, Buffalo awarded defenseman Tyler Myers (No. 12 overall pick in '08) with a seven-year, $38.5 million contract that included a $10 million signing bonus. With a $5.5 million AAV, Myers was a healthy scratch at times last season for the Sabres.
"There's a lot of projection going out long-term with unproven players," Armstrong said. "I would say (Pietrangelo) is not an unproven player. But there are some where you see teams give out long-term extensions after two years of pro (experience) … in my philosophy, there's not enough history to do that. It's worked very well for some teams, and for some teams it hasn't worked well at all. We're a little more crawl-walk-run than crawl-run."
There are exceptions. Recently, the Blues gave defenseman Kevin Shattenkirk a four-year, $17 million extension ($4.3 AAV).
Pietrangelo's offensive numbers (29 goals and 121 points in 224 games) are slightly higher than Shattenkirk's (23 goals and 109 points in 201 games) and both blueliners were coming out of their entry-level deals when negotiations began.
However, there is a major difference between Shattenkirk and Pietrangelo: arbitration rights.
Players who sign their first professional contract at age 21, such as Shattenkirk, possess arbitration rights and players who sign at 20 or earlier, such as Pietrangelo, need four years of professional experience to be eligible for those rights. That leverage is vital in negotiations.
"The system is the system," Armstrong said. "There's (an arbitration) date that everything has to be done or else a third party makes that decision. With Alex, there are no arbitration rights, so you just let the dialogue continue up until training camp."
The only leverage for Pietrangelo would have been receiving an offer sheet from another club, but that never happened. The Blues would have had a week to match the offer, or be compensated with draft picks.
"We made it very clear that we would match any offer sheet that's out there," Armstrong said. "I think that offer sheets only come because you believe you have a chance to get the player. I don't think there's any belief out there that Alex won't be a Blue."
But when will that be finalized?
Armstrong said that dialogue between the Blues and Newport would continue until camp, but the holdouts of Subban and O'Reilly sits as the backdrop. (Subban's agent is Meehan and O'Reilly's is Mark Guy).
Subban, 24, missed training camp and Montreal's first four games of the 2012-13 regular season before signing two-year, $5.75 million deal (AAV $2.875). O'Reilly, 22, also held out through camp and sat out Colorado's first 19 games before Calgary gave him a two-year, $10 million offer sheet, which the Avalanche matched.
Asked if he was concerned about a holdout with Pietrangelo, Armstrong replied: "I'm not going to rub a crystal ball and see where we're going to be on Sept. 15. We've done a lot of deals with Newport Sports. David Backes, (Jaden) Schwartz, (Maxim) Lapierre. Newport Sports and the St. Louis Blues have done a ton of contracts and we're going to get this one done."