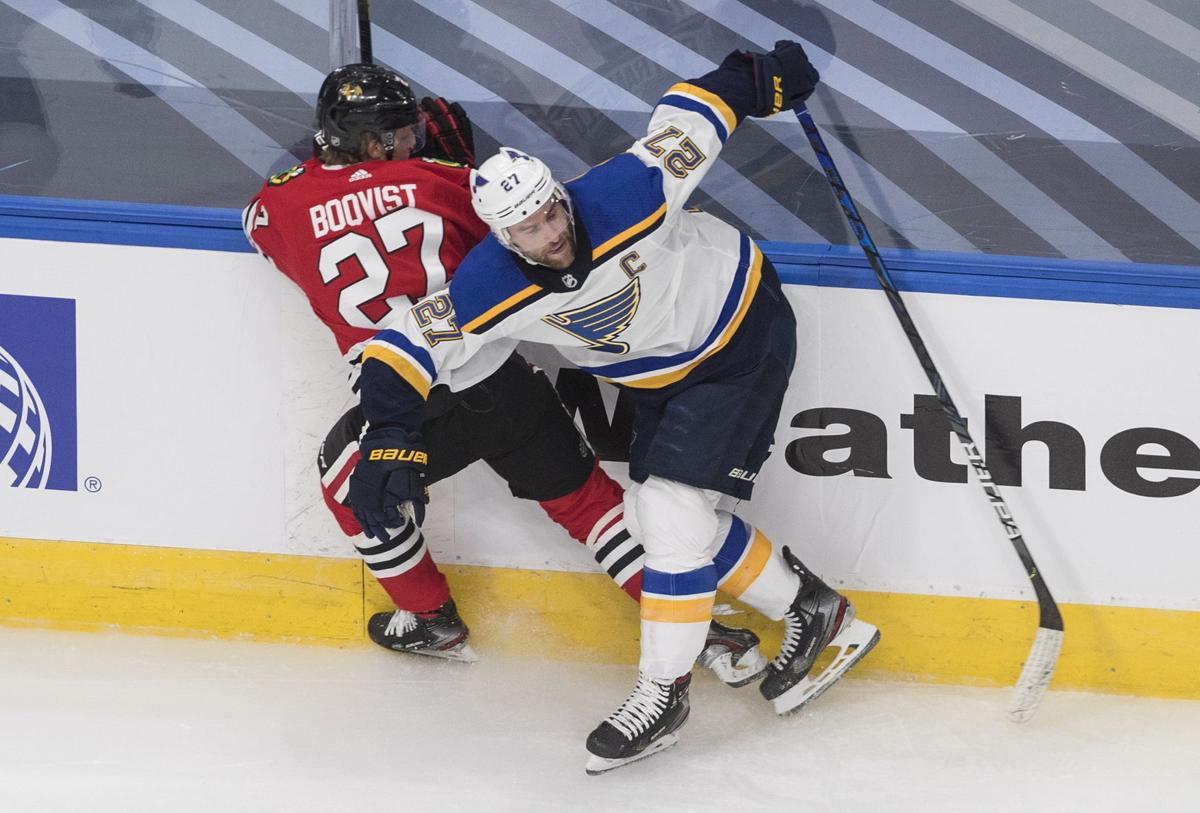 On Saturday afternoon, Blues captain Alex Pietrangelo came home from a month in Edmonton, Alberta, for the NHL playoffs and was greeted excitedly by his two-year-old triplets, Theodore, Oliver and Evelyn.
"One of my boys was really, really excited," Pietrangelo said Tuesday, "and my daughter is kind of giving me the cold shoulder, so it was pretty fun. You miss so much. I was only gone for, what, a month? And just coming back, they changed so much in that one month. Right now, they're pretty excited. Me and my wife went to run some errands this morning and they didn't want me to leave. I think maybe they thought I wasn't coming back."
That's the question that has hung over Pietrangelo all season and now that the games are over for the Blues, will be front and center until NHL free agency begins on Oct. 9 (or seven days after the Stanley Cup playoffs end): Will he come back? Pietrangelo is an unrestricted free agent, free to sign with anyone when the NHL's transactional gates are opened.
While Pietrangelo and Blues general manager Doug Armstrong have said they won't talk about negotiations until things are done — Armstrong is meeting with St. Louis media on Wednesday — Pietrangelo spoke Tuesday with reporters about other issues relative to his possible departure. It's clear what the preferred outcome is: Staying in St. Louis.
"Obviously, I want to stay a Blue, of course I do," he said. "It's the only place I've known professional hockey, so this is obviously important. This organization means a lot to me."
But it's not the simplest outcome. While Pietrangelo isn't from St. Louis, his wife and her family is, giving him strong ties to the community. But that may only go so far.
"Ask any of my teammates how close I am with my family, not just my immediate family but my sisters-in-law and brothers-in-law and nieces and nephews," he said. "All that stuff's important to me. But then again, they understand the business side of things and the situation that we're in. If this decision was something that we weren't thinking hard about, we wouldn't be in this spot, and I give my wife a lot of credit for really allowing me to think hard about this because there's a lot of things that need to be taken into consideration here moving forward and it's not a fun thing to go through. It's not easy but when you have a good solid base at home … I've got my wife and kids and my wife supports everything that I do. It definitely makes the process a little bit easier because you can really take your time and sit back and evaluate everything to make the right decision."
Pietrangelo is at the end of a seven-year contract that had an average annual value of $6.5 million. For the 2020-21 season, two Blues will make more than that, Vladimir Tarasenko and Ryan O'Reilly at $7.5 million, and two will make that much, Brayden Schenn and Justin Faulk. The comparable the Pietrangelo camp will probably look at is Roman Josi's eight-year deal with a $9.059 million AAV with Nashville.
But with a salary cap staying the same and the machinations that will be required to fit Pietrangelo's contract into that framework, it remains to be seen how close the Blues can get to that number, or if they want to. Pietrangelo will turn 31 shortly after the projected start time for next season and is coming off a career-high for goals (16). He continues to be one of the best two-way defensemen in the league.
"Whether it's here or somewhere else," he said, "you want to play to the best of your ability and leave a legacy wherever you are and that's goes along with on the ice and off the ice and trying to impact your organization in the community. So whether it's here or anywhere else, I think it's important for me to really kind of set my roots wherever it is."
On Friday night, when the Blues' season was ended by Vancouver, Pietrangelo left the ice late in the game with longtime teammate David Perron putting an arm around him.
"I could tell Petro was feeling it pretty good there," Perron said. "He was pretty choked up to be honest with you and it got me choked up a little bit, too. Even thinking about it right now, talking about it, I really hope he's going to be around."
"The game's over and I'm thinking about the situation I'm in," Pietrangelo recalled of the moment. "Dave and I are really close friends, so I think he understood what I was thinking at the time, maybe the last time I wear the jersey and the last time I play with him, too."
So now the watching and waiting begins. The NHL has eliminated the courtship period where other teams could talk to Pietrangelo before the start of free agency, so the Blues have about six weeks to themselves before the rest of the league can make offers to Pietrangelo.
Meanwhile, it didn't take Pietrangelo's daughter long to come around.
"Oh yeah, she's my best friend," he said. "She's good now. We had some good bonding the other day, watched some TV together and we're back to where we were."
Can the Blues and Pietrangelo do the same thing?