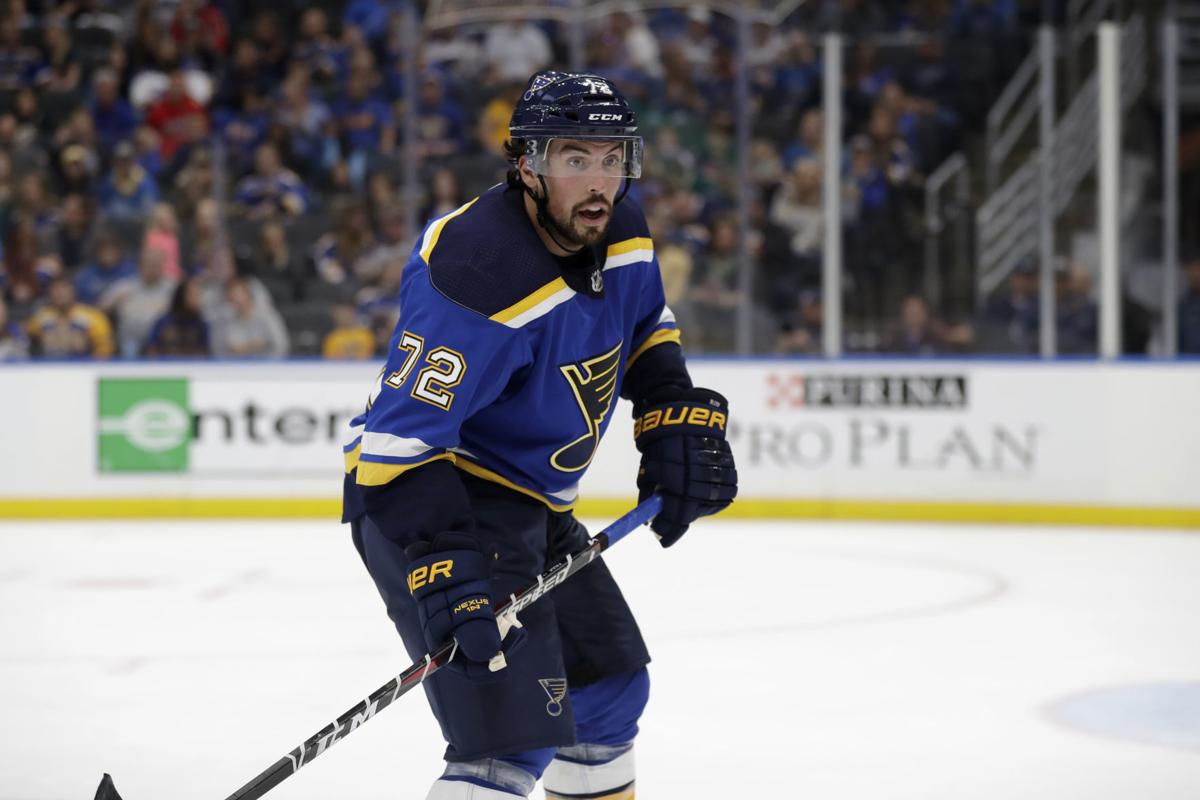 Talk about a strange way to end the preseason.
Because of mechanical issues with their scheduled charter plane, the Blues' exhibition game Sunday afternoon with the Columbus Blue Jackets was cancelled.
The team was scheduled to fly out of Lambert Airport at noon. The players and staff were on the plane and ready to go, but after a delay of more than an hour on the tarmac, the trip was scrubbed and with it the scheduled 4 p.m. (Central) contest against the Blue Jackets at Nationwide Arena.
"Due to an unforeseen mechanical issue with our chartered aircraft, we are unable to travel to Columbus for tonight's game," Blues general manager Doug Armstrong said in a statement. "We apologize to the Blues Jackets and their fans for this inconvenience."
During the regular season, the Blues fly in at least one day in advance to road game destinations. But during the preseason, they fly the day of the game. The team had a morning skate for the traveling roster at 9:30 a.m. at Centene Community Ice Center in Maryland Heights before heading to the airport.
The Blues' game group consisted to a large degree of young players and prospects hoping to impress coach Craig Berube and Armstrong one last time before the team trimmed its roster to the regular-season limit of 23 players.
It also was supposed to be forward Robert Thomas' second preseason game after his return from wrist surgery, and defenseman Justin Faulk's second game with the Blues after last week's trade from Carolina.
Jake Allen was in line to start in goal, but Jordan Binnington was along on the trip as well.
Nonetheless, it would've been the eighth exhibition game for the Blues this preseason, which is on the high end. Normally the team plays six or seven preseason games, so the coaching staff and front office has had sufficient time to make evaluations.
The Blues thus ended the preseason with a 4-3 record. Next up, the Washington Capitals in the regular-season opener Wednesday at Enterprise Center.
In Columbus, the Blue Jackets announced that single-game buyers with tickets for Sunday's game would receive a refund. Season-ticket holders will receive additional tickets to a regular-season home game this season, with details being finalized.
"We regret the inconvenience the cancellation of today's game will cause our fans, but after discussion with the Blues there was no viable option that would've resulted in our being able to play the game today," Columbus team president Mike Priest said.
WALMAN'S DILEMMA
It wasn't that long ago that Jake Walman was regarded as one of the Blues' top prospects on defense. He's still only 23, but after being assigned to San Antonio on Saturday, his career doesn't appear to be gaining momentum.
Obviously this is a tough roster to make.
"I was drafted for my assets and what I bring to the game," said Walman, a third-round pick in 2014. "It's kind of been my focus coming into this camp, just playing the way that got me here. My success in college was because of those things."
Walman is a puck-mover who sees the ice well and knows how to use his feet to elude trouble.
But with the addition of Justin Faulk, the emergence of Colton Parayko and Vince Dunn, and contract extensions for Robert Bortuzzo, Jay Bouwmeester and Carl Gunnarsson, is Walman concerned that his window of opportunity is closing?
"No, I focus on myself," he said. "I couldn't care what happens around me. I know how I can play and what type of player I am."
During the summer, Walman worked on his game at BioSteel Sports in Toronto. He scored on Jordan Binnington in the finals of the BioSteel camp tournament championship.
"He made a little solo rush up the ice, got a good scoring opportunity and put it 5-hole on me," Binnington said.
But for the third year in a row, Binnington was on the tournament championship team. "That's a 3-peat," Binnington said.