Quick Hits: Jim Thomas on the Blues
Rounding up hot topics from hockey writer Jim Thomas' chat with fans of the Stanley Cup champions.
PETRO, SCHENN AND THE SALARY CAP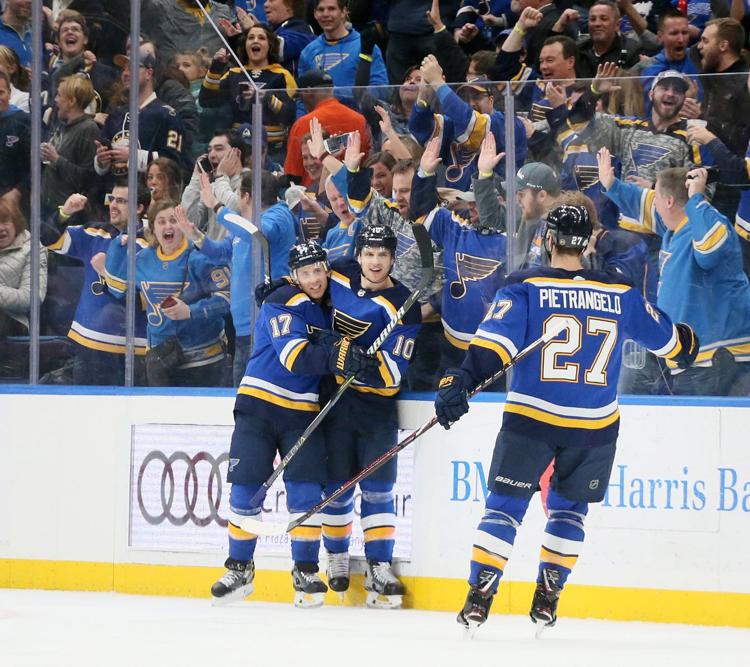 COMMENT: The Faulk deal doesn't hurt Petro and Schenn at all. Certainly Allen and Steen will come off the books next year. Plenty of cap room. What I took away is that Army said defensemen start to decline at age 32-33. Isn't Petro 30? Hard to believe Army would go 8 years/$9 million.
JT: With the addition of Faulk, the Blues currently have $65.6 million committed to the salary cap for the 2020-21 season, with 16 players under contract. So let's say the salary cap goes up to $85 million for that season. (It's currently at $81.5 million.) So that leaves the Blues with $19.4 million to sign seven players. Let's assume that it takes $14 million to re-sign both Pietrangelo and Schenn. (And that may be low.) That leaves $5.4 million for five players, which will be tough.
Yes, the Blues could remove Allen's $4.35 million or Steen's $5.75 million. But as Doug Armstrong said yesterday, the Blues are going to have to be creative in order to bring both Pietrangelo and Schenn back.
---
Follow-up: Army made it clear he thinks that defensemen generally start to tail off at 32-33 years old. I took that as a bit of a warning that while they want to keep Petro, they aren't going to give him a 4- or 5-year deal to do it. Your take? Some of the truly great defensemen have played well into their 30s. Petro might be one of them.
JT: And Jay Bouwmeester played pretty well last year at age 35, didn't he? I don't know if it was any sort of veiled reference to Pietrangelo, who turns 30 in January. But yes, it's hard to imagine Petro getting a seven-year term.
HOW MUCH WILL PETRO WANT?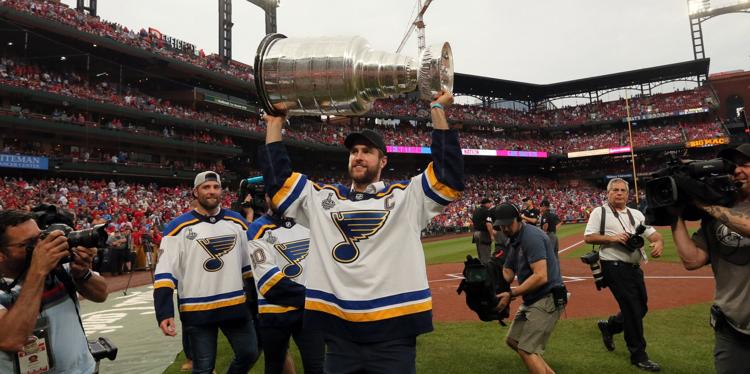 COMMENT: Thomas Chabot gets 8 years/$8 million in Ottawa. Correct me if I'm wrong but isn't he coming off his rookie season? Guess Petro will be asking for $9-10 million per year.
JT: Chabot has a cap count of $863,000 this season — which actually is his third in the NHL. Then, as you mention, he kicks into $8 million per year. I don't know if that means Pietrangelo will be asking for $9-10 million. But I think it's a safe bet he's looking for more than his current $6.5 million.
But is Petro looking to go to the highest bidder? Does he value the possibility of finishing out his career in St. Louis? Does he have a desire to keep his triplets in St. Louis, or are they too young for that to be a factor?
---
Follow-up: Do you think Petro gets his nose bent out of shape over the Faulk trade? Would he think the Blues are sending him a sign of things to come concerning his UFA status at season's end?
JT: We talked to Pietrangelo briefly after the Dallas game and he seemed pretty normal. Certainly didn't seem upset about anything.
I don't know if the Blues are sending him a message with the Faulk trade, but landing Faulk certainly was a forward-thinking move. Although their skill sets aren't identical, if Pietrangelo asks for more than the Blues are willing to play, they already have a replacement in Faulk. That does give them some leverage I would think..
RETURN ON A PIETRANGELO TRADE?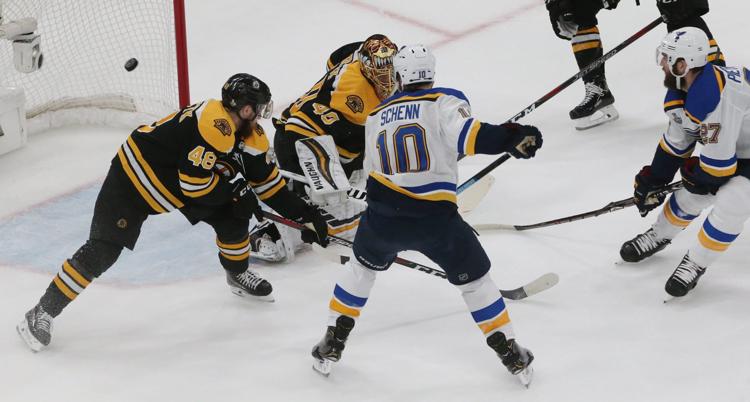 QUESTION: What kind of return would the Blues get in a Petro trade? Toronto would love to get him, but not sure what they could offer in return that would make sense for the Blues. Would they ever consider trading him within the division?
JT: Perhaps his reputation is bolstered to a degree by the Blues' Stanley Cup championship but I think he's considered to be a top 15 defenseman in the league. He turns 30 in January, so he's no longer a pup but still in his prime. And you'd have to factor in that you're trading for a guy entering the walk year of his contract.
I'm not sure what that all adds up to. But as was the case with Faulk, maybe you could get more if the trade was conditional on the player signing an extension with his new team.
KOSTIN ON THE OPENING NIGHT ROSTER?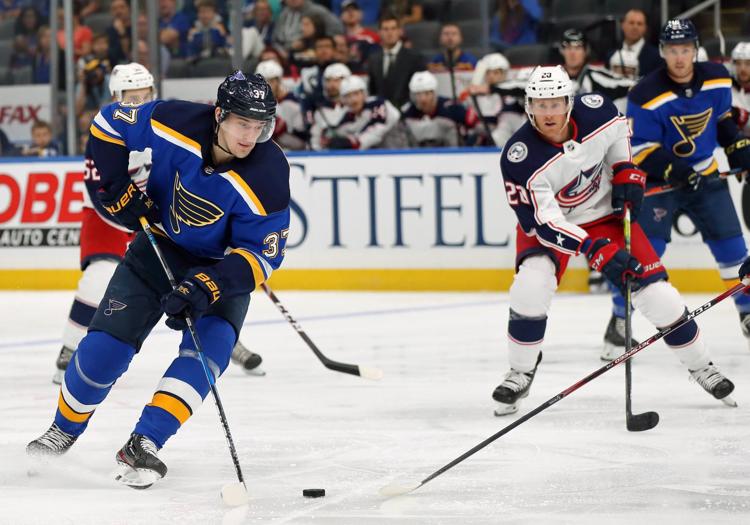 QUESTION: What is your take on Klim Kostin? Does he make the opening day roster and get in a few games at least before a final decision is made?
JT: He has been very impressive, obviously, but didn't do a whole lot Tuesday night. He got only 11:34 of ice time. And part of the reason for that may have been the 13 penalties between the two teams. I was writing a Justin Faulk trade story during most of the game, so I wasn't watching as closely as I normally would. But I don't think Kostin got much power play time.
Anyway, barring injury to other forwards or a very strong game or two over the rest of the preseason for Kostin, I think he starts the regular season in San Antonio. Because of their tight cap picture after the Faulk trade, I wouldn't be surprised if the Blues open the season with just 22 players on their roster to save a little cap space.
COULD BLUES AFFORD TO BUY OUT STEEN?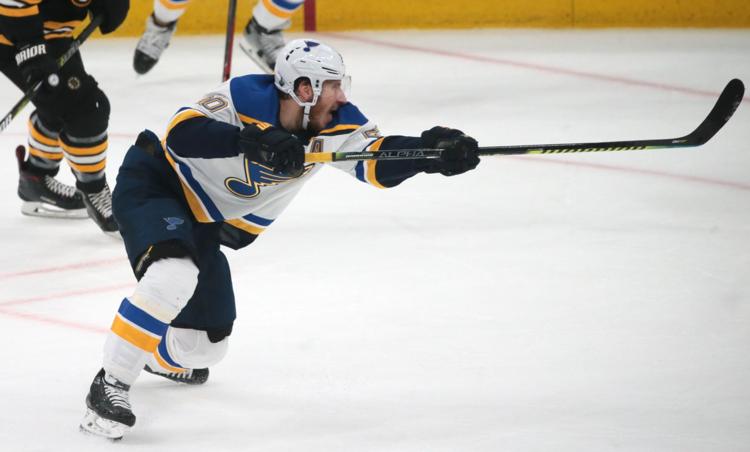 QUESTION: What are the Blues options with Steen? With all the money they made from the Cup run, could they afford a buyout? Not sure how you justify paying a replaceable fourthth liner over $5.5 million a year for another 2 years when his best hockey is clearly behind him. Do Steen or maybe even Bozak have any trade value?
JT: I don't think Armstrong has ever used the buyout in his time with the Blues. If I understand this correctly, it would cost the Blues a little over $7 million to buy out the final two years of Steen's contract (he's making $5.75 million a year). You then get to spread that $7 million over four seasons. I wouldn't think there's much of a trade market for a player who will turn 36 before the end of this season.
I think I mentioned this a couple of weeks ago: While it's clear that Steen isn't the player he once was, I think he's still an asset, especially down the stretch and at playoff time. One other option could be trading Steen to a team that has oodles of cap room and sending that team an additional player or draft pick just to take that salary off your hands. We've seen that happen a couple of times in the last year or so.
As for Bozak, yes, I think he would have trade value.
SURPRISED BY THE TRADE?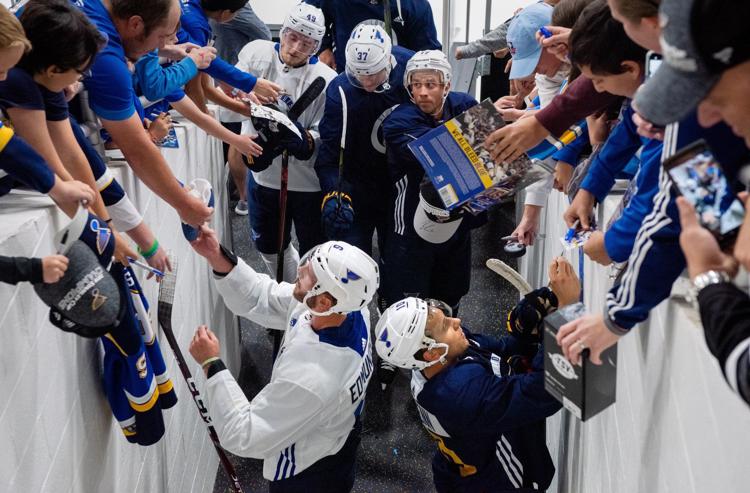 QUESTION: What was your initial reaction when you heard about yesterday's trade? Surprised? I figured Edmundson was the most likely returning player to be dealt but was pleasantly surprised it was to get Faulk.
JT: Yes, I was surprised. Given the Blues cap situation and the $1.7 million difference between Faulk's salary and Edmundson's, I didn't think the Blues would have the cap room to make such a move. It wouldn't have been possible had Carolina not agreed to take on 14 percent of Faulk's cap hit this season.
According to Armstrong, it all developed in less than a week. Edmundson was on the ice Tuesday morning and was scheduled to play Tuesday night in Dallas, so this thing came together very quickly on Monday and Tuesday.
WHERE DOES FAULK RANK LEAGUE-WIDE?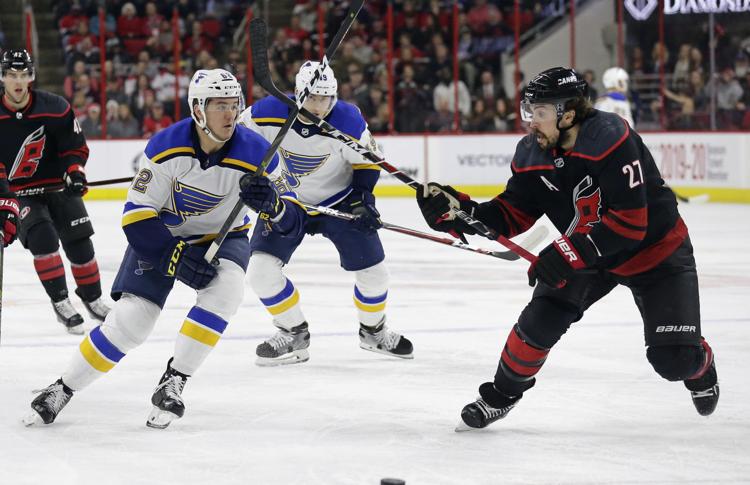 QUESTION: Where would a consensus of league GM's currently rank Faulk as an all-around defenseman? Would he be in the top 10?
JT: In the entire league? Strictly a guess: I would say top 30. Just for example, he's not listed in The Sporting News' top 25 defensemen and not listed in the NHL Network's top 20 defensemen.
HOW DOES THE TRADE AFFECT THE POWER PLAY?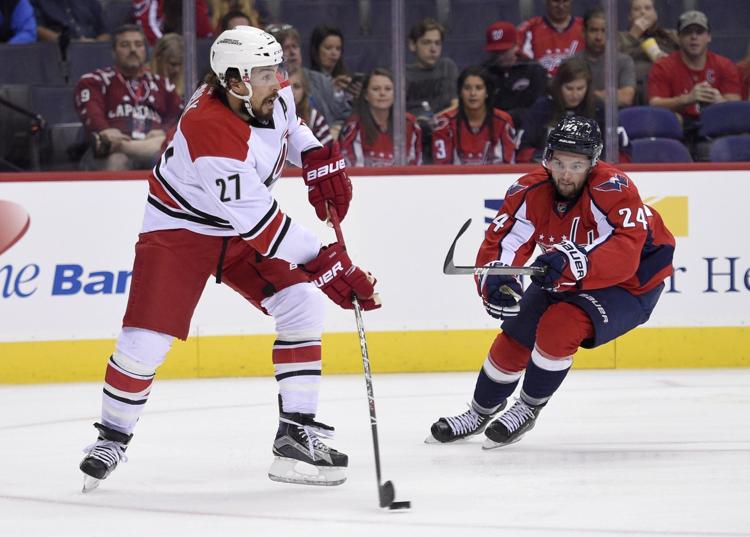 QUESTION: How does the trade affect the power play? Who's playing where and on what unit?
JT: Well, Faulk has yet to have a practice with the full group. He was on the ice with five other Blues for some work on Wednesday morning at Centene. And when he spoke to us after that mini-practice, he said he had yet to really sit down and have a talk with Berube. So we'll see what happens.
But it's hard to imagine that Faulk won't be on the first unit. Tarasenko and O'Reilly are givens as well. Not too sure about the other two. Is Pietrangelo back on the first unit, giving the Blues 2 D-Men on the first unit? Not sure.
DIVVYING UP ICE TIME ON DEFENSE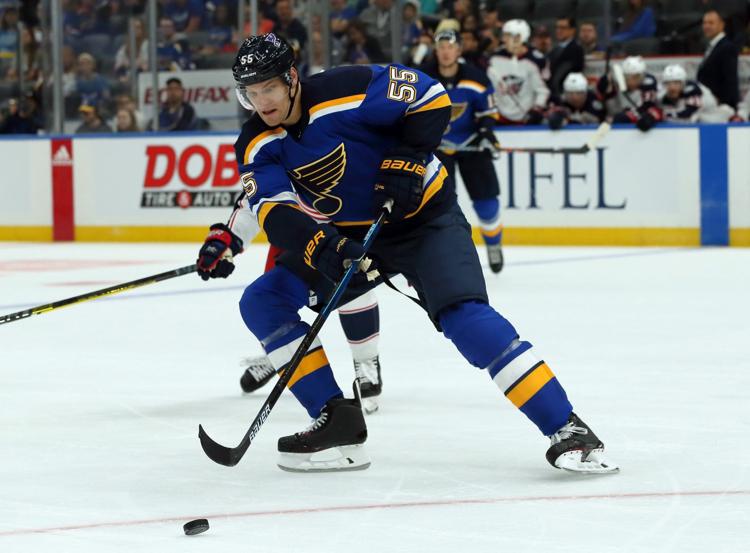 COMMENT: You can make an argument that the Blues have six Top 4 defensemen. Rather than try to shoehorn one of them on the off wing, they could roll all 6 fairly evenly. Petro-Gunnarson; Parayko-Bouwmeester; and Dunn-Faulk, with Bortuzzo as the 7. That's as good a D-corps as you can expect in the salary cap era.
JT: It will be interesting to see how the ice time is divvied up. But I think it's inevitable one of the righthanders goes to the off-side at some point during games. Armstrong called it the most balanced D-corps he's had since he's been with the Blues. In Parayko, Pietrangelo, Dunn and Faulk, you have four D-men capable of scoring 10-plus goals. In fact, all four did last season.
WHO STOOD OUT IN CAMP?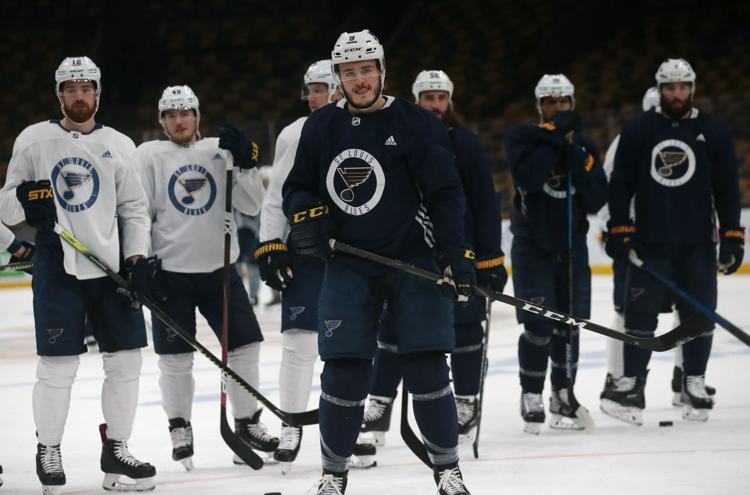 QUESTION: In training camp, who stood out among the second tier of players — guys who either weren't with the team or didn't play much last year? And, might that player force himself into a more significant role than we expected? Or is the roster going to be pretty much what we anticipated on opening night?
JT: Sammy Blais has had a great camp so far. Obviously Kostin as well. Berube is taking a long look at forwards Poganski, Walker, Olsen as call-up players from San Antonio. (All of those three are still in camp.) Mikkola has been very good as well on defense I think, although the Blues may want him to have another year of seasoning in San Antonio. Borgman's had a pretty good camp on D and could be a callup player as well.
I would say Kostin is the one player who could push for a spot on the opening-day roster if he continues his strong camp.
THE PLAN FOR JAKE IN GOAL?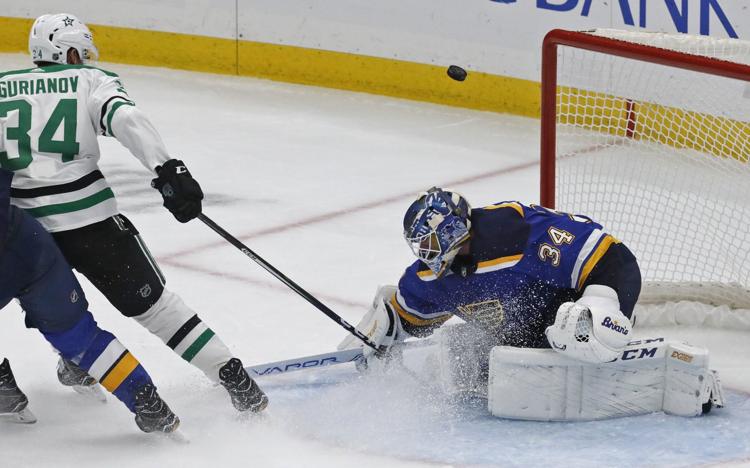 QUESTION: Are the plans for Jake Allen to start 25 games mostly on the road?
JT: It worked really well last season. I would think at least at the beginning of the year, Berube would lean in that same direction. One thing to keep in mind — the Blues don't have nearly as many back-to-back contests as they did a year ago. (I think it's nine this year, compared to 15 last year.) So there won't be as many obvious spots to drop in Allen as a starter.
TEAMS THAT COULD AFFORD TO TRADE FOR SCHENN?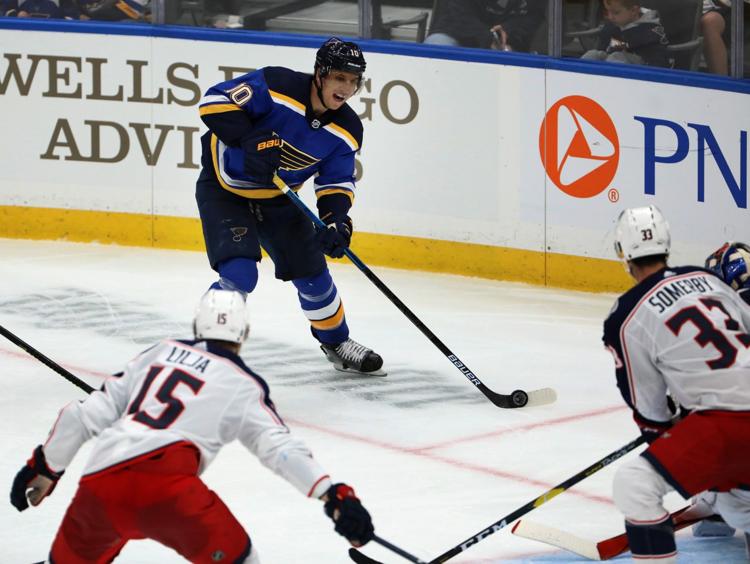 QUESTION: Are there any teams significantly under the salary cap that could even trade draft choices alone for Schenn? Would have been nice to have signed Matthew Tkachuk if salary cap would have allowed it.
JT: New Jersey, Columbus, Anaheim, Ottawa and Colorado all are from $6.4 million to $15.6 million under the cap.
DOES THE TRADE ENSURE THAT PETRO IS GONE?
QUESTION: Doesn't the Faulk trade all but ensure that Petro is gone next year? No team is going to have $20 million-plus tied up in three righthanded defensemen. That said, Army is in a tough spot. Does he trade the captain from a defending champion and gather assets, or does he go for the repeat and then let him walk for nothing? 
JT: I think Armstrong saw a chance to land a player who could help the Blues win another Cup now and he went after it. In doing so, he addressed what looks like the one suspect area going into this season — the power play.
I don't know if it's necessarily a hindrance to have so much money tied up in righthanded defensemen. I just look at it as having that much money tied up in your top three defensemen. Lefty Dunn is still young in his career and if he keeps progressing, he will get his pay day in a few years. And the Blues like what they're seeing in prospect Niko Mikkola, who's also a lefty.
MEET THE PRESS: HOW DOES BERUBE RATE?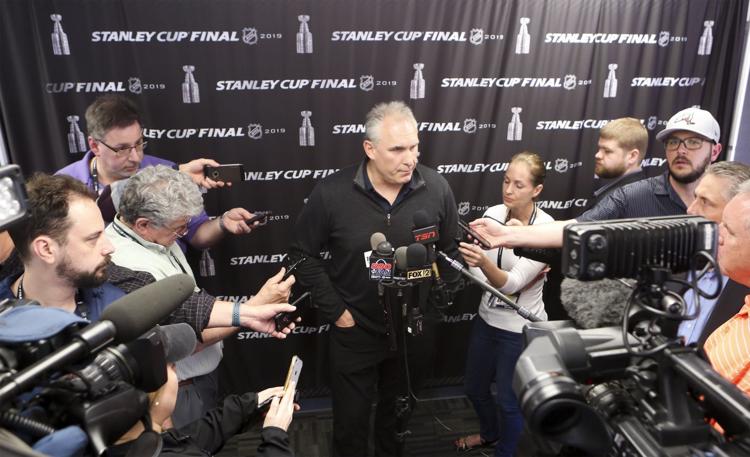 QUESTION: Berube seemed in midseason form during Tuesday night's press conference. How would you rate his availability / openness compared to other head coaches you've dealt with in your career?
JT: He was pretty short in his replies, for sure, Tuesday night. Then again, I didn't have a ton to ask him, and he may have sensed that, I don't think he particularly enjoys the press conference settings. And preseason or not, I don't think he liked the performance against Dallas. He's better in more informal settings without the cameras.
I was pretty spoiled during my NFL days. Vermeil and Martz were gems to deal with. Rich "Big Daddy" Brooks was pretty good and Jeff Fisher was as well, with a couple of exceptions. Yeo was cooperative. Berube is pretty direct, for the most part. There are times I wish he'd elaborate more on answers, but overall I really don't have any complaints with him.