Quick Hits: JT on the Blues
Rounding up the hot topics from hockey writer Jim Thomas' weekly chat with Blues fans. 
WILL THEY BUY OR WILL THEY SELL?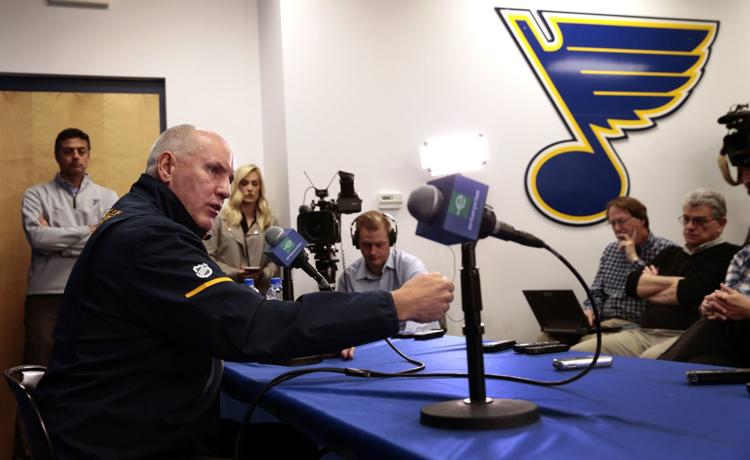 QUESTION: You and Gordo write informative articles about the pros and cons of the Blues buying or selling at the trade deadline. What I would like to know is: What do you think they are actually going to do, and why?
JT: Although you never say never, Armstrong has told me he doesn't want to trade young assets. As I mentioned in another post, he'd rather make a "hockey" trade. Keep an eye on Maroon, he goes from a full no-trade clause to a modified no-trade (8 teams) on Feb. 1. (That's Friday.)
I can't imagine both Bouwmeester and Gunnarsson being back next season — both are scheduled to be unrestricted free agents after this season. Does a defense-needy team interested in a rental reach out for them at the deadline? I also wonder about Schenn and Pietrangelo, both with just one year left on their existing contracts after this season, and both probably in line for pay raises. Those are all possibilities.
---
Follow-up: We'll probably need to see what the Blues do in the 10 games after the All Star break to see if they are buyers or sellers. If by Feb. 20 they play .500 or less in those 10 games, you realistically have to be sellers. Based on the teams they play in those 10 games, it would be a surprise if they were even at .500 (more like 3-7). What's your take?
JT: The February schedule is daunting. Fourteen games in 27 days. Nine of the 14 on the road. Three sets of back-to-backs. Only three of those 14 games are against teams currently not in a playoff spot. So it will be tough. I think if the Blues lose 7 of 10 as you suggest, yeah, they have to be sellers.
TIME TO TRADE SCHENN?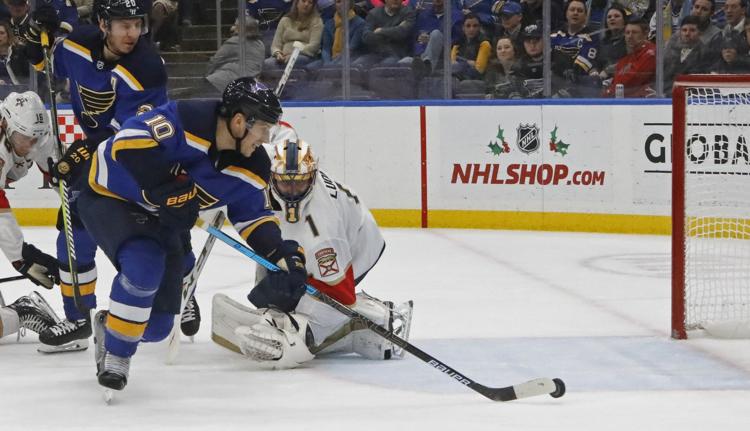 QUESTION: What's going on with Schenn? He's one reason why the Blues aren't firing on all cylinders. Could we get a couple 1st rounders back for him?
JT: He just seems a little bit behind a lot of plays. I wonder if he's having some knee issues as well. (I've seen him wearing a brace — I don't know if he wears it all the time.) Also, he's not getting a ton of power play time. Remember, he led the league in power play goals I think it was two years ago in Philadelphia. He's been on the Blues' second power play unit basically all season.
Don't know about getting two first-rounders. Might depend on where the trade partner might be picking this year. And I don't think Armstrong is very interested in adding more prospects. He's told me he's more inclined to make a "hockey" trade — established veteran for established veteran — this year.
WHAT ABOUT SCHWARTZ?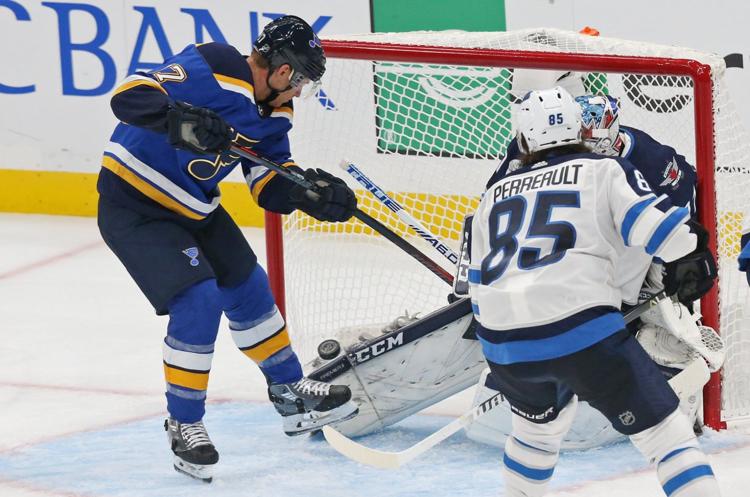 QUESTION: Do you think Schwartz is on the trading block? Of course, his stock is probably real low at the moment.
JT: Armstrong really likes Schwartz. What a fun player he is to watch when he's really on his game. I think Armstrong indicated earlier in the season, around the time of the Yeo firing, that Schwartz basically was untouchable. I think I'm remembering that right. In any event, I wonder if the prolonged goal slump changes that.
But you're right. Even though Schwartz has two years remaining on his contract after this season (at $5.35 million per), his injury history and his goal drought might not lead to the return Armstrong is looking for. 
IN PURSUIT OF PANARIN?
QUESTION: How about a trade for Tarasenko's buddy Artemi Panarin, with Schenn or Schwartz being the centerpiece going to Columbus?
JT: Interesting. Panarin does not have a no-trade clause in his contract, but I believe he's made it pretty clear he wants to play for a larger market. (Larger than St. Louis, I would presume.) So you'd be risking sending someone like Schwartz and Schenn for a six-week rental.
GUT FEELING ON THE PLAYOFFS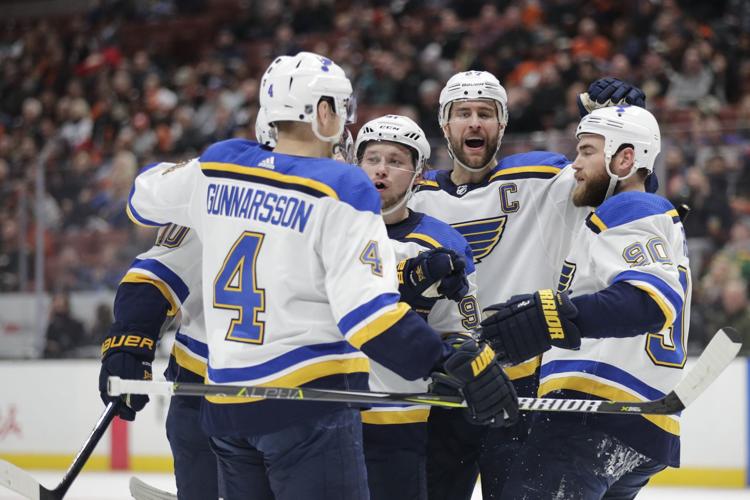 QUESTION: Gut feeling: Will the Blues make the playoffs?
JT: I've been wrong before, but I just don't see it happening. This is a team that has been unable to win more than three games in a row all season. Even though the team has played better since the week before Christmas, I just can't see any kind of prolonged run to get them in the playoffs. The X-factor, however, could be Binnington, who definitely has provided a spark in goal.
---
Follow-up: Crystal ball time: Where do you see the Blues finishing?
JT: 40-35-7, three points out of the playoffs.
WOULD JAYBO WAIVE HIS NO-TRADE CLAUSE?
QUESTION: Seems there would be no interest in re-signing Jay Bouwmeester after this year, so it makes sense to deal him. He does have a NTC, though. Any idea if he would consider waiving that to go to a desirable team? Are the Blues interested in trading him? Would a return to Calgary be a fit?
JT: Bouwemeester has played pretty well over the past 20 games — plus-6 with 2 goals and 5 assists. Led or shared the team lead in blocked shots 7 times. So that much-improved play could increase the trade interest.
But you bring up the key point, with the no-trade clause. Would Bouwmeester waive it? Would a chance to potentially finish out his career in his home province (Alberta) be a reason to waive the no-trade? Lastly, does red-hot Calgary with only 13 losses and the second-best record in the league, still feel like they need defensive help?
STUCK WITH THE STEEN DEAL?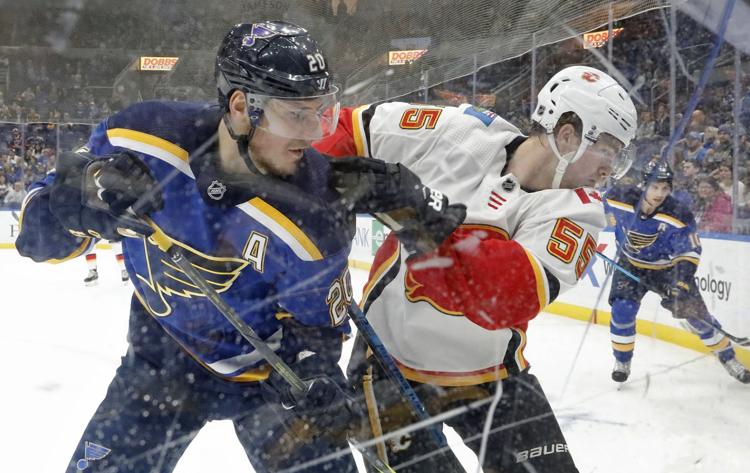 QUESTION: The Blues probably anticipated Steen's production would decline throughout his contract, and it certainly has. Two more years at $5.75 each looks pretty bad. Are the Blues content with this deal or is some sort of movement (trade, buyout) a possibility?
JT: I don't know if the Blues anticipated a production decline — and I will say, Steen was playing pretty well before the injuries struck this year — but I would think, yeah, it's certainly not out of the realm of possibility that the team might want to move Steen.
But again, the age (35 on March 1) and cap number ($5.75 million through the 2020-21 season) aren't going to make it easy to trade him. Plus. Steen has a no-trade that lasts until Feb. 1, 2021 — the final year of his contract.
'ARMY' ON A HOT SEAT?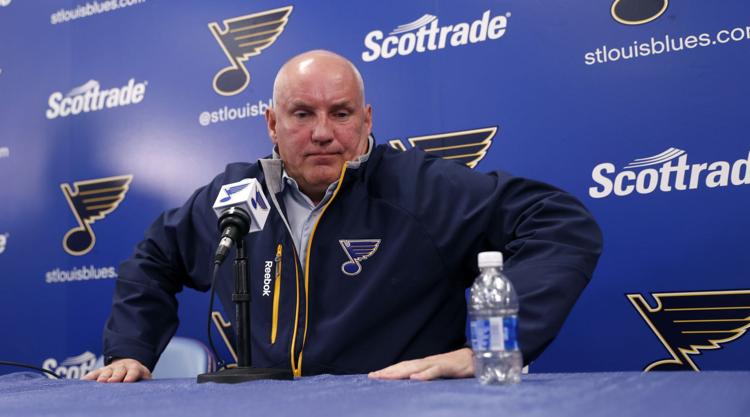 QUESTION: What would it take for Doug Armstrong to get fired? Does anyone else in management see the glaring issues on this roster? Time to clear out the veteran players!
JT: I really don't see it happening this season. Maybe a total collapse changes my view on that. Armstrong "cleared out" some veteran players last year — Berglund, Sobotka, Brodziak (and Jaskin this year). I could certainly see some of that happening before the start of next year as well.
CAN BERUBE GO FROM 'INTERIM' TO 'PERMANENT'?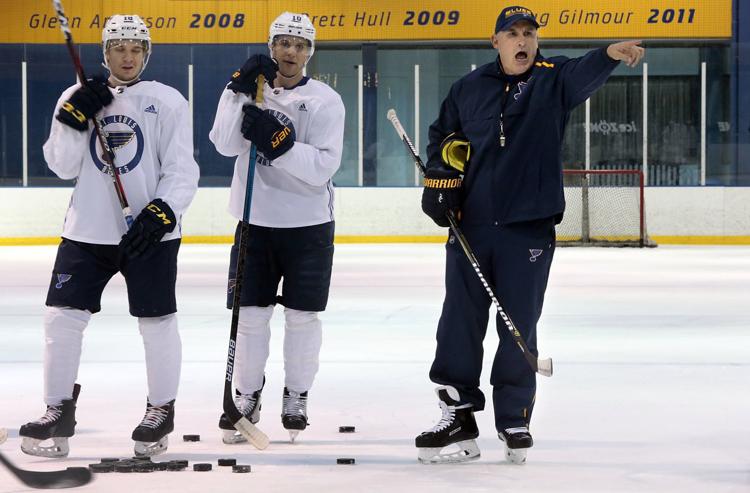 QUESTION: What would Berube need to do to keep the coaching job permanently? Blues are playing considerably better with him, but they dug such a big hole under Yeo, if might be hard to climb out. Does Berube have to make the playoffs to be under consideration for permanent coach?
JT: Yes, I think the minimum requirement to retain Berube is that the Blues make the playoffs. And if they kind of stumble in, then it's still debatable. Even though the team has played better lately, Berube's overall record as head coach is only 15-13-2, hardly the kind of performance that calls for a parade — or a new contract.
WHO'S IN GOAL DOWN THE STRETCH?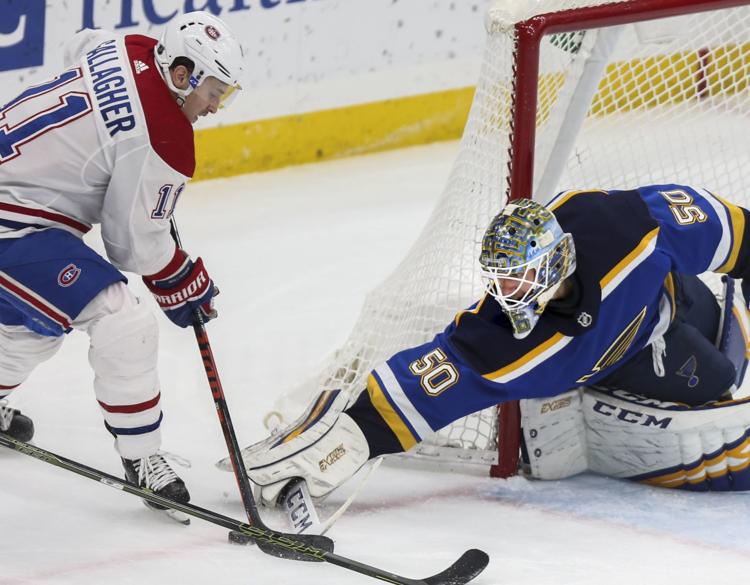 QUESTION: Who you got in goal down the stretch: Binner or Jaker? Pro and con for each?
JT: It looks like Berube's going to ride Binnington more than indicated. I really thought Allen would get one of the two starts in California before the break. (LA or Anaheim). While I don't think you can just kick Allen to the curb, you just can't ignore Binnington either. He is hungry. Very hungry, after more than 200 games in the minors. Which obviously is a lot for a goalie.
MAKE A QUICK MOVE IN GOAL?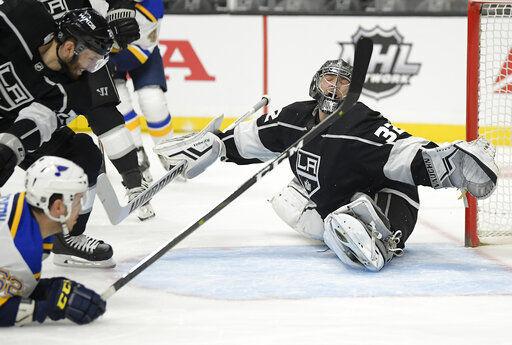 QUESTION: Sounds like Jonathan Quick is available. If the Blues decide to go after him, what would it take to get a deal done?
JT: In Quick, you're getting someone who's 5½ years older than Jake Allen — 33 years old. You're inheriting a contract that goes for four more seasons after this year, at $5.8 million a year. I think you'd certainly have to view him as a short-term fix. This year, Quick's numbers are very similar to Allen's: 2.97 GAA, .904 save percentage to Allen's 3.04 GAA and .897 save percentage.
Armstrong made it pretty clear to me that he didn't want to trade prospects. Would he make an exception here? Do you trade Allen to the Kings as part of the deal?
CONTENDERS OR PRETENDERS?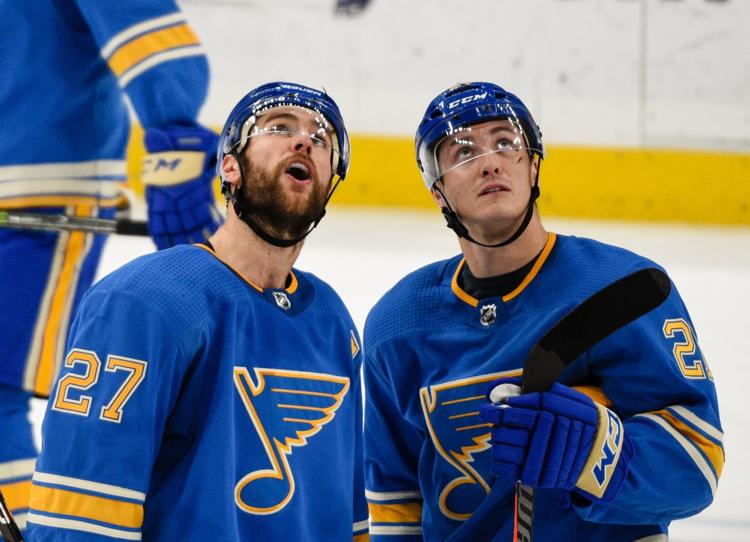 COMMENT: Regardless of how the Blues play coming out of the break, this core group is still not performing at the level it is supposed to be. Is Armstrong going to shake things up or keep giving us lip service? Three points out of a playoff spot is nothing more than Fool's Gold.
JT: True, this is still an underachieving team. And one of the only reasons the Blues are still in contention is the fact that the Western Conference is weaker this season. It took 95 points to make the postseason in the West last season; 90 points might get you in this season. Then again, I believe Nashville made the Cup finals a couple of years ago as a 7 or 8 seed. I think the LA Kings won a couple of Cups as a 7 or 8 seed. In football a 9-7 Giants team beat New England in the Super Bowl.
In 2006, the Cardinals stumbled in with an 83-78 record and beat the Tigers in the World Series. So there's a lot to be said for just getting in the tournament.
COME TOGETHER, RIGHT NOW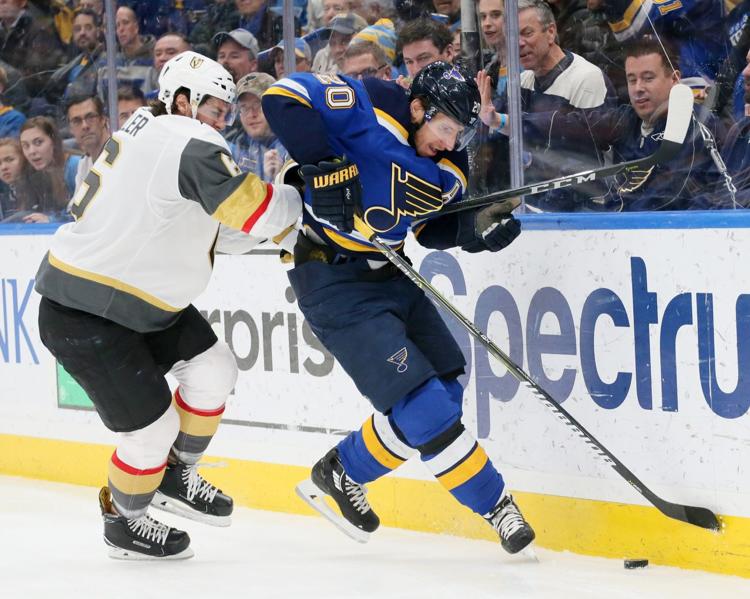 COMMENT: Not buying the idea that it takes a long time for a team to jell with a few new players. How long did it take for the Vegas Golden Knights to jell last year? That blows up the whole discussion.
JT: I believe it's an apples and oranges argument. The Golden Knights had a couple of strong galvanizing moments. First, the tragedy of the Las Vegas concert shootings just before the start of the season. It brought the entire city together. Also, the fact that the Golden Knights players were all "castoffs" by other teams was a strong unifying force. Right down to the end of the playoffs, the Knights were referring to themselves as "misfits," playing off that and using it for motivation. What happened with Vegas was a once-in-a-generation type thing.