Quick Hits: Timmermann on the Blues
Rounding up the hot topics from Tom Timmermann's chat with fans of the Stanley Cup champions.
IS THERE AN ISSUE WITH BARBIE?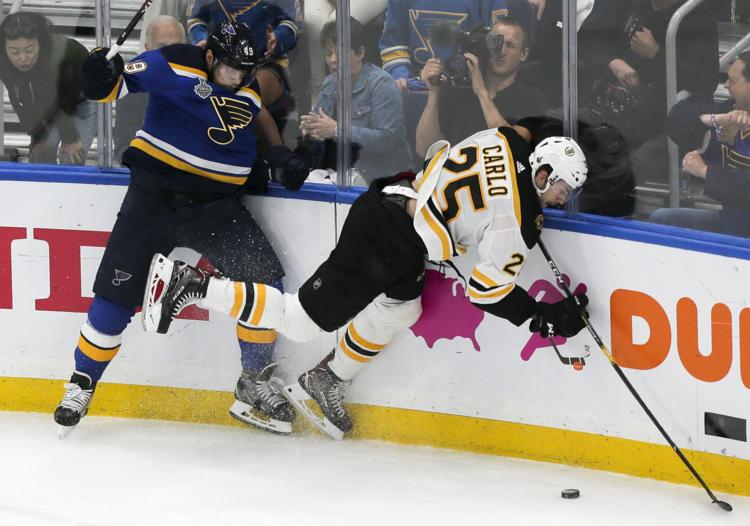 QUESTION: Army said it only takes one phone call to get Barbashev signed. Are there issues? Barbie not happy? Will this go on until December 1? Is he entertaining thoughts of playing in the KHL?
TOM T.: Barbashev no doubt wants more, in terms of years or dollars, than the Blues are offering. He would likely point to Oskar Sundqvist's four-year deal with an AAV of $2.75 million and say, you know, we both scored 14 goals; I should get more than two years at $1.5 million per. So while no one has told me, that is likely the hangup. The dollar gap ultimately isn't that big.
As for the KHL, that's his only option and the only leverage he has, and it's a little easier card to play if you're Russian than if, say, you were Zach Sanford. But trips to the KHL don't always work out as planned; just look at what it did for Sobotka.
BIGGEST QUESTION MARKS FOR NEXT SEASON?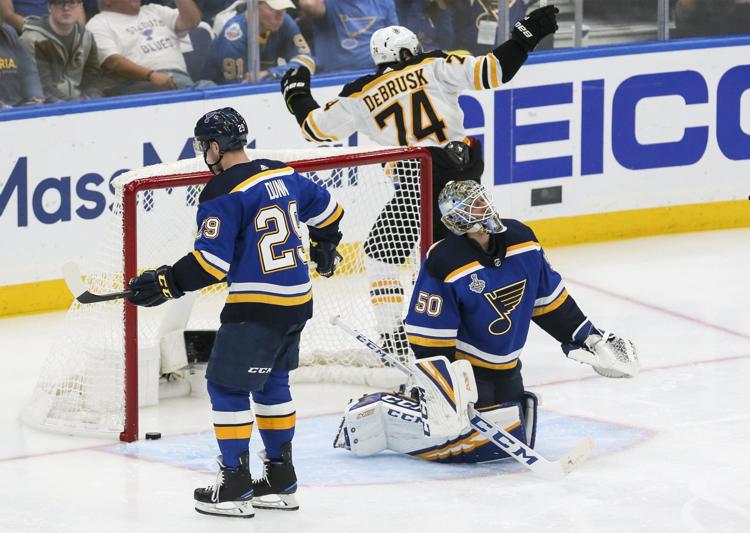 COMMENT: The only two big question marks for next season are Blais and Sanford. Looks like they are both going to be counted on as top 9 guys (one being top 6). They both were great towards the end of the playoffs but have lacked consistency in their young NHL careers. Could be a major concern.
TOM T.: Well, I'd say the biggest question mark is whether Binnington can do what he did again. He rode a wave there and the Blues stuck with him to keep that momentum going. It will be different next season. He won't play almost every game for three months straight. And once you got to the playoffs, there were some ordinary performances in there.
As for Blais and Sanford, they will get their chances to be major players and both have showed they haven't quite hit peak consistency yet. Both of them would kind of plateau after a while, need some time off, and then get back to where they were. Young guys are going to have to play; that's how the NHL is nowadays. Both of them still have lots to prove. They are not guys right now whose name you would put in ink. But both will get their chance.
The fact that both played in Game 7 of the Stanley Cup Final says the team has a certain amount of faith in them. They are on that part of that roster where there are still a lot of interchangeable parts.
WILL EDMUNDSON BE TRADED?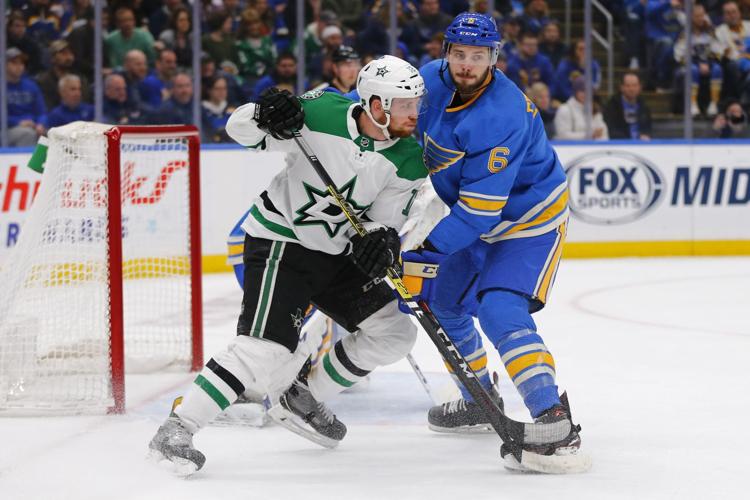 QUESTION: Chances Joel Edmundson gets traded?
TOM T.: I suppose that chance is there, and he's the most tradeable commodity, but what happens a year from now if Bouwmeester retires and Gunnarsson gets hurt again? All of a sudden, you've traded away a young defenseman with a bunch of years ahead of him and you have a hole on your blueline.
So it's another case, like with Jake Allen, where if you trade him, you need to get someone like him in return because that's the hole you need to fill. So unless the team's scouting says he's on a downward slide, why not keep him? Last year was not a great season for Edmundson, but he's been consistently been better in the past. This wasn't his second or third year in a row like that.
I was looking at some NFL numbers yesterday that said the most cost-efficient way of getting talent is by retaining your own free agents. I don't know if that applies to the NHL as well, and the NFL has a lot more categories for acquiring and retaining talent, but it's worth considering.
WITH MAROON, IT'S NOT ABOUT THE SALARY CAP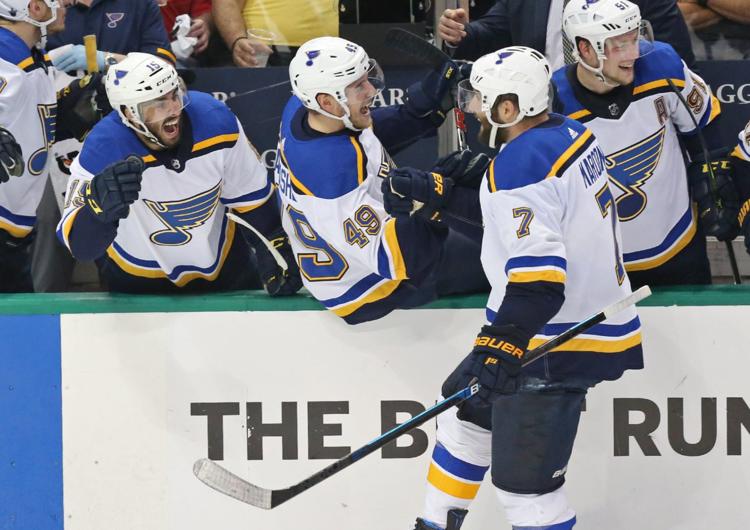 QUESTION: The NHL salary cap rule states that a team can be 10 percent over salary cap but must comply by opening night. What are the chances the Blues sign Maroon and Barbashev, then work it out through camp and cut some players or put them in the minors?
TOM T.: Considering the dollars involved, signing Barbashev and Maroon wouldn't put the Blues that far over the cap, easily under the allowed overage, but the question on Maroon is as much roster space as salary cap space. Would you want to be spending $1.75 million on Maroon and have him be a healthy scratch frequently? Or would you want to be spending that and not playing Jordan Kyrou?
Maroon is going to make more than any of the guys who might get sent to the minors. The Blues want to get Kyrou into regular action. That as much as anything makes signing Maroon difficult.
The good news for the Blues, and the bad news for Maroon, is that we're a month into free agency and he hasn't signed with anyone.
NEXT MOVE FOR ARMY?
QUESTION: Once the Blues and Barbashev settle up, do you see Armstrong exploring extensions for Pietrangelo and/or Schenn before the season starts?
TOM T.: Yes, I would think that would be the next move. I've made the case that even if you have to slightly overpay, getting that taken care of would be good for the team.
And now they have another UFA to think about, though they can't talk extension with Edmundson until midseason.
---
Follow-up: At this point, as the captain that FINALLY brought a Cup to St. Louis, do we have to consider Pietrangelo as one of the great defensemen in Blues' history along with Al MacInnis, Chris Pronger, Scott Stevens (one year), Rob Ramage and Barclay Plager?
TOM T.: I think on a talent level, he's behind Pronger and MacInnis (which is not to diminish any assessment of Pietrangelo's talent), but on a success level, at least in St. Louis, he's ahead of both of them.
STEEN'S VALUE TO THE BLUES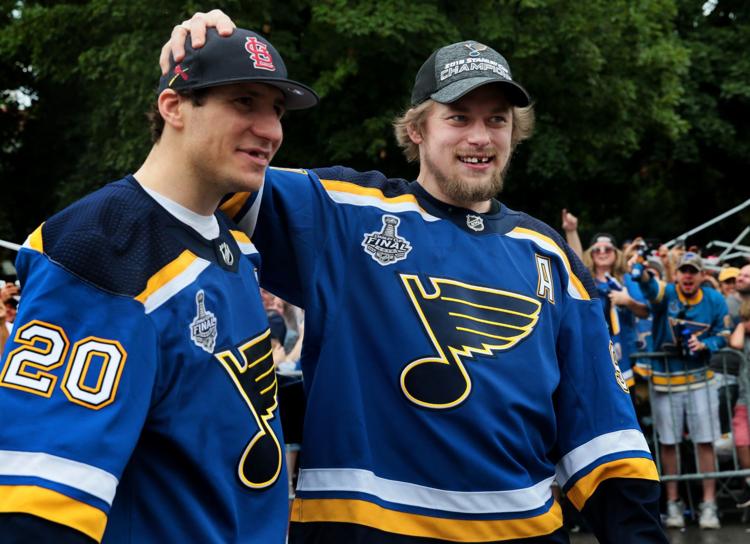 COMMENT: Sad thought, but it seems the best thing that could happen to the Blues moving forward might be Alexander Steen deciding he wants to go out on top, and retiring. ... Having that salary depart would mean Barbie could stay with a happier salary, Maroon might be able to come back, and there'd be room for a trade if one was needed at the deadline.
TOM T.: The Blues clearly value Steen more than anyone else in the league and most of the fan base. They also know him the best, know what he can do on the ice and what he can mean in the room. Yes, him retiring would open up a good deal of space. Yes, he may be overpaid considering the role he now has on ice. But the team sees him as value-added.
With the space the Blues have, if they don't re-sign Maroon, they should have the space for a trade at the deadline.
---
To a follow-up question about the Blues keeping Steen, Tom T. replied:
Steen isn't that concerned with his public persona; he cares entirely about the team, and his teammates respect him. When you look at the numbers, they may not be eye-popping, and that certainly influences a lot of fans. He was doing well at the start of the season before he started getting hurt. Alas, Steen doesn't really have a half-speed to dial it down to, and his play takes a toll on his body, so fourth line minutes are best for him to limit his chances to get hurt.
He's a player whose game is made for the playoffs, so the Blues have to find a way to get him there. But when you're on the fourth line, and are the third-highest paid forward, that's going to be a perception problem.
OUTLOOK FOR JAKE ALLEN?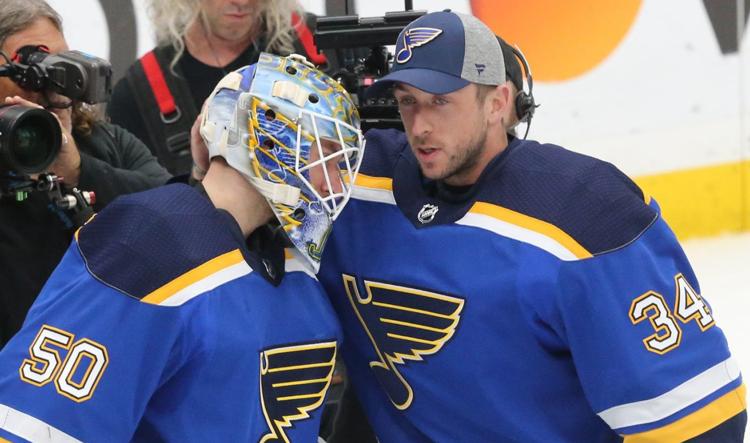 QUESTION: Suppose Binnington plays like a No. 1 goalie this year and keeps that role. Suppose Allen plays well as his back-up. Would Allen return for his final year under that scenario, or might a trade be in the works (maybe requested by Allen as a chance to start for another team)?
TOM T.: That's a few ifs down the road, but if Binnington cements himself as the No. 1 but Allen also plays well, that would certainly make Allen more attractive to other teams in a trade and the Blues more confident that they could turn the backup duties over to a cheaper player. It also would be very good for the Blues, who would likely win a lot of games under the scenario you propose.
The one question would be how many games would Allen have to play to convince other teams to go all in on him. Would good play over 30 games be enough?
40 GOALS FOR TARASENKO?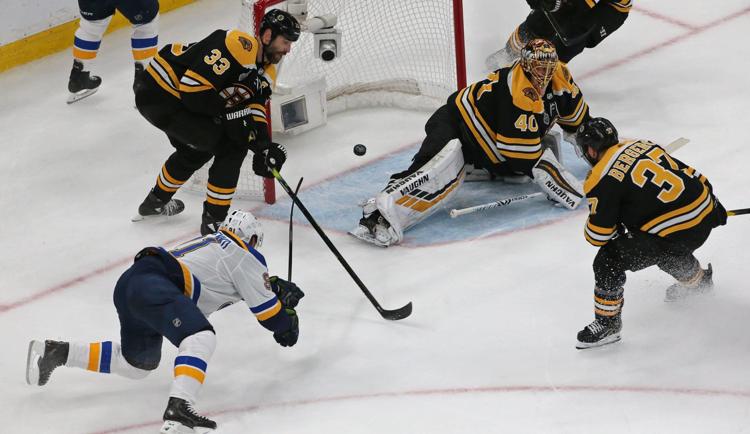 QUESTION: Will Tarasenko ever score 40 goals again? Always hoping the Blues will have another 50-goal scorer some day.
TOM T.: I doubt he'll get 50. There were two players last season who scored 50 or more goals. Two others had 45 or more. It doesn't happen very often. That's a tough number to reach.
There were 13 players with 40 or more last season, so 40 is possible, especially now that the Blues have some quality at center. He had 12 on the power play this season. If he can get that number up by four or five, he'll be close.
TAKE THE MUZZLE OFF 'OTTER'!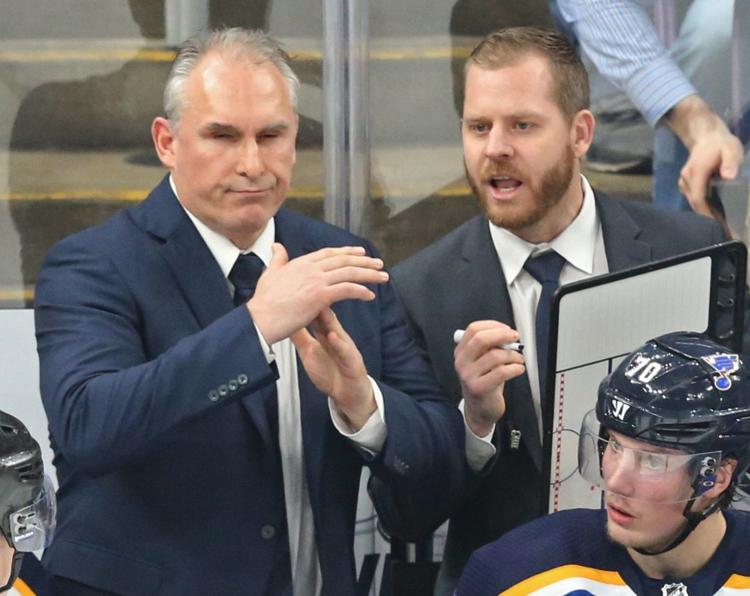 QUESTION: Why do the Blues have a policy preventing assistant coaches from speaking on camera to the media? Steve Ott was such a great interview!
TOM T.: The Blues want the coach and general manager speaking for the team, so the assistants are not just not prevented from speaking on camera, they can't speak to us lowly print types either, except for special occasions when the conversation is not about the team.
Ott was a great interview subject and I would love to talk to him more. When Rick Wilson was an assistant coach for one season, I don't think I ever spoke to him. Since I've known Ott and Van Ryn for a while, they at least know me to say "hi."
INJURY UPDATES?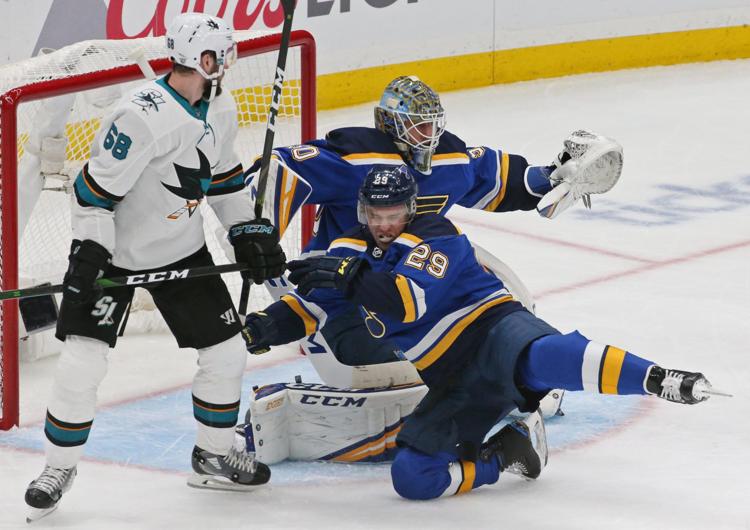 QUESTION: We've heard about Tarasenko's shoulder, O'Reilly's ribs, and Thomas' wrist. Are there any other significant injuries, repairs or surgeries with the Blues that we haven't heard about? Do we expect the entire team to hit camp healthy (although a bit tired and perhaps hung over)?
TOM T.: Owing to the chaos around the end of the season, parades, trips to Las Vegas, things like that, the Blues didn't have a traditional "locker clean-out day" where we talk to Doug Armstrong, Craig Berube and players and find out all those kinds of things about who needs surgery. So we don't have an exhaustive list of what went down. The Blues announced the conditions of Tarasenko and Thomas, and that's it. O'Reilly implied no procedures were necessary. Vince Dunn likely had corrective surgery on his mouth to get things fixed there.
Armstrong told my colleague Ben Frederickson on Monday that he expected everyone to be back in time for camp, though at the same time, the veterans are going to take it very easy in camp.
MOVING ON FROM 'THE MILLS'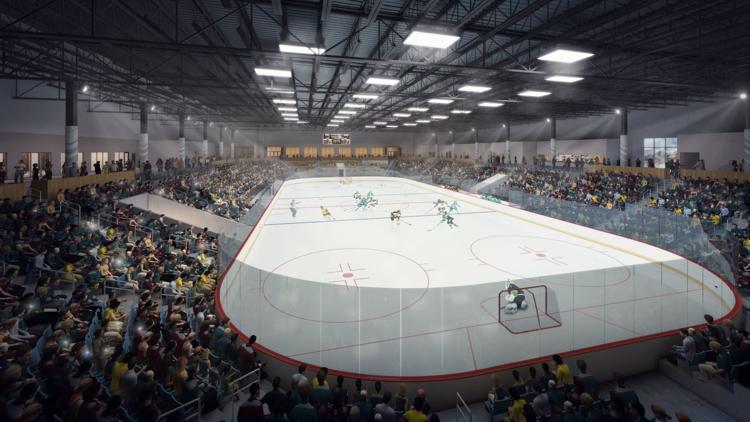 QUESTION: When is the official move-in date for the new practice facility? Or will the Blues have to practice at least part of the season out at the Mills?
TOM T.: The new rink opens officially opens Sept. 1, and camp starts about 10 days later. So that means we're done with the Mills, except maybe if there are some players who in the next few weeks want to go out and get in some skating on their own. (One question that may never be answered: Why did everyone keep calling it the Mills long after that was no longer the place's name?)
So there will be no more organized Blues activities in Hazelwood. I don't know if the plan is to have camp at Enterprise or Centene, which is what I guess we'll call the Centene Community Ice Center in Maryland Heights. With renovations at Enterprise, I would think camp might start at Centene, also so they can show off the new place.
The Mills has become one of the most depressing places on earth.
TWO FOR THE HALL OF FAME?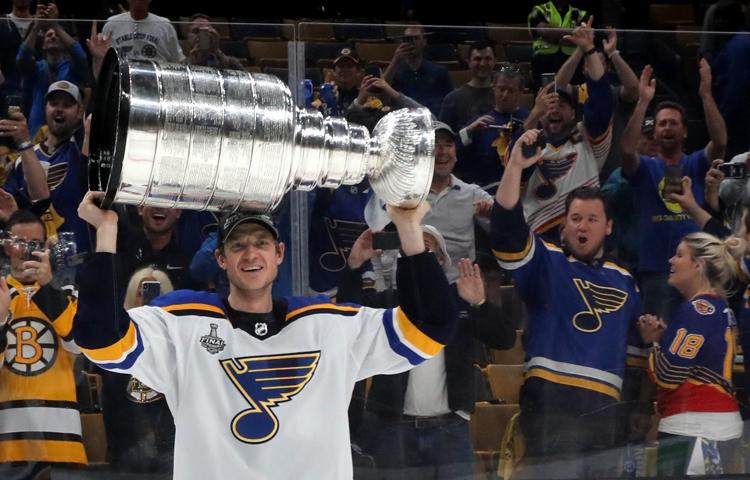 QUESTION: Random question — do you think Armstrong or Bouwmeester end up in the Hall of Fame? Both could make a strong case, right?
TOM T.: Not a random question -- this is a Blues' chat -- but certainly one I hadn't considered. Winning the Stanley Cup certainly helps the case for both.
Right now, I'd say no, just because there are a lot of good players and GMs out there that haven't gotten in. Armstrong may have the better chance because he's competing against fewer GMs. Bouwmeester has never finished higher than 11th in voting for the Norris and has gotten votes in only one of the past 12 seasons.
STARTING OVER IN SAN ANTONIO
QUESTION: The San Antonio Rampage had a horrible 2018-2019 season, and there were few prospects that flourished. Are the Blues going to revamp their team there and use the same systems to create a winning culture so players can be recalled seamlessly?
TOM T.: It was a season of adjustments in San Antonio. Practically an expansion team. A new coaching staff, lots of players who hadn't played together before. Many of the most promising prospects there were spending time shuffling back and forth to St. Louis and others, like Kostin, were still youngsters.
They like Drew Bannister as head coach and the goal is to play the same way there so, like when Berube was coaching the Wolves, the transition to the NHL is seamless. They should do better this season, and the prospects, like Kostin and Reinke, should be more NHL-ready.
RAINING ON THE BLUES' PARADE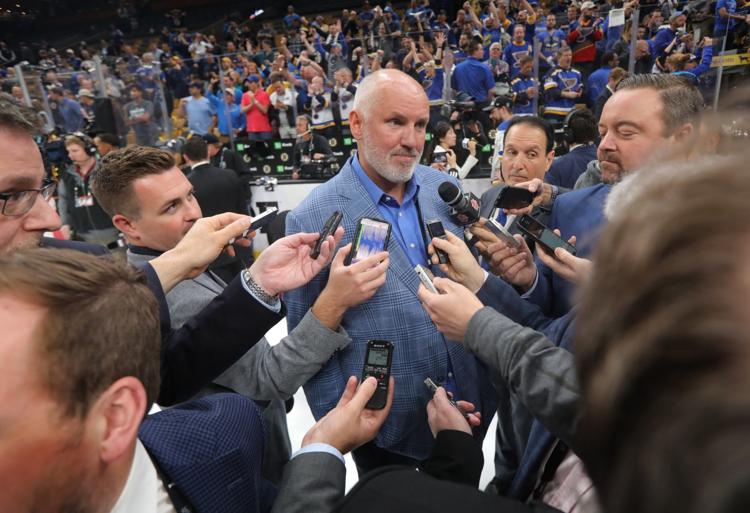 COMMENT: What has Army done to improve the Blues? Re-sign everyone? That's not improvement. They'll struggle to make the playoffs. It's called a Stanley Cup hangover! Schenn and Edmundson will be gone by the trade deadline.
TOM T.: He put together the framework for a team last summer that turned out to be good enough to win the Stanley Cup. He appears ready to move on from Pat Maroon to open up a spot for Jordan Kyrou. He brought back two defensemen coming off good seasons at a reduction of about $5 million in salary and signed them to short-term deals so as not to block the chances for prospects coming up.
A big trade or free agent signing was just not going to happen. This was a team that as built was going to have chances to win the Stanley Cup over multiple seasons. They still do.
TOM T.'S FAVORITE CUP MOMENT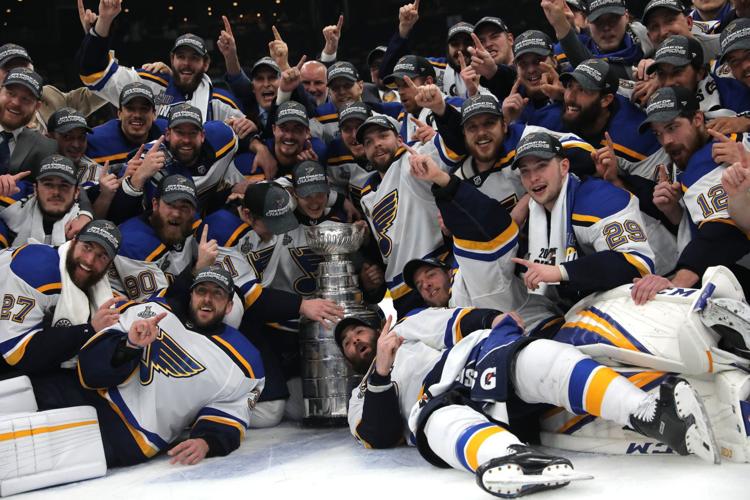 QUESTION: What did you enjoy most during the Blues playoff run? There have to be a few great personal stories that came from covering the team during the two months of playoff hockey.
TOM T.: It's fun when you've been covering a team from beginning to end and they have a finish like this. I've covered the Cardinals in the World Series several times, but I don't go to spring training with them and don't go on the road with them during the season, so the relationship is different.
I've covered SLU going to the NCAA Tournament four times, which is always something, but the Billikens never get past the first weekend, so that's different.
So it's fun to think — I was with these guys in Ottawa in March or running through a thunderstorm with Larry Robinson on that same trip.
The NHL playoffs are a grind, and there are plenty of early plane flights and things like that that make it a chore. The moments to me that stand out were at the very end. After the decisive game of the Stanley Cup Final, interviews with the winning team are done on the ice, amid the celebration. So about 20 minutes or so after the game is over, they open the Zamboni gate and out you go to find players, which isn't always easy amid the crowd, and find who you need. It's suddenly a 200-foot long locker room. But it's very cool, and seeing the looks on the faces of players like Steen, Bouwmeester and Thorburn, was something. That's what I'll remember most.