TRICKY TALKS WITH BINNINGTON?
QUESTION: Are the Blues and Binnington far apart on a contract? Any idea what the team would like and what Binnington will accept? 
TOM T.: I don't know any specifics on the Blues-Binnington talks, but it's going to be a tricky negotiation because each side has to figure out what it wants and what the other side wants. Does Binnington want a two-year deal or a four-year deal? The numbers end up being very different.
For the Blues, a long-term deal is risky because what if he doesn't pan out? But a short-term deal can be risky because what if he's great and you've got to re-sign him in two years when he can be a UFA and demand top dollar?
The same goes for Binnington. Longer term for financial security, or shorter term hoping a huge payday awaits. Once they find some common ground on that, it should come together.
WILL ALLEN WEAR THE NOTE FOR TWO MORE YEARS?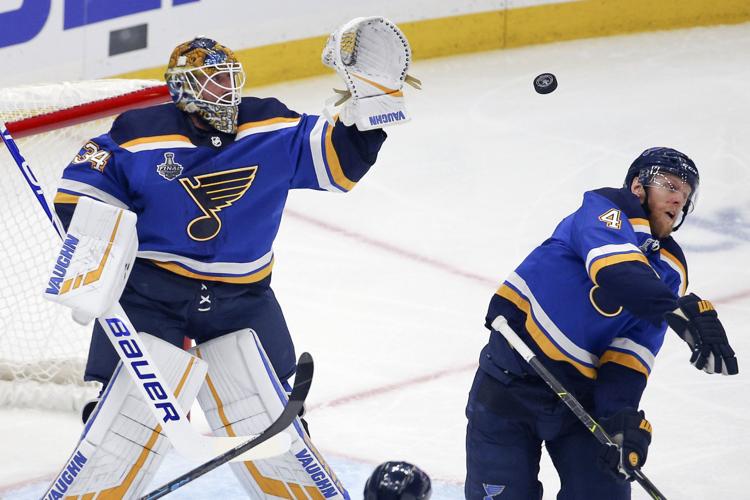 QUESTION: Do you expect Jake Allen to remain in St. Louis for the final two seasons of his deal? 
TOM T.: I'll give you one year for sure. Two years is a long way to look down the line in hockey. For next season, the Blues need a quality backup for Binnington, whose numbers are bound to come down because, well, he played an incredible season and it would be hard for his numbers to go up. If Binnington proves himself with another quality season, then the Blues can look at moving Allen and Allen would likely want to be moved if he's clearly become the No. 2.
But there are so many factors in play. What does the rest of the goalie market look like? Who needs a goalie? What are the Blues looking for in a No. 2 (or a No. 1B)? Right now, as I've said before, the kind of replacement the Blues would need for Jake Allen would cost about as much as Jake Allen, so why make extra work? Right now, the Blues need a backup with Jake Allen's experience, not Chad Johnson's.
DOES BERUBE HAVE INPUT ON PLAYER MOVES?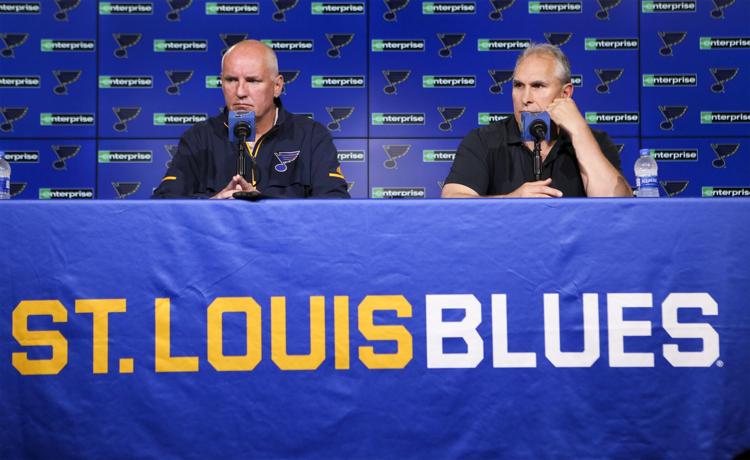 QUESTION: How much input does Craig Berube have on team signings? Example: Maroon. If Berube says to Doug Armstrong, "Hey I want to retain this guy," does it get done? Do they work jointly on these things, or is it pretty much 90 percent Army? 
TOM T.: Berube has input, but that's it. Armstrong makes the call, and he's the guy who has to weigh all the factors, like salary cap space or young players they think can do a similar job for less, or analytics that say Maroon's game is apt to drop off. (I don't know that the analytics say that, but that's just an example.)
Even if Berube were to say, I really want this guy, Armstrong would take that under advisement but that would be about it. 
HOW VALUABLE IS MAROON?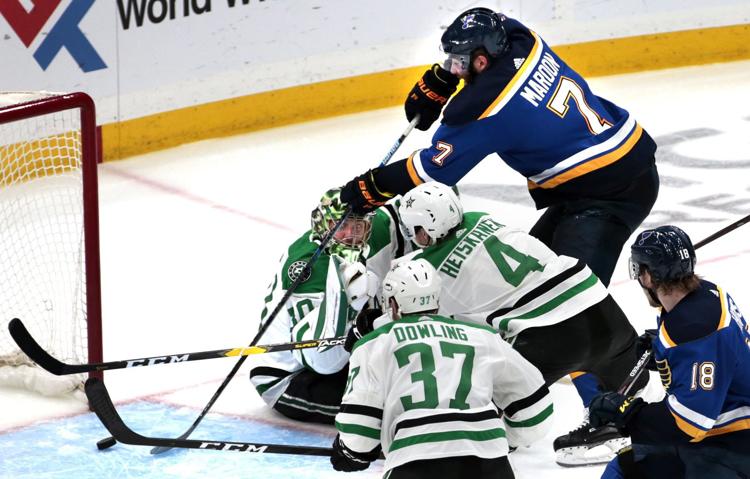 QUESTION: Pat Maroon had fantastic underlying metrics, and I'm worried about losing him in free agency. Especially when he can be had for relatively cheap. But Maroon's goal-percentage success could have been more a function of playing a lot with Robert Thomas and Tyler Bozak, and less about him providing some massive invisible value. What's your take?
TOM T.: I think Maroon's career has shown that when he gets placed with good linemates, he can provide. I also think your expected goals percentage goes up when you take a lot of your shots from right around the goal. And that's where the Blues will need to replace Maroon, in a 10-foot radius around the goal.
If Sanford or someone else can step in there and tip in shots, then that will solve that. If I were Zach Sanford, I'd be working on my hand-eye coordination for tipping shots. 
WOULD SCHENN OR PETRO — OR BOTH — BE TRADED?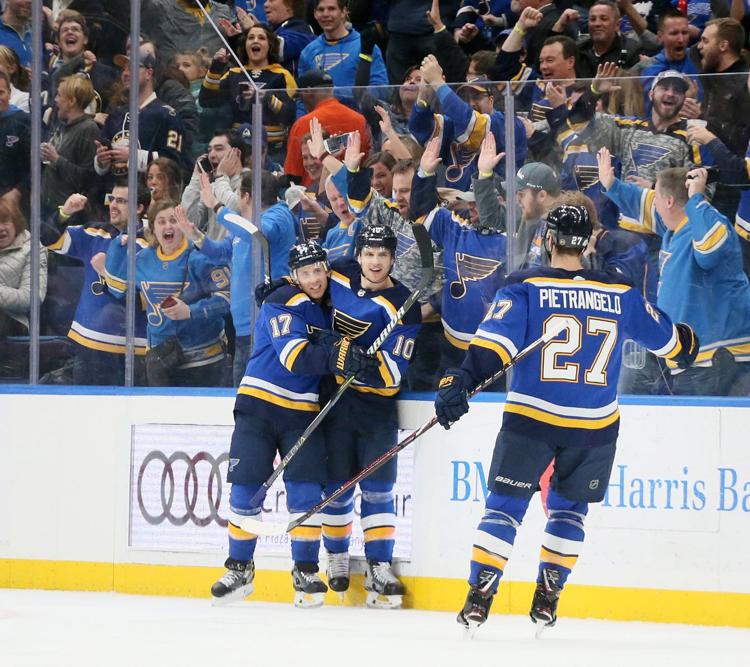 QUESTION: Besides Schenn and Petro, are there any other players entering their walk year? Schenn might be dealt, and Petro ... not sure he is going to be worth the money he will demand. Do the Blues deal him for salary relief and get a No.1 draft pick and a couple of NHL-ready players? 
TOM T.: Bouwmeester is, right now, the only other player whose contract is up after this season, and I don't think this qualifies as a walk season for him. This is a team built to win right now; last season marked the start of a window where winning the Stanley Cup was a possibility, and the Blues did it. The window remains open, but Pietrangelo is a key to that window. Same with Schenn.
Schenn is probably slightly more replaceable than Pietrangelo is — there are more players like him out there than there are like Pietrangelo — but as I said last week, there's something to be said for the chemistry this team has and it wouldn't hurt if you had to overpay to keep that together. Removing one or both from the equation would affect that window. If you trade them, you don't need NHL-ready players. You need high-quality NHL players.
I also think that the Blues would be willing to go an extra year on Pietrangelo more than they were willing to on Backes. I think the dropoff in Backes' game was not much of a surprise. I would be more surprised to see that level of drop in Pietrangelo's game.
PAYING FOR PETRO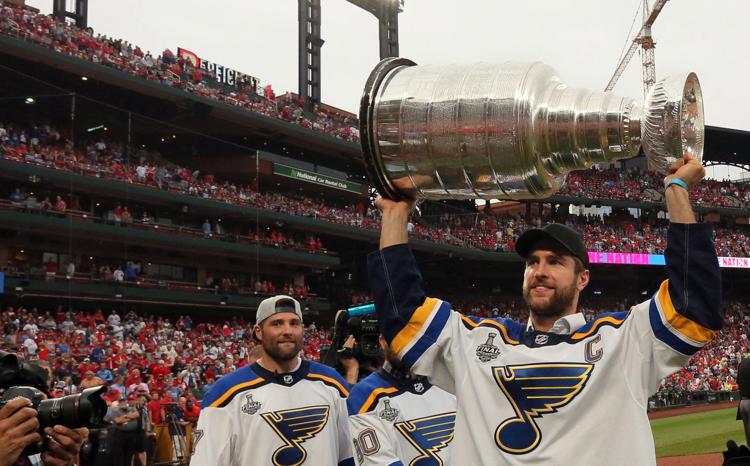 QUESTION: Pietrangelo has to be looking at Kaarlson and Daughty contracts as what he wants. We have seen Army move on from Backes and Brouwer, but some team will be willing to pay him so much money for so long. What's the market price for Petro and what do you think is the Army ceiling?
TOM T.: Every contract signed by a defenseman adds to the list of comparables, and dollars are only going to go up. As I said earlier, I think the Blues will have more confidence in Year 6 of a Pietrangelo contract than they did in Year 5 of the Backes contract. Pietrangelo has an AAV of $6.5 million right now. I don't know that $11 million is something the Blues could afford, but it will likely end up being a lot closer to $10 million than I would have thought six months ago. I would expect Armstrong to try to extend Pietrangelo before he goes on the open market.
---
Follow-up: Would Pietrangelo and Schenn consider taking "hometown discounts"? It really seems like the chemistry and success with the Blues is a big deal, but then again, more money is more money. 
TOM T.: I could see Pietrangelo taking $10.5 instead of $11.5. I wouldn't label Bouwmeester and Gunnarsson as "hometown discounts" as much as two veterans taking the sure thing rather than rolling the dice on free agency. It was as much a favor to themselves and their families as it was to the Blues.
It's going to be less of a gamble for Pietrangelo and Schenn. Someone is going to pay them. Armstrong is going to have to look at the whole picture, including what the cap is going to do down the road. And if Pietrangelo or Schenn want to get paid more somewhere else, they've earned that privilege. 
IS EDMUNDSON EXPENDABLE?
QUESTION: Hard to imagine Armstrong having the exact same team back next season, so I suspect a deal still could be made. Joel Edmundson might be expendable because of the depth on defense and the need to save some big dollars for Parayko, Petro and Schenn. Would Armstrong consider moving Edmundson?
TOM T.: I don't think Edmundson is expendable, because who knows how long you have Bouwmeester and Gunnarsson, and it would be foolish, in my mind, to give up on a guy with a lot of years ahead of him while playing guys who don't. (As I said last week, think of everyone's career as a stack of poker chips and take one away after each season. Edmundson still has a good-sized stack; Gunnarsson and Bouwmeester don't.)
Now, if the Blues internally think Niko Mikkola is ready to step into the NHL next season, maybe that changes the thinking on Edmundson, but I think if they felt that way, it would be a lot more likely to change the thinking on Gunnarsson. 
HOW LONG WILL 'JAYBO' STAY?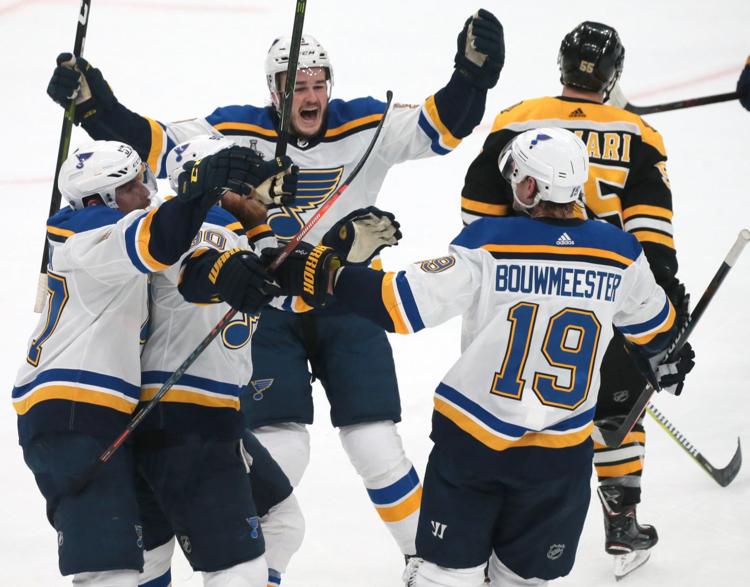 QUESTION: I've always been a big fan of Jay Bouwmeester. People forget that the Blues' D was awful in 2013 until Army traded for him I know JayBo had issues when not healthy, but he looked great in the postseason. How many years do you think he could stay in the league? 
TOM T.: It's a year-to-year thing for Bouwmeester, who turns 36 in late September. And as good a shape as he's in, if he has another injury like the hip injury he had in 2017-18, that's going to be it. It's not that he couldn't do it, but that I don't think that he'd want to and I don't know that the Blues would be waiting.
Based on last season, if he stays healthy, I could see him playing another two seasons. Though at the start of last season, I strongly campaigned for him to be on the third pairing to limit his ice time. That looked good at the start of the season, not as good in the second half.
WILL BLUES IMPROVE OR REGRESS?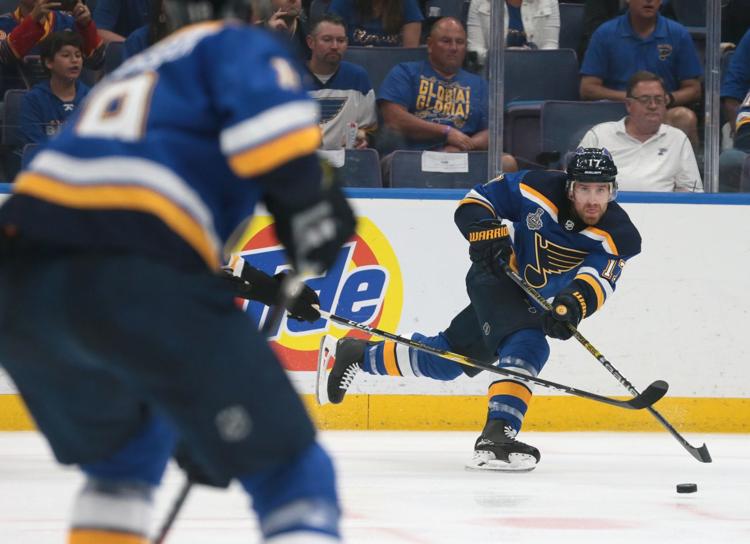 QUESTION: How much of what we saw after Jan. 3 is repeatable? What areas might be expected to regress this season? 
TOM T.: The Blues played awfully well after Jan. 3, and some regression is inevitable. As I said before, Binnington's numbers almost have to come down. If they stay up, the Blues are in great shape going forward in goal.
Bouwmeester played great in the second half, but can he keep it up? You'd like to think players like Tarasenko, O'Reilly and Pietrangelo would be fairly constant. But there are players who did poorly who you would expect to get better. Schwartz will be better, for instance. The foundation is pretty strong right now on this team. A healthy team should contend again. And the power play has to get better. 
TIME FOR FABBRI TO STEP UP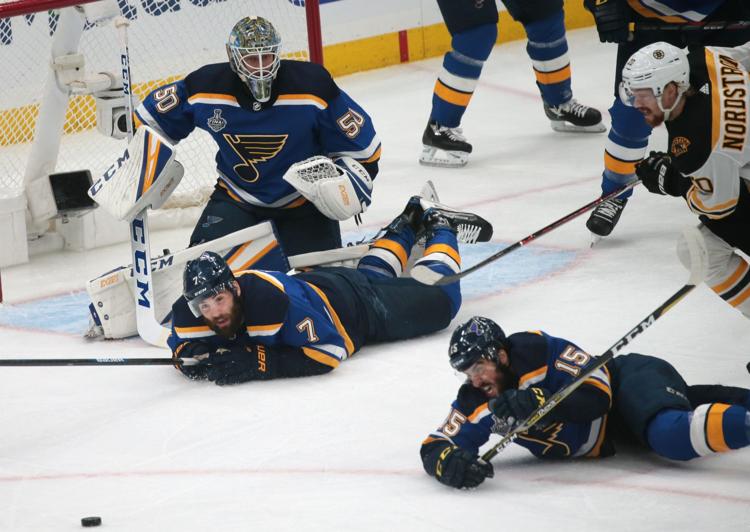 QUESTION: How can Fabbri make the team this year with Sanford and Blais improving their game and the San Antonio studs waiting in the wings? Do you see Army trading him or simply keeping him for injury fill-ins? 
TOM T.: I don't think there's much of a trade value on Fabbri. A year ago, I'd have given you a low certainty that Oskar Sundqvist was going to make the team. He had San Antonio written all over him. We know how that ended up.
This is clearly Fabbri's year to show himself. The Blues were accepting of the fact that last year was going to be tough for him after two knee surgeries. Next season, he'll have to prove what he can do. There will be strong competition in camp. Fabbri can win a spot; we've seen it happen before. If Fabbri outplays Sanford or Blais or someone else, they'll give him his place.
The Blues also will likely feel better about keeping Fabbri around as a spare than some of the others, who they would rather get time in San Antonio. But if it looks like he's not going to make the team, I'd point you to Dmitrij Jaskin.
NEED FOR SPEED? AND MORE SKILL?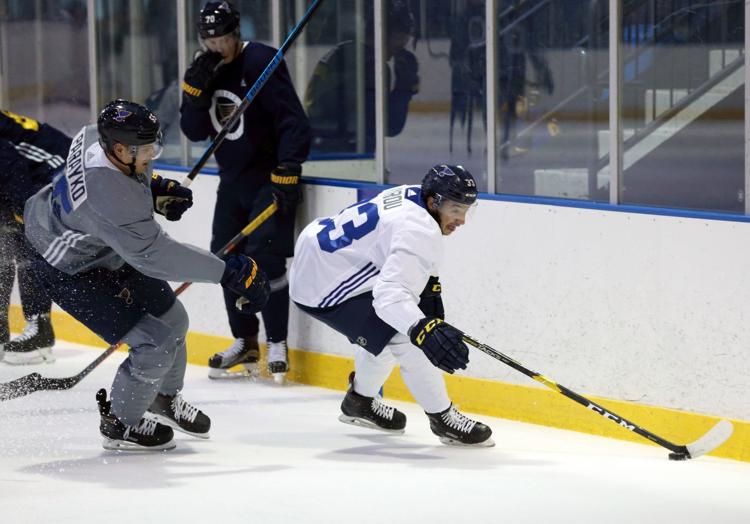 QUESTION: The Blues looked fast when they moved the puck well or backchecked hard, however they are not all that fast. Do you see a need to get faster players like Kyrou and Fabri into the lineup with a team that seems to be returning almost the same roster? 
TOM T.: Many of the Blues are not fast, but, as I know we talked about often on the podcast, you can look a whole lot faster when you move the puck well, which is what the Blues did in the second half of the season.
Finding a spot for Kyrou is one of the reasons not to re-sign Maroon. With every other forward back, the only way to get him in is to create an opening. It's not necessarily a Kyrou spot. It could be a Fabbri spot. Having a few players who can skate fast is a good thing because there are times when you need that speed.
---
Follow-up: There were moments during the Blues' remarkable run where the team clearly showed signs of needing more skill offensively. If most of the roster returns next season, where to you think the team can expect to receive a boost to its offensive skill levels? 
TOM T.: What they needed was more results offensively and a greatly improved power play. I think you'll see an improved Schwartz from start to finish next season, which will help a lot, and putting Kyrou in for Maroon should, potentially, be a skill upgrade while a power downgrade.
As for the power play, Armstrong said the Blues could still add another assistant coach. Someone to make their power play better would be a start.
PREDICTIONS: WHO SURPRISES? WHO DISAPPOINTS?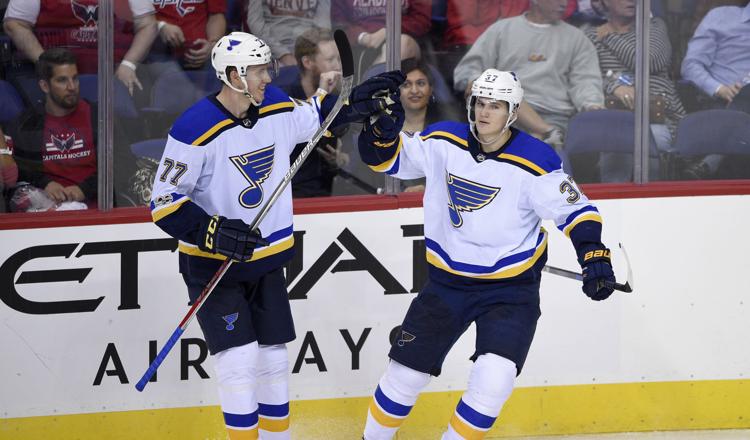 QUESTION: Any predictions for who will be the most pleasant surprise next year and who will be the biggest disappointment? 
TOM T.: Going to be tough to have a pleasant surprise since there don't figure to be many new faces. If Niko Mikkola gets a chance, he could really shine. I obviously haven't seen him play much, but all the evidence points to him being close to taking the step. He just might not get that chance next season.
And it's hard on the disappointing side, too, because who foresaw Schwartz having the troubles he did last season? Sundqvist was the one guy who played way over expectations this season, but he also made a strong case for this being who he's going to be going forward. Kyrou may have the best chance of being "disappointing" just because so much is being expected of him and he's still young, just like some people have been disappointed that Kostin isn't already tearing up the league.
'ARMY' DESERVED THE AWARD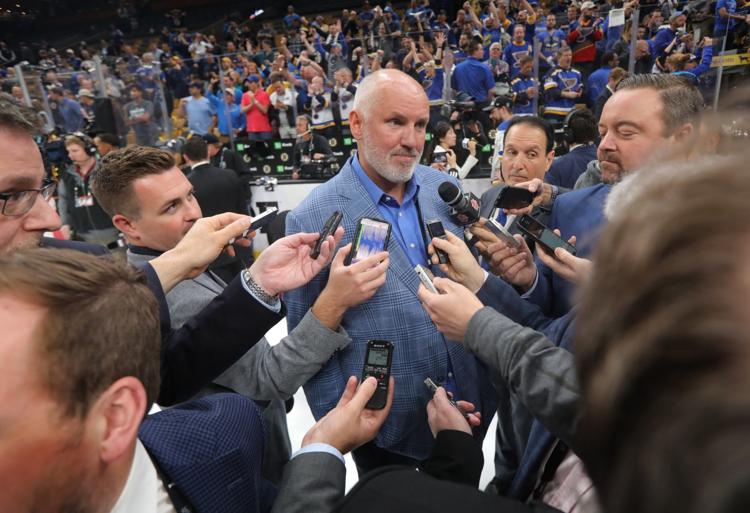 COMMENT: Surprised that Boston's Don Sweeney won GM of the Year over Doug Armstrong. You can't discount Armstrong's moves during free agency a year ago, the coaching change in November, his non-moves at the trade deadline, and bringing up Binnington. Armstrong should have won over Sweeney when looking at the Backes contract alone, which literally could have been the difference in who won the Cup. Having $6M sit in the press box for the final 2 games?
TOM T.: The GM voting is different in that it is done at the end of the second round of the playoffs. It is the only award that is not based entirely on the regular season. And the voting is not done by one block of people; it's by GMs, NHL executives (whoever that is), print and broadcast media. (I didn't vote on this one.)
I thought Armstrong had a good chance of winning. Looking at the voting, Sweeney, Armstrong and Lou Lamoriello all got eight first-place votes and Don Waddell of Carolina got nine. So that's probably the most even distribution of votes you'll see. Looks like there was no clear favorite. Had I had a ballot, I'd have probably put Armstrong on top, and Waddell would have figured highly.
Armstrong certainly made the right call on Backes. I wondered at times what the Blues roster would have looked like had they kept Backes. Someone on there wouldn't have been on the team this season. O'Reilly? Bozak? Though with the timing of how everything played out, the Blues signed Bozak before they knew they would get O'Reilly.
WHO PAID FOR THE PARTY?
QUESTION: Who paid for the parade and set-up for the rally at the Arch? The Blues? The NHL? The Blues made money with the run to the Cup, but if they paid for the entire celebration, that had to impact their windfall. 
TOM T.: The Blues were on the hook for that, though I can't say that some services weren't provided at a reduced cost. I know there was a lot of overtime for the St. Louis Police. That did make an impact on their bottom line, but there are some things you just have to pay for and can't cheap out on.
The Blues have never been a cash machine and have likely had very few seasons where they turned a significant profit, but this season had to be their most financially successful ever.