Rounding up the hot topics from hockey writer Tom Timmermann's chat with Blues fans.
BLUES AT THE TRADE DEADLINE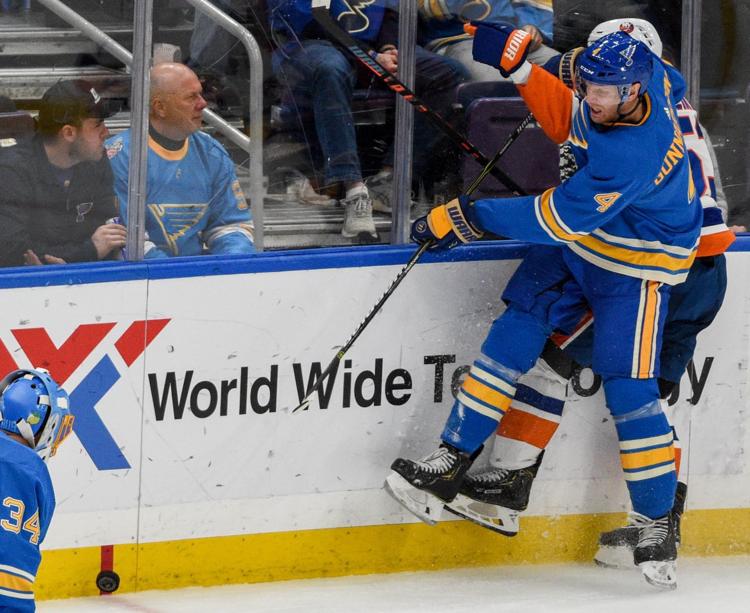 QUESTION: What can we expect from the Blues at the trade deadline? If they continue to win, might they add some complementary pieces? Would they still trade their UFA's for draft picks?
TOM T.: The Blues are in a weird situation, in that if they played like everyone thought they would at the start of the season, they would be a real good team — but they haven't done that enough to make you confident they would do it. But, since Dec. 11, they have the 8th-best record in the league, so you have to start to think maybe they can do that.
I think they trade the UFAs, though maybe they keep one of Gunnarsson or Bouwmeester so they have six experienced D. (Unless they're totally sold on what one of their players in San Antonio can do.) Who they keep would probably depend on who they would get the most for in a trade. The Blues don't have a first- or fourth-round pick next season — I'm assuming that first-round pick won't end up being a top 10 anymore that they would keep — so getting a draft pick or two back would probably be welcomed.
I can't see them dealing any prospects for a player, unless it was someone who they were no longer sold on or who seemed expendable. So they might trade someone for a draft pick and then get someone for a draft pick. But I don't see them going in in a big way to acquire people.
LONG PLAYOFF RUN UNLIKELY? TAKE ACTION NOW!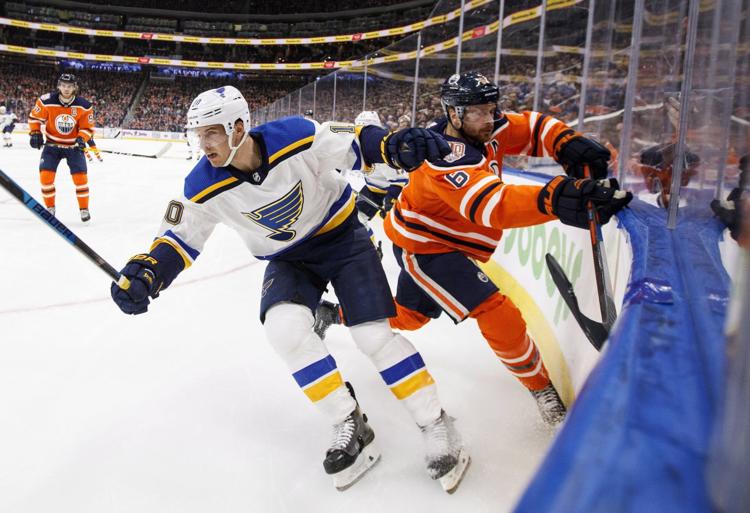 COMMENTS: The Blues are one point out of a playoff spot, but anyone that thinks we can make a long run in the playoffs is sadly mistaken. They're never going to get a better return for Petro than they will now. If they can get a first-rounder and prospects for Schenn, do it. Get what you can for Steen just to get rid of his horrible contract. If someone offers a mid-level draft pick for Maroon or Boumeester, grab it and run. 
TOM T.: By virtue of being in the Central Division, with Winnipeg and Nashville looming, a long playoff run seems unlikely. But, since Dec. 11, the Blues and Predators have the same number of points (though the Blues have done it in two fewer games). This weekend will be telling. The last time the Blues played Nashville, they beat them 6-2 in Berube's second game. Can the Blues compete with the Predators? We'll see.
Yes, the trade return on Pietrangelo or Schenn would never be higher. With Toronto acquiring Muzzin and signing Matthews and negotiating with Marner, the Leafs may be out of the picture, and that always seemed the best fit. Schenn has underperformed, though he has done better since being moved to the wing.
I don't think you can trade Steen; his contract and his age pretty much takes care of that. 
WILL BLUES TRY TO TRADE ALLEN?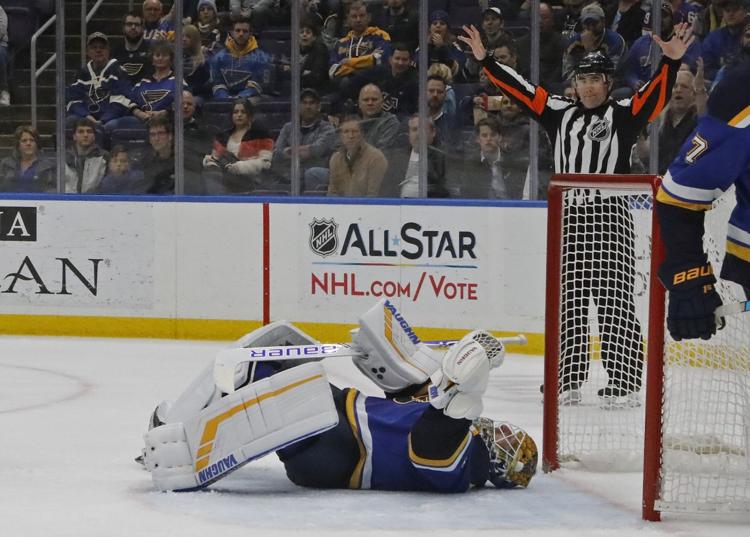 QUESTION: Do you see the Blues trying to trade Allen next season? It's easy to see that they will keep him the rest of this season. I feel like a team would give a draft pick or two for Allen.
TOM T.: The play of Binnington, and of Husso, has changed the goalie situation. The expectation was that after a season of regular play for Husso in the AHL, he would be ready to move up and be Allen's backup, or challenge for the starting job, next season. Binnington was on the periphery. Now, Husso has been hurt and hasn't played much, and when he has, his numbers haven't been as good as Binnington's. What happens the rest of the season will determine what happens. If it stays like this, with Binnington playing most of the games and becoming the de facto No. 1 goalie, then it would seem Allen would be on the market.
But would the team feel comfortable in having Binnington and Husso as their two goalies on a team that could be a playoff contender? Would you? But there's still plenty of time for the tide to shift, for Binnington to hit a bumpy spot and Allen to step back in and his history says he would do just well enough for the team to think he can continue to be the guy going forward.
Binnington still has to prove himself. I don't think 11 games are enough for the Blues to anoint him as The Guy. But I think a deal with Allen is a possibility, though gosh, it's hard to figure out goalies.
DO BLUES JUST PLAY BETTER FOR THE 'OTHER' GOALIE?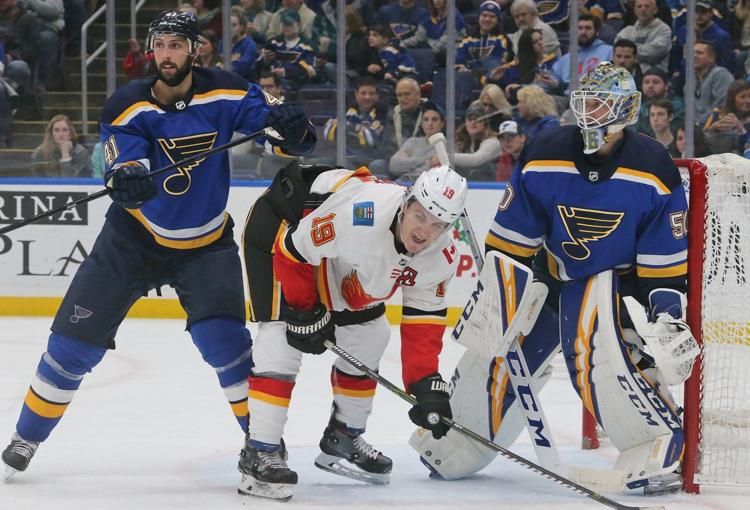 QUESTION: The players will never say it publicly, but do you wonder if they play too cautiously in front of Allen, thinking one mistake could lead to a goal and ruin his confidence? Maybe they are playing looser with Binnington in there. They sure are playing better. Any thoughts?
TOM T.: That's long been a theory about goalies, and it was put forward last season with Carter Hutton, who the Blues also seemed to play better in front of. (This seems to be a trend.)
There's a case for backups to have better numbers because they are more likely to play against weaker teams, or that when an untested goalie like Binnington goes in that everyone is more focused on their defensive principles. But over the past three seasons, it has seemed like the Blues have played better in front of the goalie who's not Jake Allen. (OK, maybe they didn't play better in front of Chad Johnson.)
Blues players have been nothing but supportive of Allen, and have put much of the blame on themselves for the way they have played in front of him, whether it's dealing with rebounds or clearing bodies from in front of the crease or whatever else it may be.
IS THERE A MARKET FOR SCHWARTZ?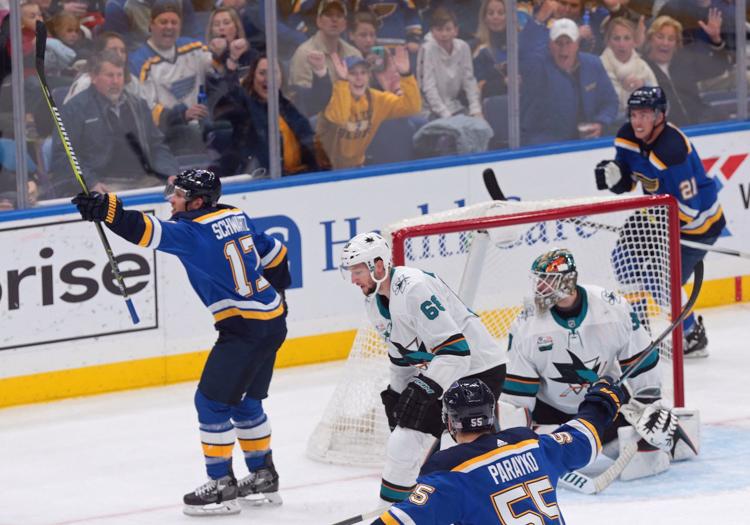 QUUESTION: Is Jaden Schwartz the Blues equivalent of Allen Craig? Is there a market for him anywhere?
TOM T.: I think there would be a market for Schwartz. His goal-scoring troubles this season are so pronounced that they seem to defy probability. In fact, they likely have, which is why everyone thinks he's bound to come around and start scoring. His shooting percentage is 2.9, which is clearly microscopic. (Last year it was 15.3. For his career, it's 13.7.) It's not as if he's not generating chances; he is. And the rest of his game is strong.
So I think the Blues could easily find a trade partner. Would they get as much for him as they would have a year or two ago? Probably not, and his string of injuries might have something to do with that, even though none of them are really related other than being a product of his style of play. And unlike Craig, I don't think if the Blues traded him that he would be out of the league in a couple seasons.
WHY NOT TRY TO BUY OUT STEEN?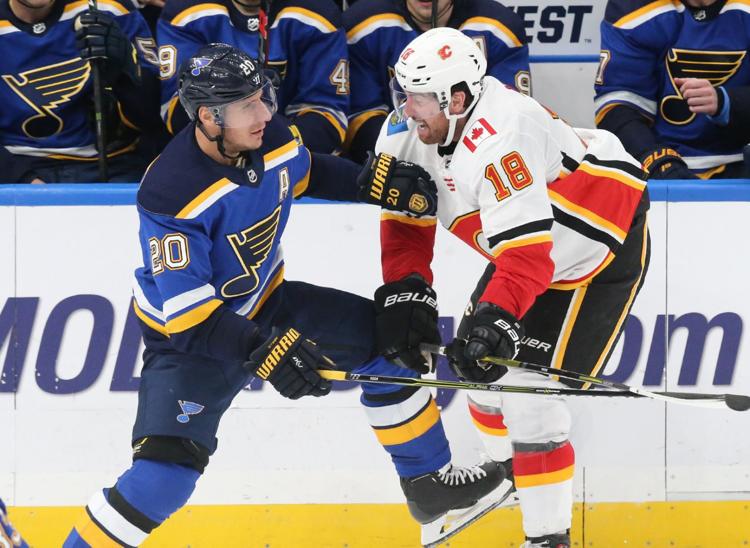 QUESTION: Why would the Blues not even consider buying out Steen? He is old and slow. Just nowhere close to the production they should be getting from that $5.75 million salary. He's not a shut-down defender, either.
TOM T.: I don't think Armstrong has bought out any contracts since he's been GM, so it's clearly not something he wants to do. I think Steen is a case of someone who needs to be used judiciously. They need to watch his minutes and keep him fresh for later in the season or the playoffs. Steen wants to be out there as much as he can; that's the kind of player he is. But it could be a case where less is more for Steen.
WILL RED INK AFFECT THE BLUES?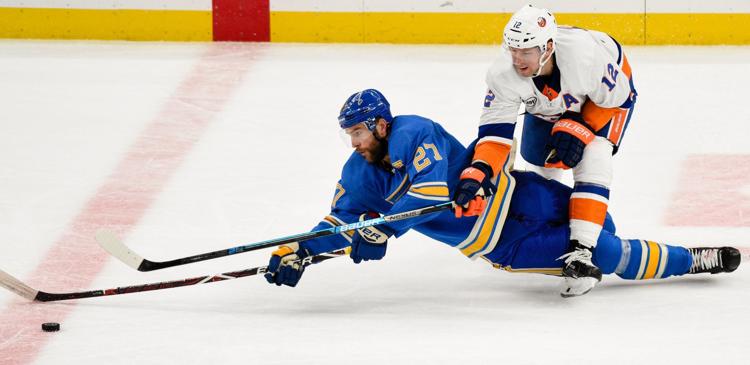 QUESTION: It concerns me that the Blues just won't be able to keep up with the NHL's rising salaries. Do team officials talk about this subject? Should we be concerned about their potential red ink this season?
TOM T.: Those are two different issues. The Blues won't be in red ink because of their salaries. They'll be in red ink if they miss out on the playoffs and don't get the additional revenue for a second season in a row. (Actually, they might be in red ink regardless.) The team has made a commitment to be a team that spends to the cap. If the salary cap goes up, it's because league revenues go up.
Now, will the Blues be able to re-sign Pietrangelo to a big contract and have the rest of the roster they would like to have? That's the question they face going forward. The cap will go up after this season, and the Blues will have some space, but when you have a lot of veterans due raises coming up at the same time, it gets messy, which is one of the reasons Pietrangelo and Schenn are talked about as trade candidates because it will be tough to give both big contracts after the 2019-20 season.
DID BERUBE CHANGE THE STYLE OF PLAY?
QUESTION: Despite all the offensive talent added, did the Blues find that their identity is actually to be a good defensive team? We saw so many odd-man rushes in the first third of the season, so many open goals from the slot. Is Berube preaching something different defensively for has the change been more about the players adjusting?
TOM T.: I think the staff has always stressed defense before all else, which is why you haven't seen as much of Jordan Kyrou as many would like. At the start of the season, boy were there a lot of odd-man rushes; now, not nearly as much. Part of that is learning responsibilities. When Gunnarsson scored his goal at Columbus, when he was up front by the net, O'Reilly dropped back to cover his spot. Things like that weren't happening as much earlier, and if a defenseman ventured too far forward and the puck got turned over, it was off to the races. So if Berube is preaching anything, it's responsibility and the players responding to that.
He also has been more willing to sit players, like Perron, Edmundson or Bortuzzo, over penalties (or other issues). Yeo briefly made Bouwmeester and Maroon healthy scratches, though as many will recall, there was a feeling he should have done that a lot sooner with Bouwmeester.
PRAISING JAYBO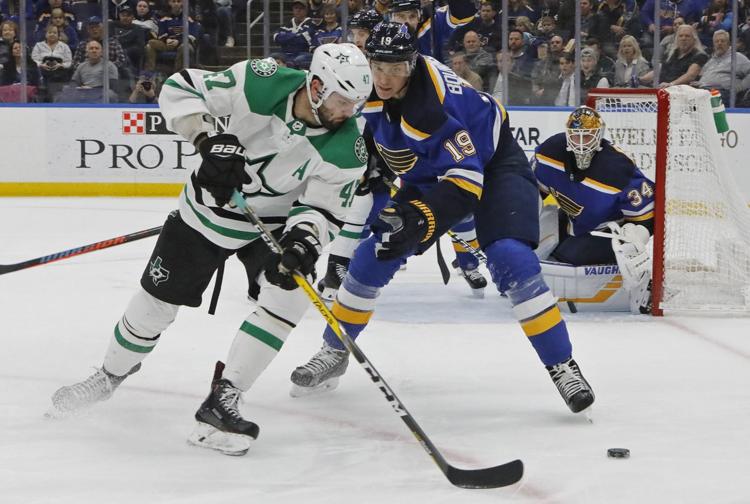 COMMENT: Who would've thought it: Bouwmeester being an asset again. Really has turned around his game. He actually has a little speed left in the tank.
TOM T.: We may never know all of what bothered him at the start of the season; Bouwmeester hasn't wanted to go into detail on it but has suggested it was more than just the surgery he had. But it does seem clear that he wasn't quite ready when the Blues put him out there at the start of the season.
WILL WE SEE KOSTIN SOON?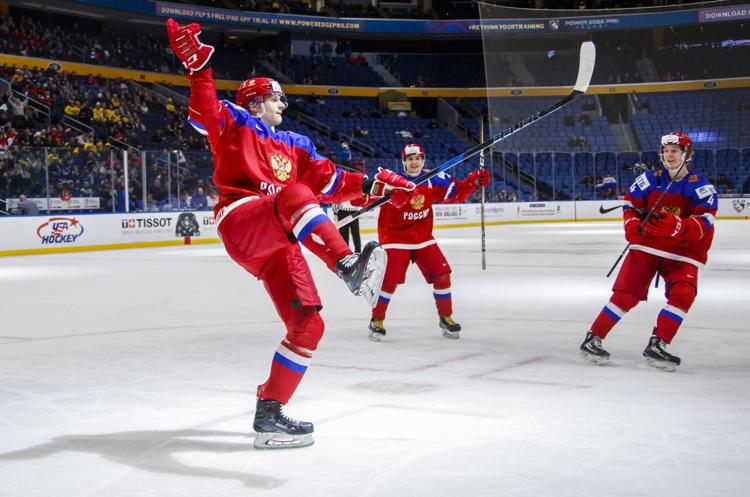 QUESTION: When do we see Klim Kostin in St. Louis? What will his role be? 
TOM T.: He'll get a good look next season; too soon to say if he'll be in a Sammy Blais up-and-down role or if he'll stick around; he'll turn 20 in May so he's still a kid. His play will determine how he's used next season. The hope is that he'll be a top six forward. If he gets called up this season, it means a lot of guys have been hurt.
AND KYROU, TOO?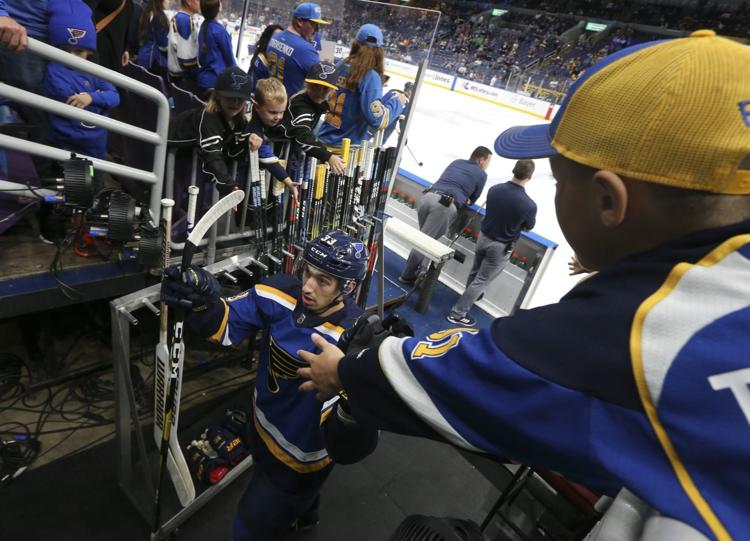 COMMENT: KJordan yrou isn't cut out for a fourth-line role, but that is where he played. It's funny — everyone says he's not ready, when he wasn't put in the right position to succeed and barely played. Hard to expect him to play 7 minutes on the fourth line and set the world on fire when he' not that kind of player
TOM. T.: Kyrou has gotten brief looks on higher lines and his minutes have been every bit as low. It's not his offense that concerns them, it's his play without the puck. And he's 20 years old. This is his first year as a pro. He likely will be with the team on a regular basis next season. One season in the AHL isn't going to kill him and there's a good chance it will be better for him.
PLAYOFFS? YOU WANNA TALK ABOUT PLAYOFFS?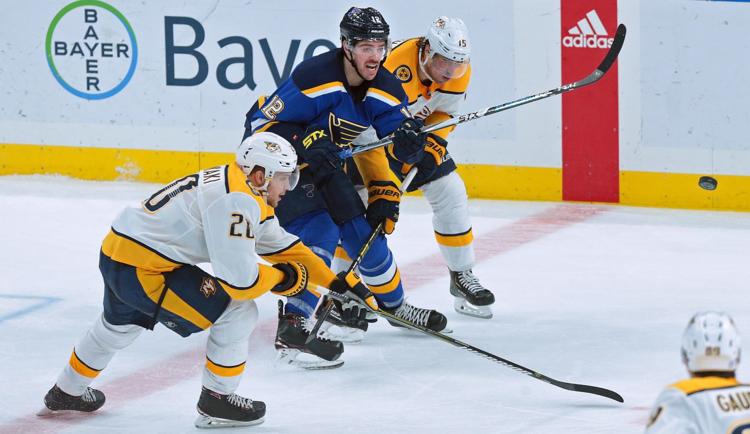 QUESTION: Let's say the Blues end up with a wild-card spot. Would it be better to be on the Central or Pacific side of the bracket? In recent years the Pacific might have been an "easier" path, but it looks like a coin flip this year.
TOM T.: If you look at the odds for teams getting to the Western Conference finals, the teams in the Pacific have better odds than teams in the Central because the Central teams have to go through Nashville or Winnipeg or both. A Pacific team doesn't have to do that, though Calgary won't be easy.
I think you're better off in crossing over to the Pacific side of the bracket, though I'd also say that a Central team playing there would have some terrible travel for the first two rounds. (Also, it would be even tougher on the media covering those games.) But yes, it's not as clear as it has been in seasons past.