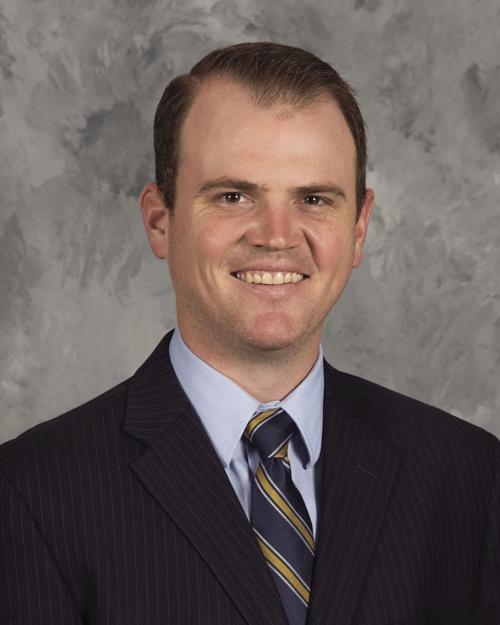 Ryan Miller was named Blues assistant general Monday. And no, it's not that Ryan Miller — you know, the one who spent part of the 2013-14 season tending goal for the Blues.
The front office Ryan Miller once played club hockey for the Monarch High Coyotes in Louisville, Colorado, but that's about it in terms of on-ice experience.
"I can confirm that I am not the goaltender," Miller, who already was in the Blues' front office, told the Post-Dispatch. "It has happened only a couple of times where somebody genuinely gets the identities confused. But no, not a common occurrence that they confuse me for him. He's much, much better known than I am."
Perhaps, but if he keeps getting promotions, this Ryan Miller could narrow the gap.
Miller, 36, replaces Bill Armstrong, who left in September to become general manager of the Arizona Coyotes. Although he has essentially the same job title as Armstrong (no relation to GM Doug Armstrong), Miller's expertise comes in different areas.
"Bill's an expert in the amateur scouting department, and I am not," Miller said. "That's a calling that requires a lot of dedication, and a lot of years of effort and honing your craft at amateur scouting. That's not one of my strengths.
"But I expect to do a lot of the operations and the contracts and the (collective bargaining agreement) and the salary cap, and all those things. It's just a larger responsibility now and a greater challenge."
Miller joined the Blues in 2010 after working with the KO Sports Agency in Denver. So he was here the year the other Miller — a 17-year NHL veteran most recently with the Anaheim Ducks — made a pit stop via trade in St. Louis, starting 19 regular-season games and six postseason contests. The goalie Miller actually is four years older, at 40, and currently is an unrestricted free agent.
As the front-office Miller's responsibilities grew with the Blues, he became the point man in contract negotiations with players and was responsible for keeping the team salary-cap compliant — no easy task considering how close the Blues have been to the cap in recent seasons.
"I came into a situation where I had some of the best in the business to learn from," Miller said, citing Doug Armstrong, John Davidson, Al MacInnis, and Larry Pleau. "I'm really grateful for the opportunity from (chairman) Tom Stillman and 'Z' (team president Chris Zimmerman) and Doug to continue to contribute to a team that's had success. And looking forward to the challenge of helping us continue having that success."
A native of Plano, Texas, Miller's family moved when he was 3 to Louisville, Colorado, a town situated between Denver and Boulder. Miller received an undergraduate degree at the University of Dayton followed by a law degree from the University of Denver
As for that high school hockey career, Miller said: "I was a big centerman. I had two skilled linemates, and I went and took up space in front of the net to open up space for them, and hopefully they'd bounce one off me every once in a while. So I did play, but it was pretty clear it wouldn't be my life's work."