The infamous "Hand Pass" game of two seasons ago was a watershed moment for the San Jose and St. Louis hockey franchises. After San Jose won Game 3 of the 2018-19 Western Conference finals with the aid of an illegal — but undetected — hand pass, the Blues rallied to win the series and the Stanley Cup.
San Jose hasn't sniffed the playoffs since. Or beaten the Blues in regulation time since. Until Saturday, that is. After squandering leads of 3-0 and 4-1 and falling into a tie, Logan Couture's second goal of the night — and ninth of the season — came midway through the third period. It gave the Sharks a 5-4 victory at Enterprise Center.
The Blues had been 7-0-1 against San Jose since the "Hand Pass" game, but the hex ended Saturday.
Missing six players because of injury and a seventh when Sammy Blais landed on the NHL's COVID list earlier in the day, the Blues (10-6-2) were missing all kinds of talent. They still managed to score four goals — all in the second period — but turnovers and mistakes made goal-scoring relatively easy for the Sharks (7-7-2).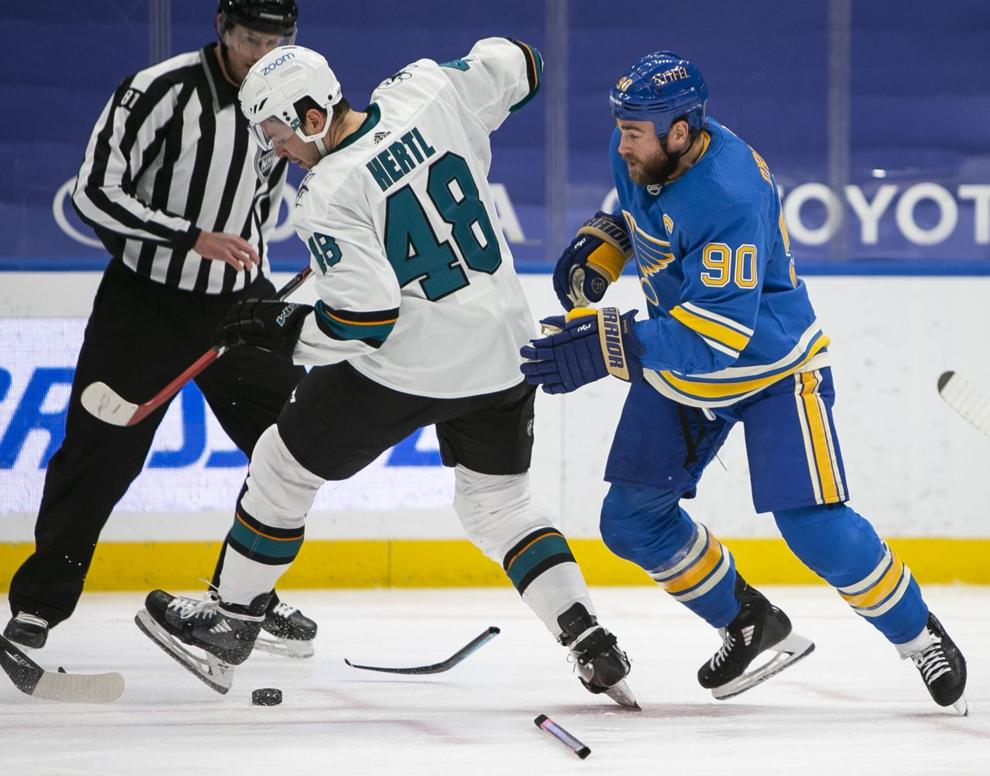 "We definitely scored enough to win the game, but (made) too many mistakes defensively," coach Craig Berube said. "We've just got to tighten that up. Got to be better.
"We had a couple turnovers and they countered off of them. One was a goalie handle, and it was unfortunate. But just in general, a couple turnovers went in our net and it's stuff that we know what we're supposed to do and know where we're supposed to be."
Even so, Berube sounded more resigned (to the circumstances) than angry with his team after the game.
"We've got a lot of talent on this team, but a lot of that talent is in the stands," Berube said.
Ivan Barbashev, Tyler Bozak, Colten Parayko, Jaden Schwartz, Robert Thomas, and of course, Vladimir Tarasenko were missing from the lineup besides Blais. Six of those players are forwards.
As a result, the Blues had only 11 available forwards and used defenseman Jake Walman to fill out a fourth forward line.
"I used him that one game a little bit," Berube said, referring to a Feb. 6 contest against Arizona in which the Blues also went with 11 forwards and seven defensemen. That was by design, not necessity.
"We just needed a player," Berube said. "He didn't get a lot of ice time, but it's not easy for him."
You know things aren't ideal when a defenseman playing in only his third NHL game is asking his former San Antonio Rampage teammate, 22-year-old Jordan Kyrou, for tips on how to play forward.
"Where to be and where to go kind of things," Kyrou said. "It would be like me, if I was going to play on defense, I'd want to get some pointers on little things."
So that's where things are at this stage of the season. But the real story of the game was the Blues' defense — or lack thereof — and not the offense.
Two turnovers, one by Zach Sanford and the other on the mishandled clearing attempt from behind the net by Jordan Binnington, led to a pair of gift goals and a 2-0 San Jose lead in the first period.
Early in the second period, Vince Dunn lost coverage on Rudolfs Balcers in front of the St. Louis net. Balcers' one-timer clanged off the near post and in, making it a 3-0 hole for the Blues.
"We did some things well, but yeah, we can't give up that many," captain Ryan O'Reilly said. "It was just some little small mistakes with each other. Just not being tight, and just a good play by them and it's in the back of the net. So it's tough, it's a tough loss."
Just 57 seconds after Balcers' goal, the Blues' Brayden Schenn scored his ninth goal of the season — tying Couture for best in the West Division. The Schenn goal looked like nothing more than false hope when Patrick Marleau — the Sharks' 41-year-old center — was left alone on what appeared to be another coverage lapse by Dunn.
Marleau's goal gave the Sharks a 4-1 lead with 11:42 left in the second period and things looked bleak for the Blues.
But then . . . bang, bang, bang. Goals by Sanford, O'Reilly and Kyrou before the period ended made it a 4-4 game. It was the Blues' second four-goal period of the season. The previous time was the second period of a Jan. 18 home game against — you guessed it — San Jose. And with, once again, Devan Dubnyk in goal for the Sharks.
If cardboard cutouts could talk, the noise would have been deafening at Enterprise after Kyrou's goal tied the game. As it was, the roughly 2,000 humans in the building could be heard.
"We were upset (earlier), we had some mistakes and dug ourselves a hole," O'Reilly said. "But you could tell everyone just had the mindset: go, go, go. When we put the puck in, we hunted, we pursued, we got it back, we took it to the net."
But the Blues couldn't transfer the momentum from the second period into the third. They didn't have much push, and that even was with 1:25 of power-play time to open the period plus another power play late in the period when the Sharks were whistled for delay of game.
"We did a great job coming back in the second," Kyrou said. "We had a lot of momentum going our way and it's tough. We've just got to be a little more solid defensively. We can't give up some of those goals."