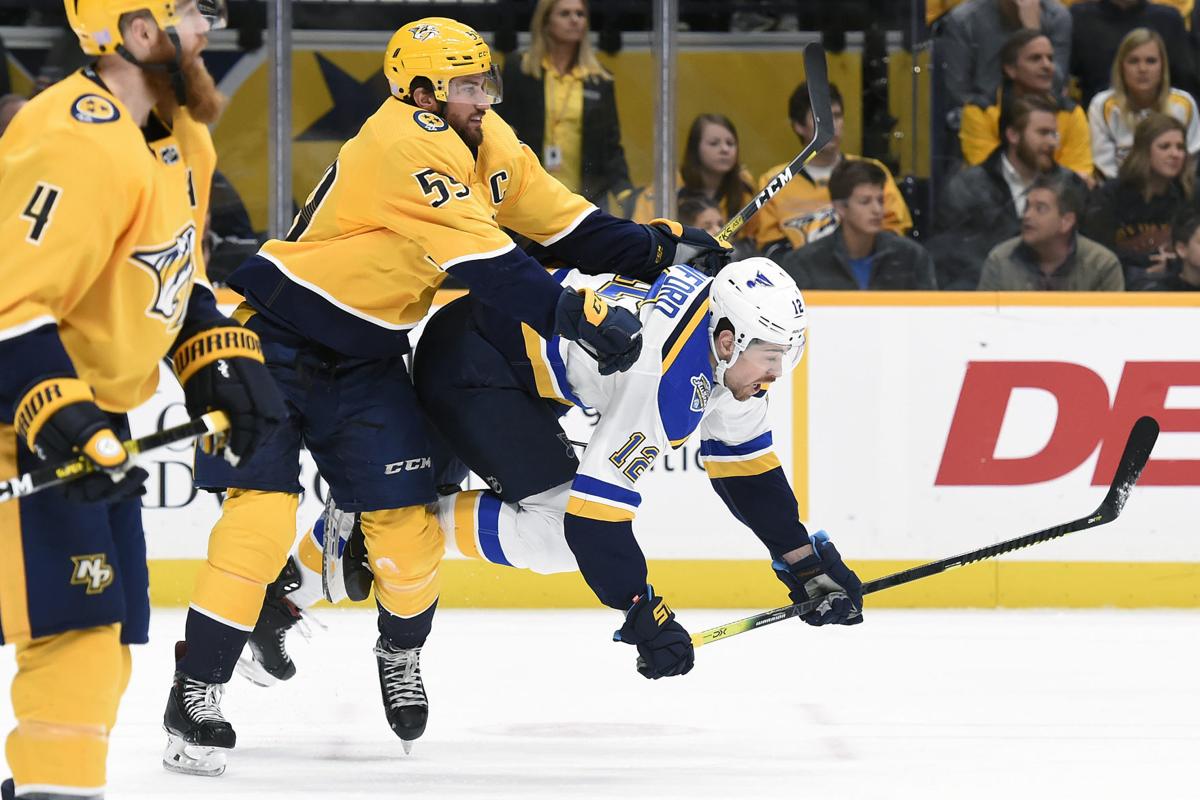 PITTSBURGH — Zach Sanford is no different than any other hockey player when it comes to ice time. The more the merrier.
Which makes Sanford pretty merry lately. Four of his five biggest ice times of the season had come in the last five games entering Wednesday's contest in Pittsburgh.
He was averaging 12 minutes a game over his first 19 games, which is also his career average. That ice time spiked to 15 minutes 47 seconds over the last five games. The 17:54 he played Saturday against the Penguins was the second-highest single-game total of his career.
"You get out there a lot more frequently and you get to touch the puck a lot more, I think you get more engaged in the game," Sanford said. "So it's been a lot of fun."
Part of the increased time is because Sanford also is getting time on the second power play unit since Sammy Blais went down with a wrist injury on Nov. 19. And since Oskar Sundqvist suffered his right foot injury a week ago, Sanford also is seeing some duty on the penalty kill unit.
But Wednesday's 3-0 loss in Pittsburgh was a step back in terms of playing time. Partly because Sanford spent two minutes in the penalty box, and partly because he was moved down to the third line in the middle of the game in some line juggling by coach Craig Berube, Sanford played only 11:27.
It was his least amount of playing time since Nov. 12 against Arizona. 
Injury situation aside, playing time is earned, not given, under coach Craig Berube.
"I've always trusted 'Sanny,'" Berube said. "He's a good defensive player and responsible. He's a smart player that way. But he's harder on pucks now. He's making more puck plays. He's getting scoring opportunities. And that's why (he's playing more).
"He's getting the chances. Now, he can bury a few more, hit the net a little bit more. He's missed the net a little bit, but his puck play's been good and he's been a harder player. That's the key. He's getting in there on the forecheck, he's banging bodies around. He's using his big body more."
Sanford had two goals and four assists over his previous seven games; he had one goal and three assists over his first 17 contests this season.
His impact also has been felt in more subtle ways. Goals by defensemen Colton Parayko (against Dallas) and Justin Faulk (Saturday against Pittsburgh) came in part because Sanford established a net-front presence and took the goalie's eyes away.
Sundqvist skates
Sundqvist hasn't played since the Blues' Nov. 27 contest at Tampa Bay, and Wednesday marked his fourth game out of the lineup. But he's getting closer to a return.
"He went on the ice yesterday just for a bit," Berube said. "He's probably gonna take today (off) and not go on. We wanted to bring him on the trip. He can be monitored and treated and things like that. So hopefully he's not too far away."
Even when not skating, Sundqvist has done off-ice work, including on the stationary bike.
Sundqvist is eligible to come off the injured reserve list Thursday, but probably won't play Saturday at home against Toronto. As for playing next week?
"There's probably a good possibility," Berube said. "He's feeling better and better every day, so that's a good sign. We'll get him on the ice here again and see if he can push a little bit harder. That's the plan."
Following the Toronto game, the Blues play next Tuesday in Buffalo and then begin a four-game homestand with the Vegas Golden Knights on Dec. 12.
Kyrou hat trick
Blues prospect Jordan Kryou had a hat trick Wednesday afternoon in San Antonio's 5-1 victory over the Iowa Wild. Kryou now has eight goals and six assists in 14 games for the Rampage this season, getting a late start as he completed his recovery and rehab from kneecap surgery last spring.
"It's definitely a big confidence boost," Kyrou told San Antonio reporters after the game.
A first-period goal originally credited to defenseman Niko Mikkola was changed to Kyrou by the end of the game, giving him the hat trick. He's the first Rampage player to score a hat trick since Sammy Blais scored three against the Ontario Reign on March 11, 2018.