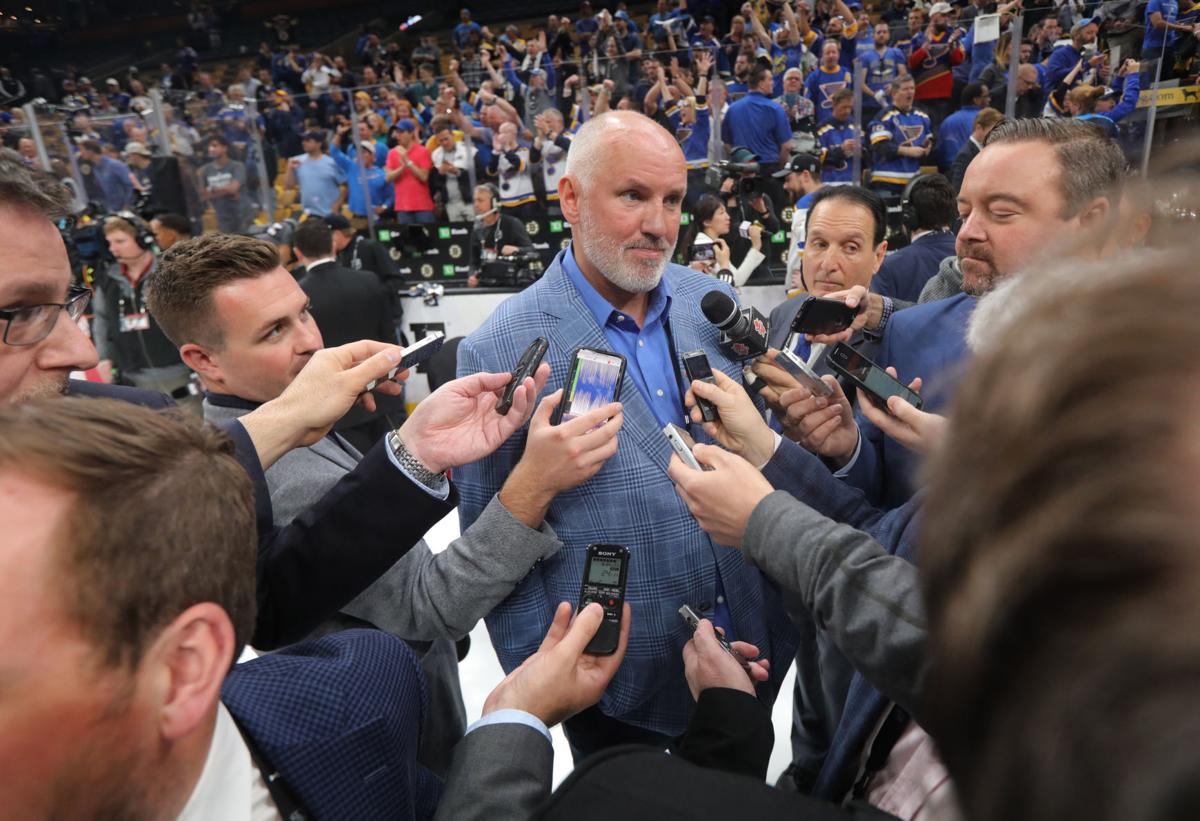 ST. PAUL, Minn. — Just a week earlier, after the Blues were bludgeoned 6-1 by the Vegas Golden Knights, general manager Doug Armstrong might have had everything but a "for sale" sign posted when it came to his roster.
So what if goalie Jordan Binnington had stopped only 47 of 51 shots in last Wednesday's 3-1 victory over Vegas? Or had Mike Hoffman not scored with 41.6 seconds left in regulation to send Saturday's game with Minnesota into overtime and then Ryan O'Reilly not scored with two seconds left in OT for a 3-2 win?
We'll never know. In this most unpredictable of hockey seasons, that's how razor thin the margin was between the Blues being sellers at the trade deadline, and what actually transpired — which was nothing. They stood pat as Monday's 2 p.m. NHL trade deadline came and went.
Before a six-game stretch that included two games at Colorado, two against Vegas, and last weekend's back-to-back contests against Minnesota, Armstrong had said repeatedly: "The next 10 days are key."
Well, halfway through that 10-day stretch, the Blues had lost a pair of one-goal games to Colorado and that 6-1 embarrassment to Vegas. Armstrong always lets the team help him make trade deadline decisions through its play, and the players were speaking loudly — albeit in the wrong direction.
"What I was hoping for last Wednesday was: 'We have to get to next Saturday being a meaningful game in Arizona,'" Armstrong said. "We were five points back (in the playoff chase) with a game in hand."
That indeed was the case before that 3-1 win over Vegas last Wednesday. The Blues trailed Arizona by five points in the standings. Had the Blues lost that night, and Arizona defeated Los Angeles, the Blues would have been down seven points to the Coyotes with 17 to play for the fourth and final playoff spot in the West Division.
(The Coyotes ended up squandering a 3-1 lead in the third period that night, losing 4-3 to the Kings.)
But the Blues took care of Vegas in that 3-1 win, and then swept Minnesota in the back-to-back over the weekend, making Saturday's Blues-Coyotes game in Glendale, Arizona, meaningful no matter what happens Wednesday at Enterprise Center against the Colorado Avalanche.
"Now we're one point up (on Arizona) with a game in hand," Armstrong said. "So the players have done their job of getting to that game because the team we were chasing, is now chasing us. So you want to make these games meaningful. The guys have done a really good job of getting there."
Again, the outlook was trending in a dramatically different direction after that loss to Vegas.
"When we were sort of in that state of flux, we didn't look to be buyers, partly because of our salary cap (situation) — we didn't have a lot of room," Armstrong said. "But we were thinking about being sellers.
"We had a vision of if we're going to do something, what do we want in return and quite honestly, I haven't had any meaningful phone calls in almost three days. Maybe because if we were doing anything, I had a higher value of our own players maybe than other people did."
This has been a trying season on many levels for Armstrong and the Blues. And there were plenty of times when the frustration was apparent.
"There was a collective frustration, but also a collective understanding that nobody really cares if you're frustrated or not," Armstrong said. "Or if you start to feel sorry for yourself, or God forbid you're willing to say, 'We'll get 'em next year.'
"If I had felt that was the indication, there would have been a lot of players moved because our jobs are to fight to the bitter end until they tell us to stop fighting."
But just in the nick of time, Vladimir Tarasenko popped in a key goal in the 3-1 win over Vegas and Jaden Schwartz ended a scoring slump with two goals in Friday's 9-1 romp over the Wild.
"When we got Tarasenko back, when we got Schwartz back (from injuries), our goals sort of dried up and that shouldn't last with that caliber of players in our lineup," Armstrong said. "When you add (Brayden) Schenn and (David) Perron and (Jordan) Kyrou and that whole group — I know I'm missing some guys."
Namely, O'Reilly, who has 17 goals, and Hoffman, who has 11.
"I think the goal scoring should continue to pick up and both goaltenders have played great the last two games," Armstrong continued. But we're going to need everyone to push through here these last three or four weeks of the regular season to get into the playoffs, and then when you get in, anything can happen.
"But there's no guarantee that we're going to get in, and we're going to have to play and focus every day like it's a life or death situation."
A pretty good hint that Armstrong was standing pat came as the Blues slowly trickled onto the ice Monday for their morning skate at Xcel Energy Center. (Monday's game subsequently was postponed and rescheduled for May 12.)
Hoffman, considered the most likely Blues player to be traded, was there for practice. So were rumored trade pieces Vince Dunn, Jaden Schwartz and Tyler Bozak. If any kind of trade was imminent, surely that player (or players) wouldn't be on the ice risking injury. Not 2½ hours before the deadline.
It was an upbeat group, with more chatter than usual during practice. Perhaps that was a reflection of the team's three-game winning streak and current playoff spot. Or the sense (or advance knowledge) that no one was being traded.
"Each trade deadline has its own uniqueness but this one, certainly with the shortened season, and our fluctuation in play, it had our minds going in different directions," Armstrong said. "Certainly the play the last three games and being in a playoff spot today was a reflection of really deciding to stand pat with this group."
So Hoffman, who scored twice in Saturday's 3-2 OT triumph, is staying. As is everyone else. As such, it was a vote of confidence by Armstrong that he believes in this group.
"One of the things we talked about in a previous (Zoom) call was maybe we're gonna get healthy at the right time, and get on a roll," he said. "And maybe the last three games are an indication of that."