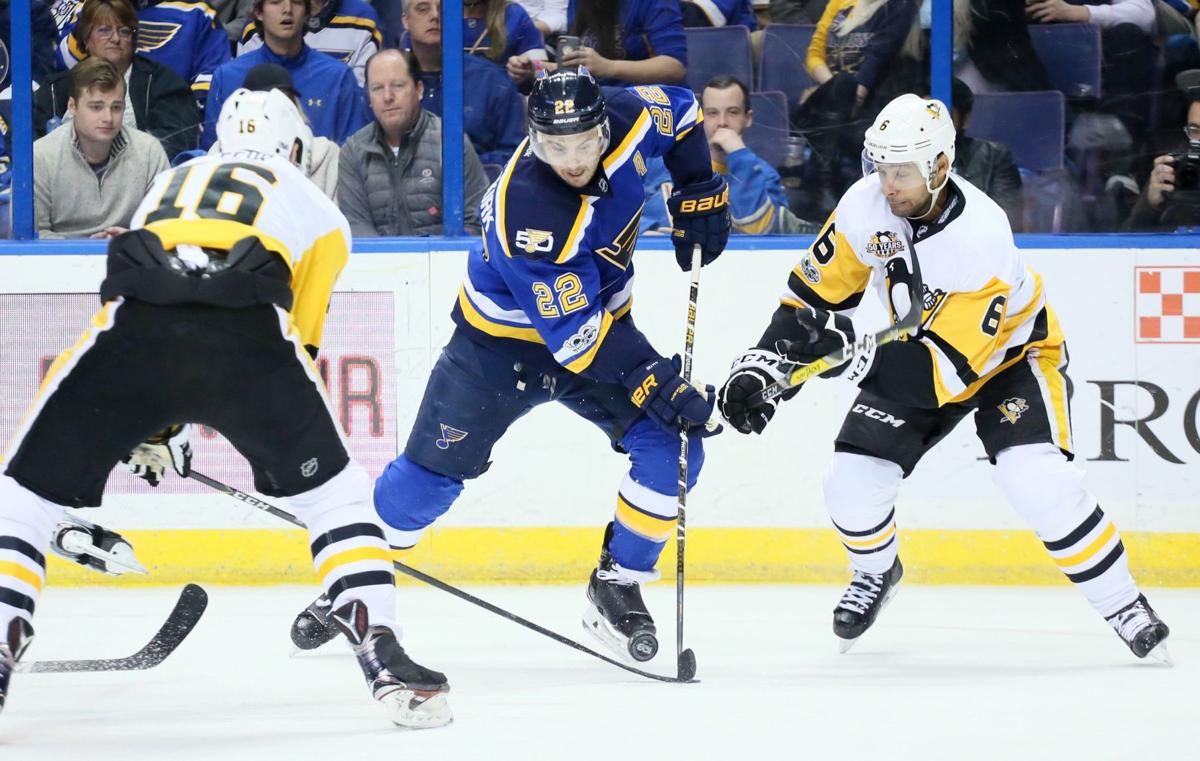 The Blues had a trade in place that would have sent Kevin Shattenkirk to a club with a long-term extension, but the defenseman nixed the deal, the Post-Dispatch has learned.
Discussions between the Blues and another club fell apart about six weeks ago on a trade that would have given Shattenkirk a seven-year, $42 million contract ($6 million AAV), as first reported by TSN's Bob McKenzie. League sources have independently confirmed that Shattenkirk, who is 28 and a pending unrestricted free agent, turned down the offer.
The Blues are now believed to be shopping Shattenkirk as a "rental" player, according to those sources, meaning they don't expect him to sign a long-term deal with another club before the NHL trade deadline Wednesday. An extension elsewhere would allow the Blues to maximize his trade value, whereas being dealt as a rental will not garner the team as much in return.
The Post-Dispatch reached Jordan Neumann, Shattenkirk's agent, Thursday night but he declined comment. Blues general manager Doug Armstrong was unavailable.
The swap of Shattenkirk would have been with an Eastern Conference team and is believed to be the Tampa Bay Lightning, with whom the Blues have long been speculated to be in trade talks.
It's not known what the Blues might have received in return for their top puck-moving defenseman, who in seven years in St. Louis has 258 points in 424 games and ranks second on the team with 42 points this season.
This is believed to be at least the second trade proposal the Blues have had within the last year that Shattenkirk has vetoed. He also turned down a potential deal to Edmonton last June that would have yielded forward Taylor Hall, according to league sources. Hall was eventually dealt to New Jersey for defenseman Adam Larsson.
Shattenkirk does not have a no-trade clause in his four-year, $17 million contract ($4.25 million AAV) that is set to expire on June 30. But essentially he does have one because for the Blues to find a trade partner willing to give them the return they're seeking, he would have to agree to the long-term extension with the other club before a deal could be consummated.
Under those circumstances, the Blues would perhaps be able to land an established NHL player. In addition to Hall, when he was with the Oilers, they've been linked to Lightning players such as Jonathan Drouin and Tyler Johnson. But as a rental, Shattenkirk's worth on the trade market has been speculated as a first-round pick, a top prospect and perhaps lesser-tier NHL player.
The Blues have less than a week to find a deal before the deadline. The chances of them re-signing the defenseman to stay here are remote, but the option does exist of keeping him for the remainder of the season at the risk of losing him to free agency this summer.
EXTENSION FOR BERGLUND?
Meanwhile, the Blues also have just days left to re-sign Patrik Berglund, who will be an unrestricted free agent at the end of the season.
The club is believed to be in talks with the center and Berglund told the Post-Dispatch that there is is mutual interest from both sides on an extenstion. His agent, Peter Wallen, did not return a message and Armstrong was unavailable.
"I would like to still be a Blue," Berglund said Monday, before the Blues broke for their five-day bye. "I think everybody in here and upstairs knows that I want to be a Blue, too.
"I understand the business of it all, so I just have to take it one day at a time until whatever happens. I'll just hope that we can agree on something. It's nothing that is stressing me out."
Berglund, 28, is wrapping up a three-year, $11.1 million contract ($3.7 AAV) with the Blues.
Berglund, who has been in St. Louis for nine seasons, has 17 goals and 24 points with the club this season. He had just one goal in his first 30 games, but has netted 16 in his last 30.
"I was happy with my overall game (in the first half)," Berglund said. "I knew it was going to come at some point, but also I'd never been a part of that big of a goal drought, so yeah it was frustrating, but I just kept on working."
Berglund admits now that he should have had surgery sooner on his right shoulder, which he originally dislocated in April 2014. He tried to play through it in 2014-15, the first year of his extension, and finished with just 12 goals and 27 points in 77 games.
"I put that on myself that I didn't get it fixed probably when I should have got it fixed," Berglund said. "That's my fault, but after that, when I came back last year, I saw how my game got stronger, I could play more gritty, the way I want to play because the body felt good. I've just been working on getting stronger so I can be able to really play the game I want. I think throughout this whole year, it's really been showing."
Berglund was bounced back and forth between center and wing the past couple of seasons, but believes he's settled down since the Blues stuck him back in the middle.
"I wasn't so happy about it," he said. "But I'm a team player and I tried to do the best that I can with the situation. But in my opinion, I'm a born centerman, so that's where I belong."
Berglund scoffed at the notion that he's performing well because it's a contract year, saying "I'm not even going to comment. (People) can say whatever they want, I don't care about it. They don't know half of what I know and what the guys in here know, so I don't care."
Instead, Berglund attributed his recent production to the fact that he's finally healthy, playing center and has much-needed experience.
"You learn a lot, you know how to prepare, take care of yourself, whatever ... it all comes together," he said. "A lot of those things come through experience, throughout the years you're a part of it. Also, I have very high expections of myself and I'm never satisfied. I still want to get better, I still want to challenge myself, I want to challenge the guy that I play against to beat me, and that mindset will hopefully be around until the day I quit. As long as that thing is there, I feel like I will for sure be able to be a good player and keep growing."