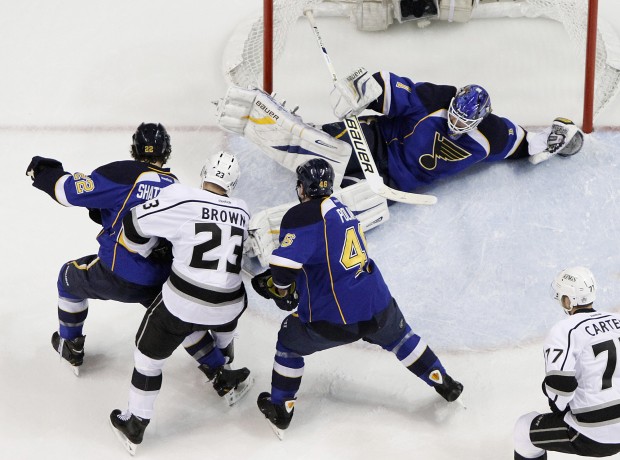 Playing the reigning Stanley Cup champions in the first round of the playoffs may seem like a daunting task for most. They are, after all, the same Los Angeles Kings who swept the Blues in four games last year to extinguish their season.
But for at least one member of the Blues, you couldn't have hand-picked a more inviting opponent. For defenseman Kevin Shattenkirk, it represents a chance for a do-over.
"I'm very excited about it, yeah," Shattenkirk, 24, said. "That's something that has been on my mind for the past few days, really."
Those thoughts turned dark with just over seven minutes remaining in the overtime stage of the Blues' 2-1 victory on Tuesday. With the emotions hanging on every moment, Shattenkirk was whistled for a four-minute penalty for high-sticking.
Of course, the penalty came after the Kings forced overtime by tying the score with 32 seconds remaining in regulation. Suddenly, it looked like last year all over again.
"It was a reactionary play" that drew the penalty, Shattenkirk said. "He managed to get the puck in my feet. I go to lift his stick — I know you have to control your stick – and it was a tough break. My heart sank a little bit there."
That sinking feeling turned into one of the best hockey feelings Shattenkirk has ever had when Alexander Steen stole the puck and scored a short-handed goal to give the Blues the win.
"I think I might have thrown the guy in the penalty box out of the way to get on the ice," Shattenkirk said. "Getting a goal on it is one way to end it. I think I owe Steener a big thanks, maybe a couple of dinners. It was a very big relief."
Shattenkirk shoots straight. Ask him about the series with the Kings last season and he takes personal ownership for the disappointing outcome. Both Shattenkirk and his playing partner last spring, Barret Jackman, had rough moments in the LA series.
Meanwhile, the Kings made a point of physically pounding on the smallish – for a defenseman – Shattenkirk., who is 5 feet 11, 208 pounds. The Kings' game plan was effective.
In Game 1, Shattenkirk was minus-3 with one shot on goal. He got better as the series went on, scoring a goal in Game 4. But generally he wasn't pleased with how he responded to his first taste of postseason action. He was determined to change that.
During a summer and extended lockout period, Shattenkirk adapted a workout routine to strengthen his upper body and improve his stamina. The Kings were on his mind then, as well. And now that they're here, he knows what to expect.
"It's an opportunity to grow as a player, to prove that I'm ready for this," Shattenkirk said. "I know it's going to come this time. I won't be surprised by it, which is nice. Just to have that experience from last year and the drive to be better is important."
Shattenkirk had a stout regular season, scoring five goals and 23 points, and on Tuesday, he made his first deposit into the do-over account. With the Blues on a power play in the first period of Game 1, No. 22 carried the puck into the high slot and blasted a shot.
Goaltender Jonathan Quick threw out his right pad to make a save and the rebound went directly to Steen, who buried it to give the Blues a 1-0 lead nine minutes into the game.
"I just teed up a slap shot and I knew it was going to be somewhere on the left side of the net," Shattenkirk said.
The late penalty notwithstanding, the assist was a key play and part of an all-around solid night for Shattenkirk, who played nearly 21 minutes.
For most people, a first-round series with the Los Angeles Kings is cause for consternation. For Kevin Shattenkirk, a player trying to take his career to another level, it's an opportunity.