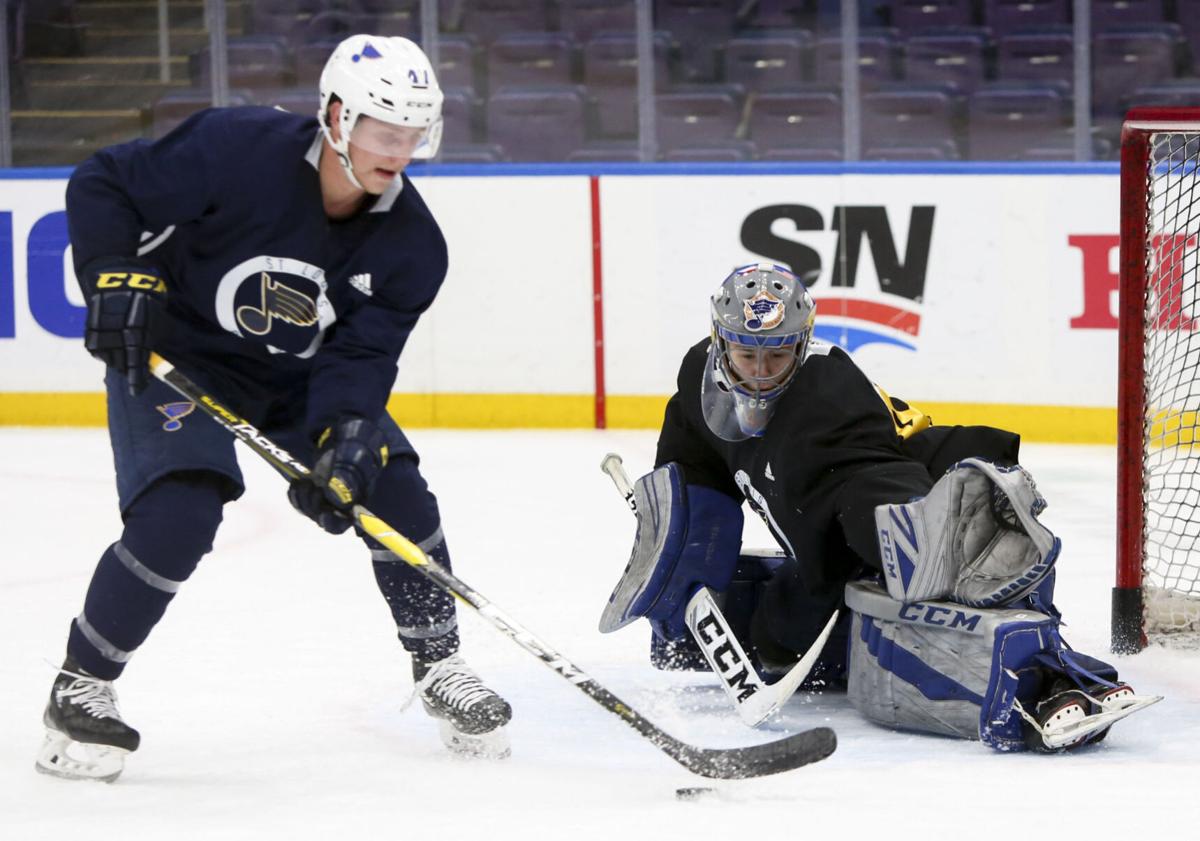 Scott Perunovich's first season of pro hockey has turned out to be no season at all.
The prized prospect, who won the Hobey Baker Award at Minnesota-Duluth last year as college hockey's best player, will miss the rest of the Blues' season with a left shoulder injury.
Surgery is scheduled Friday, with Dr. Matt Matava and Dr. Matt Smith performing the procedure at Washington University and Barnes-Jewish Orthopedic Center.
Perunovich, 22, and from Hibbing, Minn., had been practicing with the Blues since the start of training camp. It's not known exactly when Perunovich suffered the injury, but he aggravated it recently, leading to the decision to have surgery.
He was slated for duty in the American Hockey League this season. But instead of being assigned to the Utica Comets with other Blues prospects, the defenseman stayed in St. Louis training and rehabbing as a member of the Blues taxi squad.
He even accompanied the team, along with the rest of the taxi squad, on a late January road trip to Vegas and Anaheim. Most of the taxi squad workouts aren't held with media present.
Perunovich is expected to be ready to go by the start of the 2021-22 season.
Another maintenance day
Defenseman Colton Parayko missed another practice Thursday; he's had about a half-dozen of the so-called "maintenance days" already this season.
Whatever his undisclosed ailment is, it hasn't been enough to take him out of the lineup on game days. He's played in all 13 games for the Blues (7-4-2), averaging 22 minutes 53 seconds of ice time, second only to Justin Faulk's 23:44. But it definitely has reached the nagging stage.
"It's tough because we play a lot and we gotta get practice time in," coach Craig Berube said Thursday, shortly before the team flew to Arizona. "So we're just going to have to keep monitoring and see how it goes."
Even so, Parayko is expected to be in the lineup Friday when the Blues resume their string of seven consecutive games against the Arizona Coyotes. Parayko was scheduled to accompany the team to Arizona, as were Marco Scandella and Sammy Blais, who are both sidelined with upper-body injuries.
Niko Mikkola skated in Parayko's place Thursday at Centene Community Ice Center, and was paired with Carl Gunnarsson. Otherwise the practice lineups and power-play units were almost identical to what Berube rolled out on Wednesday. The only other change had Mackenzie MacEachern skating with the fourth line, with Kyle Clifford and Jacob de la Rose.
Bortuzzo's injury
Veteran defenseman Robert Bortuzzo missed 10 games, nearly 20% of the schedule in this condensed season due to an upper-body injury he sustained after a hit from Colorado's Valeri Nichushkin on Feb. 15.
When asked if it was a concussion, Bortuzzo said: "Yes, just had a little thing going on with my face, some issue, so we worked through it and we feel good."
In his first media availability since the injury, Bortuzzo also was asked if he was surprised there was no fine or suspension for Nichushkin for a hit that rattled Bortuzzo's head against the glass.
"I like to not comment on those things," Bortuzzo said. "One of those plays that was borderline, and they (the NHL) went one way. That's the way they saw it. I'll just leave it at that."
Weather upgrade
The Blues left St. Louis with a temperature in the high teens, for three games in the Valley of the Sun, where the temperature is supposed to reach the 70s daily. So they'll be gaining about 50 degrees Fahrenheit.
"I called home the other day," said Bortuzzo, who's from Thunder Bay, Ontario. "I think they were minus-38 degrees Celsius. So I tried not to pass that along to any of my family members, but it'll be nice to get in some sun and soak in some vitamin D."
Minus 38 degrees Celsius converts to minus-36 degrees Fahrenheit.
Berube was asked about the weather upgrade, but it doesn't sound like he's planning on getting much sun.