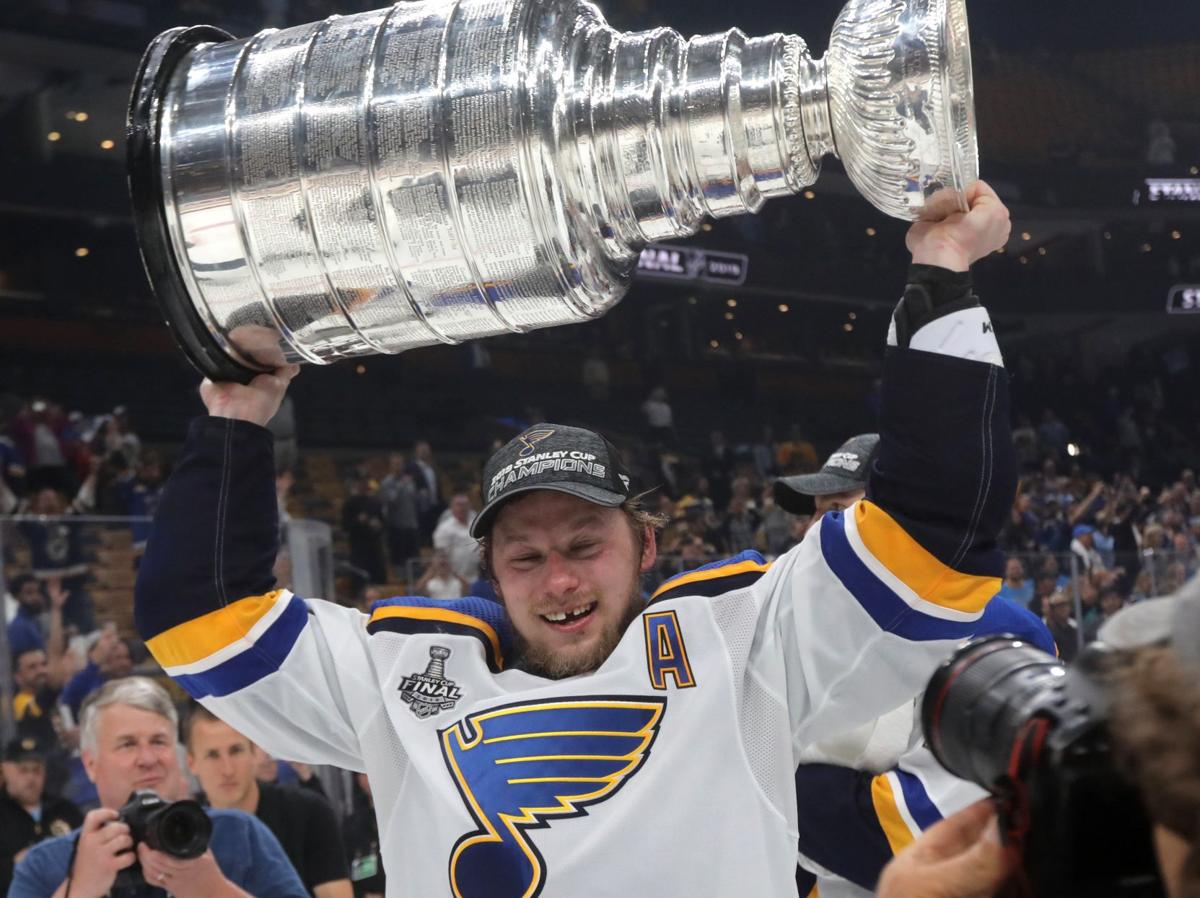 LAS VEGAS _ Remember that 10-minute stretch in Game 2 of the Stanley Cup Final when Vladimir Tarasenko was off the ice and was thought to have a skate issue?
Turns out he suffered a shoulder injury after getting bumped by a Boston player early in the second period. It affected him the rest of the series. He didn't miss any games, but missed some practices, and scored only one goal the rest of the series to finish with 11 postseason goals.
"He did bang up his shoulder," general manager Doug Armstrong said Tuesday. "Nothing too serious. He was able to play through it. As you could tell, as the playoffs go on, the morning skates are less-attended. We call it a maintenance day or whatever.
"All players are nursing injuries this time of year. Vladi was no different. 'O'Ry' (Ryan O'Reilly) played through a lot. (Alexander) Steen played through a lot. Tarasenko played through a lot. (Robert) Thomas had the wrist thing that he played through."
And Vince Dunn played through head and facial injuries.
"Again, our players are no different than the laundry list that Boston had," Armstrong said. "I think that prize at the end is worth any punishment you have to go through."
Armstrong said the Blues are still evaluating whether or not some players will need offseason surgery.
"We're trying to get everybody back from Vegas so they can get their medicals," Armstrong said with a laugh.
After a weekend of partying, most of the Blues left Las Vegas on Monday and Tuesday.
Coach Craig Berube said he never seriously doubted that Tarasenko would finish out the Boston series after the injury.
"Not really," Berube said. "He's tough and he wants to play. I thought that once he came in the next day and he said I'm fine, I'm good, I'm ready to go and all that, I wasn't too concerned with him."
It's unclear whether the injury was to the same shoulder that required surgery last offseason.
As for O'Reilly, he downplayed the rib injury that affected his shot and his ability to win faceoffs for a while during the postseason.
"I had a small crack in there (ribs)," he said. "There was a couple games where it bothered me a bit. But it wasn't as big of an injury as people think."
O'Reilly said the injury occurred against Dallas when he took absorbed a "weird" cross-check. He aggravated what he called "some other areas" later in the playoffs, but said he felt fine by the time the Cup Final started with the Bruins.
"The medical staff in St. Louis is outstanding," O'Reilly said. "There was a couple rough days but after that it was good. I didn't notice it at all in the finals."
One player that already has undergone surgery is one of the Blues' top prospects _ forward Jordan Kyrou. It was a kneecap issue, Armstrong confirmed.
"Jordan Kyrou is a player that we had high expectations for and did well this year," Armstrong said. "Got injured, had knee surgery. So he's healing up now and should be ready for (preseason) camp."
Kyrou, who turned 21 last month, won't participate in the Blues' developmental camp next week at Enterprise Center, but not because of the injury.
"He would've been past that anyway (if healthy)" Armstrong said. "At his age, he's been to enough of those."
Kyrou made the Blues' opening-day roster and played 16 games for the big club with one goal and two assists. He spent the rest of the year with San Antonio. Even though he played in only 47 games for the Rampage, he finished third on the team in points with 16 goals and 27 assists.
If not for the injury, Kyrou would've been called up for the playoffs as one of the Blues "Black Aces" from San Antonio. Those players practiced, usually after the regulars were done working, and got a sense of what playoff hockey is all about.