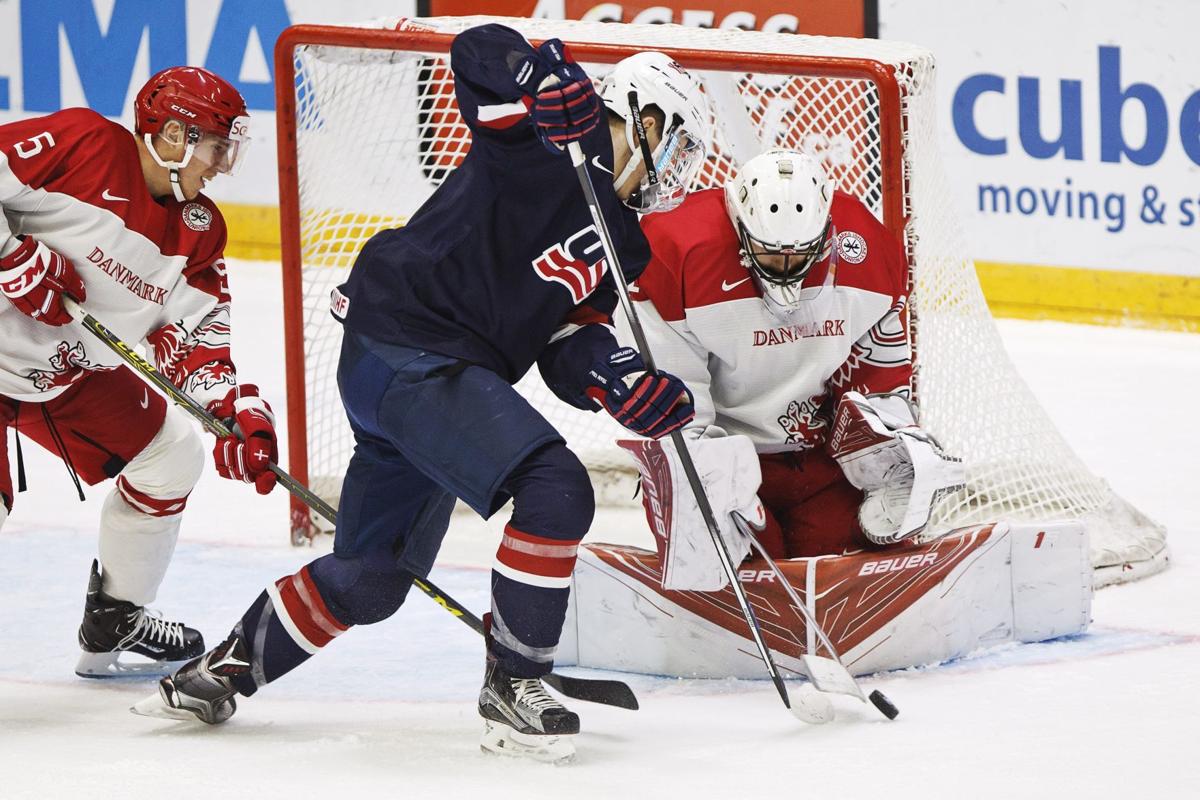 The dreams were so much simpler then, Matthew Tkachuk recalls. Back then, he, Logan Brown, Clayton Keller and Luke Kunin were four kids playing youth hockey for the AAA Blues at Hardee's Iceplex in Chesterfield.
"Our dreams were playing on the same squirt team," he said. "We weren't even thinking about the NHL. We were just having fun."
The four could move into a unique spot in hockey history on Friday. The group is expected to go in the first round of the NHL draft — one mock draft, from USA Today, had all four going in the first 15. Two other St. Louis products, forward Trent Frederic and goalie Joseph Woll, are expected to go in later rounds.
To date, the earliest a St. Louis player has gone in the draft is Philip McRae, who was chosen 33rd overall by the Blues in 2008. The region could go from having had no first-round picks to four in about an hour on Friday.
This was not something that anyone saw coming. They weren't even teenagers back then when they were playing for the 2009-10 AAA Blues peewee major team, so it was hard – and unfair – to project anything like this. In games, you could see they had talent, but that's not where what made this group special showed through. This was a group that loved to be on the ice, no matter what they were doing.
"I remember the extra skill sessions the guys put in outside of practice to work on the details of their game," said Jordan Janes, their AAA coach, "and their being excited to do it. Their commitment level off the ice was just as important. For these guys and what they have done, they had goals, they had dreams, as they got older, they accomplished one goal and moved on to the next."
While two of them have NHL pedigrees – Matthew is the son of former Blue Keith Tkachuk and Logan is the son of former Blue Jeff Brown – their success isn't limited to the gene pool. "They got no freebies," said Jeff, who also coached with the AAA Blues. "You've got to work your ass off. I don't remember any of these kids saying they didn't want to skate today. They never said no to extra ice time. People have to understand these kids worked their tails off their entire life, the passion they have about it....''
Tkachuk is generally projected to go fourth overall, with a pick that at the moment belongs to Edmonton but is often mentioned as a possible commodity in a trade. Brown should be the next to go, possibly as high as Calgary's No. 6 pick. Then it should be Keller, who could slip into the top 10, and finally Kunin, who is expected to be taken around No. 20.
The NHL's Central Scouting Bureau tabbed Tkachuk as the No. 2 North American skater in its final rankings after having him No. 1 in their midterm report. Brown was ranked seventh, Keller ninth and Kunin 11th. Frederic was 47th and Woll was fifth among North American goaltenders.
Tkachuk, 6-1½, 200 pounds, played for the London Knights of the Ontario Hockey League, where he had 30 goals and 77 assists playing on what was considered the best line in juniors and scored the overtime game-winning goal to give London the Memorial Cup title as hockey's top junior team.
"Matthew has got tremendous hockey sense," said Basil McRae, the former Blue who's the GM for the Knights and the father of Philip. "So did Keith. There are a lot of similarities. Keith was so big, strong and fast. Matthew is a big, strong kid who really uses his brain. Keith was the ultimate power forward; Matthew is a power forward with more trickery. His hockey sense is off the chart. He can figure out where the puck is going to go."
Brown did the most to help his stock during the season, jumping from 14th at midseason to seventh after recording 21 goals and 53 assists in 59 games for his junior team in Windsor. Teams love how well a player of his size – 6-6, 220 pounds – can move. His father, now the coach of a junior team in Ottawa, was drafted 36th by Quebec in 1984, meaning his son is likely to go earlier than he did. "The Rangers were talking about me at 14 and I went 36," Jeff said. "I told him don't count your chickens just yet. It doesn't matter what number you're drafted, that's when the hard work starts. As hard as he's worked, it starts now."
If Brown is a big body, Keller is at the other extreme: He weighed in at 5-9½, 168 pounds. He played for USA Hockey's U-18 development team in the USHL, and in 55 games had 33 goals and 60 assists. Despite his size, his top-level skill and playmaking ability have made him stand out.
Finally, there's Kunin, who went the college route. A 5-11¾ center who plays with high energy, he had 19 goals and 13 assists in 34 games for Wisconsin.
It's been a busy few weeks for Tkachuk since the Memorial Cup. Two days later after that win, he was off to the NHL combine. He didn't go through testing there after spraining his ankle in Game 2 of the OHL finals, but that's not expected to be an impediment at the draft. He interviewed with 16 teams at the combine, including the Blues. "All of the talks were positive," Tkachuk said. "None of them ripped me too bad. They were all good conversations. You hear stories; some were harder than others."
After the combine, Tkachuk and some other potential top draft picks flew to San Jose for Game 4 of the Stanley Cup Finals, where they met with members of the Penguins and Sharks. From there, it was back to Toronto, where Tkachuk did off-ice workouts to get ready for the draft and whatever his future holds.
"I'm not nervous at all," he said. "I'm so excited. This is one of those drafts where you have to keep your mind open. Anything can happen."