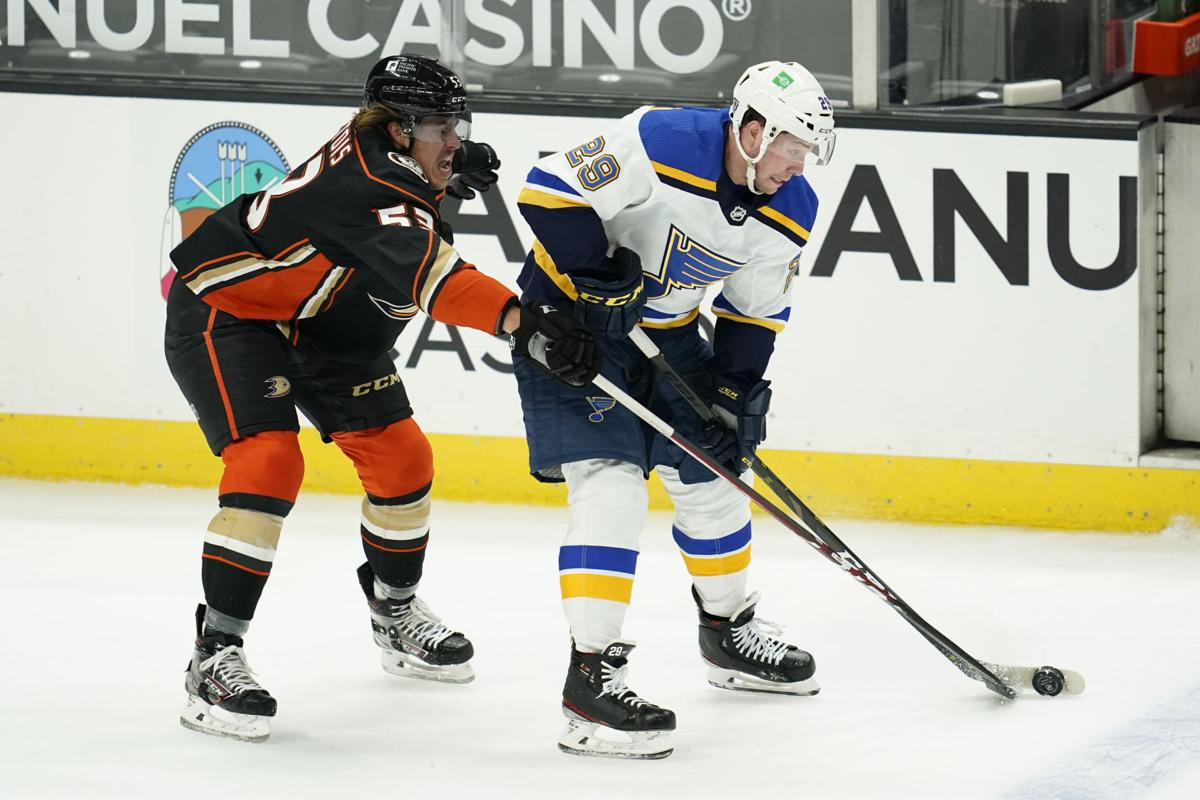 So far, the Blues' offseason has consisted of one move: Signing minor-league forward Tanner Kaspick, a 2016 draft pick, to a one-year, two-way contract last month.
Things may look calm on the surface but that's all about to change staring with Wednesday's Seattle expansion draft.
General manager Doug Armstrong's analogy is that of a duck on water. Things look uneventful on the surface but the duck is paddling away below. Make no mistake, Armstrong has been busy paddling. He always is.
What should be a hectic week begins with Seattle's Blues pick in an expansion draft that begins at 7 p.m. Central.
Ever since it became apparent that the Blues would leave Vladimir Tarasenko unprotected, the Kraken seemingly were left with three clear choices with respect to St. Louis:
• Tarasenko. He wants out of St. Louis, and by all indications the feeling is now mutual. Sources have told the Post-Dispatch that the trade offers will still be there if the Kraken don't take Tarasenko.
If Seattle selects Tarasenko, there is speculation the Kraken could flip the pick and trade him elsewhere. But once the Kraken pick Tarasenko, he's no longer the Blues' problem. They will be free to use the $7.5 million he is due this coming season elsewhere.
And if that's the case, the Blues in effect will have "traded" Tarasenko for Vince Dunn, or whoever else Seattle might have picked among the players left unprotected by the Blues.
• Dunn. Even with Tarasenko left unprotected, the vast majority of the mock drafts out there — and there are about a million of them — list Dunn as the Seattle pick. He's 24, mobile, can score goals and has upside.
Dunn is a restricted free agent, but the Kraken would hold his rights — for at least one year — just by selecting him. Among other Blues' defensemen that are unprotected, Marco Scandella and even Niko Mikkola aren't out of the realm of possibility for Seattle.
• Jaden Schwartz. This one hasn't been discussed nearly enough. Schwartz just turned 29, so he's still in his prime. He's a good, quick skater, plays defense and isn't afraid to do dirty work in the corners or net front. Yes, he's a streak scorer, and yes, he has had injuries issues.
But he's a proven player who doesn't shrink from big moments. He's also an unrestricted free agent, so if the Kraken intend to sign him, they must do so before their three-day negotiating window with unrestricted and restricted free agents ends Wednesday morning.
If Seattle can't sign Schwartz, there's no need to claim him in the expansion draft because under those circumstances he reverts to free agency on July 28, when the league-wide period opens.
As for Armstrong, he can re-sign Schwartz or fellow unrestricted free agents Mike Hoffman and Tyler Bozak as early as noon Thursday, when the expansion moratorium on trading, waiving or signing players ends for the rest of the league.
It made little sense for Armstrong to sign any of those players before the expansion draft, because if that were the case the Blues would've had to use one of their 11 protected spots on them.
So Thursday could be busy. Friday and Saturday certainly will be busy because that's when the "regular" NHL draft takes place, and then free agency starts four days after the draft.
Whoever Seattle plucks from St. Louis on Wednesday, it will be the 25th Blues player picked in an NHL expansion draft. The Blues have had the equivalent of a hockey team taken over the years in the various expansion drafts: 16 forwards, 5 defensemen and three goalies.
Most had careers of little consequence either before or after they were taken in an expansion draft. Most, but not all.
After leading the Blues in scoring with 78 points, including a career-high 29 goals, Phil Goyette went to the Buffalo Sabres in the 1970 expansion draft.
Two years later in the 1972 expansion draft, the Atlanta Flames selected Bill Plager, the lesser-known of the three Plager brothers. That same year, the New York Islanders picked original Blue Terry Crisp.
Which Blues player went on to have the most success after being taken in an expansion draft?
Well, goalie Guy Hebert played eight seasons with the Mighty Ducks of Anaheim after they selected him in the 1993 expansion draft. He was an All-Star in 1997. The Florida Panthers also had their expansion draft in '93 and took Dave Lowry, who after playing parts of five seasons with the Blues went on to play 11 more years with Florida, San Jose and Calgary.
Hebert and Lowry would get an argument from David Perron, who has played some of the best hockey of his career since Vegas selected him in the 2017 expansion draft. He played only one season for the Golden Knights before returning to St. Louis via free agency in 2018.
The rules were much different for most of those past expansion drafts, with teams allowed to protect more players, which limited the quality of players exposed. Starting with the Vegas draft, those rules were changed to the benefit of the expansion team.
In the Seattle expansion draft, there are 28 players exposed who have scored more than 200 career NHL goals, including Tarasenko at 218.
All told, there are four Hart Trophy winners as past league MVPs, three Norris Trophy winners (best defenseman), and three Vezina Trophy winners (best goalie) left unprotected. There are several dozen who have won a Stanley Cup, including three-time winner and former Blue Pat Maroon.